Whether you are a professional painter or a handy homeowner, when looking for the best tool for any paint job, it's a good idea to invest in a quality HVLP paint sprayer. When wanting to paint, stain, or varnish anything interior or exterior, an HVLP paint sprayer gives a more professional look than a paintbrush. What is an HVLP paint sprayer? What should you consider before purchasing? Let's dive into all of these questions as well as a buyer's guide with the best HVLP paint sprayers available today.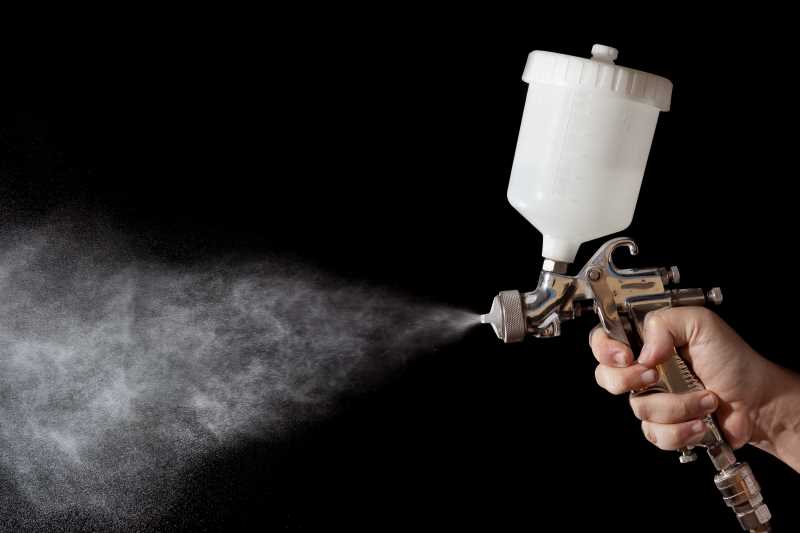 What is an HVLP Paint Sprayer?
Firstly, HVLP stands for high volume, low pressure. All HVLP paint sprayers spray a continuous stream of paint mixed with air to control any painting project's accuracy, speed, and finish.
How Does an HVLP Paint Sprayer Work?
These sprayers can control the airflow and the paint volume for even more precise painting. Once the trigger is pressed, the HVLP sprayer will release a continuous stream of paint, ensuring no dripping or wasted paint. The paint sprayer atomizes the paint, mixing it with the low air pressure to create a mist that perfectly covers any surface. With an HVLP paint sprayer, you can decide whether you need a fine or heavy paint coating with limitless controls.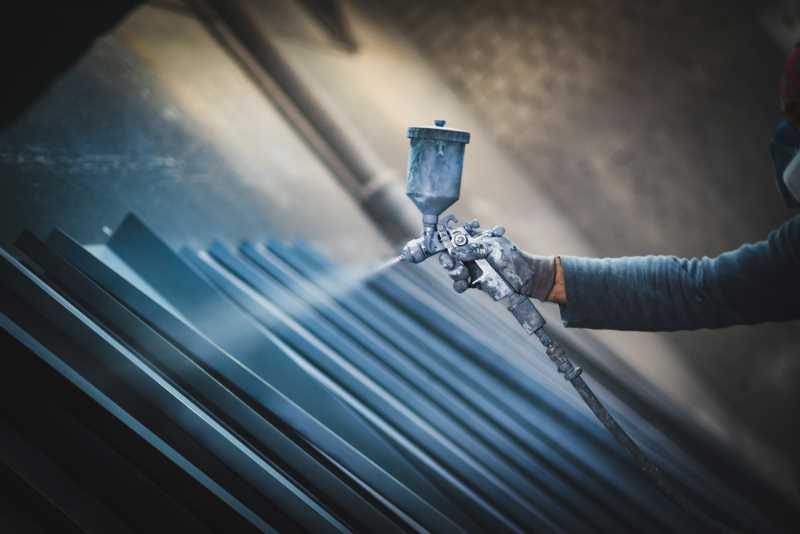 What are the Best Jobs for an HVLP Paint Sprayer?
Being so versatile, you can use the HVLP paint sprayer for a wide range of projects. Smaller compact sprayers can handle more detailed complex projects while turbine and compressor-driven sprayers tackle larger projects.
The most common projects that use an HVLP paint sprayer include furniture, trim, walls, cabinets, siding, fencing, and doors. If you are looking for a paint sprayer to tackle jobs around the house or commercial jobs, the HVLP paint sprayer would be the tool for you.
What to Consider When Buying an HVLP Paint Sprayer?
When purchasing an HVLP sprayer, there are a few things to consider. Below we are diving into the most significant.
Pressure
Most spray guns have a control to set the PSI, but some do not. It is best to research your specific projects to see what pressure setting would work best. What you mainly use your prayer for will determine the best PSI setting.
Capacity
Depending on the size of the project you want to complete, you need to know how much paint the spray gun can hold so you are not refilling the container every few minutes. Not only does it save time, but it helps with consistent coverage.
Nozzles and Spray Patterns
The final significant consideration. Most HVLP paint sprayers have the option of interchangeable nozzles, but some do not. Depending on the project and the area that needs to be covered, the nozzles control the height and width of the spray, which is essential if you want to paint trim versus an interior door. This also affects the spray pattern if you are looking for a heavier or lighter paint coating.
Types of HVLP Paint Sprayers
There are three types of HVLP paint sprayers compact, turbine, and compressor-driven.
Compact
As the name suggests, the compact HVLP paint sprayer is perfect for smaller jobs since the capacity is smaller. But if you're only planning on doing small professional-looking jobs at home, the compact version would be perfect for you. You also do not need an air compressor since these models are fitted with a small onboard pump.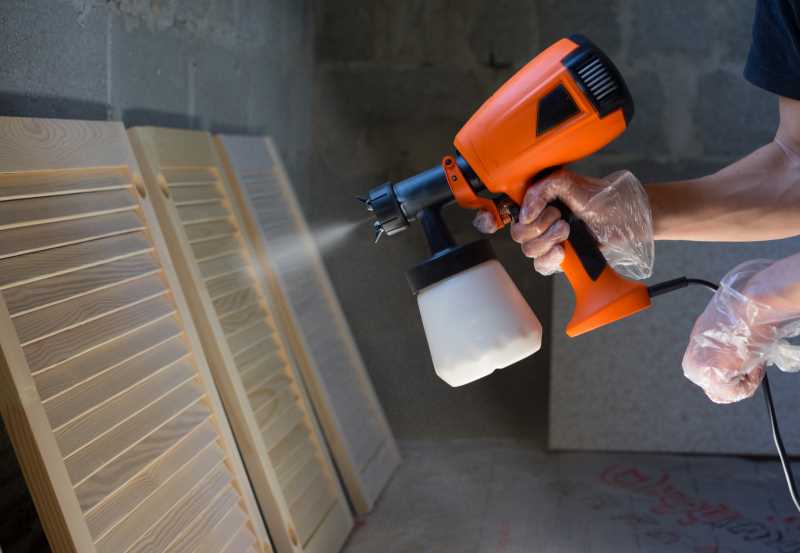 Turbine
Turbine models have a separate turbine that provides the air to the sprayer, which makes them more powerful than the compact version. These models are more prominent and less easy to move around than the compact versions but are great for decks, siding, and furniture projects. You could use them to paint small rooms, but they would be somewhat slow if taking on larger projects.
Compressor-Driven
If you are looking for a full-on professional model, the compressor-driven HVLP spray painter is what you should look into buying. Primarily used in detailing auto body shops, these deliver a flawless paint application and have increased long-term durability. There is no need to purchase an extra-large air compressor as these work with many models of smaller compressors. Even though the compressor-driven models are more to tote around, they offer accuracy and speed and require little maintenance.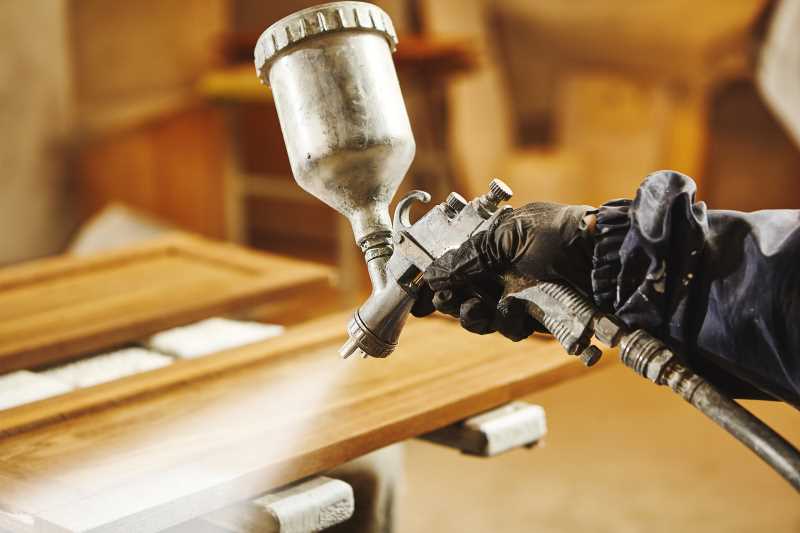 Nozzles
Choosing the proper nozzle for a paint job is crucial to getting that professional finish. The nozzle determines the type of material that can be sprayed from the HVLP paint sprayer. Nozzles are measured in millimeters, and whether you are spraying, paint, varnish, or primer, for example, each one carries its velocity, which measures the thickness of the liquid.
Some HVLP spray guns come with a general-purpose nozzle but typically have compatible nozzles available at an extra cost. If you are working with many mediums and materials, you can look into picking up a spray gun kit that has multiple nozzle heads to choose from.
The nozzles also control the spray patterns such as verticle, horizontal, and round. But some of the more expensive higher quality HVLP paint sprayers will have an adjustable option to fine-tune the spray pattern.
Adjustable Controls
Most HVLP paint sprayers have adjustable controls. Just as mentioned, the nozzles control the shape of the spray pattern, while the pressure controls to control the size of that pattern. If more material moves through the paint sprayer at a higher pressure, a larger area is covered. Some of these controls have a learning curve but can quickly be learned with online tutorials or practice.
Maintenance
One of the best selling points of an HVLP paint sprayer other than its ability to paint seamlessly is the maintenance. These paint sprayers are easy to clean as long as you clean them right after the paint applications and per the instructions provided.
The biggest drawback would be any materials drying inside the paint gun itself, as this can cause issues when using it for a separate paint application. As long as they are properly cleaned and put away, you should have little to no problem maintaining your HVLP paint sprayer.
How User-Friendly is HVLP Paint Sprayers?
You may be thinking you need to add one of these sprayers to your painting arsenal, but just how user-friendly are they? If you are a novice to paint sprayers, you may want to begin with a compact model. These are lightweight and have a more comfortable trigger, so easy paint applications take no time. In some cases, the gun's weight can influence the usage, so the compact version would be great if you have smaller, more detailed projects that need to be addressed.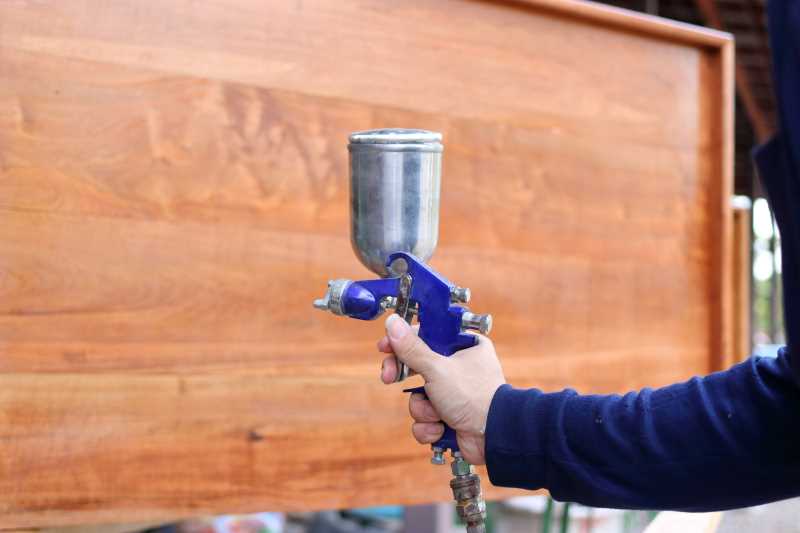 However, if you are looking for ease when tackling more significant projects and want a more professional model, the turbine and compressor-driven models are designed with larger projects in mind. They can come with a learning curve but can be learned with patience and practice.
Some Disadvantages with HVLP Paint Sprayers
Low Viscosity
Before purchasing an HVLP paint sprayer, there are a few things to note: you need to have paints, stains, or lacquers with a lower viscosity. Before jumping ahead, there are some on the market today that can handle any paint you throw at them, but you may get a bit of splattering when trying to apply. On a positive note, many of these paint sprayers offer the option to thin the paint before loading it into the holder. Just check with the specific type you want to purchase if that is an option.
Speed
It is in the name, low pressure. Because of this, low pressure means the speed at which the paint is released is reduced compared to those that use a high-pressure system. Regardless using an HVLP paint sprayer will blow away the regular paintbrush, but when looking to use them professionally day to day, consider what type would be best for you.
The Best HVLP Paint Sprayers you can Buy Today
1. Avanti Handheld HVLP Paint & Stain Sprayer
The Avanti Handheld HVLP Paint & Stain Sprayer is a budget-friendly compact model for a novice user. Known for being lightweight and user-friendly, this HVLP paint sprayer has you on your way to painting and staining in no time. This model specifically is the AV-100 and is best for thin paints, stains, and varnishes. It has a 1.5 quart capacity with 10 ounces per minute flow rate. This paint sprayer has a 6-foot power cord and requires 120 volts.
2. Earlex Super Finish Max HVLP Paint Sprayer
Earlex Super Finish Max HVLP Paint Sprayer is a turbine model paint sprayer that applies a professional, smooth layer of paint, stains, or varnish to any surface. With a 40 ounce capacity, it is perfect for cabinets and furniture. This HVLP paint sprayer includes a few interchangeable nozzles as well, so you can spray anywhere from 1 to 12 inches wide in one swoop. Being a turbine model, it can handle thicker paints with 450 watts of power.
3. Wagner Spraytech Control Painter HVLP Handheld Paint Sprayer
Wagner Spraytech 520008 Control Painter HVLP Handheld Paint Sprayer is another great compact model that is budget-friendly and easy to operate. Best for stains, lacquers, and furniture paints and can be adjusted with ease for narrower verticle, horizontal, or round patterns. With a 27 ounce capacity, you can cover up to 72 square feet with this HVLP sprayer. This sprayer works perfectly for small decking, fencing, siding, and small furniture projects.
4. Sun Joe – iON+ Cordless HVLP Handheld Paint Sprayer Kit
Sun Joe – iON+ Cordless HVLP Handheld Paint Sprayer Kit is a great cordless option when looking for flexibility when painting or staining small projects. With a 32 ounce capacity and a flow rate of 3.2 gallons per charge, this HVLP paint sprayer is excellent for small furniture pieces, cabinets, railings, and more! The battery gives about 20 minutes of runtime before needing a recharge, but you won't lose any time with this no-fade power performer.
5. Paint Zoom Platinum Series 30oz. Handheld HVLP Paint Sprayer
The Platinum 3000 Series 30oz. Paint Containers, Handheld HVLP Paint Sprayer by Paint Zoom is an electric paint sprayer that delivers fast and professional results. With this paint sprayer, all you need to do is pull the trigger and paint. Being so powerful, this HVLP paint sprayer can use all velocities of stain, varnish, paints, and more! Perfect for any interior or exterior project, big or small this paint sprayer gives you professional results with ease. You rarely have to stop with a 32-ounce capacity and three spray settings to change nozzles or refill.
6. TITAN FlexSpray HVLP Paint Sprayer
TITAN FlexSpray HVLP Paint Sprayer delivers the power of a 4 stage turbine to spray all velocities of paints, latex, stains, and more. With multiple controls, you can adjust the spray settings and the density of the coatings. This powerful sprayer has a flow rate of 3 gallons per minute and is impressive for professional usage. It works with ease on any project, big or small, interior or exterior. This is the item to purchase when looking for a more professional HVLP paint sprayer.
7. Earlex Spray Station HV5500 HVLP
Earlex Spray Station HV5500 HVLP is a professional paint sprayer perfectly made for home, job site, or workshop use. This sprayer adds a stunning finish to cabinets, furniture, and cars with a powerful turbine. Able to handle all paint velocities, from stains and varnishes to oil and acrylic-based paints. When looking for a professional paint sprayer with a showroom finish, this is the HVLP sprayer for you.
8. Graco Magnum Project Painter Plus Paint Sprayer
Graco Magnum 257025 Project Painter Plus Paint Sprayer is a quiet turbine with excellent adjustable controls. Do not be fooled by the lightweight and smaller configuration; this paint sprayer is one of the coolest running and four times more productive than others on the market. Best for use on large projects interior and exterior.
9. YaeTek HVLP Gravity Feed Air Spray Gun Professional Air Paint Kits
The YaeTek HVLP Gravity Feed Air Spray Gun Professional Air Paint Kit is specifically for automotive painting. These two guns are great when you already have a compressor and need HVLP paint sprayer guns for a specific automotive project. These spray guns come with three nozzles to use for all over and detailing work.
FAQ
What is the Difference Between HVLP and Airless Paint Sprayers?
The main difference is the way the paint is atomized. An HVLP paint sprayer uses a compressor to disperse the paint into a fine mist, while an airless paint sprayer uses a piston method to siphon the paint through a small hole in the paint gun tip, creating the mist-like atomization.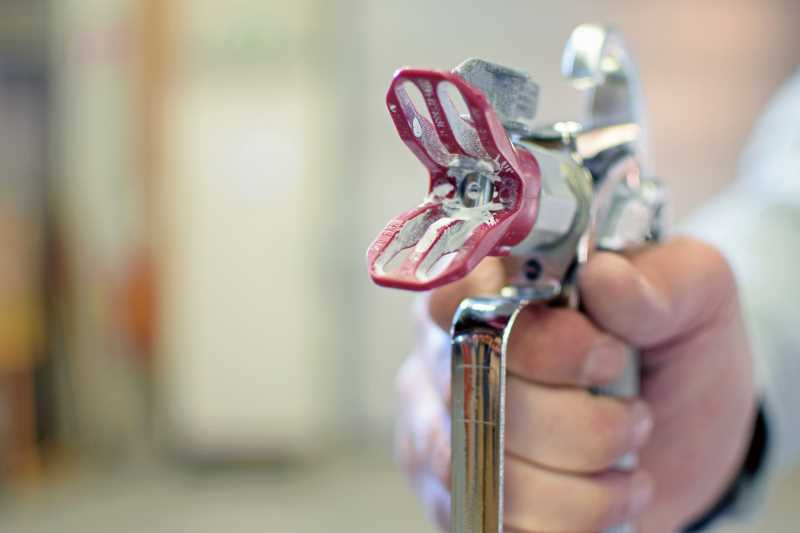 Are HVLP Paint Sprayers Really That Great?
Absolutely they are. Many excellent HVLP paint sprayers on the market are known for cutting job times in half and offering a professional finish that a paintbrush and roller can not compete with.
Do I Have to Use a Compressor for my HVLP Paint Sprayer?
Depends on the paint sprayer. The type of HVLP paint sprayers you would find at an auto body shop, yes, they use a compressor, but most you can find at local hardware stores or online either have their built-in turbine or have a small electric built-in pump.
Should I Take any Special Safety Precautions?
When working with an HVLP paint sprayer, it's a good idea to take some precautions since the paint has been atomized. Safety goggles and a properly fitting face mask would be the most important to protect you from paint droplets floating through the air. This is especially important if you are going to be spraying for an extended time, indoors or out.
Wrapping Up the Best HVLP Paint Sprayers
Now you have a comprehensive knowledge of how to choose an HVLP paint sprayer for your project and the best HVLP paint sprayers there are on the market today. There is a lot to go over when looking to purchase a tool such as this, and many factors come into play. But with this buyer's guide, it should make it a bit easier when choosing the right tool for you.
If you're not sure an HVLP paint sprayer is exactly what you need for your project, check out our article covering all the different kinds of paint sprayers and which ones are best for what projects.
Ready To Learn More?
Check out our Painting Kitchen Cabinets hub page for everything you could want to know about cabinet painting including costs, how-tos, reviews, and more.