Choosing to paint the exterior of your house white may seem simple, but white is more complicated than you might at first think. White paint comes in many shades and tones, and some colors that look wonderful indoors are too bright for an exterior.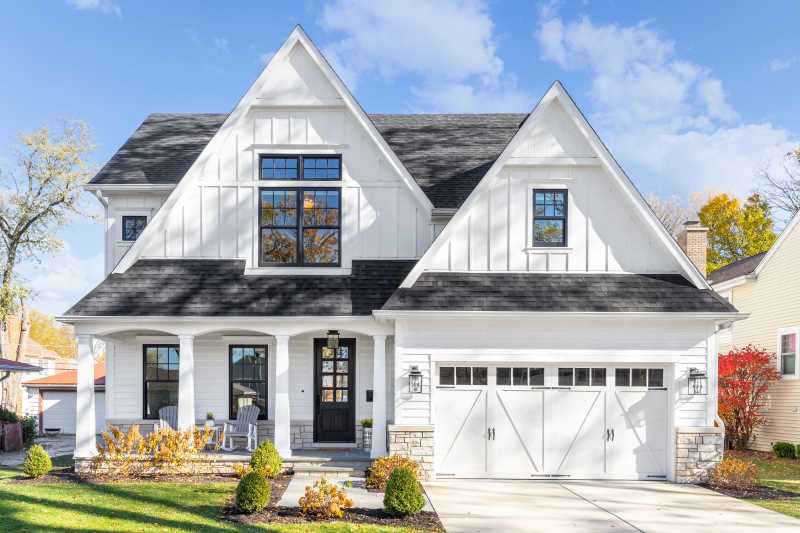 Don't worry if this seems complicated, we're here to help you find the best exterior white paint for your project!
How to Choose the Best Exterior White Paint
Color Tone
When choosing exterior white paint it's important to consider your surroundings, trims, and other colors around your house. A house with a blue trim should be painted differently than one with natural wooden accents.
Exterior white paints come in two tones: warm and cool.
Warm Tones: draw out oranges, yellows, reds. A timeless homey feel
Cool Tones: draw out greens, blues, and purples. Can seem stark, but often a great choice for exteriors as there are a lot of greens and blues in nature.
For a better understanding of warm whites versus cool whites, check out this article.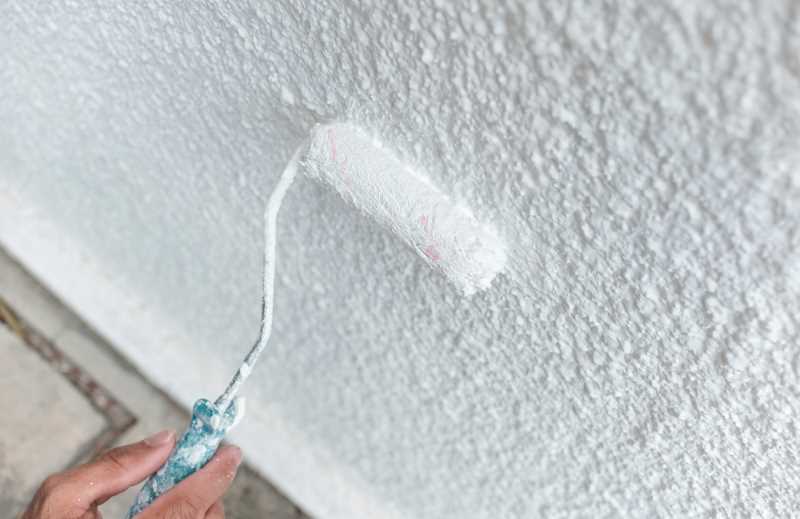 Light Reflecting Value
The light reflective value (LRV) says how light or dark exterior white paint will look on the wall. The higher the number the closer to a "true" white a paint is, the lower the number, the less reflective the color would be. White paints have LRVs above 70, with lower numbers tending towards off-white and higher towards a bright white.
Best Exterior White Paint Shades by Sherwin Williams
1. Alabaster

Alabaster is a timeless warm white with soft, creamy qualities, but with an LRV of 82, this shade still reads as a bright white on an exterior. The creaminess of the color keeps it from ever veering into an unpleasant yellow, and instead, it appears as a true white in every light. This color is extremely versatile and perfect for a modern farmhouse look but will pair well with warm reds and earthy browns in any context.
2. Shoji White

This warm off-white has a grey/beige undertone that looks whiter in direct sunlight, but never a true bright-white nor a dull grey. Perfect for a project that requires a beige off-white without yellow undertones. This shade is a true off-white with an LRV of 74 and provides a traditional/modern look that is truly natural. Soji White works well with greys, deep reds, and blues.
3. Moderne White

This warm almost beige exterior white paint has grey/beige undertones. An off-white color with an LRV of 74, Moderne White is not creamy but doesn't have the bright quality of a true white. Moderne White pairs nicely with warm grey trim.
4. White Duck

This exterior white paint shade is similar to Moderne White, but creamier. Never yellow, with grey/beige undertones, the creaminess is accented by the shade or by grey weather. White Duck is great for shady climates and stays neutral in most lighting. This almost off-white with an LRV of 74, will have a grey tone with cool accents and a cream tone with warm ones.
5. Oyster White

As the name suggests, Oyster White is a warm grey-white, very like an oyster shell in color. With an LRV of 74, this off-white exterior white paint has a softness that looks beautiful and classic as exterior white paint. A great white choice for a farmhouse, or a house with a porch as this color accents wood beautifully.
6. Snowbound

Snowbound is an exterior white paint shade that isn't entirely warm or cool, with true neutral gray undertones. There are hints of warmth that give it a softer look than a true pure white, but when paired with cool grey toned accents the grey tones are drawn out. With an LRV of 82.56 Snowbound is a bright, fairly light reflective color. This white is a serious, modern shade.
7. Pure White

This warm white is not super creamy, but rather veers towards a bright natural tone. With an LRV of 84, this is a soft warm white that is not too stark for an exterior, but bright enough to appear as a true white. Pure White pairs well with bold modern colors and trims, but would look wonderful on most exteriors.
Best Exterior White Paint Shades by Benjamin Moore
8. White Dove

This pure bright exterior white paint shade is very popular with designers! With an LRV of 85, it is a soft white while with a hint of warm gray off-whiteness. White Dove is not creamy or beige but truly crisp and clean. This classic white is versatile and often described as luminous making it perfect for many times of projects from beach houses to cozy cottages.
9. Seapearl/China White

Seapearl is the new name for the classic China White. With an LRV of 78, this color is an off-white rather than a bright one. This exterior white paint has a touch of warm grey rather than beige, which gives it a striking modern look. This shade of exterior white paint can look dingy and yellow in highly shaded areas, but in the sunlight, it has a very natural look that is never too bright. Works well with stone that brings out its grey tones or warm copper colors for a more creamy look.
10. Olympic Mountains

Olympic Mountains is a well-balanced off-white that has an LRV of 72 and could almost be considered a light beige, though it has some grey undertones. This exterior white paint shade is a classic, timeless color that reads as soft and creamy on an exterior and has a warm coziness that still feels fresh and never dated.
11. Simply White

Simply White is a very bright warm white. With an LRV of 92, this is one of the brightest whites that is still exterior friendly. It's best to avoid cool accents with this shade, as they will draw out the yellow undertones. If the accents are neutral, this exterior white paint will provide a modern color that is both clean and bright for your home.
12. Swiss Coffee

Swiss Coffee has slight gray, yellow, and green undertones. These hidden shades make this exterior white paint color appear warm and inviting. However, it can also seem too yellow or slightly green in some lighting situations. With an LRV of 71, it is more beige than true white but has a brightness when viewed on exteriors in direct sunlight. Like the coffee names suggests this cream goes well with browns, tans, and terracotta.
Best Exterior White Paint Shades by Behr
13. Cottage White

Cottage White is a soft and creamy shade of exterior white paint with a hint of yellow. This warm white has a cozy toasted look, and is a wonderful accent to reds and oranges. A perfect shade for a Mediterranean-style home with terracotta tile accents. The low LRV of 69.3 makes this paint almost a cream over white color.
14. Cotton Tail

Cotton Tail is a warm white has an aged old-world look. This white has slight yellow undertones, but never veers too far from neutral. Bright and soft with an LRV of 86 it has a luminous quality in direct sunlight. This exterior white paint color stands up well to bright colors without becoming overwhelmed or seeming stark or harsh, but does not pair well with muted grey or beige tones.
15. White

White, also known as White 52, is a neutral exterior white paint color. While it doesn't have a flashy name and is not a complicated color it is versatile in the colors it can be paired with. A crisp clean white that reflects the colors around it without any strong undertones, it is a color that won't fade out of fashion. With an LRV of 83 it isn't too bright but never falls into grey or beige. This color would look wonderful on a cottage.
16. Soft Focus

Soft Focus is a cool versatile white with grey and hidden green undertones. This not too bright white with an LRV of 75 has a soothing classic feel. Suited to modern and vintage style projects this white perfect complement to vintage ironwork details, dark accents, and/ or grey woods.
17. Off White

Off White has an LRV of 76 and is exactly as off-white as the name suggests. With warm grey/beige undertones this exterior white paint color fairs well in bright light where its creaminess shines through. Pairs well with muted trim tones, like sage and dusty rose
Wrapping Up the Best Exterior White Paint Shades
Now that you're familiar with the best exterior white paint shades on the market, and what projects they're each useful for, you're ready to pick the right shade for your exterior. Be sure to grab samples of a few of your favorites and test them in the natural light outside your house to be sure they look exactly how you like before you commit. The only way you can make a final decision on any pain is by seeing it in exactly the surroundings and lighting you intend to view it in.
If you're not 100% sold on white for your home's exterior, consider these popular exterior colors as other good options with a little more pop.
Check out our Exterior Painting page for even more information on exterior painting, paints, and products.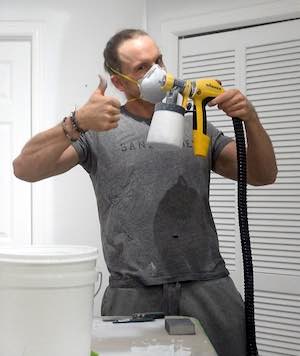 I started painting in 2001 and have seen just about everything in my painting career. I started in production and commercial painting, then moved over to new construction and remodeling during the boom of the early 2000s. Post 2010, I niched down into residential painting where I have done everything from exteriors, decks, interiors, furniture and more. Over the last few years, I've had a focus on kitchen cabinets.
I started the DIY Painting Tips blog in 2015 to start sharing everything I've learned over the years and help all the people who'd rather tackle their painting projects themselves.
You can follow my Youtube Channel where I show you everything that you read about on this site: https://www.youtube.com/@diypainting
You can also hire me directly from DIYPaintingTips.com here: https://diypaintingtips.com/free-painting-quote/
Contact me at: ryan@diypaintingtips.com