Your deck is the center hub of outdoor summer fun.
You grill on the deck, you relax the afternoon away and you enjoy your deck with friends and family.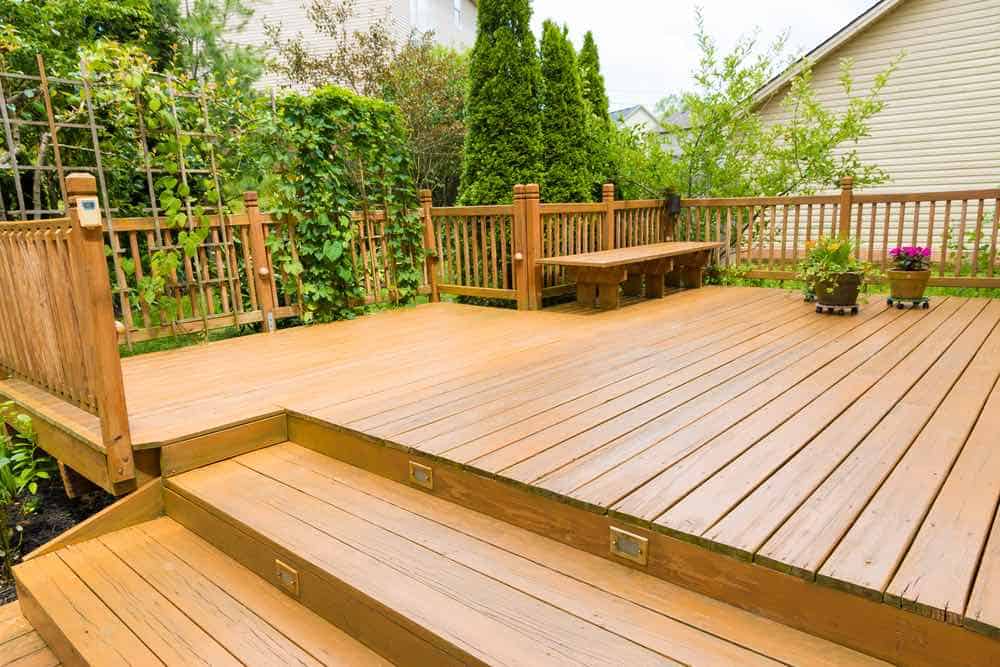 Because it is such a central piece to our backyards, we want our decks to look the best they can and for that look to last as long as possible.
We've rounded up the best deck stains for your summer project. These stains are durable, long-lasting, look great and priced fairly so you won't break the bank.
Deck Stain Reviews
Here are our picks for the best deck stains for your deck in order of our most favorite to our least favorite (but still a favorite).
For our picks, we typically went with a water-based semi-transparent stain, but if you follow the links you can find translucent, semi-solid, and solid versions of each stain as well as oil versions.
Photo Credit: www.amazon.com
Ready Seal will not run, lap or streak when applied. Most interesting is that it doesn't need to be wet line applied, meaning it will blend in with the previous stain even if that stain has dried.
Ready Seal also provides the typical anti-mold and mildew as well as UV protection against the sun.
Photo Credit: www.sherwin-williams.com
SuperDeck, Sherwin William's deck stain, comes in both waterborne and oil-based formulas. This is a wood penetrating stain that can actually be applied even when the wood is damp.
Expect a three-year life span that allows the stain to wear away naturally instead of peeling.
Finally, SuperDeck contains mold inhibitants to keep mold and mildew from forming on your deck.
Photo Credit: www.homedepot.com
Behr's exterior deck stain is a waterproofing UV resistant finish that can be applied to woods in temperatures from 35 degrees all the way up to 90 degrees.
Behr claims up to a 4 year life span on decks and 6 year life span on fences and other verticle surfaces.
Photo Credit: www.olympic.com
Olympic Elite deck stain uses only transparent iron oxide pigments that deliver exceptionally bright, bold and durable colors.
Olympic Elite is mildew and algae resistant.
PPG ProLuxe was formerly known as Sikkens and is known for its premium appearance.
ProLuxe offers UV protection as well as mold and mildew resistance.
ProLuxe can be applied in one coat.
Photo Credit: www.cabotstain.com
Cabot deck stain provides quality UV protection with scuff and fade resistance.
Cabot has been around for many years and is readily available at most hardware stores.
Photo Credit: www.benjaminmoore.com
Benjamin Moore's Arborcoat is suitable for all exterior woods including decks, fences, wood siding and more.
Arborcoat is mildew resistant and also resistant to blistering, peeling, fading, staining, and scuffing.
Deck Stain Buyer's Guide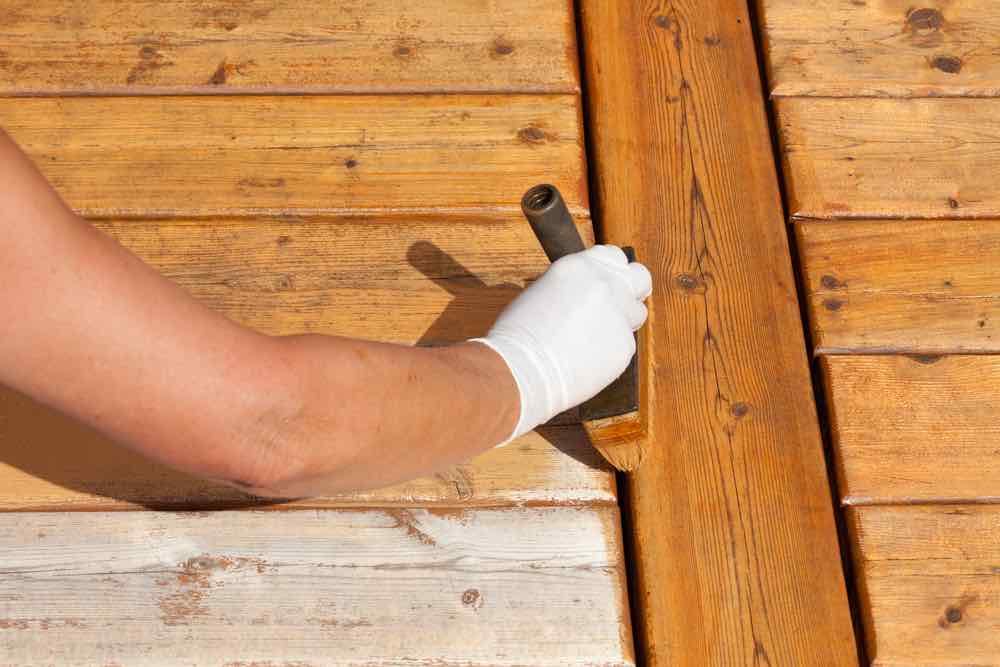 A deck stain serves multiple purposes.
First, a deck stain will add beauty to your deck. Stains enhance the look of the wood by deepening the colors and accenting the grain.
Deck stains can also completely change the color of the wood or cover the wood entirely with a new color that better fits your tastes and color scheme.
Second, deck stains protect the deck boards that you paid good money for.
Without a stain to protect the wood, the sun's UV rays would bleach the color out of the wood and turn it grey. Moisture in the form of rain, humidity, and snow will cause your wood to warp, crack, splinter, and eventually start rotting.
Applying a quality deck stain is always a good investment.
Deck Stain Opacity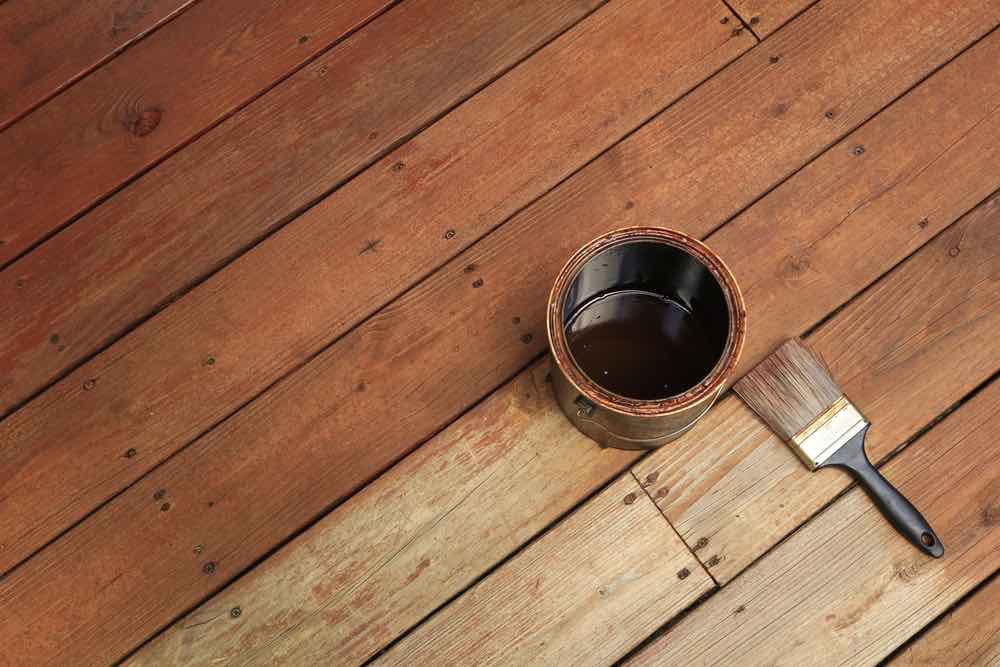 Clear
Clear deck stain doesn't actually stain the deck, it is a pigment free wood sealer. It will typically give the wood more of a wet look, but its main purpose is to seal the wood to protect it from moisture and protect the wood from UV rays.
Translucent
Translucent deck stain has just a little bit of color and is used to enhance the wood's current color. These stains still show all of the wood grain through the stain.
Semi-Transparent
Semi-transparent stains have more pigment added in but still, show a majority of the wood's graining. They are more UV resistant than translucent stains.
Semi-Solid
A semi-solid stain is one step down from being a solid color over the wood. If you like just a bit of the wood graining to show through but want to completely control the color, this stain is perfect.
Solid
Solid deck stains do not show any of the wood. They look more like floor paint and completely cover the wood. They are typically used when the look of the wood is undesirable (such as green treated).
Oil Deck Stain vs Water Based Deck Stain
There are a few different pros and cons to both water-based deck stains and oil-based.
In most cases though, water-based stains are the way to go for your typical homeowner. They are easier to clean up, have lower VOCs and most importantly, water-based deck stains last longer than their oil counterparts.
Testing Out Your Stain Color
Before you invest a lot of money in your stain, make sure to test out our stain on an inconspicuous area on your deck. This will allow you to see how the color will look on your wood, with your furniture, and in your yard.
Often times a color doesn't quite look the same in your home as it does on a small swatch in the paint store.
How Long Will Your Deck Stain Last?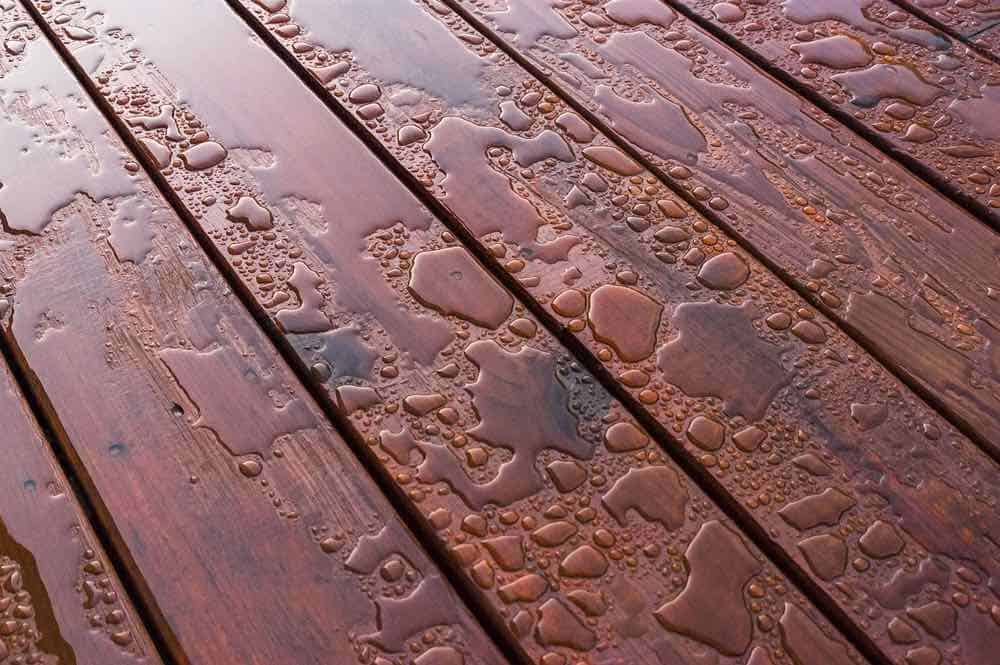 On average, a good quality stain will look good for 2-3 years on a deck floor (horizontal) and 3-5 years on the vertical rails. This doesn't mean you necessarily will need to re-stain in 2-3 years, but you will start to see the wear in the stain.
The lifespan of your deck stain really depends on 2 factors. The sun and moisture.
Sun will damage your deck stain with it's UV rays. UV will cause the stains to break down, become chalky, fade and even start to peel in some circumstances.
Darker stain colors will absorb more heat from the sun than lighter stain colors. This extra heat can also lead to premature damage to your deck (besides it being hot on your feet).
Moisture is the other culprit to deterioration. Most deck stains have improved drastically over the years and have better moisture resistance, but they still break down over time.
How To Stain Your Deck
Check Out These Posts For Instruction On Your Staining Projects:
What to Look for When Buying Deck Stain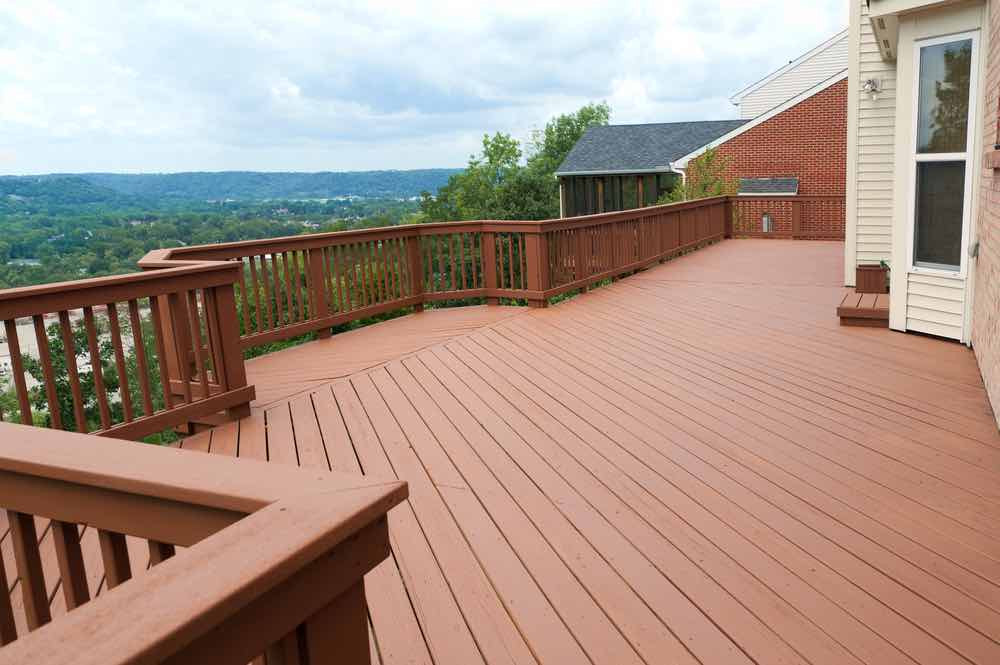 When buying a deck stain, there are some things you should consider.
With the time frame being equal these are the other factors you should examine.
Does the grain show through the stain?
Have you tested the color on your deck?
Does this stain have a good rating for easy application?
Check the temperatures that are acceptable to apply the stain in. Most stains should not be applied during extremely high temperatures, extremely low temperatures, or high humidity.
Do you want an oil-based stain or acrylic (water-based) stain?
Check the drying time needed and follow directions.
Sometimes customers are dissatisfied with a stain because they did not follow directions as written on the stain container. They also may have tried to apply the stain when the temperatures have been too hot, too cold, or the humidity has been too high. This will cause the stain to bubble and peel.

The type of brush you use to apply your stain makes a big difference as well. You need to use a brush that is supposed to be used for stains, not latex paints. Use a stain brush. This does make a difference and you will be glad you did.

Questions People Ask Before Staining a Deck
What moisture content should my deck be below before staining?
18%. If you've been dealing with a lot of recent rain or high humidity, you may need to make sure that the moisture level of your deck is at an acceptable level. Moisture meters are cheap at your hardware store and can easily tell you if it is safe to apply your deck stain. The moisture level of your wood should not be above 18%.
Can I use Waterborne Stain over Old Oil Based Stain?
Yes. If your old stain has worn off significantly, the type of stain you apply over it should not matter.
Should I Apply 1 or 2 Coats of Stain?
Most water-based stains do require 2 coats to get the best color and solid coverage. Most oil-based stains require only one coat.
Should I Spray, Brush, or Roll the Stain on my Deck?
Whether you spray, brush or roll the stain on your deck is up to you. Typically a large 5″ stain brush applies the stain quickly and with the best finish.
Do I have to remove the old stain before restaining a deck?
Not necessarily, but it's a good idea. If water still beads up because of the old stain on the deck, then a new stain most likely won't penetrate and the old stain should be removed.
Do you have to remove old stain before restaining a deck?
On average most deck stains cover 200-300 sq. ft. per gallon on rough surfaces depending on the age, condition, and porosity of the wood. on smooth surfaces, they cover 250-400 sq. ft. per gallon. To figure out how much deck stain you should buy, start by measuring the deck floor. Take its width times length and write that number down.

Conclusion
Applying a deck stain is a time-consuming endeavor. If you choose the right stain, this should only have to be done every 3 years.
Choose your deck stain wisely and plan a day when the temperatures are just right to work on your deck. If you buy a high-quality stain and apply it following directions, you should be able to have a stain that lasts a long time and enjoys lots of seasons for those outdoor parties.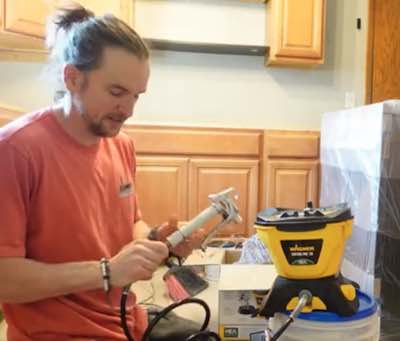 I've been a professional painter since 2001 and spent the last 12 years specializing in kitchen cabinet refinishing. I started the DIY Painting Tips blog in 2015 to start sharing everything I've learned over the years and help all the people who'd rather tackle their painting projects themselves. In 2019 I started the DIY Painting Tips Youtube channel where I publish in depth videos all about kitchen cabinet painting, painting gear reviews, and interior/exterior tutorials.