Porch and floor paints are incredibly durable paints that are resistant to dirt, moisture and other common issues.
Porch and floor paints are able to be applied indoors and outdoors, on wood, concrete and other surfaces.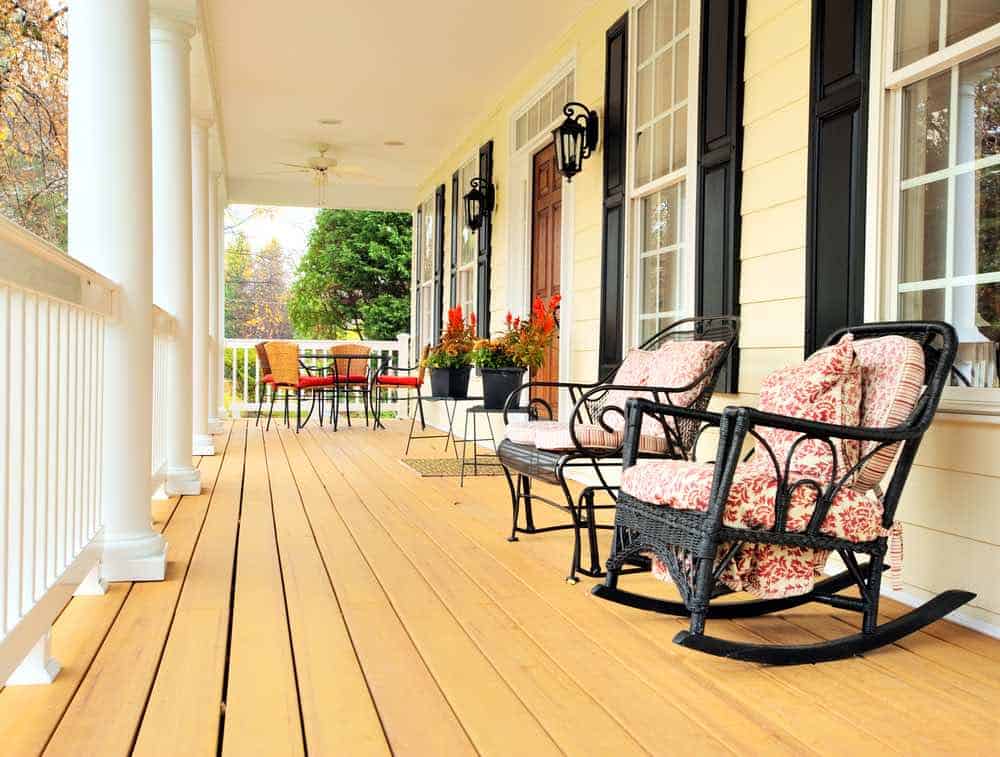 What makes them especially unique versus other paints is that they are specifically designed to be walked on. This means they can withstand daily wear and they create a non-slip surface.
Index
What Is Porch and Floor Paint?
Porch and floor paint is a paint that is specifically designed to withstand high traffic areas such as wood & concrete basement floors, stairs, patio floor and more.
The paint is designed to be applied on interior or exterior surfaces and not become slippery when wet.
A normal paint applied to these areas will typically wear through, peel off or become slippery when wet.
Good porch and floor paint will even withstand cleaning with harsh chemicals and hard scrubbing from floor cleaners.
Note: While porch and floor paint typically doesn't have a high VOC content, a respirator is never a bad idea. Check out The Best Paint Respirators to find the right one for you.
The Best Floor Paints for Porch and Floors
We've had the opportunity to use many different types of porch and floor paints for our clients over the years. From basement floors, to stairwells, 3 season porch floors and 4 season porch floors.
Here are our picks for the best floor paints for porch and patios.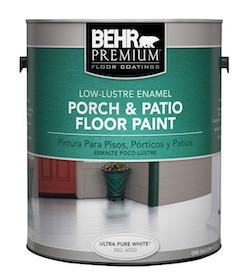 After taking a peek at all the paint that Behr offers, it`s no wonder that it`s a popular brand. The Behr Premium Porch & Patio Paint features a low-luster enamel coating, making it ideal for high-traffic areas.
Of course, it also comes in a gloss enamel finish.
You can still bring the decorative qualities that traditional paint offers to any area, outside or inside. The formula is suitable for concrete and wood surfaces.
As such, you can get it in any color you desire. This company can even computer-color-match so that whatever you want can be had in reality.
While the paint isn`t designed for it, it`s a good idea to note that you shouldn`t use this paint on a garage floor. It isn`t intended to be driven over, though it works well for other outside flooring options, such as decks and porches.
Product Highlights
"¢ Easy maintenance
"¢ One hour to dry
"¢ Mildew resistant
"¢ Interior and outdoor usage
What I Like
There are so many things to like about this paint. Though you will likely need multiple coats, the product goes on thick and smooth. Plus, it doesn`t take long to dry, and you can recoat in about four hours. That means you might get done with your project in a days` time.
What I Don`t Like
The one issue I found with this paint (and it`s minor) is that rain can discolor the paint temporarily. When it dries, it goes back to the original color, but it`s a little worrisome when it happens. As such, it might be best to paint outside areas when you have an extended dry period.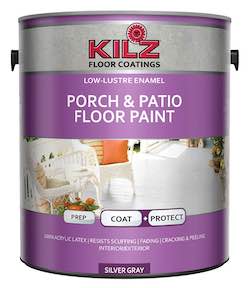 When you want to repaint the deck or patio, it might be best to use low-luster enamel coatings. Kilz Porch & Patio Floor Paint comes in two colors (silver/gray and slate gray).
It`s a durable paint that is easy to clean and won`t fade, crack, scuff, or peel. The slight shiny film you`ll see after it dries is because of the mildew-resistance.
If you`re like me and can`t seem to get liquid from one point to another without dripping, you won`t have to fear with this paint. This product doesn`t drip at all.
I did notice that the paint "Ëœsets` firmly, which means it might shrink a bit when it dries. Therefore, you might need to cover up some spots, such as over nails and screws to get it all even.
However, I think this is an excellent quality for paint. You know that it has sealed and that it is going to stick to the surface without issue.
Plus, you`ll like that any new paint you add blends with the rest and won`t streak!
Product Highlights
"¢ Resists mildew
"¢ Durable
"¢ Easy to maintain
"¢ Prevents peeling, cracking, fading
"¢ Coverage: 200-300 square feet (rough)
What I Like
I don`t know why, but I`ve always like a thick paint. It just seems like it will be stronger and work better. This product doesn`t disappoint, as it is almost like pudding.
What I Don`t Like
When choosing the color, decide if you want something light or dark. The silver-gray color can appear off-white when applied and dried. You can get a deeper sheen if you use multiple coats.
Valspar Floor Paint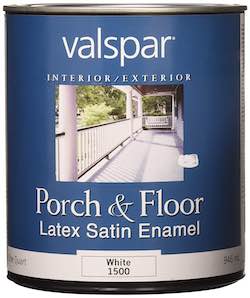 Are you someone who likes to have a satiny sheen on your flooring? It can make the area appear a little lighter and attracts light, as well.
If so, Valspar Latex Porch & Floor Paint is an excellent choice for you. While it might look light and delicate, it offers long-lasting, tough protection.
It`s ideal for use inside and outside the home and dries quickly. You might even be able to walk on your floors in about an hour, though you should wait 24 hours for regular/heavy foot traffic.
Though this product is designed to be used inside and outside, it isn`t ideal for parking lots or garage floors. As such, you shouldn`t use it on wood decks. However, it can be used on your porch and most properly-prepared wood.
Primarily, latex paints don`t work best on wood, and the satin finish can cause issues because it`s more slippery than low-luster products. This is the main reason why it`s not ideal for garages.
Product Highlights
"¢ Water-resistant
"¢ Suitable for exterior/interior uses
"¢ Multipurpose paint
"¢ Coverage: Up to 400 square feet per gallon
What I Like
Though most products claim that they are easy to clean/maintain, this one really is! You don`t need anything but water, though you can use almost any cleaning product on the market.
What I Don`t Like
The one issue I found with this paint is that it is latex-based instead of oil-based. That`s not necessarily a significant issue, but it does matter what was on the flooring before. You must properly prepare the surface using the instructions on the container.
Rust-oleum Floor Paint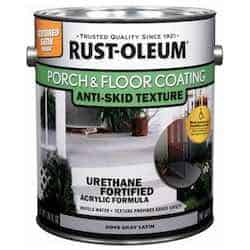 If you`re looking for something that is easy to use, looks great, and has a built-in anti-skid texture, the Rust-oleum Floor Paint is ideal.
It offers a smooth finish and an elegant design. As such, you can use it on concrete and wood surface throughout the home and outside.
The formula is designed to be scrape- and scuff-resistant, making it suitable for high-traffic areas.
You can apply it to the prepared surface using a brush pad or roller. This helps you achieve the most coverage in the shortest amount of time.
While the manufacturer doesn`t mention whether it can be used in garages, it`s a good bet that you shouldn`t. Instead, consider it for use on porches, decks, basement steps, and the like.
Of course, the anti-skid texture may make it appear suitable for garages and tires; it could leave tire marks or scuff the paint job.
Product Highlights
"¢ Made in the US
"¢ Anti-skid texture
"¢ Suitable for concrete/wood use
"¢ Urethane fortified
"¢ Acrylic
What I Like
If you`re afraid that people will slip and fall, such as down the stairs or on the porch when it is wet, this is the best paint to consider. With the anti-skid texture, the product will "Ëœgrip` your shoes or feet, helping to prevent falls.
What I Don`t Like
My likes and dislikes of this product both focus on the anti-skid technology. While it makes it safer, it does add texture to the paint. Therefore, it will never go on completely smooth, and there will always be something there and noticeable.
Painter`s Select Floor Paint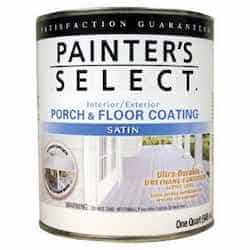 Whether you`re painting the wooden porch or concrete, the Painter`s Select Porch & Floor Coating might be an excellent option to consider.
It is quite easy to use, and many applications only require one coat of paint. However, you can always apply more coats as needed to cover stains or provide more resistance to foot traffic.
This paint is also quite durable and designed to last for many years. Of course, touch-ups might be needed. If that happens, you can expect the next can to match the first.
If you`re looking for a coating that is resistant to wear, this is the option for you. When it`s used on a porch, it has a slight shine to it, though it can still withstand you dragging across the wicker patio furniture.
Product Highlights
"¢ Low-odor formula
"¢ Easy to clean
"¢ Low VOC (less than 100 grams per liter)
"¢ Quick drying
"¢ Little ventilation needed
What I Like
I primarily liked the fact that this product was quick to dry and had no odor. It`s annoying when you`re painting the basement, and it smells like paint for the next week. You won`t have this problem with this product.
What I Don`t Like
While trying to find things to not like about this paint, I was left stumped. The only thing that slightly concerned me was the satin finish. Primarily, this works well for trims, cabinets, and the like and might not be suitable for floors that see a lot of traffic.
Dutch Boy Floor Paint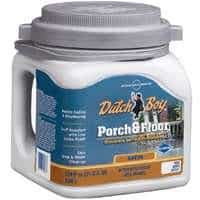 Most people don`t have a lot of time to prime the area to be painted, so the Dutch Boy Porch & Floor Paint is ideal. It includes a primer within and offers maximum surface protection.
You can apply this paint directly to uncoated or previously-painted surfaces without fear.
As such, the formula is considered diamond-grade. It`s highly durable and tough, which is suitable for high-traffic areas.
Amazingly, this product comes in a twist-and-pour container, which makes it easy to open, hold, pour, and store.
This product dries quickly, so you can recoat it in just four hours. It can withstand light foot traffic after 24 hours.
Product Highlights
"¢ Primer included
"¢ Tough and durable coating
"¢ Resists fading
"¢ Protects from scuff marks and harsh weather
"¢ Easy to clean
What I Like
My most favorite aspect of this paint is that it includes the primer, which means you don`t have to buy a separate product. As such, you can use it on many painted surfaces, concrete, and uncoated wood.
What I Don`t Like
While you can use a roller or brush, the manufacturer recommends an airless sprayer. This does work extremely well, but who has such a sprayer on hand? Therefore, you may get less coverage with other application methods.
Benjamin Moore Floor Paint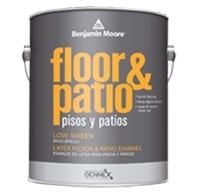 Benjamin Moore is a well-known company that manufactures paint. While it offers many products, you`ll find two options for the floor and porch.
It all depends on whether you want high-gloss or low sheen. To be honest, we like both styles, but the high-gloss might work better for flooring while the low-sheen option might be best for porches.
You`re going to be looking for something that is easy to apply. Each of these products will go onto the surface smoothly, so you don`t have to worry about splats or blotches when you`re done.
While most people want to paint the porch and floor in a natural color, you`ll find a variety of fun options from which to choose. These include white, green, redwood, and various grays.
Product Highlights
"¢ Easy to apply
"¢ Resistant to soap, detergent, oil, grease
"¢ Durable finish to resist scratches
"¢ Low VOC
"¢ Use indoors and outdoors
What I Like
There are so many things to like about Benjamin Moore Floor Paint, but I really like the Gennex Color Technology. Some paints have chemicals in them that prevent you from getting the desired color. This company chose to remove those chemicals so that you get a vibrant color and made its own colorants to work with its paint.
What I Don`t Like
In all honesty, there wasn`t much not to like about this paint. The only thing I`d recommend is to make sure you have plenty of shed-resistant roller covers to prevent any bits from sticking to the walls and drying there. As such, you may also want to use extra-firm paintbrushes where applicable.
Sherwin Williams Floor Paint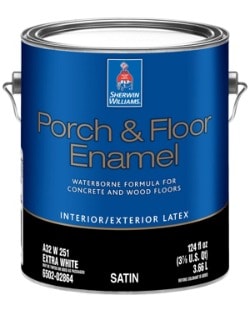 When it comes to protecting your porches and flooring, you know that you require the best. Sherwin Williams Porch & Floor Enamel is an excellent product.
You can use it inside and outside. It is designed to work on porches, basement stairs, patios, and laundry areas, as well as others.
This product works to keep your wood and concrete surfaces looking new for longer. As such, the formula is proven to perform in challenging conditions.
Consider using this paint in high-traffic areas. You`ll block dirt and other debris from adhering to the floors and marring its shine.
It`s possible to find this paint in satin sheen and gloss. Both options are designed to be used on floors, though the gloss version works well on doors, window trim, and more. If you choose the satin version, it has a slight sheen to it, giving you a richer color.
Product Highlights
"¢ Washable
"¢ Low-slip compliant
"¢ Clean with any household products
"¢ Low VOC
What I Like
The best part about this paint is that it can be tinted to almost any color. When everyone is so focused on bold accent tones, you want a paint that can handle them all. This one sure does that, allowing you to have gold, fire-engine red, and any other color you desire.
What I Don`t Like
While the colors are amazing and you get that high-gloss, satiny sheen, the one issue with it is that it doesn`t last very long. If you drag furniture across it, you`re likely to scuff the paint or even scratch it right off.
How To Prep Your Floors For Paint
Prepping your floors for paint really depends on the condition of the floor that you plan on painting. Does it have peeling paint, is it greasy, is it dirty, and/or does it need patch work.
Start by sweeping the floor clean and hand washing it with a rag until there is no residue left on the floor.
If the floor has any greasy residue on it, a tsp solution, vinegar or even dish soap added to your water will help clean the floor even better.
Next, If you have old concrete paint on the floor that is peeling, you need to scrape as much off as possible, ideally until there is none left.
Finally, If the floor needs any patch work, now is the time to do this. After patching, give the patch the required time to dry or your floor paint will end up peeling.
Personally, I don't think DIYers should acid etch their floors. There are a lot of health risks involved by using mauratic acid on your floors that I don't believe are worth the risk. Acid etching will allow the paint to adhere better, but I've found that floor paint will adhere great if the floor is thoroughly cleaned.
Painting Your Floors With Porch and Floor Paint
The actual painting of your floors is pretty straight forward.
First, start off by prepping the room as necessary. If you need to tape off any trim or walls, do this now. Read this post for help with the best painter's tape.
I like to start by using a 3″ brush and going around the edges of the area I plan on painting.
Next, I switch to a 9″ roller on a 4′ extension pole. This allows me to roll paint onto the floor without hurting my back if it is a long day.
All porch and floor paints require two coats. Make sure to allow adequate time in between coats.
When completed, make sure to properly clean up all your painting tools. Check out our post on cleaning paint brushes for tips on making your brushes last longer.
Finally, only walk on the floor paint with socks for the first week. No heavy traffic.
Porch and Floor Paint FAQ
How Long Before I Can Walk On The New Floor Paint?
Typically you can walk on newly painted floors after 24 hours. But only with socks, no heavy traffic. You can start using the floors normally after they have had a week to cure.
How Many Coats Of Paint Should I Apply On My Basement Floor?
All porch and floor paints require two coats of paint as suggested by their manufacturers.
Do I Need To Acid Etch My Concrete Basement Floor Before Paitning?
No. Acid etching can help with the adhesion of the paint to your concrete floor, however throughly cleaning your floor is usually sufficient and safer than using muratic acid.
Can I Use Porch and Floor Paint Outside?
Yes. Porch and floor paint can be used on interior or exterior floors.
Is Porch and Floor Paint Slippery?
No. Porch and floor paint is designed to be slip resistant. If extra precaution is needed, add a texture additive to your paint for even more slip resistance.
Conclusion
Porch and floor paint is a great choice when you want to brighten up a laundry room floor, a concrete basement, wooden stair or an exterior patio.
Have painted your floors? Let us know how it went in the comments.