Stucco is a popular plaster material used to mold architectural decorations, coat walls, and texturize drywall. It's a fantastic option for a home's exterior since it has a very high resistance to precipitation and UV radiation.
But, after a while, the surface will begin to show hairline cracks, stains, and chipping that damage the paint job and require repair using a stucco filler. Once you've corrected the damage, it's time to apply a primer and the best exterior paint for stucco. And this is where we can help.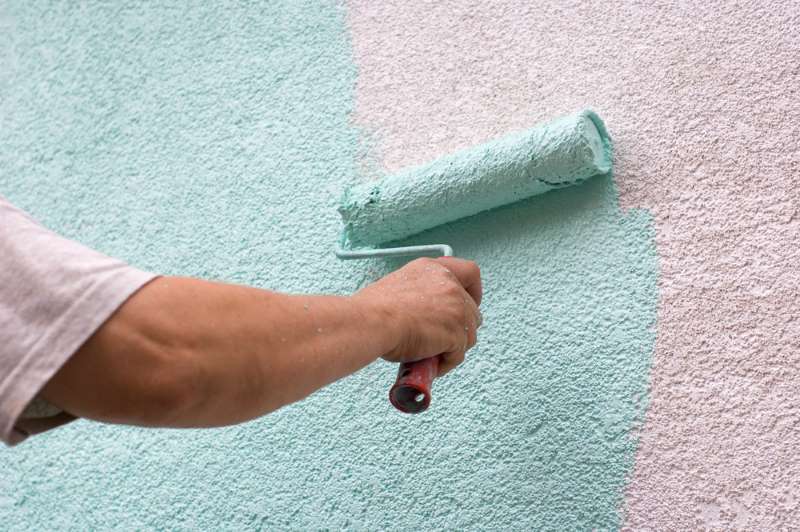 Below, we'll go over all of your options and show you how to pick the best stucco paint for your home's exterior.
Check out our guide on How To Paint Stucco: A DIY Guide
Things to Look for When Choosing the Best Exterior Paint for Stucco
There are three types of stucco paint: masonry, elastomeric, and acrylic. While you can use other paint formulas that may adhere to stucco, those are more susceptible to chipping, bubbling, and peeling than the three above-mentioned paints.
Acrylic
Among the three types, acrylic is the most permeable, meaning it penetrates further into stucco than the other paints. Because of this, moisture can escape from stucco as opposed to forming ugly bubbles underneath the paint.
Acrylic offers an affordable option and has great durability and color longevity. It also comes in an expansive range of different colors and finishes while drying faster than either elastomeric or masonry paint. However, it does not have the same bonding strength as the other two paints. It also lacks the high waterproofing quality of elastomeric paint.
Masonry
Masonry paints are designed to bond with cinder blocks, concrete, masonry substrates, and stucco. These are very durable and highly mildew- and moisture-resistant. However, these paints offer a limited variety of colors and lower coverage than acrylic paints.
Elastomeric
Elastomeric is basically a rubber paint that's applied in a liquid form to later dry as a layer of solid rubber. When it comes to water resistance, it's the best choice. And the paint's thick formula is one of the limited options available to conceal hairline cracks found in stucco surfaces.
However, these paints do not provide the same glossy or vibrant color appearance and may take a maximum of 72 hours to cure completely. Elastomeric paint also has bonding issues with stucco. Since stucco would already have several paint layers, the weight of elastomeric paint can cause the older paint layers to pull away from the stucco.
Durability
The number of coats applied, formula, finish, and viscosity of exterior stucco paint can influence its durability.
Viscosity
Viscosity represents a great indicator of a stucco paint's durability. Generally, the thicker the viscosity of the paint, the more durable it will be after it cures fully. Viscosity can also indicate good coverage since thicker paints can conceal small chips and cracks.
Formula
The primary determinant of any paint's durability is its formula. For instance, acrylic paints represent the most breathable out of the three formulas and have a high resistance to peeling, chipping, fading, and bubbling.
However, masonry paints bond better with masonry surfaces like stucco, but they are not as flexible or breathable as acrylics, which increases the likelihood of peeling and cracking. Finally, elastomeric paints are highly durable and very moisture-resistant but take longer to cure.
Finishes
Exterior paint for stucco has four basic finishes: satin, flat, gloss, and semi-gloss. Flat is the most commonly used for stucco since it helps conceal tiny imperfections that the glosser finishes only highlight.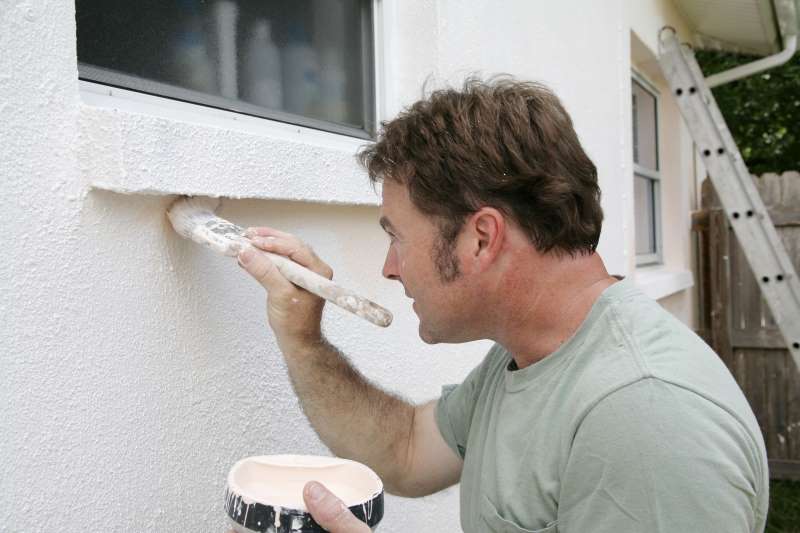 How Many Coats of Stucco Paint Will You Need?
The rule of thumb is that the more coats of paint you apply, the more durable your results. However, keep in mind that paint carries weight, and with each successive coat, you increase the cumulative weight. This means the layers may reach a point when the first coat is no longer strong enough to adhere to the stucco. If this happens, the paint will begin to peel away from the stucco, which could cause surface damage.
While this is a rare scenario, a paint's weight should be factored in, especially when dealing with elastomeric paint, which is often the heaviest out of the three mentioned. If you have to work on a wall that already has many layers of paint, you may be better served to remove a few layers with a paint scraper before you repaint.
Weather Resistance
All exterior paints are specifically formulated to withstand outdoor elements such as snow, UV rays, rain, and fluctuating temperatures. However, there are different levels of weather resistance among the above-mentioned paints.
By far, elastomeric paint represents the most weather-resistant paint. The rubber in the paint does a fantastic job sealing out moisture, and the thicker viscosity will protect stucco from UV damage. To help the elastomeric paint better bond to your stucco, it's best to use a high-quality exterior primer.
VOCs
Volatile Organic Compounds, or VOCs, are damaging chemicals often found in exterior paints. VOCs can have possible negative effects on the human body, including nausea, headache, airway irritation, and even kidney, liver, or central nervous system damage. So it's safe to say that the best exterior paint for stucco contains few to no VOCs.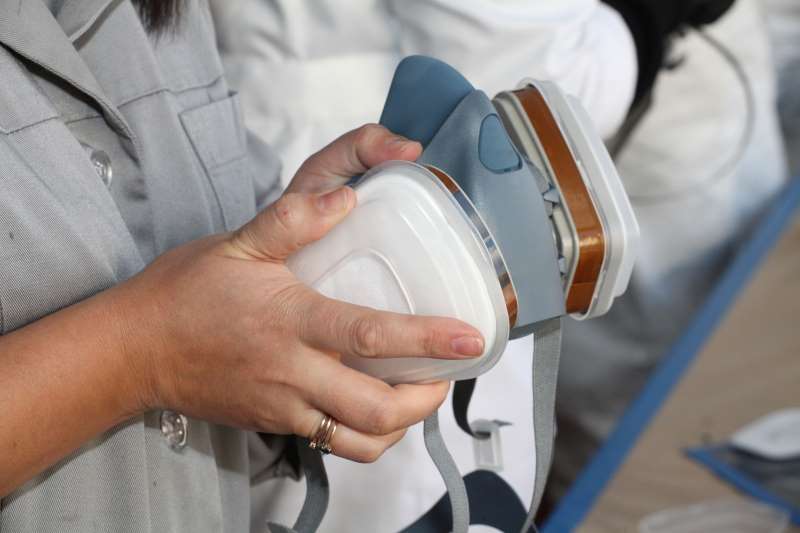 Some believe the harmful side-effects of VOCs are not as much of a problem with exterior paints since they are only used outside where fumes escape. However, it's smart to keep your exposure to VOCs to a minimum no matter what. It's a good idea to wear a respirator when working with these paints, even if working outside.
Color Endurance
Color longevity is a very important factor when choosing a good stucco paint. If longevity is your most important criterion, acrylic paint is going to be your best option because the paint permeates deepest into the stucco. Elastomeric and masonry paints are fantastic when it comes to bonding to stucco and sealing out moisture, but not as effective at retaining bright, clear colors because they simply do not permeate as deeply.
You also may want to keep in mind that the specific paint color itself may impact its resistance to elemental factors like direct sunlight. Darker colors start to fade more noticeably compared to lighter shades. For instance, if you wish to paint your home's stucco exterior in a dark hue, you should look for a product that has titanium dioxide, a helpful additive designed to resist color fade. If you have older stucco that's noticeably dirty, you might consider a paint with a high-hiding formula that will conceal stains.
Dry Time and Coverage
The drying time and coverage typically depend on very specific formulations. You should check the information on the product along with the manufacturer's recommendation for use to learn the total paint coverage per gallon. This info should also reveal just how long it will take for the product to cure fully.
Acrylic paints for stucco offer higher coverage than elastomeric or masonry paints, usually covering around 300-400 sure feet per gallon. The other two, on average, only cover around 75-125 feet per gallon.
Both masonry and acrylic paint have relatively fast cure times of about 24 hours, while elastomeric paint may take up to 72 hours to cure fully. It would be best to keep in mind that low temperatures and high humidity can increase your cure time.
Preparing the Surface and Application
Before painting your exterior stucco, you must properly prepare it to achieve the best results. This also includes your exterior stucco walls. First, patch any holes or cracks, then sand your patches. Also, sand away any bubbling, peeling, or chipping paint. After making the necessary repairs, wash down your stucco walls using a power washer set on low to remove debris and dirt. Cleaning your stucco will help create stronger adhesion between your exterior and the paint.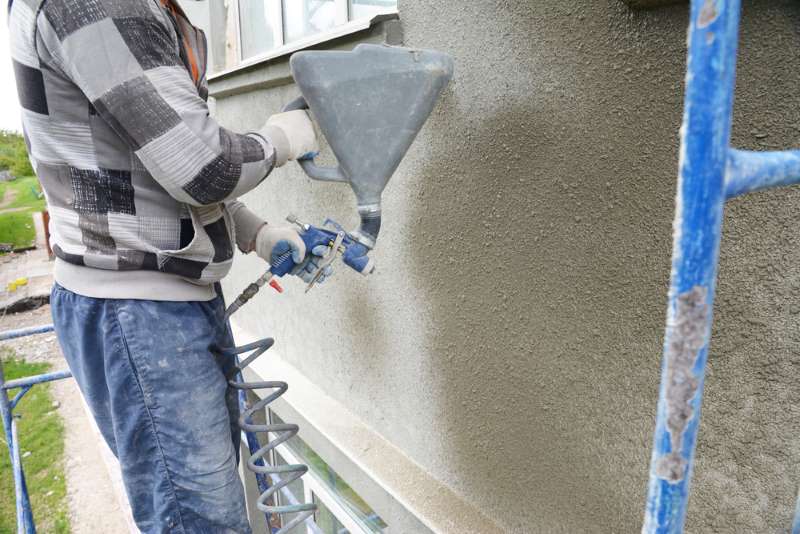 If the product you pick isn't a primer-paint combo, apply the appropriate exterior primer on your stucco before you paint. While you can apply the exterior paint using either a roller or brush, you may want to consider a paint sprayer for faster and better dispersal. Plus, these sprayers are excellent at delivering paint into creases and divots commonly found on stucco walls.
Here Are Options for the Best Exterior Paint for Stucco
Here are our top seven recommended exterior paints for stucco.
INSL-X SXA11009A-01 Stix Acrylic Waterborne Primer
Many stucco homeowners who live in humid or chilly climates appreciate this INSL-X product. The acrylic paint is highly versatile and can be used on many hard-to-paint surfaces such as stucco, concrete, aluminum, cement, and ceramic tiles. Its formula is also low-VOC and fully cures within environments with high humidity and temperatures down to 35 degrees Fahrenheit.
Microblend Exterior Paint and Primer
This option is a 2-in-1 paint and primer that provides a quality, long-lasting option for updating the exterior of your stucco surfaces. It has a 100 percent all-acrylic formula that resists rain, wind, sun, snow, sleet, peeling, chipping, and bubbling.
This paint comes in a few size options, from a 4-ounce sample all the way up to a 5-gallon bucket, and offers coverage between 300-400 feet per gallon.
This low-VOC paint is available in 13 light-neutral colors and gloss, eggshell, flat, semi-gloss, and statin finishes. With this paint's thick consistency, you can cover old exterior paint with only one coat unless the original paint is significantly darker. It takes about 24 hours for this paint to fully cure, and it has rust inhibitors and stain blockers that help to extend your stucco's amazing appearance.
Zinsser All Weather Exterior Masonry Paint
Zinsser on our list of best exterior paint for stucco because it offers the best professional-grade masonry paints you can buy that are easy to apply and give you excellent color retention and resistance against blistering, cracking, and peeling after applying two coats.
However, this paint is typically more expensive than most brands, costing about three times as much. But, you definitely get what you pay for as its self-priming formula bonds to your old paint without sanding and becomes waterproof within 20 minutes of application. It's re-coatable after only 3 hours, and you can apply in temperatures as low as 23 degrees Fahrenheit.
Prestige Exterior Paint And Primer in One
If you're looking for long-lasting improvement on faded or old stucco, this Prestige exterior acrylic paint might be just the ticket. It's available in 317 different color options and offers satin, flat, or semi-gloss finishes. Covering up to 400 square feet per gallon, this paint also has a high-hiding formulate that effectively conceals stains, wear, and age in stucco.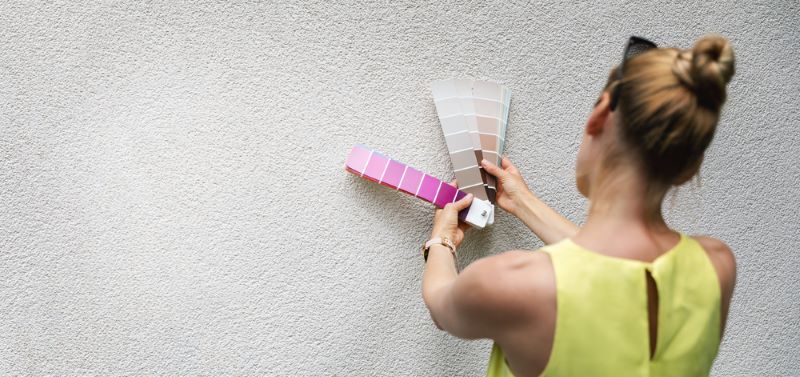 In about 2 hours, it drys to the touch and takes about 24 hours to cure completely. However, low temperatures and high humidity can impact its drying time. The low-VOC paint/primer is also resistant to mold, moisture, mildew, fungus, peeling, bubbling, UV radiation, and cracking. Plus, its high durability helps preserve color.
Montage Signature Interior/Exterior Paint
If you're looking for a great budget-friendly exterior/interior acrylic stucco paint that offers a range of vibrant colors and finishes, then you should definitely check out Montage Signature. You can choose from 18 different color options, and they offer 5/8-inch chip card samples. You can also choose between semi-gloss and low-sheen finishes. And for extra savings, take a look at getting the 5-gallon bucket.
This paint goes on nice and smooth with a brush, roller, or sprayer and only takes around one hour to dry to the touch and about 24 hours to cure fully.
BEHR Masonry Paint
Quick-drying masonry paint is a bonus when working outside, and that's exactly what you get with BEHR, which is why we added it to our list of best exterior paint for stucco It's also rainproof after only an hour of application, and in three or four hours, it's fully dry, allowing you to add another coat. We recommend two coats for the best finish, which means you can have your exterior stucco painted in only half a day!
This paint is also great for dry masonry surfaces such as pebbledash, rendering, concrete, brickwork, and building blocks and gives them a smooth peel-, dirt-, and mold-resistant finish that's also waterproof.
AMES BWRF5 Water-Based High Strength Elastomeric
And finally, AMES paint offers a fantastic elastomeric formula that's very effective when it comes to protecting your stucco from moisture, which makes it ideal for places that get lots of sleet, rain, or snow. The paint is very durable and resistant to mold, fungus, mildew, chipping, bubbling, fading, and peeling. You can buy it in a 5-gallon bucket, and it covers 100 square feet per gallon.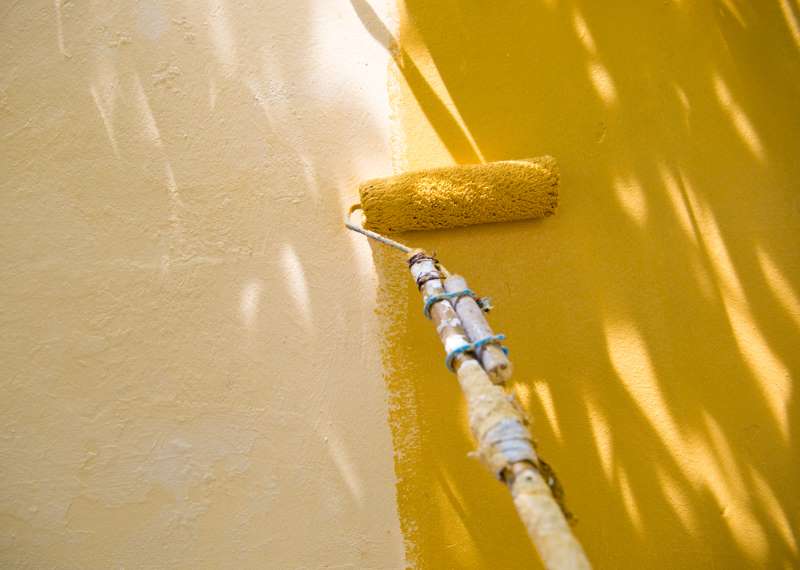 The consistency of the paint allows it to fill in hairline cracks, making it a great choice for different materials such as stucco, wood, metal, stone, and concrete. This formula is nontoxic, with low odor, and dries to the touch after around two hours while taking about 24 hours to cure fully. It's only available in white, but you can always tint it with colorant, although doing so may add toxicity.
Wrapping Up the Best Exterior Paint for Stucco
Finding the best exterior paint for stucco will largely come down to what features you value most in a paint. If you want a better selection of colors that last a long time, then acrylic paints are the way to go.
Masonry paint can provide extra protection for stucco paint, with better bonding than acrylic, and is lighter than elastomeric. However, you won't find a wide variety of colors and the protection is slightly lower than elastomeric.
And, you should choose elastomeric paint if maximum protection is your main concern. Just be aware that this is heavier paint than acrylic and masonry, meaning you may have to do a lot of sanding to remove older paint before applying this type of stucco paint.
Check out our guide on How To Paint Stucco: A DIY Guide
Check out our Exterior Painting page for even more information on exterior painting, paints, and products.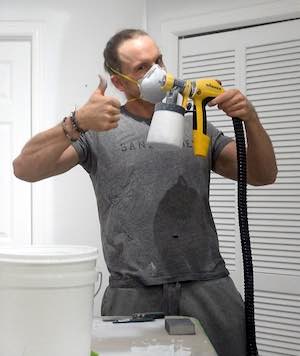 I started painting in 2001 and have seen just about everything in my painting career. I started in production and commercial painting, then moved over to new construction and remodeling during the boom of the early 2000s. Post 2010, I niched down into residential painting where I have done everything from exteriors, decks, interiors, furniture and more. Over the last few years, I've had a focus on kitchen cabinets.
I started the DIY Painting Tips blog in 2015 to start sharing everything I've learned over the years and help all the people who'd rather tackle their painting projects themselves.
You can follow my Youtube Channel where I show you everything that you read about on this site: https://www.youtube.com/@diypainting
You can also hire me directly from DIYPaintingTips.com here: https://diypaintingtips.com/free-painting-quote/
Contact me at: ryan@diypaintingtips.com