The garage door is often the first thing people notice when it comes to homes because they are such a large part of a home's exterior. And, when the metal is bare, discolored, or shows peeling paint, it can make your home look dull or even a bit run down.
In this guide, we'll list all the materials you'll need, go over the best types of paints primers, and show you how to paint a metal garage door step-by-step.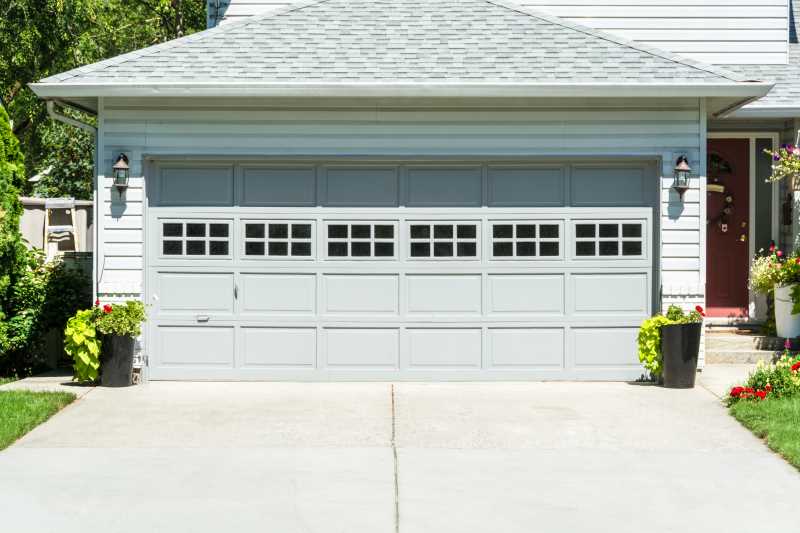 Materials You'll Need To Paint Your Metal Garage Door
A few benefits you gain from painting your metal garage door include preventing rust and other forms of corrosion, covering up faded and scratched areas, matching your home's trim colors, keeping your metal garage door safe from harsh weather and sun exposure, and adding personality and color to give your garage door a unique appeal.
Canvas drop cloth or plastic covering
Scrubbing brush (this is optional)
Rag
1 Gallon bucket of paint
Paint stir sticks
Dustpan and Broom
Primer? (this will depend)
Best Paints To Use for Metal Garage Doors
To help your home look its best, you need to choose the right paint for your metal garage door. The best paint is going to either be oil-based exterior paint or high-quality acrylic latex.
Most metal doors will have a baked enamel or powder coat. Manufacturers usually add this layer to give the door a durable finish. While this coating will usually last a long time without peeling, you may want to give your metal garage door a look that better matches your tastes.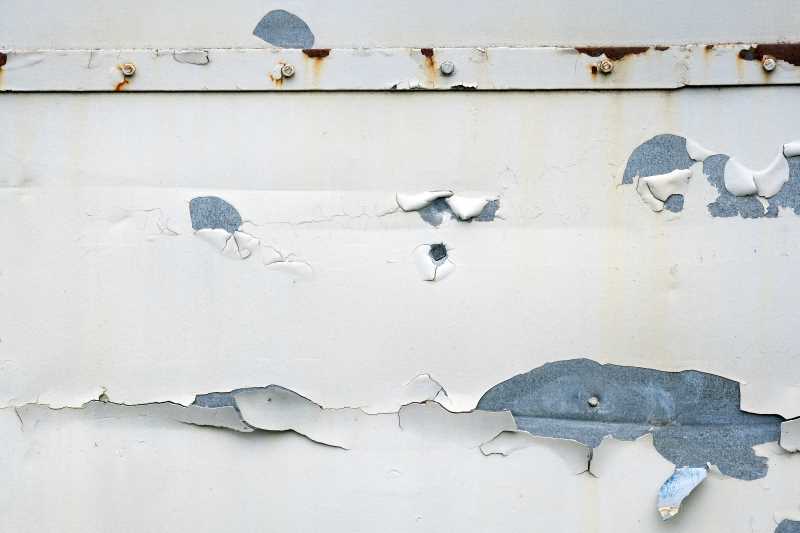 Part of learning how to paint a metal garage door is choosing a type of paint that will resist peeling, fading, or cracking, which can seriously downgrade your home's curb appeal. But first, let's take a closer look at the two types of paint mentioned above for painting a metal garage door and review the upsides and downsides of each.
Acrylic Latex Exterior Paint
Choosing a premium acrylic latex exterior paint is a great option as many of the best contain flash rust inhibitors. You want to look for paint that has at least 50% solar reflective value. These paints are available in glossy, flat, and satin finishes.
Although they are water-based, acrylic latex still has great flexibility for dealing with temperature changes. Therefore, they are less likely to peel and crack. This paint will also combat moisture when fully dry, and cleaning a latex-painted metal garage door with soap and water isn't going to damage the surface.
Oil-based Exterior Paint
Another good type of paint for painting a metal garage door is oil-based exterior paint. These paints contain linseed oil or alkyds. Oil-based paint can efficiently cover in one coat while firmly bonding to the metal. Plus, water cannot penetrate the paint, so rusting isn't an issue.
A few oil-based paints contain UV barriers to protect your metal garage door's paint job from fading. You may also get fuller and smoother coverage when applying oil-based paint. Over time, you'll reap the many durability benefits oil-based paints offer.
How To Choose Which Paint Is Best for Your Garage Door
When painting a metal garage door with either of these paints, it's important to look at the label and make sure it's formulated for exterior painting. As outside conditions change, this will impact the condition of your metal garage door. You need paint that will resist fading, corrosion, high sun exposure, and scratches as much as possible.
When trying to decide between the two types before painting your metal garage door, consider the following tips:
If the door was painted previously, then it's best to use the same kind of paint
You shouldn't use oil-based paint over latex paint because it will cause chipping and peeling
You can use latex over oil-based paint, but this requires more preparation and several coats of both primer and paint
Priming Before Painting a Metal Garage Door
Preparing your metal garage door with a good primer is the key to a long-lasting finish. However, it's not always required.
For new metal doors that come already primed, you can simply apply coats of paint. Refer to the instructions on your paint can to find out the right number of coats.
However, if your garage door is made of galvanized metal, you have to add primer before you can begin painting your metal garage door. You see, the usual metal paint just won't stick to galvanized metal. Because of this, the paint will begin to peel pretty quickly.
You can also reduce flaking by preparing the door before priming. To do this, you'll need to sand, scrape, and clean the door thoroughly.
For metal garage doors that are unprimed, you need to apply at least one layer of metal primer. Be sure to coat the entire door along with the frame. Carefully follow all instructions on the primer can. Wait at least eight hours to allow the primer to dry completely before painting.
How To Paint a Metal Garage Door: Step-By-Step
Step 1: Sand the Surface
Make sure you put down a dust sheet and wear your goggles and mask before starting. To get the best finish, you'll need to scrub away flaking, blistering, or bubbling paint. Use a flat scraper to get rid of old paint until your surface is nice and smooth.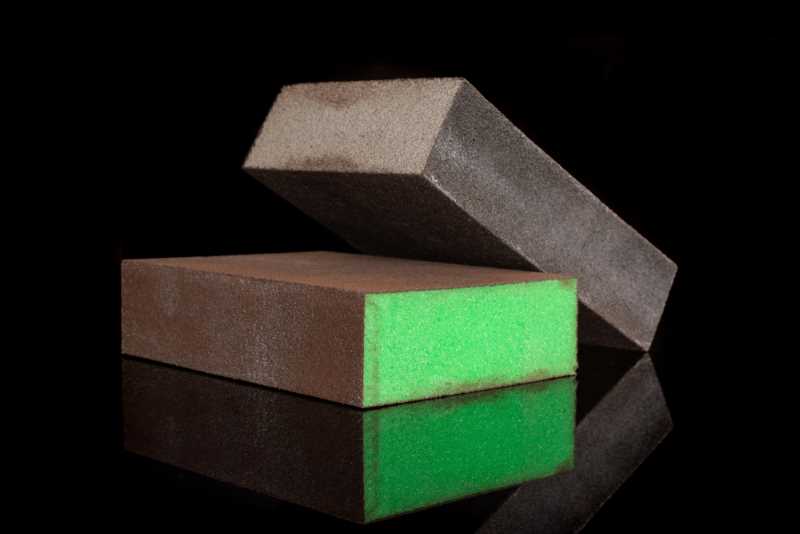 Then grab a piece of 120-grit sandpaper and begin rubbing down the surface. Open your door and scrub down the edges as well.
Step 2: Clean the Surface
Using a sponge and sugar soap solution, scrub the door to remove dirt and grease. Be sure to clean the hinges and edges so you'll have a smooth surface that's ready to paint.
Step 3: Tape Off the Area for Painting
Before painting your metal garage door, use painter's or masking tape to protect the garage door handles and other sections of the door that you do not wish to get paint on.
Step 4: Add Primer
Open your garage door to access the bottom and side edges. Begin applying the metal primer in these areas first, then allow it time to dry. Next, begin priming the rest of the garage door from top to bottom. Utilize an up and down motion to ensure you get every nook and cranny.
Then, just wait for the primer to dry.
Step 5: Add Paint
Start painting your metal garage door using the same order you used to apply your primer. Begin with the bottom and edges, let it dry thoroughly, then start on the rest of the garage door.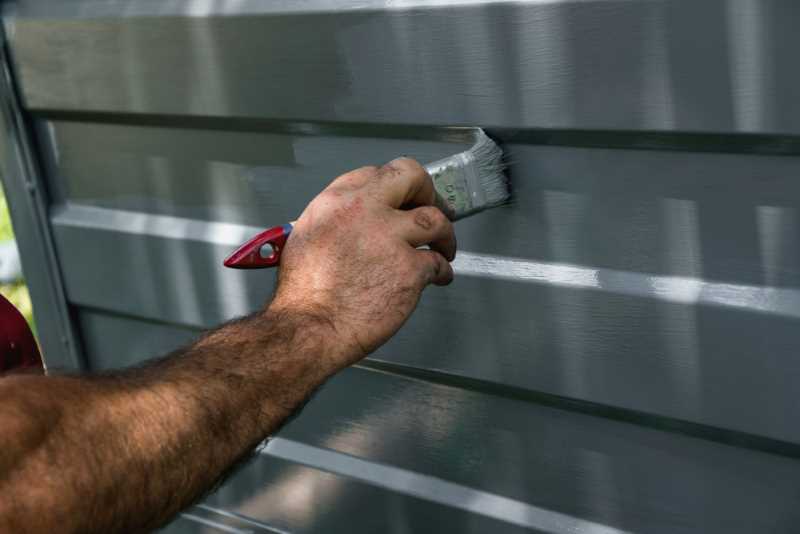 Once you've painted the entire door, judge whether or not it needs a second coat. If you're satisfied with the coverage and color, then remove your tape while the paint is still wet.
If you decide to apply a second coat, make sure you allow the first coat to dry before repeating the process mentioned above.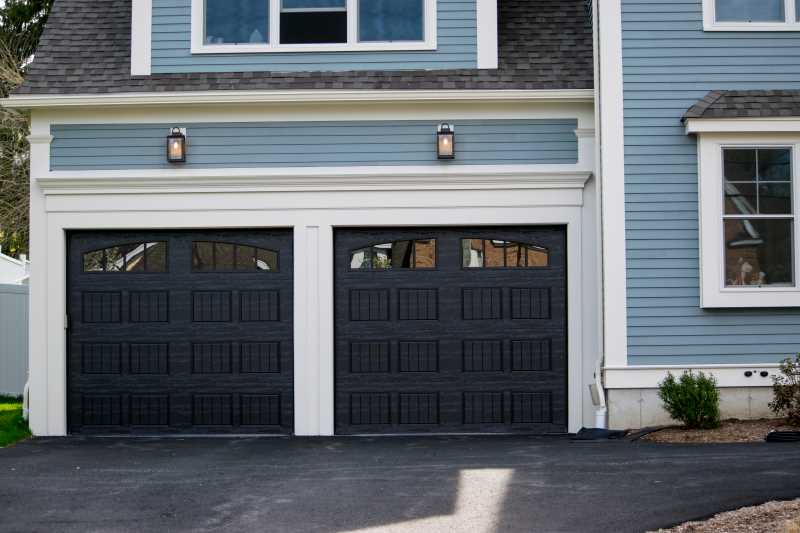 Wrapping Up How To Paint a Metal Garage Door
Painting your metal garage door can bring new life to your home and really make it stand out. The process is fairly straightforward and should only take one full day. However, be sure to think about the weather forecast for the day before, the day of, and the day after your DIY project. You don't want your results compromised by rain and other bad weather conditions.
If you're debating between painting your garage door yourself and hiring a professional, take a look at this article to help you decide.
Now that you know how to paint a metal garage door, you may need some garage door paint color ideas. Check out our 9 Great-Looking Garage Door Ideas post for inspiration. Once you're done painting your garage door, stand back and admire your work while soaking in the kudos from your neighbors.
Check out our Exterior Painting page for even more information on exterior painting, paints, and products.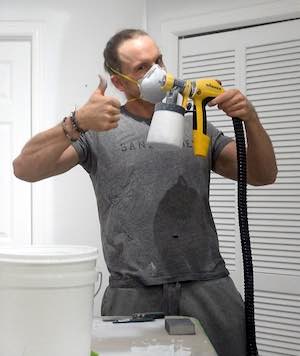 I started painting in 2001 and have seen just about everything in my painting career. I started in production and commercial painting, then moved over to new construction and remodeling during the boom of the early 2000s. Post 2010, I niched down into residential painting where I have done everything from exteriors, decks, interiors, furniture and more. Over the last few years, I've had a focus on kitchen cabinets.
I started the DIY Painting Tips blog in 2015 to start sharing everything I've learned over the years and help all the people who'd rather tackle their painting projects themselves.
You can follow my Youtube Channel where I show you everything that you read about on this site: https://www.youtube.com/@diypainting
You can also hire me directly from DIYPaintingTips.com here: https://diypaintingtips.com/free-painting-quote/
Contact me at: ryan@diypaintingtips.com