I've been in the painting industry for just shy of 20 years. One big lesson I've learned over that time is that paint sprayers are vital to being able to deliver top quality paint jobs at fast speeds.
Paint sprayers can save you both time and money while delivering a superior finish that is simply not achievable with traditional painting methods.
In this post, I'm going to share with you my favorite paint sprayers for every different type of interior and exterior painting project that can (and usually should) be done with a sprayer.
I'm going to cover both Airless Paint Sprayers and HVLP Paint Sprayers as these are the two most common sprayers for DIY painting projects.
Let's Get Started!
Index
Two Main Different Types of Paint Sprayers
With nearly any type of DIY painting project, there are two main types of paint sprayers that you will be choosing from. An airless paint sprayer and an HVLP (high volume, low pressure) sprayer.
There are a lot of different sprayers in each of these categories and some are better for some jobs while others excel at different jobs.
There are other types of sprayers that I won't be covering in this post because they are too niche and expensive (electrostatic – one of my personal favorites, Air Assisted Airless, LVLP and more). They all have their place and purpose, but these are usually more for the professional full-time painter due to their costs and niche uses.
Airless Paint Sprayers
Airless paint sprayers, at their most basic, actually work similarly to spray bottles.
First, paint is sucked into the sprayer using a piston and pressure is built up in the sprayer, usually around 2,000 psi.
The paint then moves through the paint sprayer and down the hose to the spray gun where it remains under pressure.
When the trigger on the spray gun is pressed, it allows the paint out of the gun through a spray tip which has a tiny hole designed to break the paint up into tiny droplets and in a specific width spray pattern 2″ to 24″ wide in most cases (although no homeowner will need a massive 24″ spray pattern!).
Airless Spray Tips
The amount of paint that comes out the spray tip and how wide the pattern is depends on the spray tip.
Airless sprayer tips use a 3 number system that will tell you how much paint they allow to flow through and how wide of a spray fan they produce.
The first number is the size of the fan width that is created. The second number is the size of the hole that allows paint out.
For example, a 515 (very common spray tip) has a 5″ spray fan and a 0.015″ hole that allows paint out. A tip like this is perfect for exterior painting, it allows a good amount of paint out (but not too much) while giving a nice size spray fan, but not too big to control.
A 311 tip would be perfect for spraying cabinets or furniture (3″ fan and 0.011″ hole), while a 515 might be better for spraying walls and ceilings.
Pros of Airless Paint Sprayers
Airless sprayers have a lot of pros and they can be purchased for $100 all the way up to $5,000+ (for more professional use obviously!).
Complete The Job Fast: Airless sprayers are drastically faster than painting by hand and even faster than HVLP sprayers.
Create a Smooth Finish: Airless paint sprayers can lay the paint on your surface incredibly smooth without leaving brush marks or roller marks (if that is what you desire).
Cons of Airless Paint Sprayers
Airless paint sprayers also have a few drawbacks to consider.
A Significant Amount of Paint Is Lost As Overspray: When spraying with an airless sprayer a lot of the droplets come out so fast that they bounce off the surface to be painted (or never connect with it at all) and create overspray. Airless paint sprayers typically lose 20-40% of the paint as overspray.
They Are Tedious To Clean: Cleaning your sprayer is tedious and time-consuming. So if your project is really small, such as painting the ceilings in one room, I would recommend just rolling them out.
HVLP Paint Sprayers
HVLP paint sprayers are sprayers that use air from an air compressor or air turbine to atomize the paint at the spray tip.
They way these sprayers work is that they create a tiny amount of pressure on the paint, just enough to move it to the spray tip.
Air flows through the spray gun and meets the paint at the tip of the gun and atomizes it into an incredibly fine spray fan.
They are called HVLP because they use a high volume of air at very low pressures (HVLP), usually around 10 psi.
HVLP sprayers are preferred over airless sprayers for their ability to produce an incredibly fine finish.
Pros of HVLP Paint Sprayers
They Produce An Incredibly Fine Finish: HVLP sprayers produce some of the nicest finishes possible. Pre-finish shops, auto shops, and furniture painters all use HVLPs for their incredibly fine finishes.
Easy To Use: HVLP sprayers spray a lot slower than airless paint sprayers and therefore are quite a bit easier to spray without producing runs.
They Waste Less Paint Than Airless Sprayers: HVLP sprayers typically produce less than 10% wasted overspray. This is due to the paint traveling at a much lower speed which reduces bounce.
They are Quicker To Clean: Since the paint is typically held right on the gun, it only has to travel inches to get to the spray tip. This means only inches of paint lines to clean out.
Cons of HVLP Paint Sprayers
HVLPs Sprayers Are Slow: Yes, HVLP sprayers are slower than airless sprayers, but this is only a bad thing if you are trying to use your HVLP on the wrong type of project (such as a deck, fence, ceiling or exterior).
More Variables To Operate The Sprayer: HVLP sprayers are harder to dial into a perfect spray fan as they have more variables. On an airless sprayer, you simply turn the pressure up until the spray fan looks good. On an HVLP you have to adjust the fluid pressure, needle draw (fluid flow), air pressure, and air volume.
The Best Airless Paint Sprayers
The reason airless paint sprayers are so popular is that airless paint sprayers are versatile and perfect for many DIY projects. They are easy to set up and require little practice to get a good finish.
Projects That Are Perfect For Airless Paint Sprayers
Painting Interior Walls and Ceilings
Large Jobs in General
Projects That Airless Paint Sprayers are OK for (but not ideal)
Personally, some of the projects I use my airless paint sprayers for are exterior painting, painting new drywall (basement remodels, new construction), re-painting ceilings for clients, and spraying stain onto fences.
When I spray interior drywall, I do make sure to backroll after spraying. This helps even out the paint and give it a nice stipple texture.
Best Airless Sprayer For DIY Use: Graco Magnum X5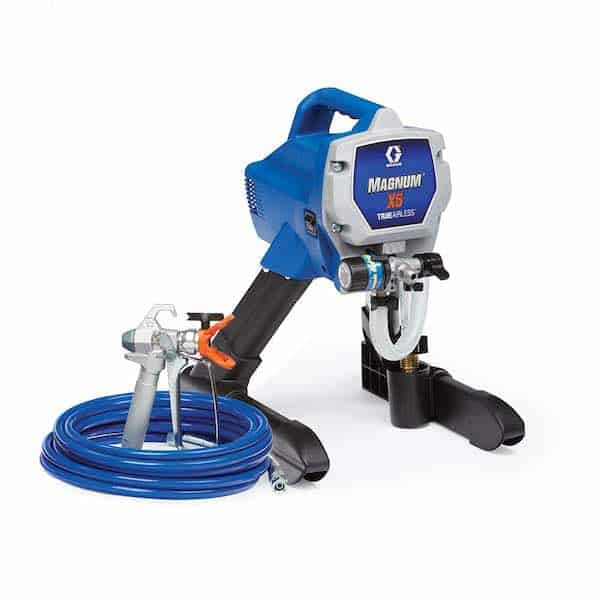 The Graco Magnum X5 is the perfect blend of high-quality machinery for a low price and is the perfect machine for interior and small exterior painting projects. With its ability to spray up to .27 gallons per minute with a .015 spray tip, you can finish interior and exterior painting projects in a fraction of the time it would take to brush and roll them.
The Graco Magnum X5 sprayer is perfect for spraying interior projects such as ceilings and new drywall, exterior house painting, decks, sheds, and fences. With a .011 size spray tip such as a 311, this sprayer is also good for Painting Kitchen Cabinets, furniture, and other small projects.
Graco Magnum X5 Specs
Spray up to 125 Gallons Per Year (an entire interior of ceilings and walls is roughly 25-50 gallons).
Sprays .27 Gallons Per Minute
Supports tip sizes of .011 – .015.
Supports up to 75 feet of hose.
Adjustable paint flow.
Powerflush Adaptor – Cleans the pump by attaching a garden hose directly to the pump.
You can purchase the Graco Magnum X5 here.
Best Entry Level Airless Paint Sprayer: Graco Project Painter Plus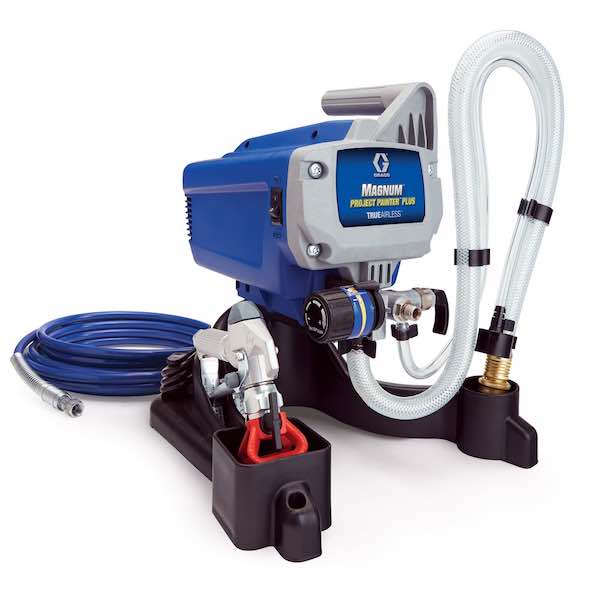 The Graco Project Painter Plus is the perfect entry level paint sprayer for most DIYers who only have 1-2 painting projects a year.
The Graco Project Painter Plus is perfect if you're refinishing your basement and need to paint new drywall, painting the ceilings in your home, or other small projects that require a paint sprayer. It can also be used to paint small sheds, decks, and fences.
Graco Project Painter Plus Features
Spray up to 50 gallons per year.
Spray up to .24 gallons per minute.
Supports .015 tip size.
Supports up to 75 feet of hose.
You can purchase the Graco Project Painter Plus here.
Best Prosumer Airless Sprayer: Graco Magnum Pro X17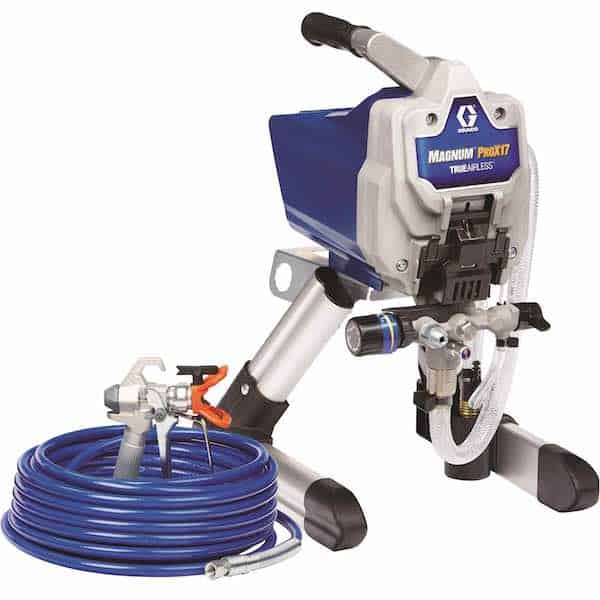 The Graco Magnum Pro X17 airless sprayer is Graco's answer to the homeowner/DIYer who does a lot of painting but doesn't quite need a professional level airless sprayer yet.
The Magnum Pro X17 is built to handle up to 300 gallons per year, which would equal roughly 10 exteriors or 10 complete interiors.
The pump will spray faster than Magnum X5 and supports up to 150 feet of hose, which is great for large exterior projects, you can park the sprayer and walk around the entire house painting.
The Magnum X17 is perfect for large interior projects such as basement remodels, new construction, and painting your ceilings. It is also great for large exterior painting projects. Since the pressure can be turned down and a smaller tip used, it is also great for small projects such as cabinets, furniture, decks, and fences.
Graco Magnum X17 Features
Spray up to 300 gallons per year.
Spray up to .34 gallons per minute.
Supports up to .017 tip size.
Supports up to 150 feet of hose.
You can purchase the Graco Magnum X17 here.
The Best HVLP Sprayers
HVLP sprayers are, in my opinion, vastly underappreciated for what they can do. HVLP Sprayers offer many benefits to the average DIY painter.
First, HVLP sprayers make spraying an incredibly smooth, flawless finish ( a finish without runs or rough spots that lays down like glass), easy and achievable for the average user.
They do this by slowing down the entire spraying process. Instead of blasting paint out of an airless sprayer at 2000+ psi, paint comes out of the end of an HVLP sprayer from 6-12 psi on average.
This makes it harder to get runs, and easier to layer your paint to the perfect thickness that allows the paint to blend together into a glassy smooth finish.
Other benefits are that HVLP sprays waste far less paint than airless sprayers and the average DIY model costs less than airless sprayers as well.
Projects That HVLP Sprayers Are Perfect For
Painting Kitchen Cabinets
Spraying Stain – Cabinets, windows, doors, trim
Spraying Clear Coats
Furniture Painting
Projects That HVLP Sprayers are Good For (but not perfect)
Deck and fence staining
Wall painting
Small Sheds
The Best All Around HVLP Sprayer for DIY Painters: Wagner Flexio 890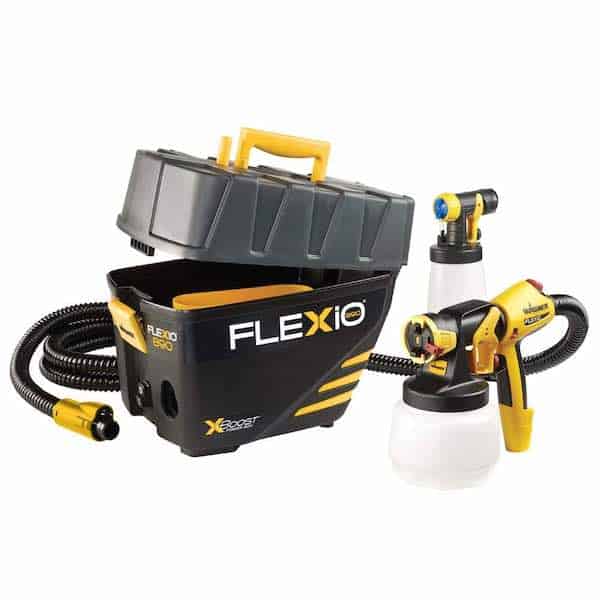 My choice for the best all-around HVLP Paint Sprayer for homeowners is the Wagner Flexio 890.
The Flexio 890 is an all in one HVLP sprayer meaning that it comes with its own air source, an air turbine and doesn't require a separate air source such as an air compressor.
What makes this the perfect DIY HVLP sprayer is that it is strong enough to spray unthinned paints and varnishes (many are not), yet still cheap enough to justify the cost even if it's only used once a year.
The Flexio 890 comes with a fine finish nozzle for cabinets, stains, and varnishes as well as a general purpose nozzle that is great for exterior stains and paint.
You may run into some issues if you try to spray un-thinned latex paints through the Flexio. Latex paints tend to be thick and hard to get smooth finishes within the first place, so significant thinning may be required.
The Wagner Flexio 890 is perfect for enameling your kitchen cabinets, stains and varnishes, furniture painting and other small projects.
Wagner Flexio 890 Specs
Adjustable Air Pressure for better atomization.
Adjustable Fluid Control to increase or decrease paint flow.
Two nozzles for fine and regular finishes.
8.4 Gallons per hour max spray (0.14 / minute).
11.5′ Air Hose.
Buy the Wagner Flexio 890 here.
The Best Prosumer HVLP Sprayer: Fuji Semi-Pro 2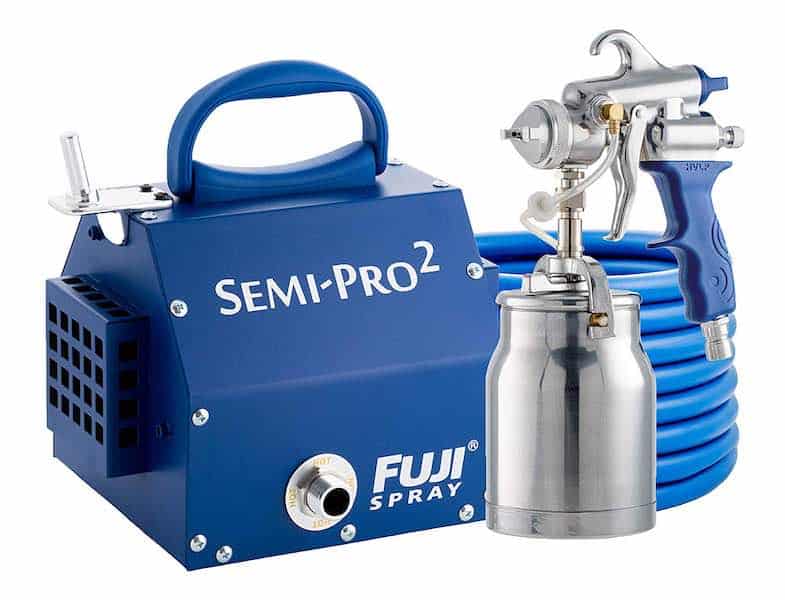 If you plan on doing a bit more painting with you HVLP over the course of the year or just need a bit more power from your sprayer, then the Fuji Semi-Pro 2 is the perfect prosumer HVLP sprayer.
The Fuji Semi-Pro 2 is better built, offers more hose (so you can keep the air turbine in an area away from where you are spraying), and more power in the form of a higher CFM meaning you can better atomize thicker materials.
The Fuji Semi-Pro 2 is perfect for spraying furniture, cabinets and fine finishing projects. It outperforms the Wagner Flexio 890 in that it can spray thicker materials better, it atomizes them and thus creates a finer finish.
Fuji Semi-Pro 2 Specs
Powerful 2 Stage Turbine.
25 Feet of Hose
Convertible spray gun (top feed or bottom feed)
You can buy the Fuji Semi-Pro 2 here.
Paint Sprayer Accessories That Make The Job Easier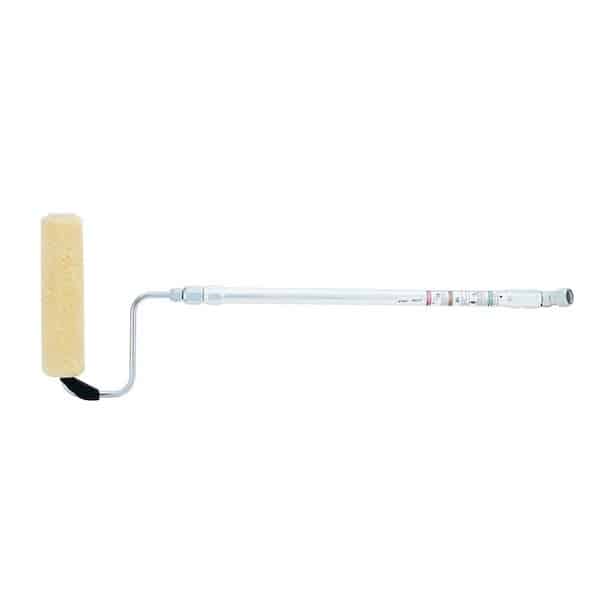 The power paint roller is an attachment for airless paint sprayers that actually replaces the gun with a roller and pad.
When you pull the trigger, paint flows through the hose into the center of a specially designed paint roller and is then rolled out onto the walls.
This eliminates the need to continuously keep dipping your roller into your paint tray. You actually don't have to ever stop rolling your walls. This can cut down on painting time by nearly 50%.
A power paint roller is perfect for painting large interior projects where the risk of getting overspray onto furniture, carpet or other things is too great and doesn't allow for spraying.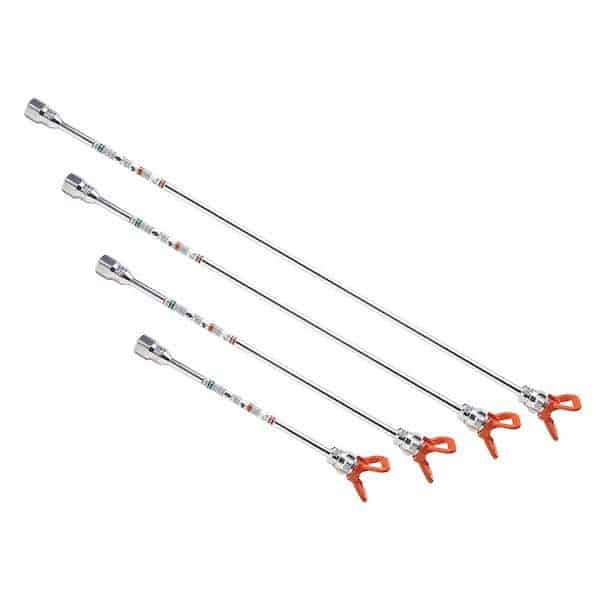 Spray tip extensions extend the tip of your spray gun and allow you to reach areas to spray that were otherwise unreachable.
They are best used for spraying high ceilings, such as 10-12′ ceilings, high walls, and exterior painting.
A spray tip extension will reduce the need for ladders as well as reduce the amount of stress on your body from reaching and bending.
A tip extension can drastically reduce the amount of time it takes to spray a project.
Paint Sprayer Rentals: Should You Just Rent?
Renting a paint sprayer can be a great option for many DIYers, but it isn't always the best option.
IF you have a one-time painting project and you don't foresee any more projects in your near future, then maybe renting could be a good option for you.
One thing you have to consider though is the cost of renting vs. the cost of buying. Typically, renting a paint sprayer is going to cost you roughly $50 for four hours, $100 for a. day and up to $350 a week.
This is to rent a professional level sprayer, but most DIY projects don't require a professional level sprayer. The sprayers mentioned above will do just fine.
It's also worth noting that professional level sprayers typically start at $750 and go up, so if you feel the need for a higher quality sprayer and you plan on doing a few projects, then maybe purchasing one is in your best interest.
Personally, I only rent a tool if I plan on using only once, for a day or less and the rental is less than half the cost of the tool. Otherwise, I will typically buy the tool.