What can a new kitchen paint color do for you? Well, answer this; how much do you love your kitchen? Are you head-over-heels, obsessed, happy anytime you're in it?
If the answer is "no," or even worse, "meh," then the answer might be as simple as a fresh coat of paint. The right color will transform the entire space from the dreary kitchen island to your worn kitchen cabinets. Here are just a few more benefits of painting a kitchen:
Paint is an affordable DIY way to upgrade your home.

It's

one of the best returns on investment if you're getting ready to sell your place

The whole family can help get a painting kitchen project done in a weekend
Preparing To Paint Your Kitchen
Once you've decided you're ready for a change, take the time to get the proper equipment and familiarize yourself with our posts on how to paint kitchen cabinets. Also, make sure you wholeheartedly love the color you've chosen with paint chips and test patches. We've rounded up some of the most popular kitchen paint colors in this post. Keep reading for inspiration to transform the most popular space in your home.
What Is the Most Popular Color for a Kitchen?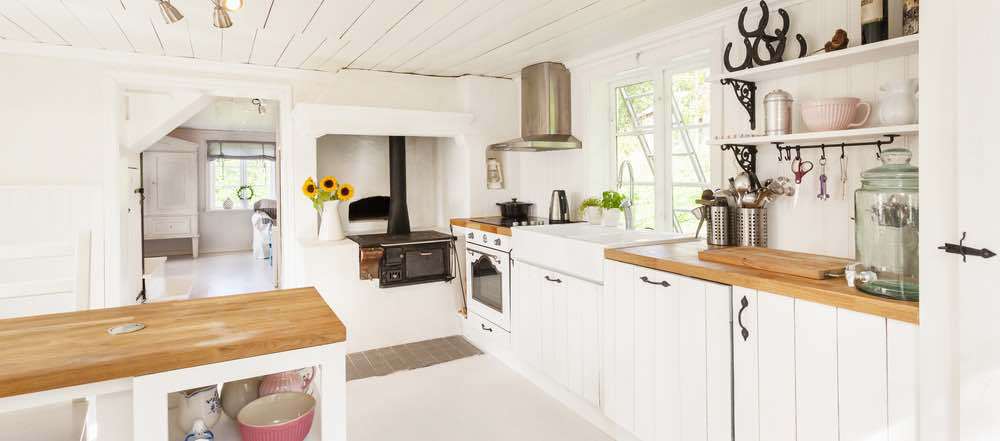 Just don't spill any turmeric if you go with the every-popular High Reflective White kitchen paint color. It can't be beaten as far as filling a room with light, but one mistake with the blender while making a blueberry smoothie, and it'll never be the same. We're exaggerating, but keep in mind that white shows all manner of sins, so maybe hold off on this dreamy super-bright kitchen until the kids are out of sippy-cup age.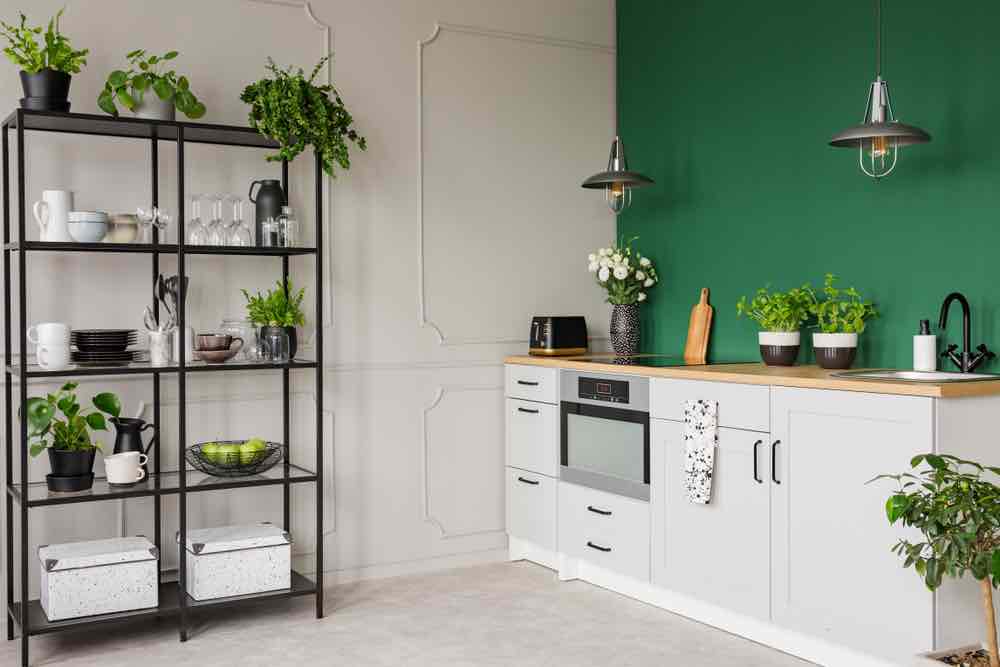 Turn your entire kitchen into a temple devoted to green juice with Grasshopper from Sherwin-Williams. A bold gesture such as this accent wall will help disrupt the monotony of a super-white or beige space. Fill the room with indoor plants, or grow an herb garden to feel immersed in health consciousness every time you step into your kitchen. We also love how the variety of materials and textures works well with the paint. Check out the industrial-chic light fixtures, natural wood countertops, and bronze faucet.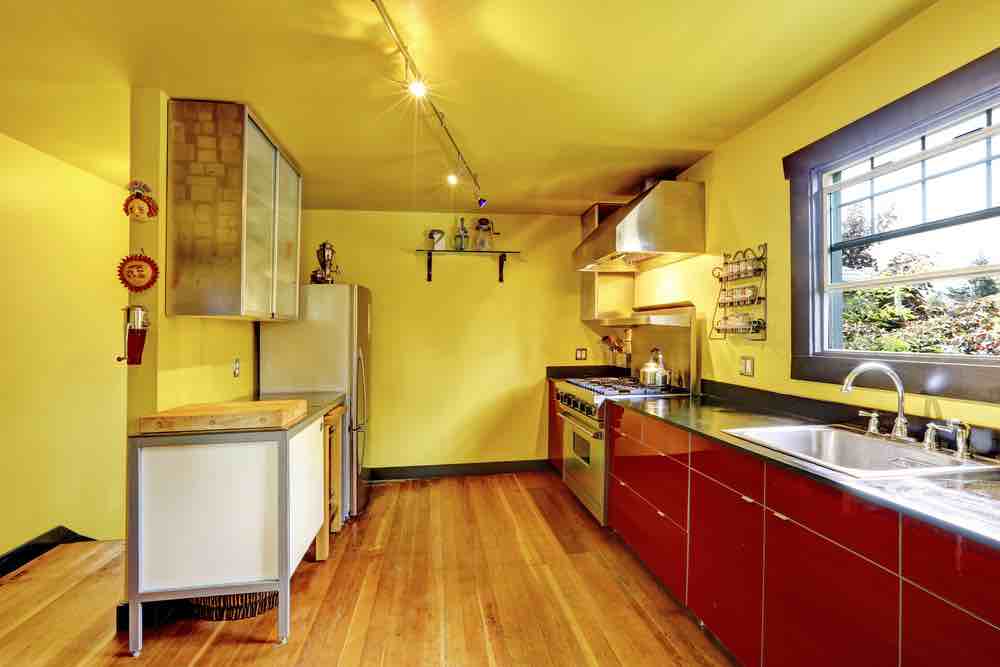 Yellow is the all-time most popular kitchen paint color. Instead of the pale-yellow shades of sunshine, how about you get bold and try the paint color Funky Yellow from Sherwin-Williams? We can't get over how snappy it looks with stainless steel appliances and high-gloss cherry red cabinets. Your kitchen painting can be about more than just putting color on the walls, and instead about creating a straight-up mood every time you cook. When you`re daring with your color, try to be just as bold with the finishes to help complete the look, as they've done here.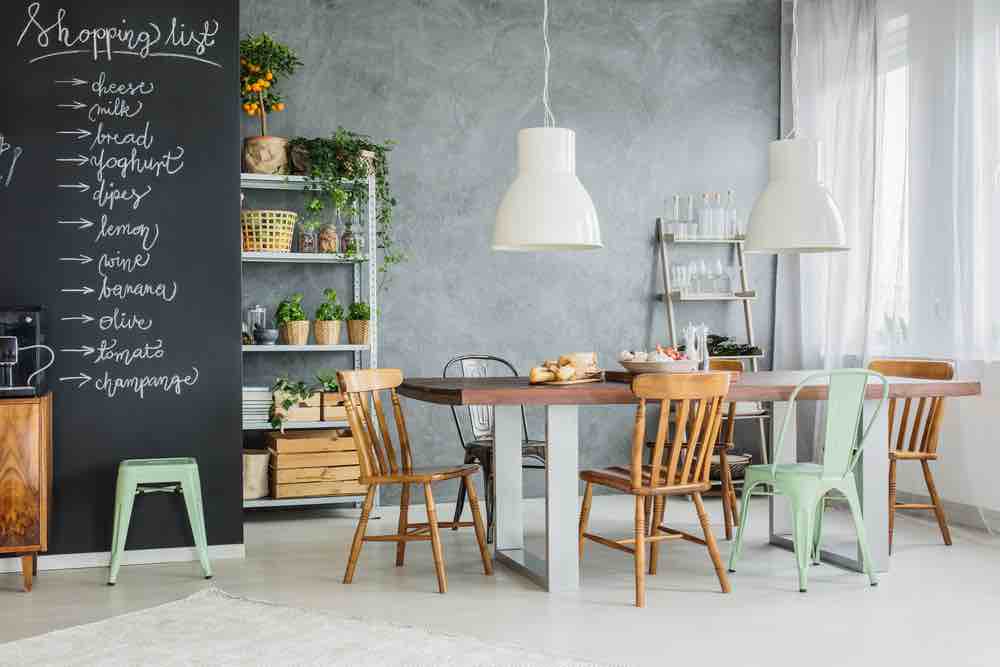 This is one of those times when the popularity is 100% justified. We're not suggesting painting an entire kitchen with chalkboard paint (but do you!). But find an accessible space where you can add a chalkboard paint accent and see how your life's transformed. It's ideal for adding items to a shopping list on the fly, passing along messages, and jotting down reminders for the entire family. It's not only stylish but helps communication in the home. Besides, it's super cute, and both creative kids and adults can add seasonal decorations to the kitchen.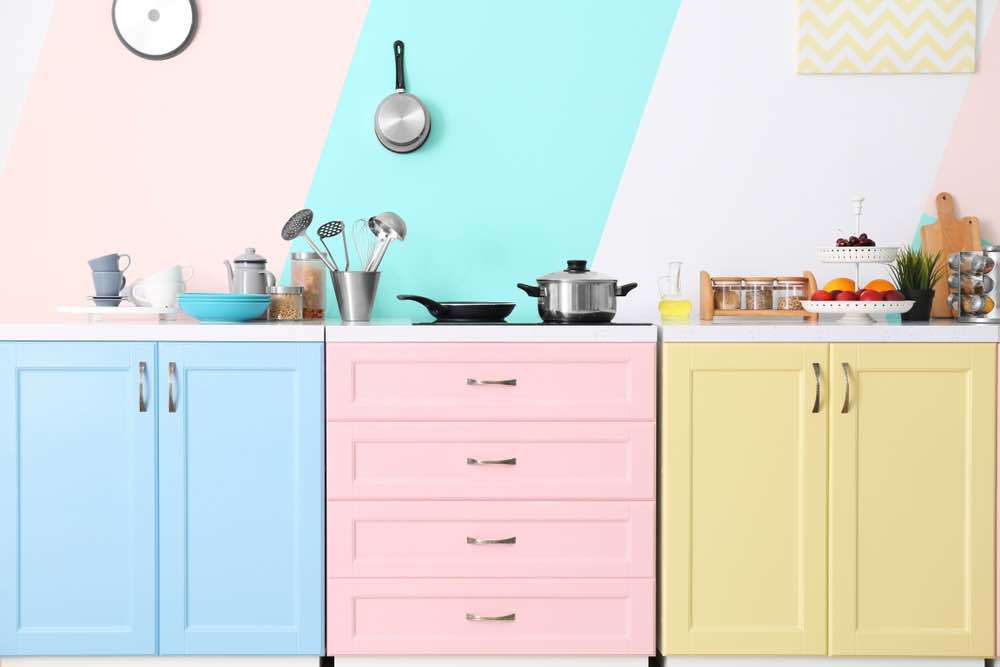 Pastels have always been popular kitchen paint colors, with excellent reason. They're subtle and unobtrusive. So we adore this twist on an old classic. It combines a traditional pale yellow with Tantalizing Teal and Undercool, a subdued blue. They also use the same colors on the cabinet faces and the walls. Try adding details such as the chevron pattern painting with Fun Yellow in your home. This kind of kitchen paint color takes planning but would be the envy of all your friends.
What Are the Best Colors to Paint a Kitchen?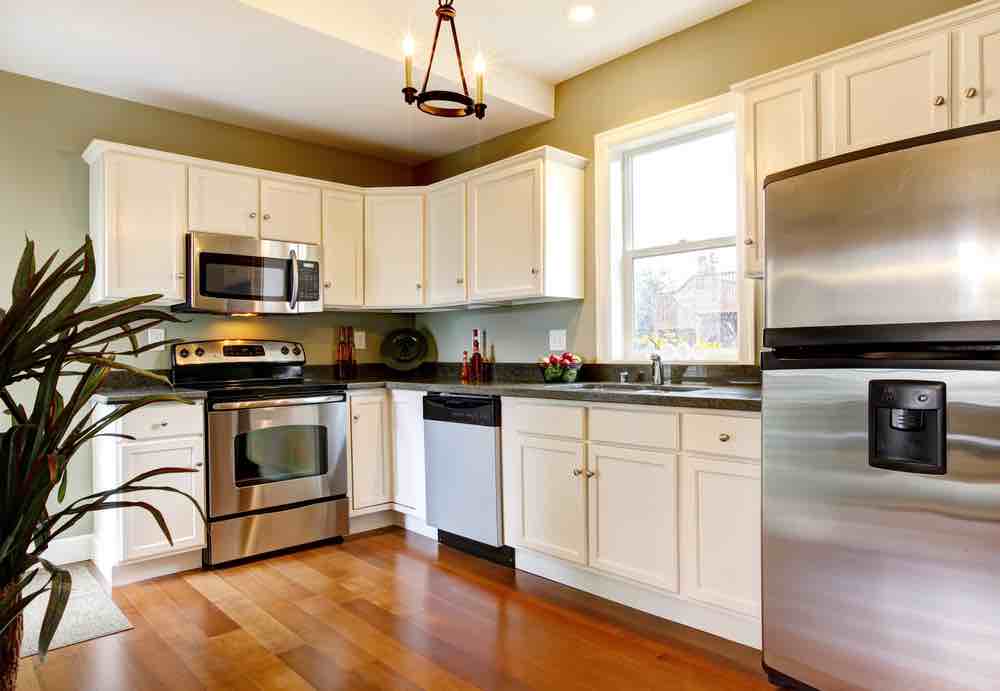 There's something intangible about creating that homey feeling; the place you feel the most comfortable and relaxed. Daily routines and holiday traditions are part of it, but it's also about creating the perfect backdrop to your memories. Using an off-white, like Biscuit, for your kitchen paint color creates a low-key atmosphere perfect for lazy Sunday brunches, enormous holiday meals, or just your regular taco Tuesday routine. It highlights bold decorating decisions in cabinets, countertops, and signature decor.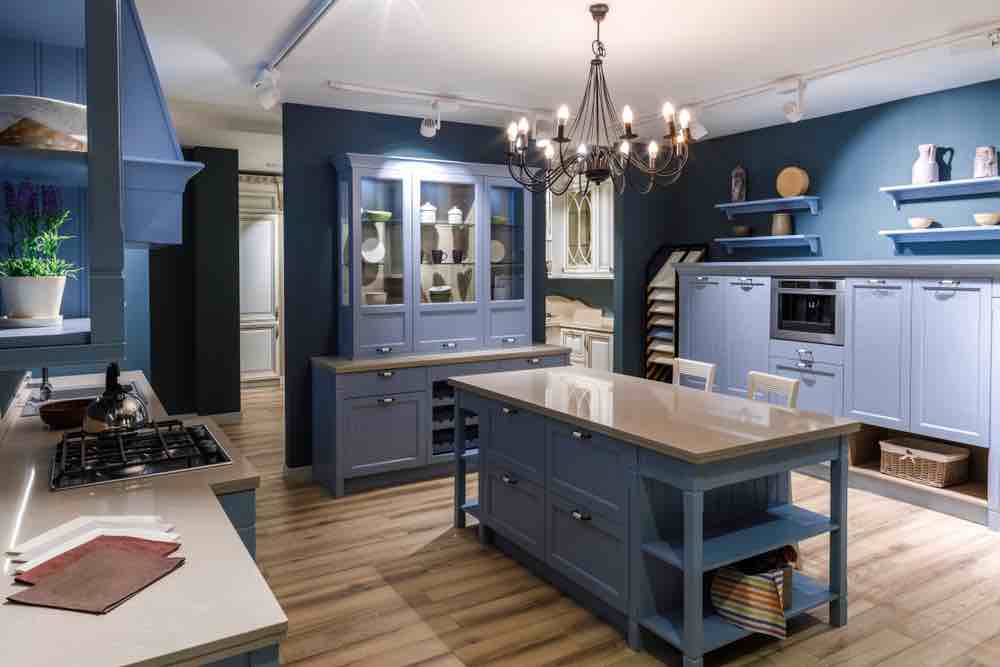 If you've read any of our other pieces, like the Best Living Room Colors, you know we love monochrome and we're can't say no to a blue monochrome. First, it takes all the guesswork out of paint colors for accents and finishes. Instead, you can get creative with materials, hues, and shades. Start with Sherwin-Williams Dignity Blue as an intense base color and then match cabinets and wood. This kitchen paint color works great with a super-white for the ceiling and countertops, but consider beige, gray, or even black.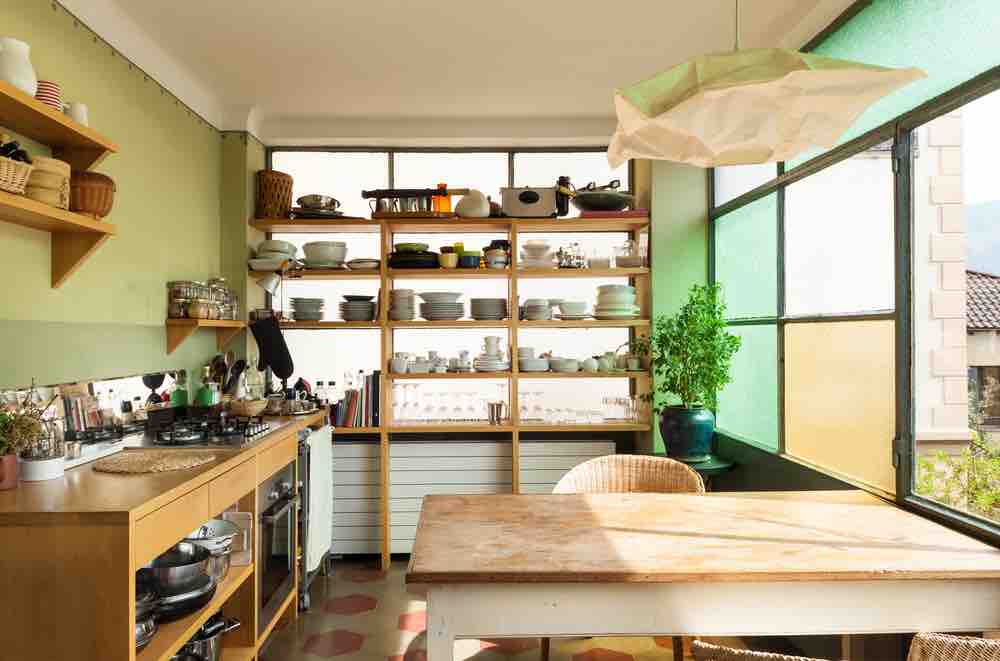 If you're all about the handmade ceramics, NPR tote bag, and farmers' markets, try looking for popular kitchen paint colors with a vintage tint to them. This Lime Rickey color from Sherwin-Williams is one of our favorite color ideas because the olive green looks exceptional with natural wood, fibers, and ceramic. Don't you want to enjoy a cup of tea in this relaxing kitchen? Kitchen paint colors can help to change your mood and create a little retreat from the world.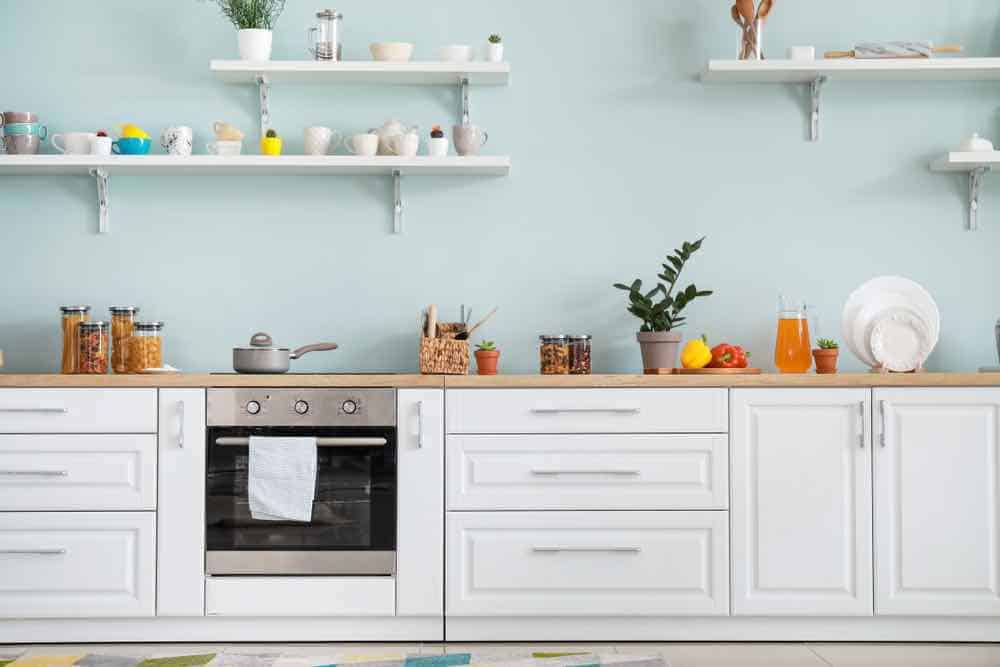 Are you a shabby-chic person? This robin's egg blue is a perfect start to creating the kitchen of your dreams. Light blue is a versatile kitchen paint color, great for airy, sun-drenched kitchens. Use Beachside Drive from Sherwin-Williams and pair it with white for a timeless color combination. Or imitate the beach's colors and turn your kitchen into a seaside escape by pairing blue with beige, green, and white.
What Are Modern Kitchen Colors?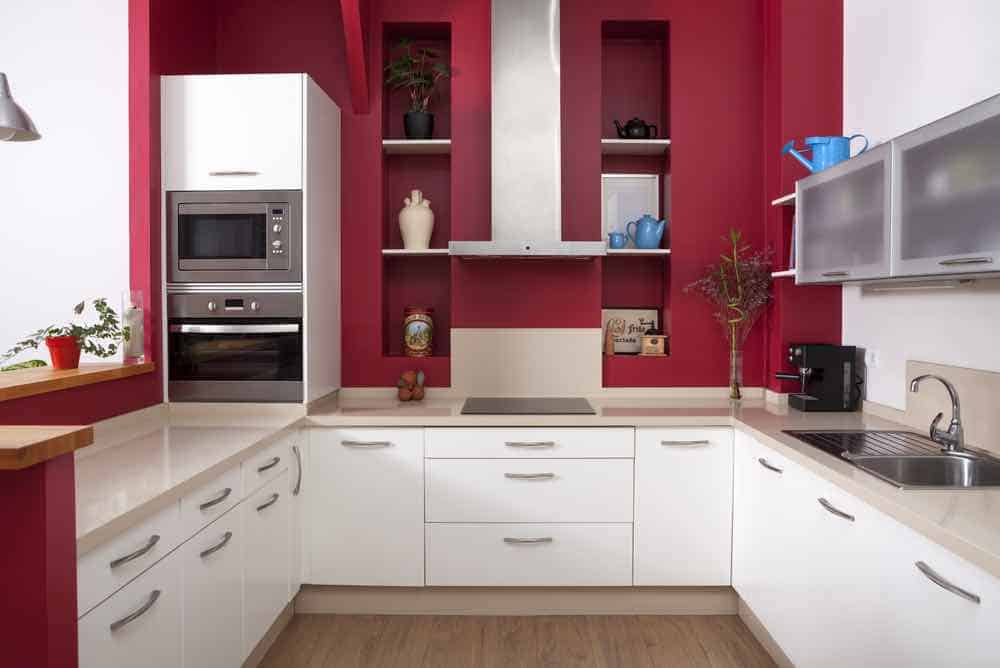 If you didn't know already, the color red stimulates appetites, making one of the modern color ideas with a foundation in science. Use Sherwin-Williams Tanager for a stylish kitchen like this one that'll always get you in the mood to eat. It's a decadent and fresh paint color when paired with white cabinets and countertops. We love the contrasting details with the blue teapot and watering can, which add tension and excitement to the room. A bold kitchen paint color lets you get even more creative when buying kitchen gadgets and dishes.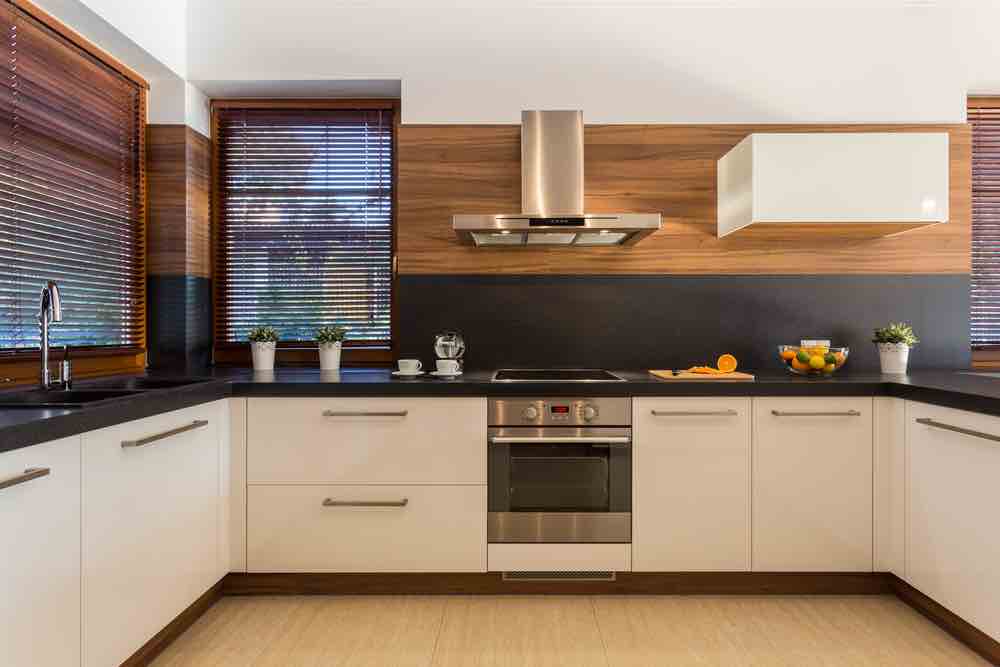 This is not your mother's kitchen; it's a stylish choice with timeless appeal. When used with lush natural wood, white accents, and sumptuous materials, a color like Domino elevates this kitchen into a design masterpiece. With dark kitchen paint colors, a little goes a long way. Pick thoughtful accents and commit without reservation to the intense color.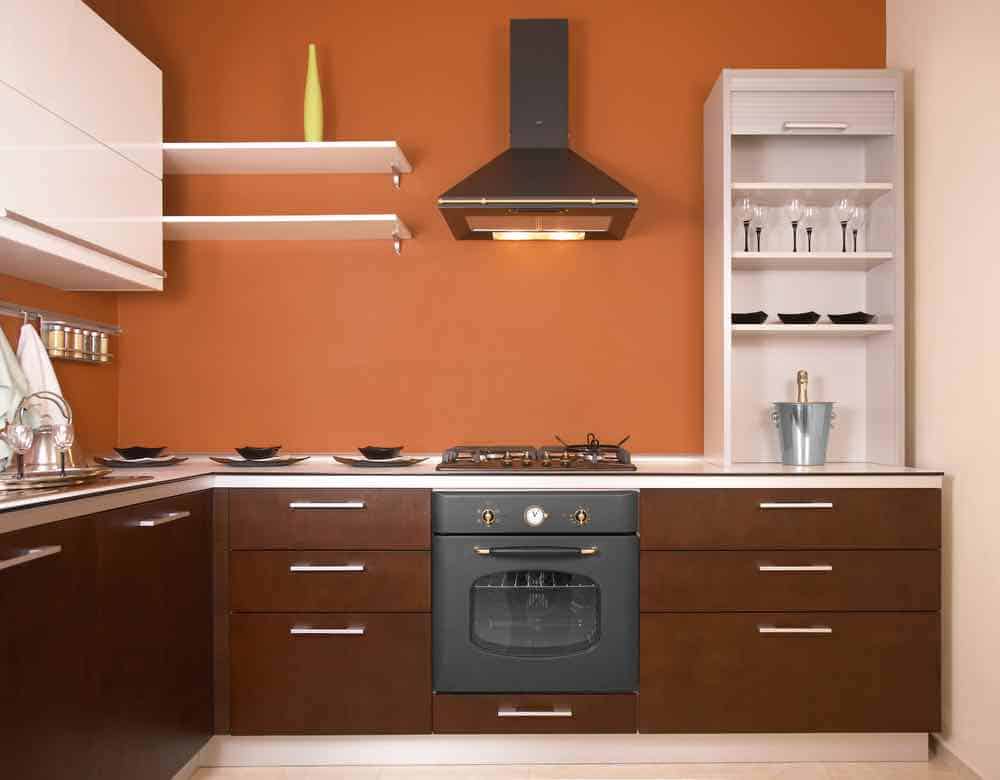 If you love the atmosphere created by pale yellow in the kitchen but want a more contemporary color, try orange. This bold shade by Sherwin-Williams, Yam, gives the kitchen a sublime vintage feel, actualized through the stylish appliances and decor. Keep cabinets and the floor bright when you use saturated color and with the right finishes, you can create a standout modern kitchen.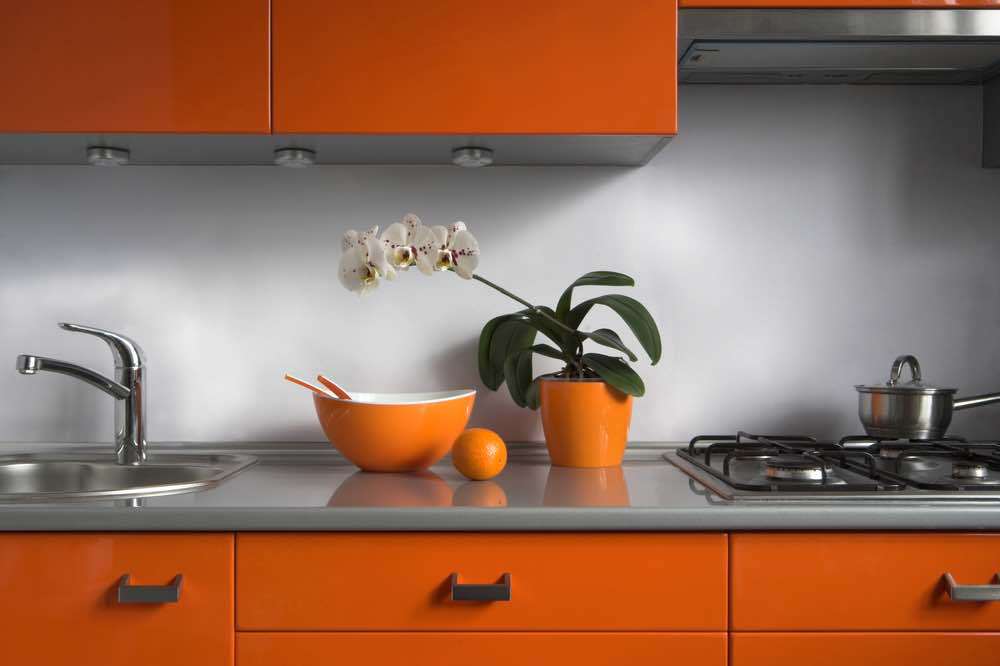 If you love the style of orange in the kitchen but aren't a fan of orange paint, you can opt for orange appliances or paint the kitchen cabinets a jewel-tone. For those kitchens, we recommend a light grey paint like Sherwin-Williams Morning Fog. A light grey color forgives more than white or beige. As long as you pick the shade to match your bold color's undertone, it's a sophisticated paint choice for the kitchen.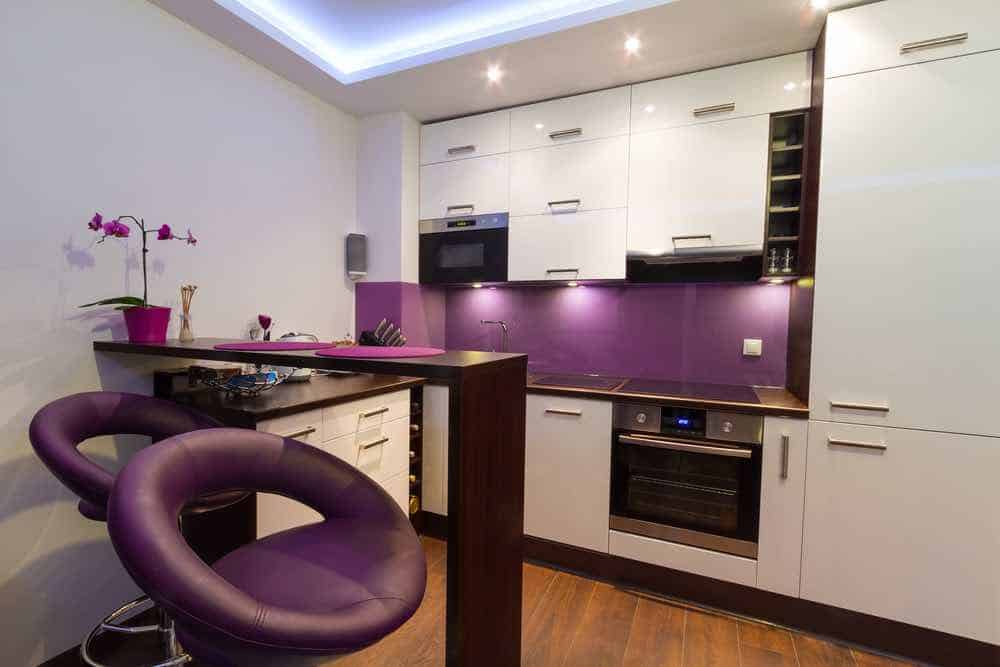 Just a little goes a long way when you work with super-saturated jewel tones. But a paint color like Behr's Classic Waltz might be your dream kitchen. We love how they've matched the bar seating, accessories, and even the orchid to match the backsplash in the kitchen. It shows that you can still go big, even with a small space or budget. We recommend a similar decorating scheme but with electric blue for a contemporary feel.
What Are Popular Kitchen Colors for 2020?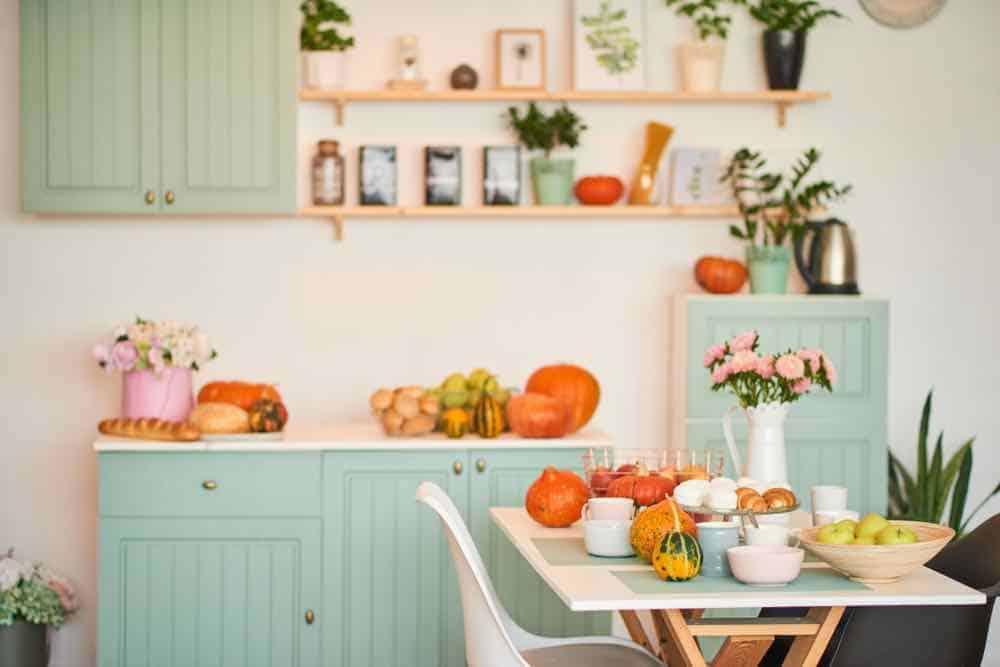 Isn't this Avid Apricot kitchen just the cutest? The best part is that it's easy to recreate on your own. We love the variety of pale colors from Sherwin-Williams, ranging from just a hint of pink to full-on peach power. It also uses another of our 2020 kitchen color picks, mint green. The two contrasting colors create a bright and energetic space where you'll be eager to knead some sourdough or make cucumber sandwiches for your book group.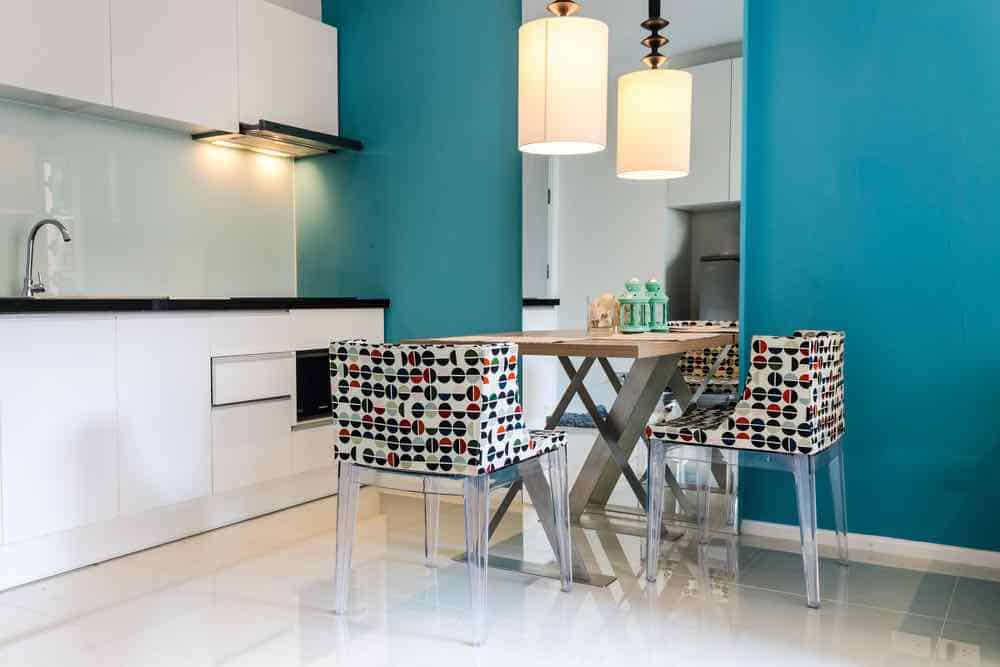 If you've read any of our other posts about the ultimate room colors, you know we flip over jewel tones. We're betting that teal will be big in color ideas for 2020, which is why we can't get enough of this Behr color, Paradise Landscape. It combines a few of our favorite things, like relaxing nature colors and super-saturated hues. An enormous accent wall in an otherwise super-white kitchen creates drama and grandeur.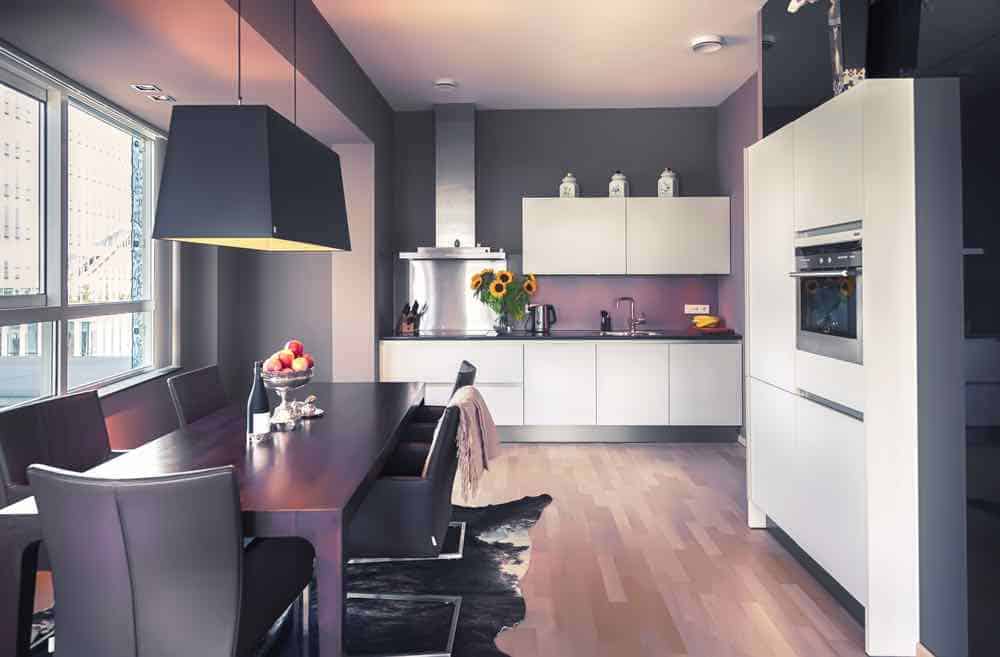 Here's what we love about Sherwin-Williams Quixotic Plum; it takes a bold, overwhelming jewel tone, and adds gray for a dreamy and subdued kitchen that still enchants. This approach is perfect for any time you fall in love with intense, saturated color ideas that won't work in the space. Instead, try a gray with a similar hue and see if it doesn't transform the space into dreamy perfection.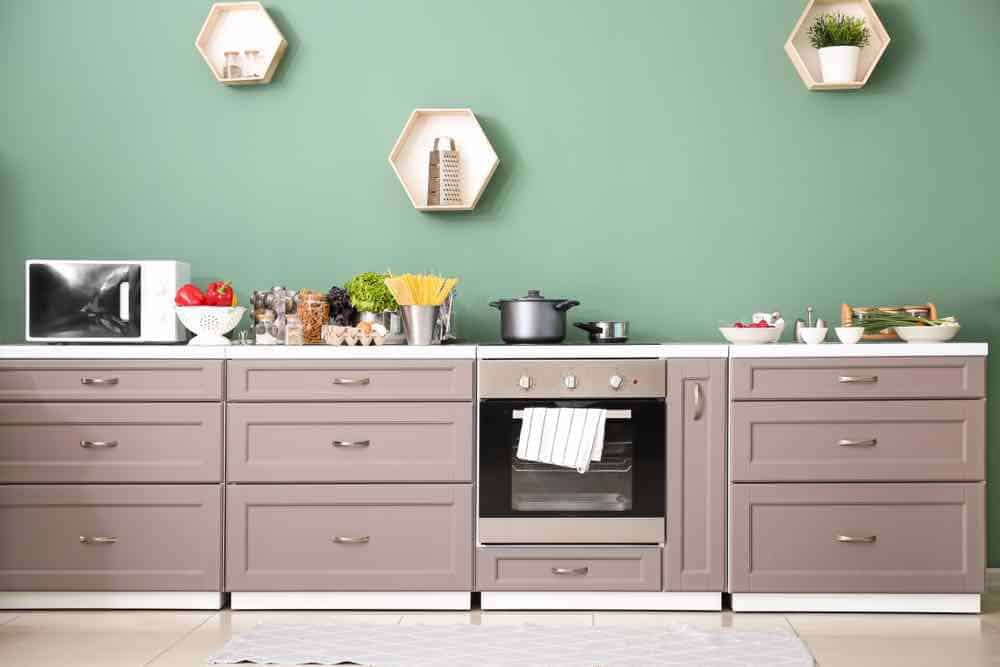 Green is always an outstanding idea for bedrooms, bathrooms, and yes, kitchens. That's because relaxing, soothing shades like Sherwin-Williams Lounge Green always remind us of nature. It's forgiving so you can get playful with your cabinet color, but also super-rich and creamy as a wall color. We're guessing that your morning coffee will get a lot more meditative with a mint green paint color like this one.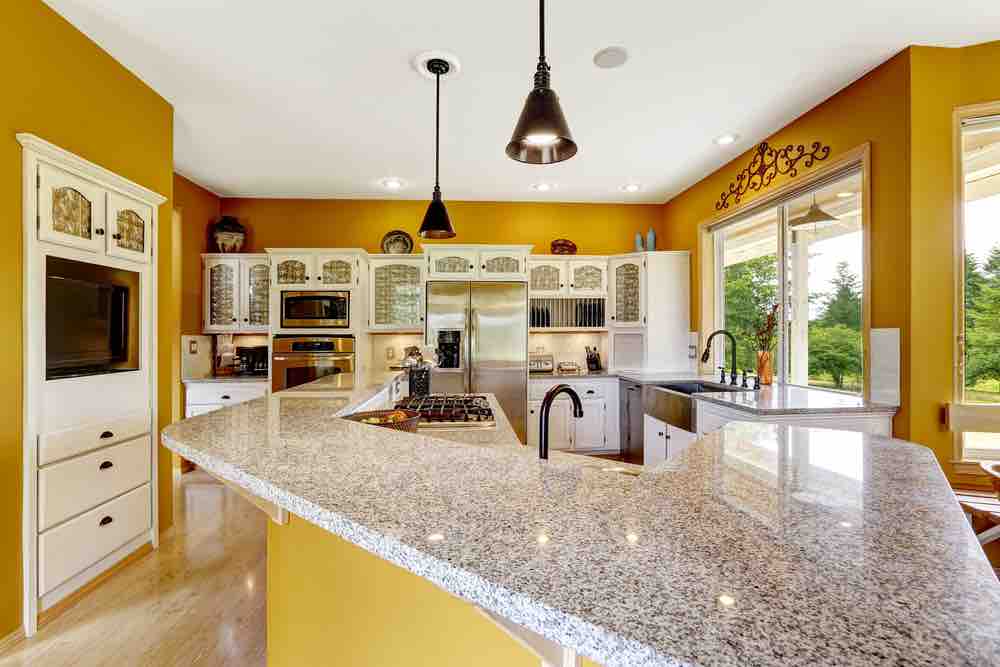 If you've been paying attention, you may have noticed variations on a theme with shades of yellow appearing throughout this list. The Behr paint color Radiant Sun is no exception. It's a jewel tone, saturated yellow that will be the big thing in kitchens this year. It has all the benefits of yellow; works well in the kitchen by immersing you in warmth and welcome. Plus it has the bold style of a jewel-tone. We love how this kitchen just went for it, pairing the wall color with white cabinets instead of opting for a safer accent wall.