Garage doors come in many shapes and sizes, and sometimes, they need an updated look. Whether your garage door needs a simple coat of paint or a more intense design upstyle, we've got nine great-looking garage door paint ideas for you to make your dream garage door design a reality.
Once you've chosen your design and are putting together your tools and materials list, make sure to check the weather forecast before getting started. You don't want to have to start over from scratch if the weather gets in the way, so set yourself up for success by learning what weather conditions to be aware of before getting started.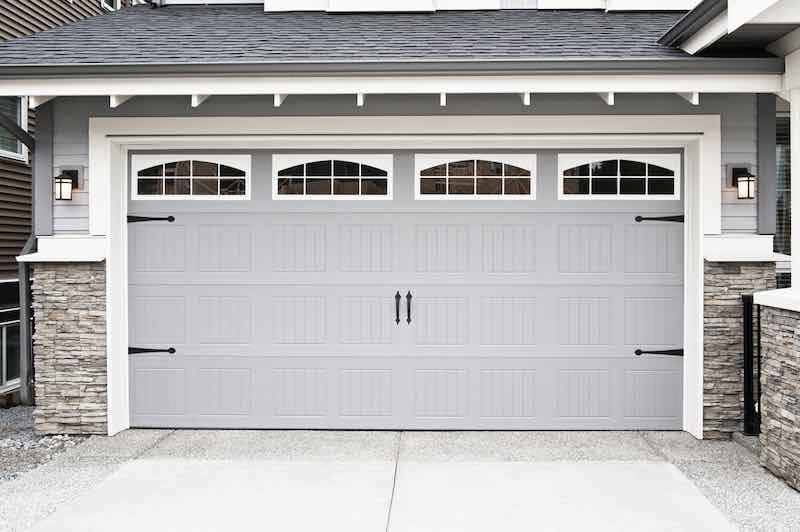 Simple Garage Door Paint Ideas
If you want to spruce up the look of your garage doors with a minimal amount of effort and expense, these simple garage door paint ideas are for you. We're keeping it quick and easy with these tips.
Add a One-Color Fresh Coat
The simplest way to give your garage door a fresh look is to give it a new coat of paint. Keep in mind that darker colors fade more quickly than lighter colors. If you're annoyed that for some reason your garage door keeps needing to be repainted more often than your neighbor's, it could be due to a darker color choice. If you can select a lighter color, you'll be able to enjoy a new look and go longer between repainting.
For more on choosing the right color for your garage door, whether you'll need a primer, and which types of paint and primer are best for different garage door materials, check out our article on Best Garage Door Paint.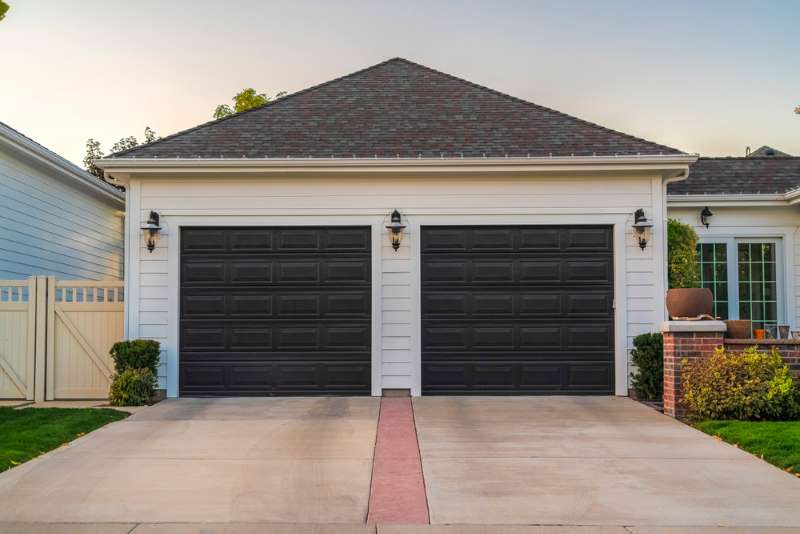 Add Trim with a Complementary Color
This idea goes a bit beyond just painting. But adding trim around your garage door, especially if your house has siding on the exterior, can really dress it up. You can paint the trim white for a classic look, or go with the same color as the garage door, the same color as trim around the windows, or another complementary color to set off the tone of the garage door some more.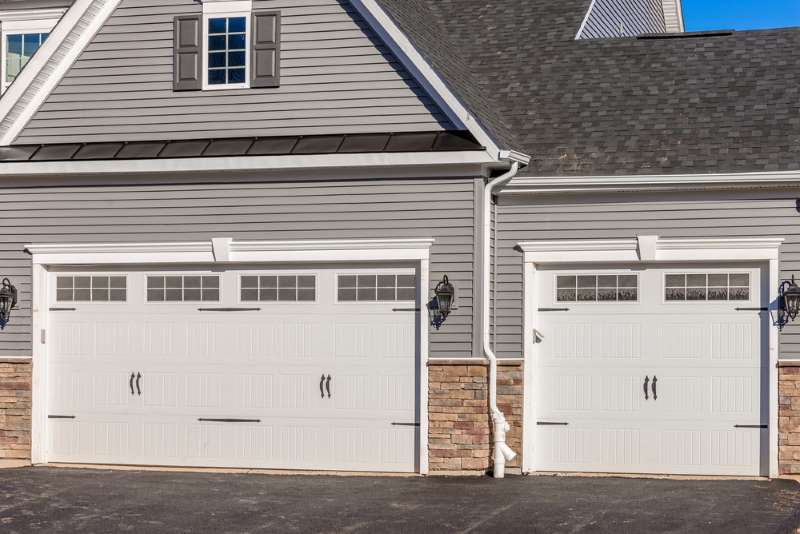 Add a Splash of Color on the Garage Door Accents
Here's another garage door paint idea, If the monochrome look just isn't doing it for you, why not paint the accents on your garage door a different color to make them stand out? This can add a little more flair to a garage door and is easy to do with a little painter's tape and a contrasting color to the base color of your garage door.
If you're going to repaint the whole door, start with your base color. This could either be the darker color or the lighter color. Since darker colors fade more quickly, if you paint most of the door the lighter color and use the darker color for the accents, you'll save your future self some time. Since there will be less surface area in dark paint, you may be able to get away with going longer in between repainting, and touching up will take less time.
After your primer and base coat(s) have dried, simply use the painter's tape to outline the accents you want to paint, and then paint within the lines you've made. Follow the instructions on the paint you choose to allow the right amount of time for drying between coats. Once your accent paint is dried, peel off that tape and viola. You have a beautiful new garage door with a fancier look than before.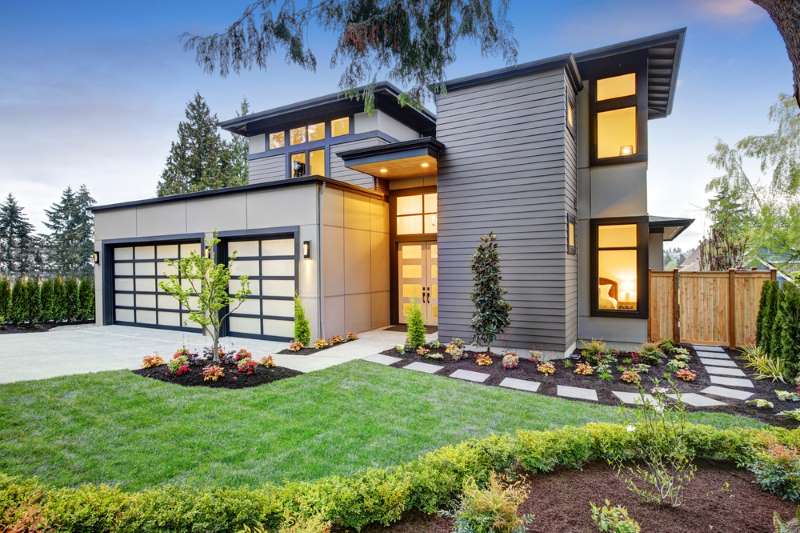 Add the Wood Look to Your Garage Door
Back to simplicity, here's another easy idea for you. If you wish your garage door were made from wood, there's an easy way to make it look like it is. Giani Wood Look Paint dries in such a way that it ends up looking like wood grain.
To give your garage door a woodgrain makeover, start by washing the garage door's surface with soap and water to remove any dust, bugs, or other debris. Once you have a clean surface to work with, follow the instructions on the Giani can for how to apply the wood look paint. Allow ample time to dry, and there you go. Practically the wooden garage door you've always dreamed of without the installation fee.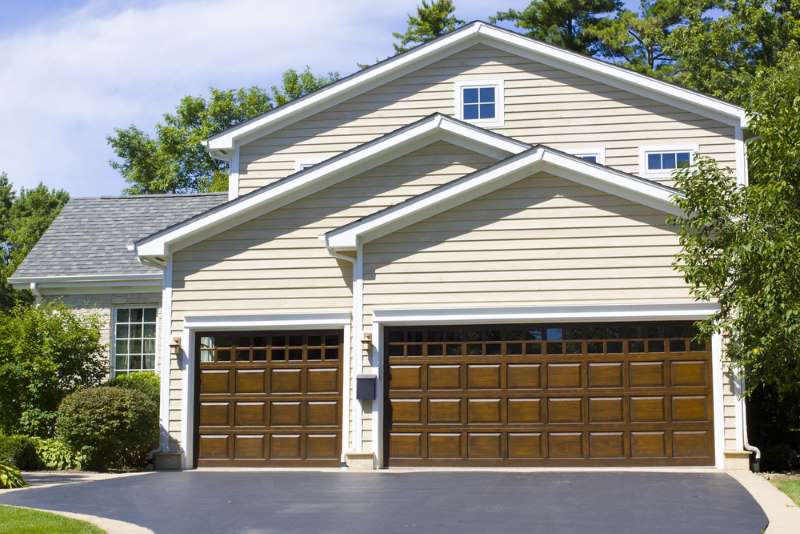 Rustic Garage Door Paint Ideas
The rustic farmhouse look has come back in style. If done the right way, this look can add charm and hominess to your house. Here are some ideas to bring the rustic look to your garage door.
The Simple Carriage House Garage Door
If you love the carriage house door look but don't want to get too fancy with the installation, here's a simple way to achieve the garage door paint idea you're looking for. Measure the space between your garage door and the ceiling when the door is being pulled up or down. Then purchase two carriage house handles (like those pictured below) that fit within that measurement. You'll want handles big enough to be seen, but that don't stick out enough to catch on the ceiling when the door goes up or down.
You'll also need carriage house hinges–four per door in order to put one in each corner. These aren't real hinges. They are just decorations for garage doors that look like carriage house hinges.
Paint your garage to show off the carriage house features. This usually means painting a light color to contrast to the dark hardware. If you have garage door windows, you may want to paint over them to complete the carriage house look. Prime the windows with an appropriate primer for their material (usually fiberglass) and then paint over them with the same color as the rest of the door.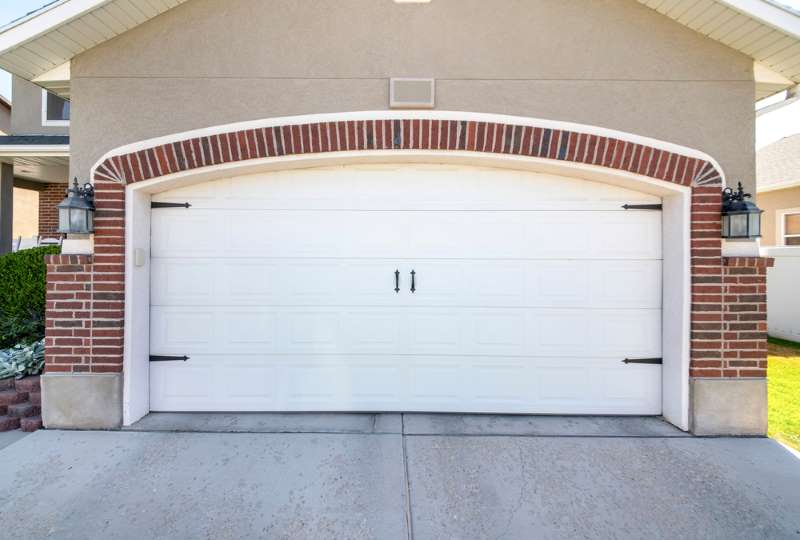 The Fancy Carriage House Garage Door
This garage door paint idea only applies if you have a two-car garage door. For this slightly fancier carriage house look, purchase twice as many carriage house door handles and hinges, and place them as shown in the image below. Follow the painting instructions in the section above.
The added hardware can tighten all that empty space on a big, two-car garage door and just make it look a bit more aesthetically pleasing.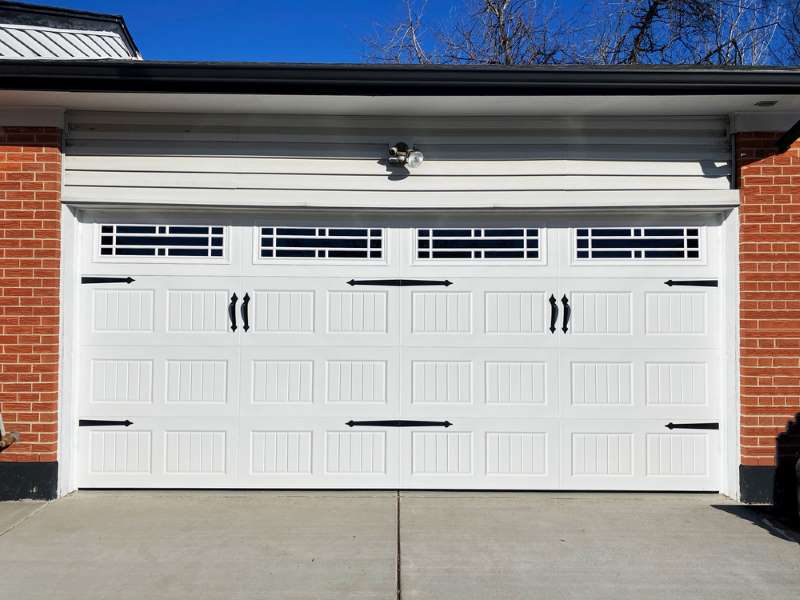 The Barn-Style Garage Door
There are a few ways to achieve this look. The easiest way is to purchase a garage door that already features that classic Z-shape structure characteristic of rustic barn doors. However, if you need to work with the plain garage door you already have, there are two other options.
One thing you can do is measure and cut some light, thin wood to create the Z-structure and mount it to the garage door, then paint over it. This can go wrong in a lot of ways, but it's a possibility. Another option is to hire an experienced painter to paint this structure on your garage door by manipulating dark and light shades to look like shadows. This works best on a flat garage door and maybe challenging on a door with the typical rectangular patterns already on it.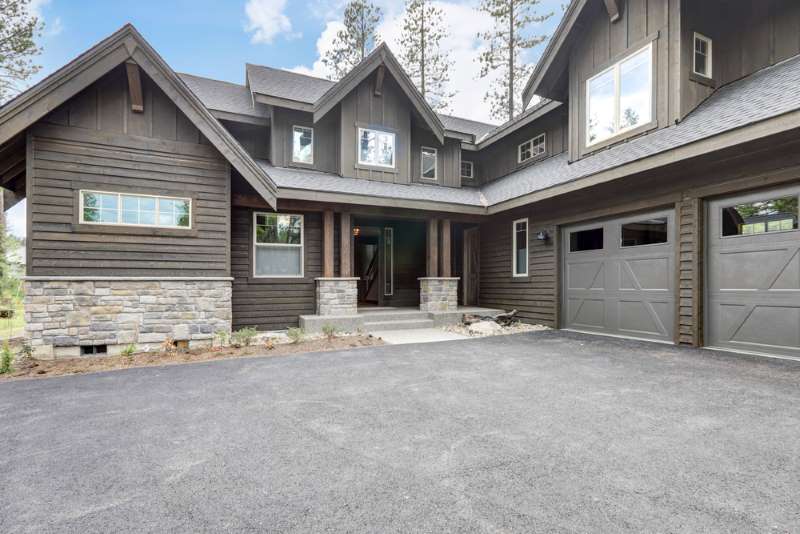 Modern Garage Door Paint Ideas
Contemporary garage doors tend to be minimalistic, clean, and crips. Less is more with modern styles. Here are a few painting ideas for getting a modern look with your garage door.
Side Window Strips for Garage Doors
One way garage door design is changing is by using longer and skinnier pieces of glass or plastic for the windows and stacking them all on one side instead of placing them in a line toward the top of the door. Here's a garage door paint idea for achieving a similar look without cutting new window holes into your garage door. This works best if your garage door doesn't have any windows to start with.
If you're updating the basecoat, follow the instructions on the paint can to allow it plenty of time to dry. If you're making an addition to an older paint job, wash and dry the garage door with soapy water before beginning so you have a clean surface free of dust and debris to work with.
Get some reflective outdoor paint and painter's tape. Use a pencil to measure and mark rectangles of all the same size lined up precisely on one side of the garage door. Apply painter's tape so that the edge of the tape comes to the lines you've drawn and the rest of the tape covers the basecoat outside of the rectangles. Then paint the inside of the rectangles with the reflective paint to create the illusion of windows.
If you don't love the idea of reflective paint, consider using magnetic fake garage door window panels instead. Place two or four of these together to create the illusion of one long window and stack the fake windows on one side of the garage door.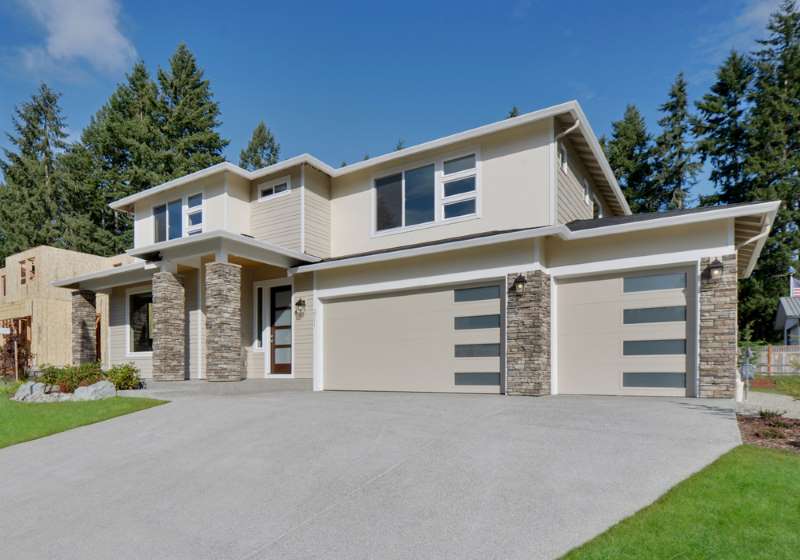 Side-to-Side Clean Panels for Garage Doors
Like the image below shows, some modern-looking garage doors have gotten rid of the little rectangle or square designs on each panel. Instead, they have only plain panels with no designs or decorations. The easiest way to achieve the same look is to purchase a garage door designed to look that way. If you already have the more common type of garage door and have to work with that, consider cutting thin wood panels to secure over each garage door panel and cover up the factory design.
Before painting over these minimalistic panels, consider adding a strip of treated outdoor trim at the top or bottom of each panel to get the same look as in the image below. Prime with a weather-proof outdoor primer for wood surfaces and paint your desired outdoor color.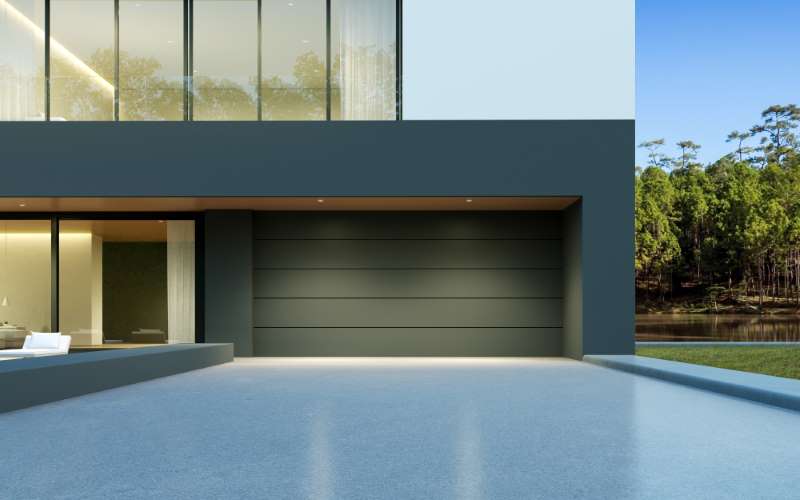 Garage Door Painting Time
After checking out all these garage door paint ideas, are you ready to give your garage door the update it needs? If you've decided to improve your home's curb appeal with a garage door makeover, let us know in the comments which garage door painting idea you liked the most and when you're going to get started!