Turn heads in your neighborhood with these 11 simple and effective garage door paint colors that will turn any garage door from dirty and dingy to clean and modern.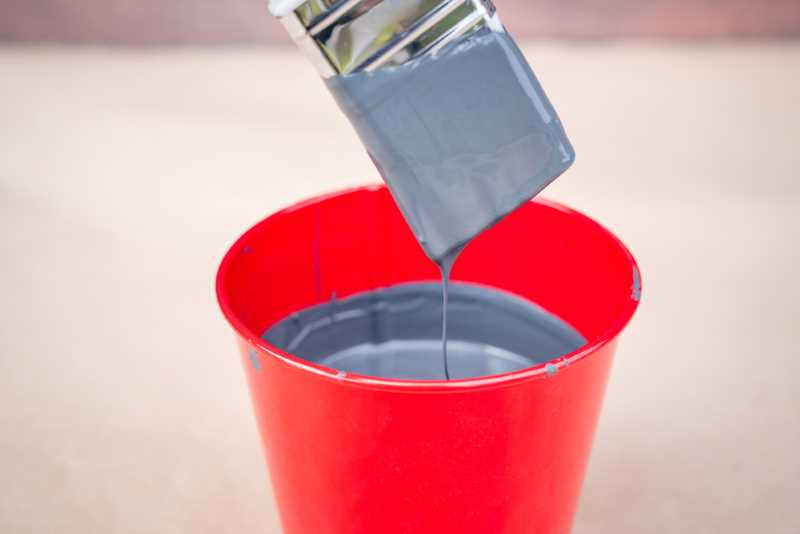 When looking to add some curb appeal to your home one simple DIY would be to paint that old garage door. With so many different garage door paint colors on the market, you may have asked yourself "what color do I actually paint my garage door?" If you have asked yourself this question, keep reading for 11 of the best garage door paint colors that blend with any home exterior.
11 Great Garage Door Paint Colors
White may just be the most popular color to paint your garage door but why not stand out from the rest?
1. A Medium Grey Garage Door Paint Color
Grey is a neutral garage door paint color that will never go out of style. You will love the contrast if you have white or light-colored exterior brick or siding on your home.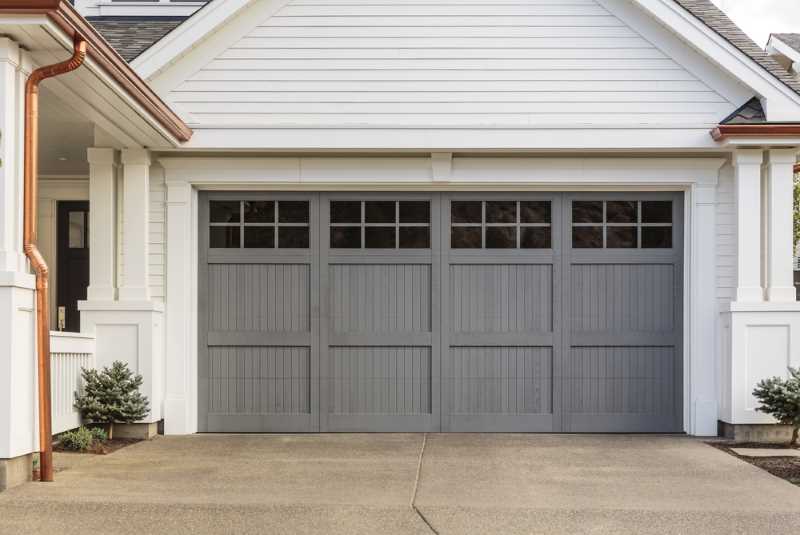 This cool grey will look stunning on your garage door as well as blend everything together seamlessly. If you are looking to step away from white but nothing too out of the ordinary I would highly suggest a grey tone. Try the color Repose Grey at Sherwin Williams.

2. A Cool Beige Garage Door Paint Color
Going with a darker off-white like a cool beige will surely pop against any cool color or tone of your home exterior whether it is brick or siding. It will match with almost anything.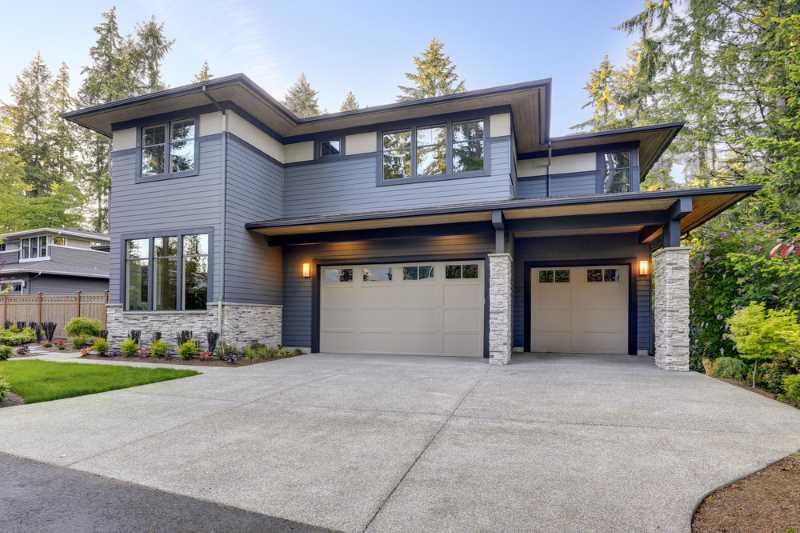 If you are looking to stay closer to your comfort zone, this calming garage door paint color may be the one for you. I would suggest you try Accsessiable Beige at Sherwin Williams.

3. A Rust Orange Garage Door Paint Color
If your home's exterior is more of warm color shades of browns or taupes, I would highly suggest you look into a light rust garage door paint color. It pops so well with your home's exterior while still brightening everything and making it look more interesting overall.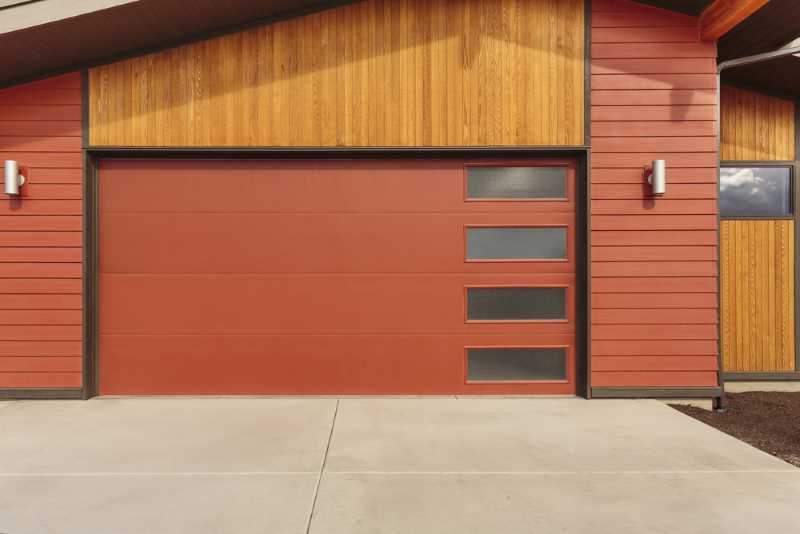 This color also looks great against any type of pine or light-colored stain. Try the color Pennywise at Sherwin Williams.

4. A Dark Navy Blue Garage Door Paint Color
Something about this dark navy blue garage door paint color against the light blue exterior siding has us swooning. These colors naturally contrast beautifully and make the garage doors pop.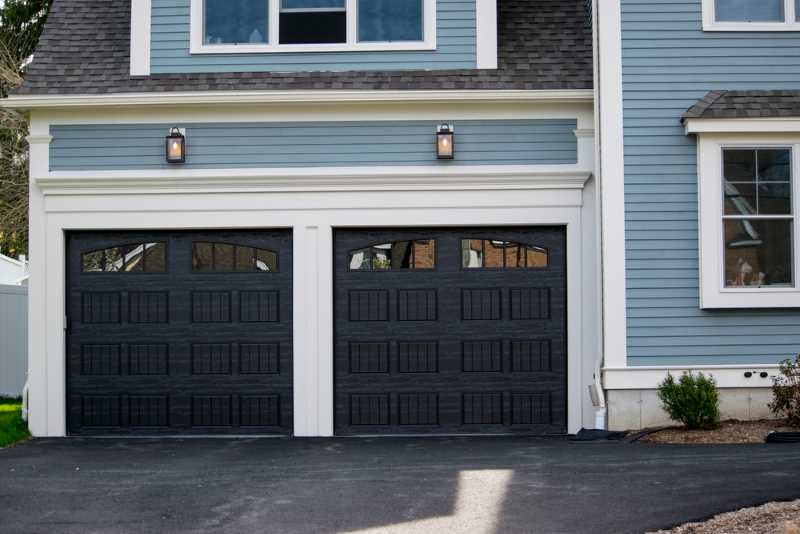 Plus if you have extensive staining or hard-to-remove scratches a dark navy blue could be perfect for some cover-up. Try the color In The Navy at Sherwin Williams.

5. A Muted Yellow Garage Door Paint Color
This may be a harder color to match to the exterior of your home but it may be just the perfect pop of color for you!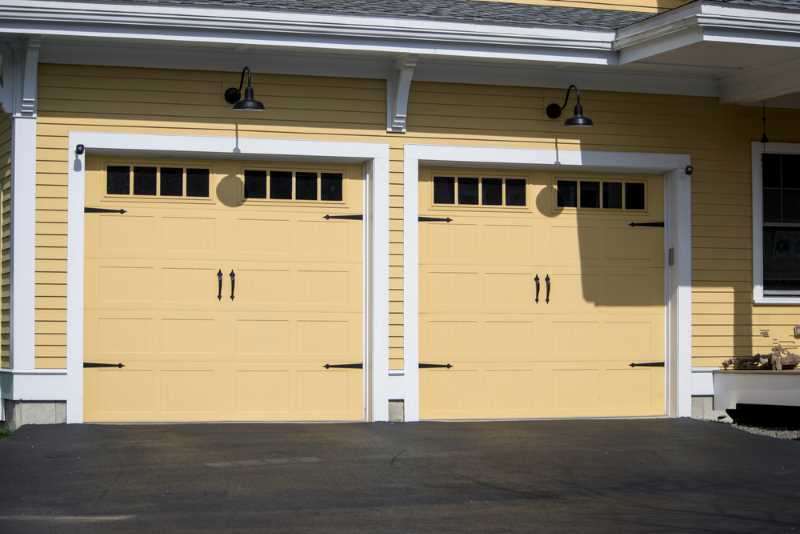 Bright and cheery this muted yellow garage door paint color is such a calming color if you already have some yellow on your home's exterior. Try the color Butter Up at Sherwin Williams for that beautiful muted yellow.

6. A Grey/Olive Green Garage Door Paint Color
If your home is either brick or stone choosing the right garage door paint colors can be a bit of a challenge if you want to go against the norm.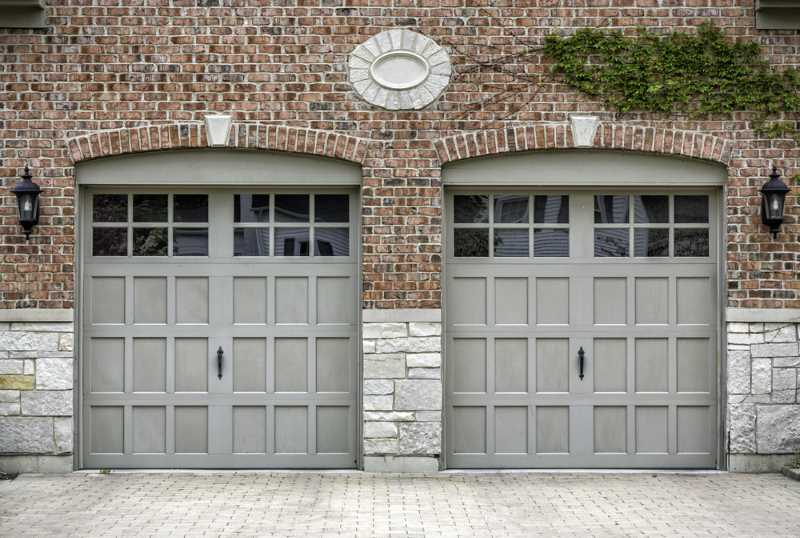 You will love the look of a grey/olive-colored garage door. It looks stunning against darker and light tones of brick or stone. Neutral homes would also benefit from this color. Try the color Acacia Haze at Sherwin Williams.

7. A Red Garage Door Paint Color
Now, this bold garage door paint color choice may not be the color for everyone, but, if you are looking to go against the grain then red is your color.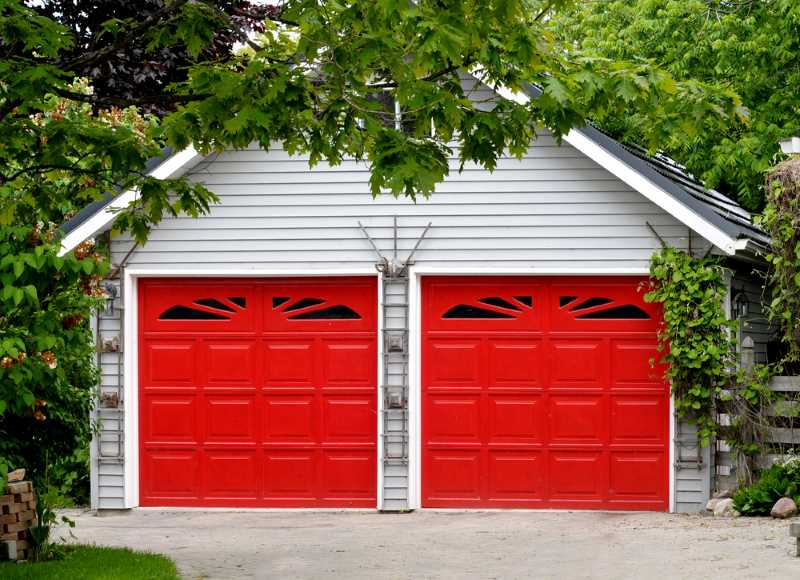 The great thing with reds is they will go with almost any exterior color and it is sure to make your home stand out from the neighbors. Try Real Red from Sherwin Williams.

8. A Black Garage Door Paint Color
Another classic garage door paint color is black. When choosing a garage door paint color, black is a winner for any type of home exterior. If you are looking to make your home look a bit more modern, black would be perfect.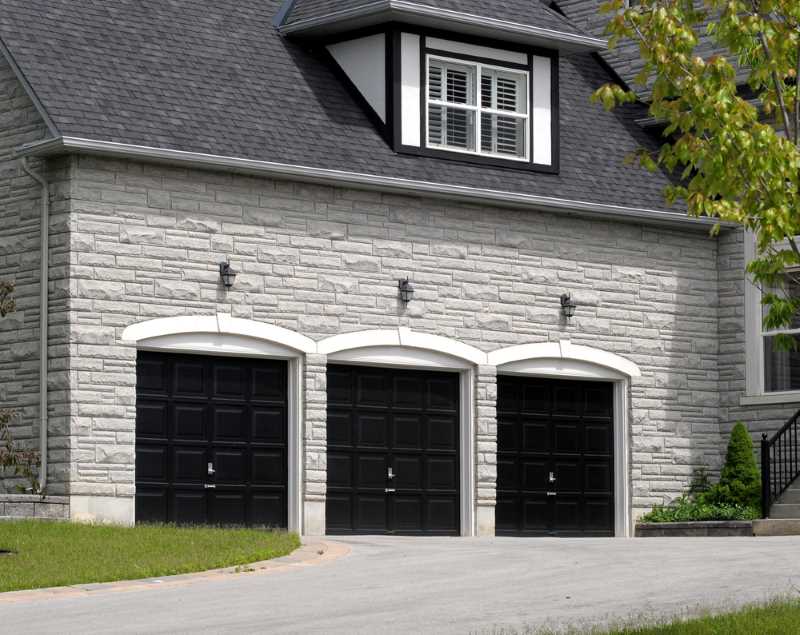 Black adds a bit of drama to your curb appeal and something about it is always so eyecatching. Try the color Black Emerald at Sherwin Williams.

9. A Deep Taupe Garage Door Paint Color
Something about this deep taupe garage door paint color just makes you feel extra classy. Perfect if your home's exterior is light brick or if you have a light-colored siding.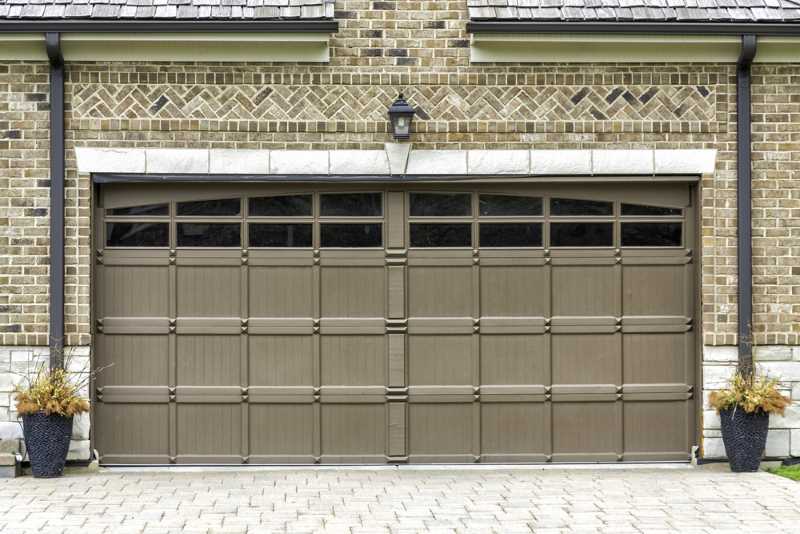 Even dark-colored brick and siding would benefit from this adding another shade to contrast. Ethier way, dark taupe is a stunning look. Try the paint Virtual Taupe at Sherwin Williams.

10. An Emerald Green Garage Door Paint Color
This stunning dark emerald garage door paint color may be a little bold but it looks gorgeous against a light brick exterior. Matching paint colors to brick is very tricky so why not just go with a color that already compliments reds so well.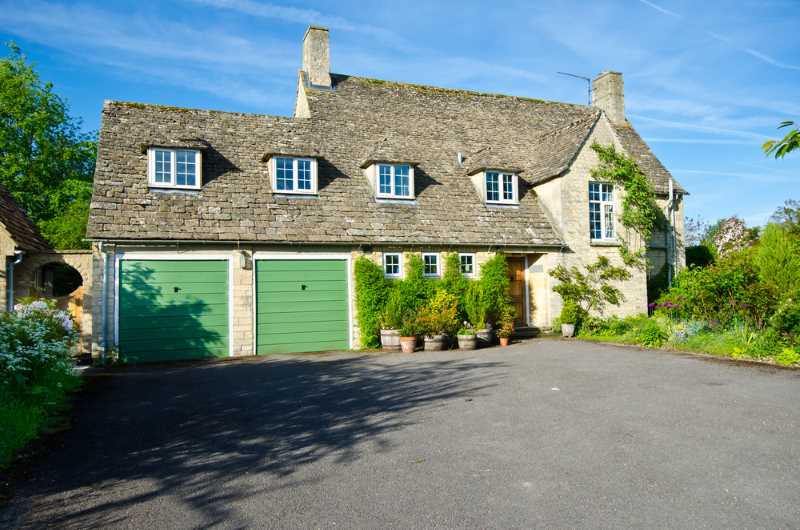 Plus with this emerald, all your landscaping will pop even more! Try the shade Shamrock at Sherwin Williams.

11. Wood-Look Paint Kits
If you are looking to transform your garage door into the traditional wood look even though let's say you have an aluminum or steel garage door, there is a paint for that! These wood-look garage door paint kits come in a large selection of colors to match your home's vibe perfectly.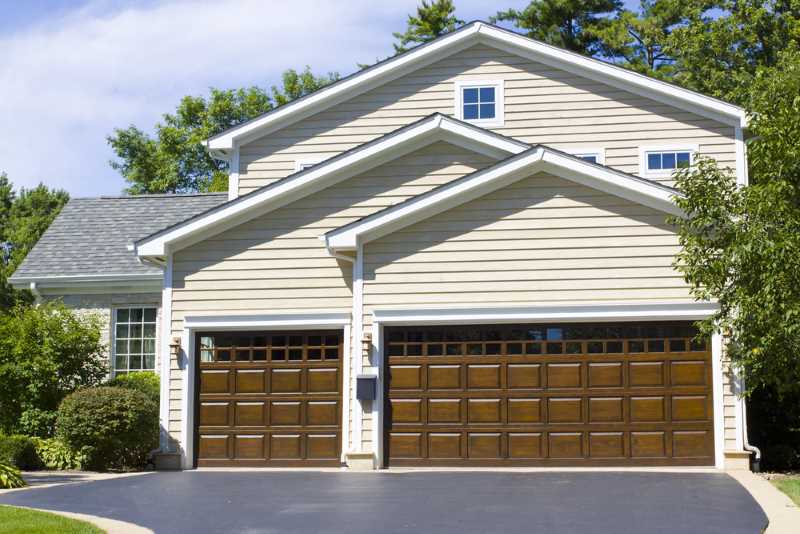 They are also a kit, which means everything is there for you to get started right away. This Giana Wood-Look Paint Kit would be perfect to transform any outdated garage door. Wood Look kits come in red oak, black walnut, English oak, honey oak, and royal mohagany garage door paint colors.
Paint, Don't Replace
Unless your garage door is in dire need of extensive repairs or even unrepairable, painting your garage door will add another layer of depth to your curb appeal as well as cover any mild scratches or bumps that come with common wear and tear.
Replacing a functioning garage door just to change the color or the overall appearance would be a waste of money when there are so many high-quality garage door paint colors to choose from. Choosing to do a DIY project like this will save you cash and will freshen up the look of your home without the need to hire any experts.
FAQ
How will this save me money?
By painting over the existing color of your garage door you will be getting a brand new, fresh, and modern look without having to purchase a brand new garage door and having to hire a professional to install it. If you're wondering how much doing it yourself will cost, check out our DIY Painting Project Calculator.
What type of paint do you use for a garage door?
You will need to make sure to purchase exterior paint that is suitable for the type of surface you are painting because you will need a durable finish. For example, an aluminum garage door will need a different type of paint versus an all-wood garage door, so it will depend on your specific situation.
How much paint will I need to cover my garage door's surface?
Firstly you will need to know how many square feet your garage door is. Most paints and primers will give you an approximate square foot area of coverage on the paint can or tub.
Can this DIY be done in a weekend?
Short answer, yes! One of the most wonderful things about this is you can definitely get this job done as a weekend DIY. Read How To Paint a Garage Door in 6 Easy Steps for more instructions.
Do I need to hire a professional painter?
Short answer, no, unless you would feel more comfortable or are unable to do it yourself. Painting your garage door is a painting job not needed for a professional as long as you follow simple instructions for the type of paint you decide to purchase. But if you're still not sure, read this article to help you decide.
Wrapping Up Garage Door Paint Colors
When choosing garage door paint colors you may need to look into different shades or hues of a color to match the exterior of your home unless you want to go more of the traditional route of white or a modern black. The best part is that there are so many exterior paint colors on the market that would be the perfect refresher for that outdated garage door!
Check out our Exterior Painting page for even more information on exterior painting, paints, and products.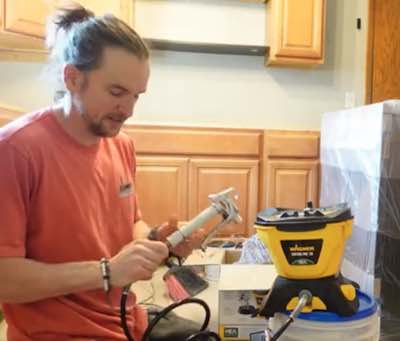 I've been a professional painter since 2001 and spent the last 12 years specializing in kitchen cabinet refinishing. I started the DIY Painting Tips blog in 2015 to start sharing everything I've learned over the years and help all the people who'd rather tackle their painting projects themselves. In 2019 I started the DIY Painting Tips Youtube channel where I publish in depth videos all about kitchen cabinet painting, painting gear reviews, and interior/exterior tutorials.