Looking for a way to increase your home's curb appeal, but don't know where to start? We have good news for you! Whether you're planning to sell your home or just want to give it a modern facelift, more and more experts are recommending choosing a sharp shade of gray to draw the approving eye of buyers.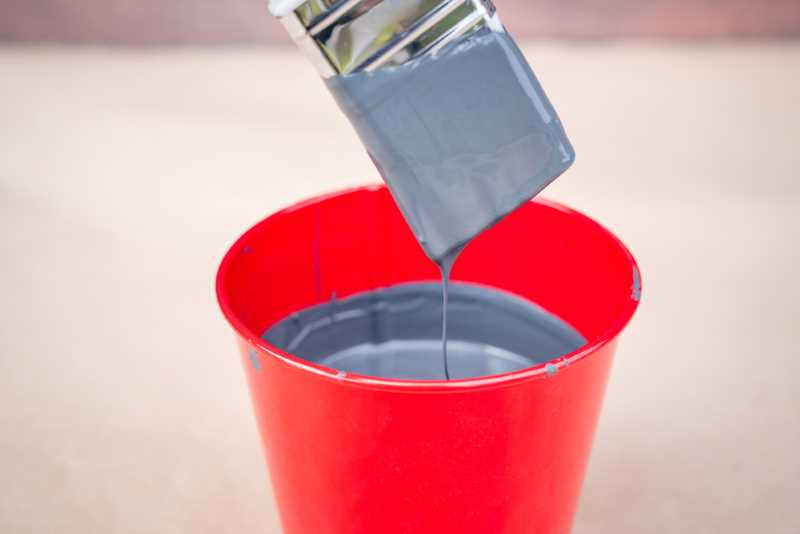 Still, that hardly narrows it down—there are countless shades of gray to pick from—but don't be intimidated! We've put together a list of the best shades of gray exterior house paint ideas right here for you.
Things to Consider When Choosing from the Best Gray Exterior House Paint Ideas
Other Exterior Features
Choose a shade of gray that matches or complements other exterior features such as your front door, brick or stone wall features, window shutters, roofing, etc. If you're planning to revamp your home's entire exterior, you'll certainly have more wiggle room here to customize around any color you like. But if you're looking to minimize the amount of work while maximizing the effect, you'll want to pick a shade of gray that already works well with the rest of your house's exterior features.
House Size and Style
Be mindful of your home's style and size when choosing a gray exterior house paint color. For instance, a smaller or less-contemporary home might not be well-suited to a darker gray—it could make your home appear even smaller, unwelcoming, or potentially dreary. A lighter, brighter color will help this kind of home look bigger and better.
However, a larger or more modern home could take a darker gray and appear sharp, eye-catching, and more impressive view. There are no shades of gray for home exteriors that can automatically be ruled out; it all depends on finding the best one to complement your home's particular style and size.
Landscaping
Similar to keeping your home's other exterior features in mind, you need to consider landscaping, as well as you choose from the best possible gray exterior house paint color ideas for your home. Depending on what sort of landscaping you use on your property, certain shades of gray could clash with the floral, arboreal, or decorative elements you've arranged.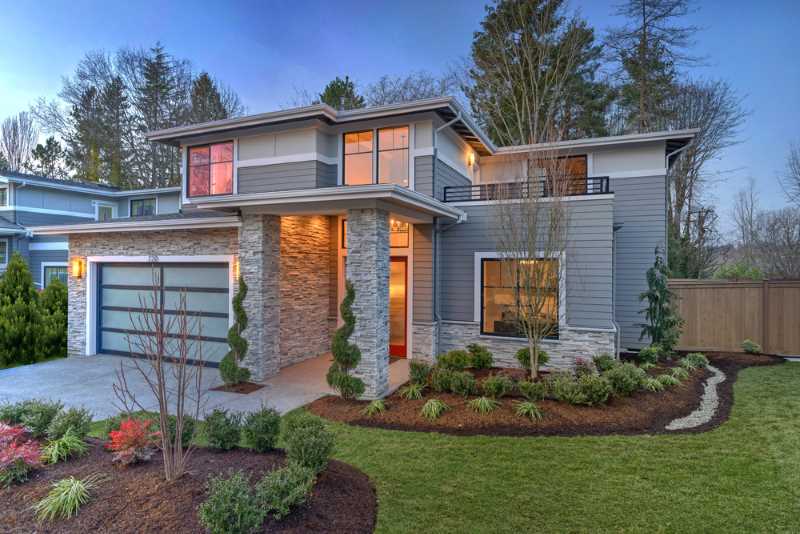 Again, if you're intending to completely overhaul every facet of your exterior, you'll have a far larger proverbial sandbox to play in. Otherwise, you'll want to take every piece of your exterior puzzle into account before getting your heart set on a particular wall color.
Color Wheel Guidelines
When deciding on your favorite gray exterior house paint, it's important to plan out the color scheme you want for your house. There are many directions you can use, but as mentioned above, you want to avoid clashing as much as possible.
If you're repainting your entire exterior, going off of color wheel rules is the best way to ensure that you don't end up with a chaotic mix of colors that don't play nicely together. To learn more about how to use the color wheel, visit this color wheel use article.
Monocromatic Color Scheme
One direction you can try is choosing a monochromatic color scheme—this means using different shades of the same color to create layers and dimensions without having to branch off into different color families.
However, though this gives the impression of being an easy task, this can actually b a more difficult gray exterior house paint color idea to put into practice than choosing complementary colors. You have to be careful to choose the right variations of your chosen color so they don't become muddled or boring.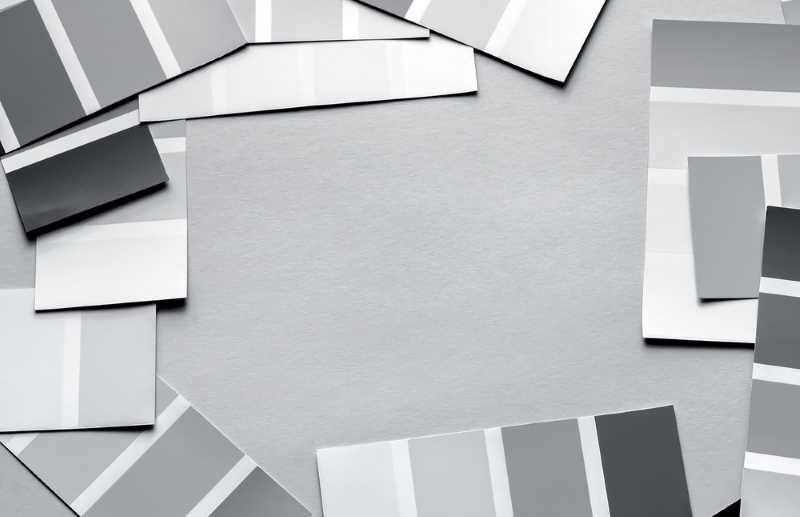 For exteriors, it's suggested that you actually choose three colors—a field color (this will be the most prominent of your colors), an accent color for other features such as your door or your shutters, and a trim color. If you choose to lean monochromatic, this will mean picking out three shades of gray for home exteriors that combine to make for a well-composed full picture.
Complementary Color Scheme
The other option is to choose complementary colors, which follows a similar line of thinking, only with different colors rather than different shades of the same color. Choosing complementary colors is also best done via the color wheel method, and it involves picking shades of other colors that will complement the shade of your field color—in this case, your favorite shade of gray exterior house paint.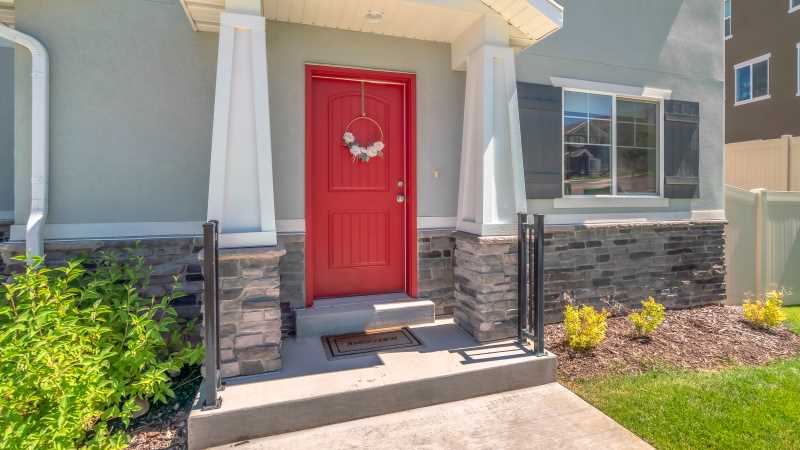 The Best Shades for Gray Exterior House Paint Ideas
Sherwin-Williams Shades
1. Anew Gray

LRV: 47
Cool or Warm: Warm
Anew Gray is a neutral gray exterior house paint that, while it leans cooler than other neutrals, is still warm-toned at its base. It's an extremely popular color for exteriors because of its Switzerland-like commitment to neutrality—while its undertones lean purple or green, they're so understated you can really only make them out in certain lighting.
It has an LRV (Light Reflecting Value) of 47 (out of 100, 100 being the lightest and 0 being the darkest), setting it on the darker end of the spectrum, but only barely. It also has the advantage of being counted as a greige (gray + beige), a trend that has been gaining traction in the painting world for some time now and is extremely appealing to buyers. You can't go wrong with this particular shade of gray.
2. Mega Greige

LRV: 37
Cool or Warm: Warm
Speaking of greige, our next contender is a perfect example of one. Mega Greige is a decisively warm neutral with yellowish undertones, and its LRV of 37 (placing it on the darker end of the LRV spectrum) promises that this color will be sure to stand out amidst a sea of lighter and more timid neutrals without getting too bold. Warmer tones are also known to give the impression of being more welcoming, which is something you want in terms of building up your curb appeal.
3. Alpaca

LRV: 57
Cool or Warm: Warm
With an LRV of 57, Alpaca is the lightest of our Sherwin-Williams recommendations, but it's actually a bit warmer-toned than most of the gray exterior house paint ideas we've shared, as well. This particular greige dips its toes (or its hooves, rather) into the taupe side of things, making it decisively warm without much risk of cooler undertones making an appearance where you don't want them.
This is a color that's come into popularity very recently, so if you're hoping to get in at the front of the pack (or the herd!), you can't go wrong by choosing this clean, modern neutral!
4. Dorian Gray

LRV: 39
Cool or Warm: Warm
Yet another gorgeous warm-toned gray for our list, though this gray (much like the portrait of its namesake) can shift appearances based on certain factors; depending on lighting, this gray will either show off its warmer side or lean into a more true-gray cast. This is one shade you'll definitely want to test before you become a bit too obsessed with its beauty, but regardless of which undertones it shows off, Dorian Gray remains a soft and soothing color that will definitely glamorize the outside of your home!
Sherwin-Williams Reviews
For exteriors, Sherwin-Williams Duration Exterior Acrylic Latex is considered the best product at a painter's disposal. Though it's a bit pricey, between its unparalleled durability and its long-lasting quality, it's certainly worth the expense. You can view its product reviews here.
Benjamin Moore Shades
1. Stonington Gray

LRV: 60
Cool or Warm: Cool
We've covered plenty of warm gray exterior house paint ideas, but what if you're searching for something on the cooler side? No worries! Benjamin Moore has you covered with this beautiful blue-toned medium gray. Stonington Gray has an LRV of 60, making it one of the lighter shades of gray for home exteriors on our list, and it gives any home exterior a crisp, clean look that buyers are sure to rave about.
2. Cape May Cobblestone

LRV: 40
Cool or Warm: Warm
Cape May Cobblestone puts us back into warm-toned territory, though this one is far less picky about its lighting! It tends to commit to a solid gray without letting its undertones peek through, so this is a fabulous color to choose if you're concerned about any "chameleon" behavior from your exterior paint.
3. Sag Harbor Gray

LRV: 42
Cool or Warm: Warm
Sag Harbor Gray is definitely less neutral than other recommended shades of gray for home exteriors, but don't let that frighten you off! Its earthy, greenish undertones make for an eye-catching pop of color in what is likely a sea of more neutral-leaning homes, and if your landscaping is heavy with greenery, this color will make for the perfect backdrop to your arboreal-leaning natural décor.
4. Chelsea Gray

LRV: 22
Cool or Warm: Warm
One of the darkest colors on our list of shades of gray for home exteriors, Chelsea Gray has an LRV of 22, creeping closer to charcoal gray than most neutrals do. However, dark doesn't necessarily mean dreary, and especially if you have a bigger house, this color can give the impression of elegance and sophistication.
With its undertones dipping slightly green, this also makes for a great complementary color to green-heavy landscaping; in fact, the darker backdrop will likely make your plant life look more verdant and vivid!
Benjamin Moor Reviews
Experts overwhelmingly agree that out of Benjamin Moore's products, Aura Exterior Paint is the best choice when you're looking to redo your exterior. You can take a peek at the reviews here.
Behr Shades
1. Flannel Gray

LRV: 42
Cool or Warm: Warm
Flannel Gray is technically considered a warm gray but leans closer to true gray than most. It's a sharp, perfectly good middle ground if you're finding yourself having trouble choosing between a cool or warm gray.
2. Porpoise

LRV: 46
Cool or Warm: Warm
Porpoise is another warm gray, and with an LRV of 46, it's right in the middle between darker and lighter neutrals. It's a simple color that puts people at ease in the way that welcoming warm tones often do, and it gives depth to the exterior of your home without being too dark.
3. Misty Coast

LRV: 68
Cool or Warm: Cool
The lightest color on our list of shades of gray for home exteriors, Misty Coast looks exactly like you'd expect it to: a silvery, fog-like color with a tint of the sea in its blue-green undertones. If you've always wanted your home to evoke the sense of being near the beach, this is the color for you!
4. Silver City

LRV: 57
Cool or Warm: Cool
Silver City certainly leans lighter on the LRV scale, but don't be fooled—it's got plenty of depth to it! It has some blue and green undertones buried deep in it, but for the most part, it remains a beautifully neutral gray.
Behr Reviews
When it comes to Behr exterior paint, most seem to agree that Marquee is the way to go. You can see what customers are saying about it here!
Always Test Before Committing
Even if you have a shade of gray in mind already, never commit without testing it first! You'll want to swatch a few different samples to see how they perform in tandem with all the other exterior factors we've discussed above.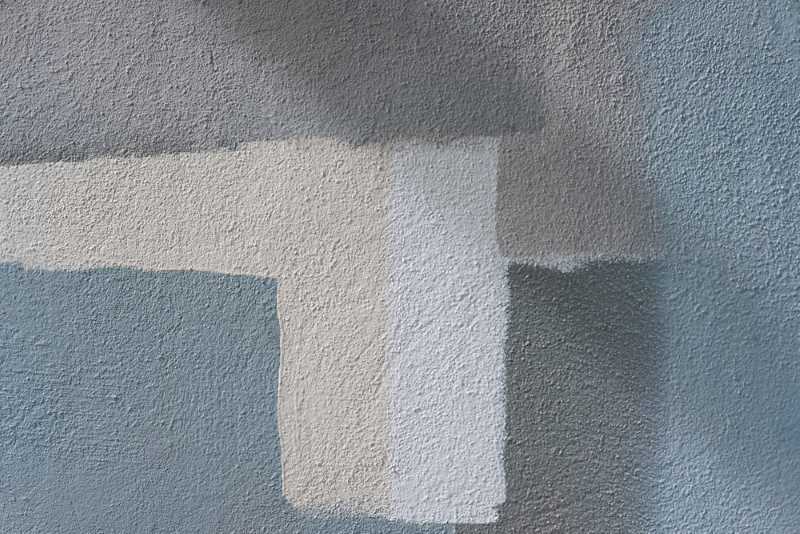 You'll also want to see how the color responds to natural light. Some colors behave very differently in sunlight than indoor lighting, and you don't want to pick a color based on the lighting in a store or inside your house rather than the lighting it will actually be illuminated by.
The paint finish of your gray exterior house paint color of choice could also affect how the finished project looks, so make sure to choose a paint with the right kind of finish, too.
Wrapping Up the Best Gray Exterior House Paint Ideas
We shared a lot of gray exterior house paint ideas with you today. If the number of possibilities feels overwhelming, here's how to narrow down your choices: Make a list of your top few ideas. Now throw out the darkest colors because the darker the color, the more quickly it will fade from sun exposure. Lighter colors will last longer.
Now call your local home depot or paint supply store and see which of these are in stock. Throw out any that would require you to wait a while to get started. If you still have a few favorites to choose from, choose the least expensive to save yourself a little cash. And if you still need some help deciding, ask a friend or neighbor for their insight.
Check out our Exterior Painting page for even more information on exterior painting, paints, and products.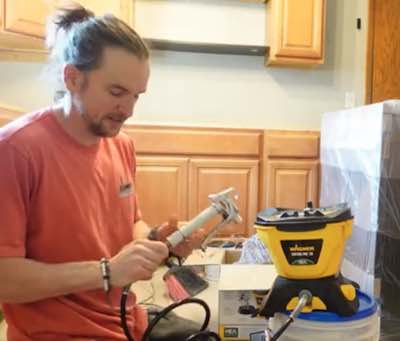 I've been a professional painter since 2001 and spent the last 12 years specializing in kitchen cabinet refinishing. I started the DIY Painting Tips blog in 2015 to start sharing everything I've learned over the years and help all the people who'd rather tackle their painting projects themselves. In 2019 I started the DIY Painting Tips Youtube channel where I publish in depth videos all about kitchen cabinet painting, painting gear reviews, and interior/exterior tutorials.