As long as it goes up and down with the press of a button, your garage door is probably something you don't think about a lot. It keeps your car clean, your lawnmower out of the way, and if you're anything like me, all of the junk you can't fit in your house hidden from guests.
But have you thought about showcasing your garage door? Paint and an optional few pieces of hardware can completely change the way your house looks. Painting your garage door is a very easy way to add some major curb appeal to your house, up the value, and change the feel of your home.
Follow along for simple, easy tips and tricks on how to paint a garage door.
Supplies Needed
clean towel
1 gallon exterior paint primer
1 gallon quality exterior paint
Once you've gathered your supplies, it's almost time to start painting your garage door.
1. Choose Your Paint
When it comes to learning how to paint a garage door, you need to start by choosing a color. When choosing colors, you've got to take into account several different factors. What's the exterior style of your home? What colors will go with the existing colors of your house?
What feel are you going for- sophisticated, neutral, bold, relaxed? Are you going to paint the door, frame, and trim the same color or are you going to get creative and mix it up a little? All of these decisions will make a difference in your final product and how it makes your house looks.
Take all of these into account and head to your local paint store for some samples. Don't skip this part. Choose your top 3-4 options and paint large swatches onto your garage door to get a real-life feel for what it's going to look like. Take some time to live with the options and then choose the one that best fits what you're looking for.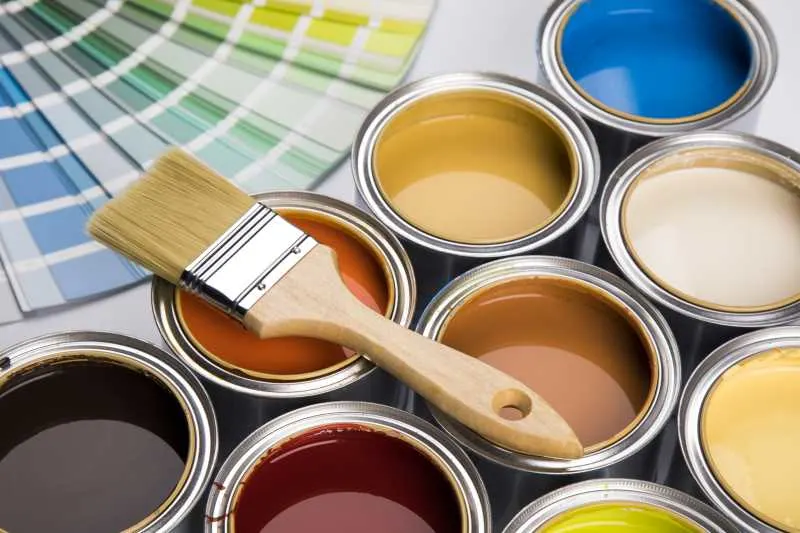 After deciding what color you're going to paint your garage door, it's time to pick the type of paint. A good quality exterior paint is a must because you need to provide a durable finish, but you need to choose the right type, depending on the material of your doors.
If your garage door is made of vinyl, you need to be sure to use a paint that will adhere well to it. Use a latex-based primer and then choose a paint that contains a bonding agent
If your garage door is made of steel or wood, use an oil based or latex paint to help your doors withstand environmental factors such as sun exposure and more extreme temperatures
If your garage door is made of aluminum, use either an oil-based paint and primer or a 100 percent acrylic exterior paint
2. Choose When To Paint Your Garage Door
There are several factors to consider when choosing a time for painting your garage door.
Temperature
Painting outside goes best when the temperature is between 50º-90º F
Weather
Rain will ruin your new paint job if it's still wet. Since your garage doors will need to dry 12 hours between each coat and a full 24 hours before moving them up and down after completing the job, you need to make sure there's a forecast of sunny or cloudy days for at least three days in a row.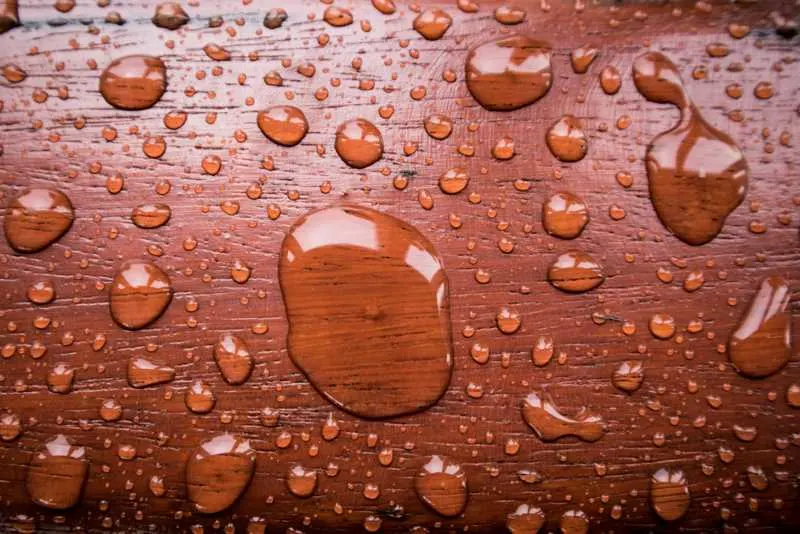 Humidity
If the atmosphere is too humid, it will impact your dry time and make the job take longer. The lower the humidity, the better.
Sunlight Exposure
It's best to paint when the garage is out of direct sunlight. That may limit you to a smaller section of time every day, but the final product will be worth the minor inconvenience.
3. Prepare Your Garage Door
If you're excited to see your house transform before your eyes, it's very tempting to skip this step, but preparing your garage door for paint is crucial to keeping your hard work looking good for a long time.
Put on your work gloves, dust mask, and safety glasses, and use a wire brush to clean up any rusted spots or flaking existing paints. You want to put a fresh coat of paint on a smooth surface. Once the major chunks are off, use a fine-grit sandpaper on the rough edge to make the areas completely smooth.
When you're done with smoothing everything down, take a hose and rinse all of the dust off. Then dry thoroughly with a clean towel.
4. Protect Items You Don't Want Painted
This is another tedious step that seems to get in the way of painting fun, but it's also critical to make your paint job look professional. If you don't want to get paint on it, tape it off before painting your garage door.
Tape off handles, hardware, and windows. If you're not painting the trim, make sure to tape it off. If you're including it, tape off where your house meets the garage. This is also the time to put a drop cloth down under your doors. No matter how good of a painter you are, you're going to drip, and paint is a pain to get off a driveway. I know from experience!
5. Paint the Garage Door, the Frame, and the Trim
Now, the fun part! First, follow all of these steps with primer and then follow up with paint.
With all of these steps, make sure to remove all the excess paint off of your paintbrush or roller. You want to paint thin, even coats to prevent drips and ensure a smooth finish. After every single coat, both primer and paint, make sure to wait a full 12 hours to let your doors dry between coats.
Garage Door
Begin painting your garage door at the top panel. Starting at the corner of the recessed area of the panel, paint around the entire perimeter. Continue painting the rest of the entire panel until it's all covered and repeat the process of painting the recesses and middle of each panel until they're all completed. Then wipe away the excess paint that's gotten onto the stiles (the pieces that hold all of the panels and make up the horizontal and vertical lines on the door).
Once you've painted the panels, use your brush to cut in around the perimeters of your garage door, about 2-3″ in. Start in the corners, paint down to the bottom of your door on each side, then paint across the top and the bottom edges.
After you've cut in, pour some of the gallon of paint into your paint tray and use your roller to paint all of the stiles. Continue until the entire surface of the garage door is fully covered.
Garage Door Frame
Using your paintbrush, begin at the top corner and paint the inside frame of the door. Continue until the entire inside frame is covered and then take time to wipe off any excess paint that's gotten onto the garage door trim.
Garage Door Trim
When painting your garage door trim, begin by painting the edge of the trim, where the trim meets the house. Once the entire edge is painting, return to the corner in which you began and paint the face of the trim. Continue until the entire trim is painted.
6. Clean Up
Now that you've got a beautiful, freshly painted, like-new garage door, it's time to clean it all up. Make sure to thoroughly rinse out your brushes and roller covers until the water runs completely clear.
*Pro-tip: If you need to take a break while painting or in between coats, wrap up your brush or roller cover well in a plastic bag and store them in your refrigerator. It will keep them wet and ready to use without you having to completely rinse and dry them in between every coat.
Put away/throw away your drop cloths and remove painter's tape at a 45-degree angle to avoid taking off any fresh paint with the tape. If you've got glass in your garage door and happened to get paint on it, never fear! Don't try to wipe it off and smear it around. Simply wait until it's dry and use a razor to remove it once completely dry.
Wrapping Up How To Paint a Garage Door
Now that you have a step-by-step guide to painting your garage door, what are you waiting for? The sky really is the limit. And the best part of painting your garage door? You're not married to it. It's not a permanent decision that can never be changed! You shouldn't need to paint it again for a solid 5 years unless you live in a very rainy climate, and then it'll be time to paint it again in about 3 years.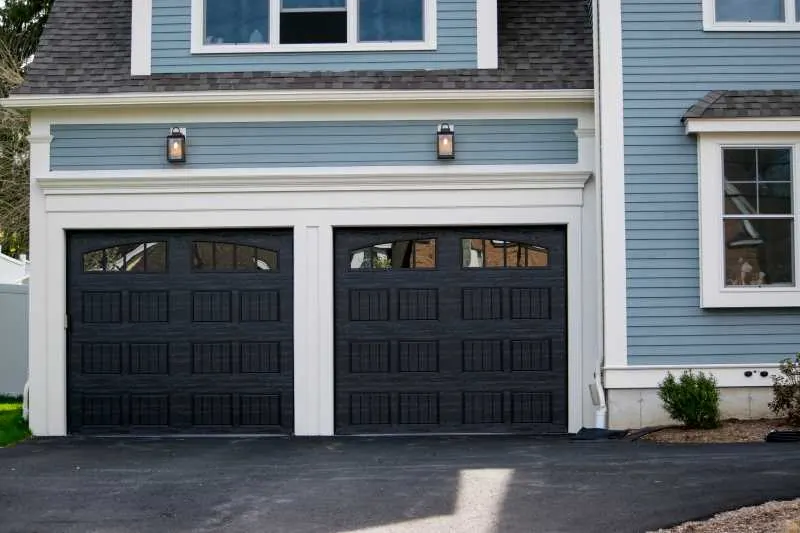 Let us know in the comments if you're excited to get started now that you've learned how to paint a garage door!
Check out our Exterior Painting page for even more information on exterior painting, paints, and products.