Best Primer For Bare or Painted Metal Garage Doors
Rust-Oleum Metal Primer
There is no better brand of paint when it comes to rust protection than Rust-Oleum. If you have a metal garage door that is raw metal, painted metal, or primed metal, then this primer is perfect for you.
---
Choose the Paint Color Carefully
When choosing a paint color for your garage door, you first want to consider what will match or complement the rest of your house's exterior design. But there's more to choosing the best garage door paint color than just that.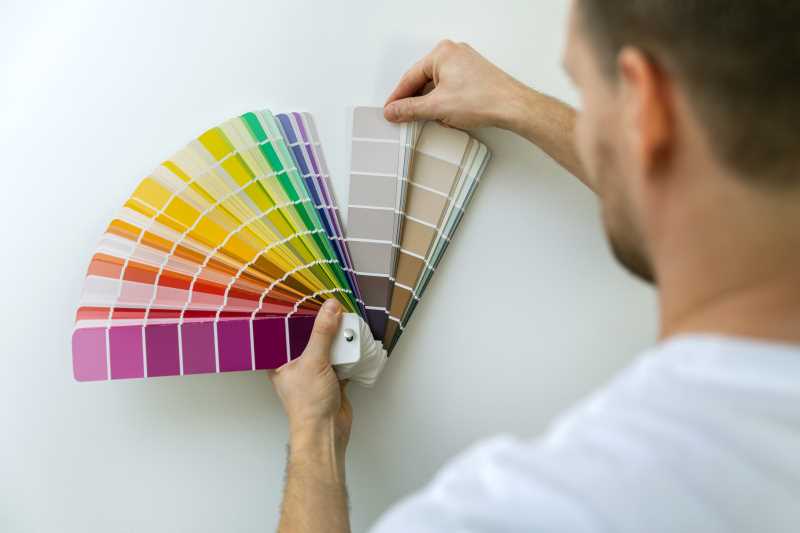 High-Maintenence Garage Door Paint Colors
For example, darker colors tend to weather faster. If you don't want to have to repaint every summer, you may want to consider a color that will last longer than black or dark grey.
Darker colors like those also attract heat. Garages with dark-colored doors get hotter and take longer to cool off than garages with lighter doors. Extreme temperatures for longer times could damage things like cleaning supplies, plastic or rubber tools, or toys that you store in the garage. For these reasons, a dark color may not be the best garage door paint idea for you.
Choosing a Matching or Complementary Garage Door Paint Color
When choosing a color that will look well with the rest of your house, you can choose a matching color or a complementary color. To choose a matching color, take a scraping of some exterior paint and ask a paint mixer to match it for you. To choose a complementary color, consider what colors from your landscaping or your home's interior you might like to include as an accent color. If you aren't sure what color would be best, try this method to decide.
Perspective Garage Door Paint Color Test
Get some paint samples from the home improvement store and then stand several feet away from your garage. Hold one sample up over the garage door so that it completely covers the door. You may need to move it a little closer or farther from your face to get it just right. Then consider how that color looks there.
Try this with each of the samples you're interested in, and start removing the ones you like the least. If you still need help deciding between the last two or three, it might be best to go with the lightest color as that is likely to last longer than the darker ones. You can also ask a friend or neighbor for their opinion on which is the best garage door paint color for your home.
Purchase Too Much Garage Door Paint Rather Than Too Little
It's always best to err on the side of having leftover paint than running out and having to dash to the store for more in the middle of your project. That said, it's still nice to have an idea of how much you're likely to need.
Primer is thinner than paint, so for a double garage door, you'll need a quart of primer.
Because paint is thicker, and because you'll need to do two coats, you'll need more paint than primer. For a double garage door, you'll need one gallon of topcoat paint. If you still haven't decided what color to go with, check out our list of 9 Great Looking Garage Door Paint Ideas.
Determine What Material Your Garage Door Is Made From
There are lots of different kinds of exterior paints. Some are made for metal, some for wood, and some for fiberglass. The best garage door paint meant for one type of material may not bond well to another type. So make sure to choose an exterior paint type meant for the material your garage door is made out of.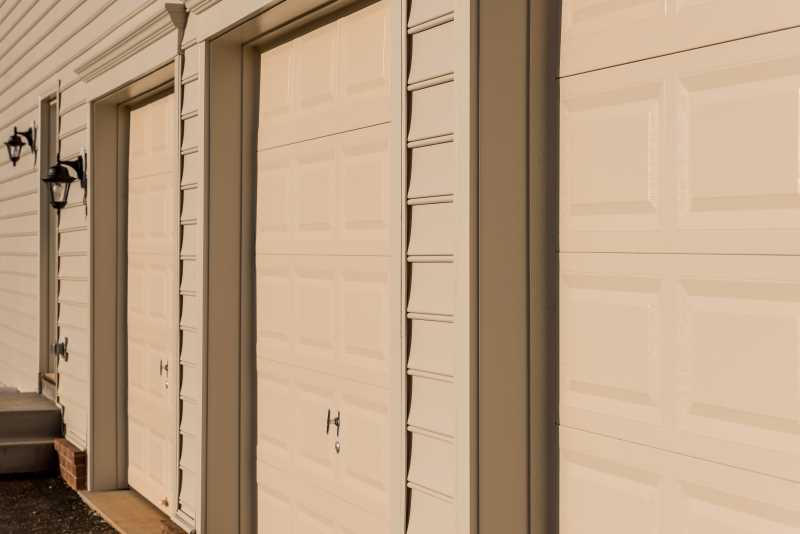 If you have difficulty finding your desired color for your garage door material type, you can use a primer specific for your garage door material and then whatever color of general exterior paint you want over that.
How to Tell What Material Your Garage Door Is Made From
What if you aren't sure what type of material your garage door is made from? Steel is the most common material used for garage doors, so there's a good chance your garage door is made from steel. If you rap your knuckles against the material and it sounds sharp or tinny, then you probably have a steel or aluminum garage door and will need exterior paint for metal surfaces.
If you rap your knuckles against the material and it sounds hard and blunt, then it's probably wood. If it sounds thin and dull, then fiberglass is the most likely material.
Call the Manufacturer to Find Out for Sure
To find out for sure, look closely at the bottom of the garage door or on one of the garage door windows for a company sticker. Usually, a garage door company will leave a sticker somewhere on the doors with their information. If you can find that sticker, give the company a call. They should be able to look up your garage doors by your address in their records.
Best Wood Garage Door Primer
There aren't a whole lot of garage-door-specific paints, so you'll be looking for exterior paint or primer that bonds to the correct surface. The best proper for wooden garage doors is Kilz Exterior Siding, Fence, and Barn Primer.
This Kilz primer is ideal for bonding to wood surfaces. It dries to the touch in 2-3 hours, but it should be given 6-8 hours to dry before another coat is applied.
Best Metal Garage Door Primer
Rust-Oleum Protective Metal Primer is a flat white primer that bonds to metal to make a great surface for your topcoat to stick to. It also acts as a protective barrier to the metal, preventing it from rusting over time.
This is a good primer choice for aluminum and steel garage door types.
Best Fiberglass Garage Door Primer
Kilz Adhesion High-Bonding Interior/Exterior Latex Primer is an oil-based paint that will allow you to use virtually any type of exterior paint as the topcoat. It will bond to slick, hard-to-paint surfaces like metal and fiberglass so that you can paint whatever color you'd like on top of it.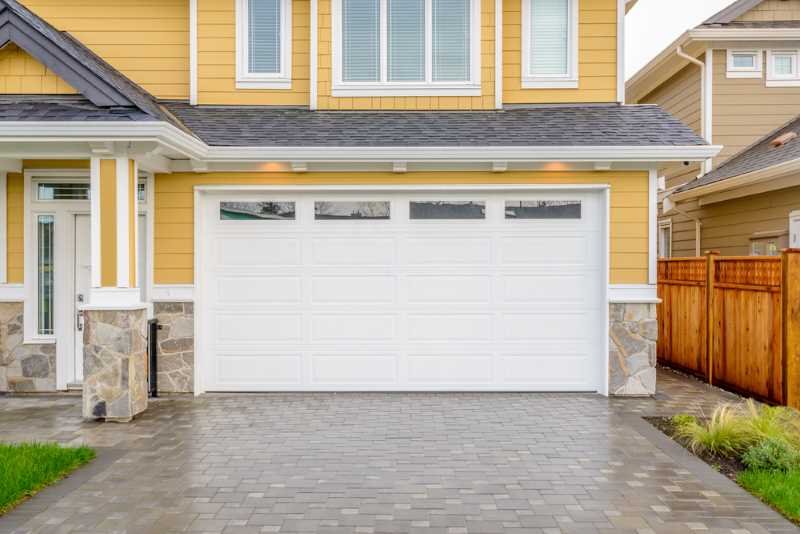 This paint dries within thirty minutes so you can get back to your project quickly. Make sure to mix well before using. And this will only bond to slippery surfaces as advertised if the surface is properly cleaned beforehand. More on preparatory cleaning at the bottom of this article.
Best Paint to Make Your Garage Door Look Like Wood
If you want your garage door to look more like wood, Giani Wood Look Paint for Garage Doors will do the trick. It bonds best to a primer, so prime your garage door first with the appropriate garage door primer listed above and then add this paint as a topcoat.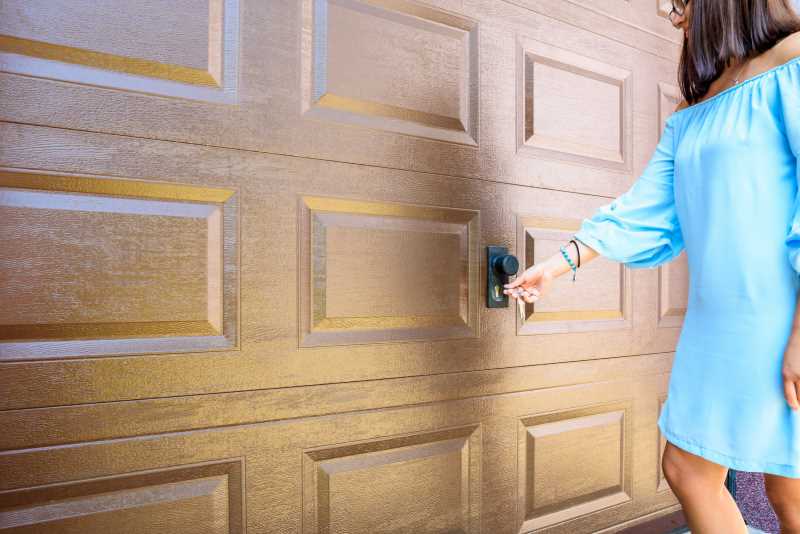 This paint dries in three hours.
Best Quality Dark Garage Door Paint
While you should be aware that dark colors on your garage door are more likely to need repainting more often and raise the temp of your garage, you may still prefer a darker color. If that's the way you want to go, Rust-Oleum Protective Enamel Paint is one of the better choices. It will last longer than a cheaper paint and will be worth the investment.
Even so, it's a good idea to buy an extra container or two of the same paint while you're at it so that you'll be ready to go next year when it comes time to touch up or add a new coat.
Best Garage Door Paint for Metal or Wood
Rust-Oleum 1979502 Painter's Touch Latex Paint comes with a wide selection of colors and dries in a quick 30 minutes. It has a glossy, chip-resistant finish and will leave your garage door looking brand new.
Lighter colors will last longer without needing to be repainted, while darker colors may need a new coat sooner rather than later. If you opt for one of the darker colors, grab an extra can or two for when you'll need to touch up or repaint next year.
Best Garage Door Paint for Fiberglass
If your garage door is made of fiberglass, then you'll want to go with a marine-level paint type like Duralux M731-1 Marine Paint. This kind of paint is resistant to rust and erosion and can bond to that slippery fiberglass and hold its own against the elements.
Duralux marine paint is a good choice for painting directly onto your fiberglass garage doors. You won't have to use a primer with this one, which can save you some time.
Success Tips for Garage Door Painting
There are a few more steps to keep in mind when preparing to paint your garage door. Cutting corners now will likely mean more maintenance later, so take a few extra minutes to set yourself up for success before getting started.
Purchase High-Quality Brushes and Rollers
Cheap paintbrushes leave brush marks in the paint, and crappy rollers won't distribute the paint evenly and may make it appear shinier in some parts than others. So take care to invest a little more into quality tools that will help you get the job done right the first time.
Prep for Less Clean Up
No matter how careful you are, drips and splatters are an inevitable part of the painting process. Lay a tarp or blanket you don't mind ruining under the door to catch any splatters or spills and save you some cleanup time later.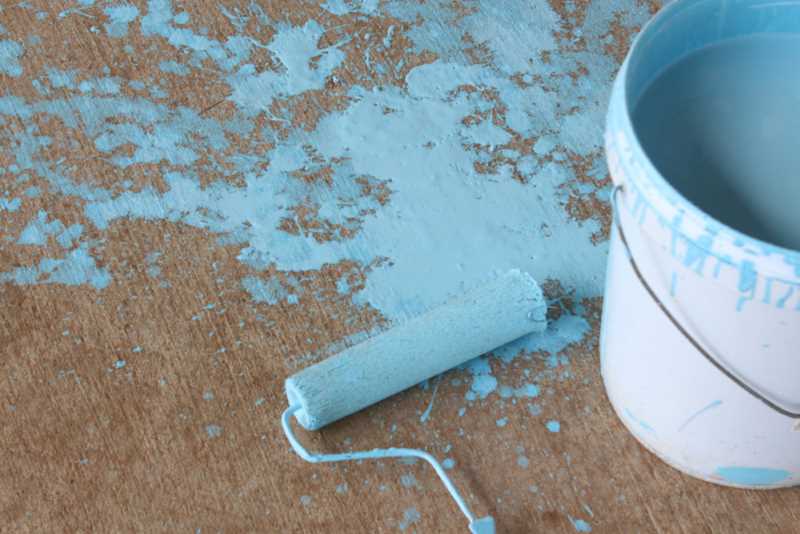 If you still end up with a little paint where it shouldn't be, you can use a paint stripping gel to get the paint off. This gel works on wood and metal surfaces as well as masonry surfaces such as brick, stone, and concrete. You may need to scrape the paint off once the gel has had time to loosen it. For more comprehensive clean-up tips, check out How to Remove Paint from Concrete.
Prep the Surface
Does your garage door already have paint on it? Are there any chips, blisters, or rust spots? Extra layers of paint won't cover that stuff up. If you don't sand off those blemishes before painting your garage doors, you'll regret it after. Go ahead and sand away so that you have a clean surface to paint on.
Dirt, dust, and grime will cause imperfections in your final project, too. So whether you sand or not, be sure to wash the whole garage door and let it dry before painting so you can have a clean, dry surface to work with.
Choose the Right Season and Time of Day
Paint tends not to dry well in cold temperatures below 45 degrees F. So when planning an outdoor painting project, it's best to wait until it is above 45 degrees even during the coolest part of the night so that the paint has plenty of time to dry properly before being exposed to cold temperatures.
Rain can also damage your paint before it dries. Even though exterior paint is water-resistant, if it gets rained on while still wet, streaks and drips may form on your garage door. So check the forecast and wait for the best weather to paint your garage door.
If you have a light above your garage door, you've probably noticed a lot of insects hanging out around it at night, especially in the spring and summer. Make sure to turn that light off after you paint so that visiting insects don't land in the paint the night after the door has been painted.
Wrapping Up the Best Garage Door Paint
We hope this post answered all your questions about the best garage door paint for your home project. You should be well-prepared to choose the type of paint you need now that you've learned so much about garage door surface types and how some general colors are better than others.
If you're still unsure about the specific color you want for your garage door, don't forget to take a look at our garage door color ideas for 2022. And if you're planning to spruce up the entire garage, check out our paint color ideas for garage walls. We hope you'll find these posts inspirational!
Check out our Exterior Painting page for even more information on exterior painting, paints, and products.