Looking to spruce up that old tile you are tired of looking at? Still, looking at all your options as well as staying on budget? Thinking about painting that old tile? Here's how to paint tile in 7 easy steps.
Replacing outdated tiles can be a very daunting and expensive task. If you are looking for information on how to paint tile we have 7 straightforward steps for long-lasting and durable results. Here you will find step-by-step instructions on how to paint your tile for an easy DIY home improvement project.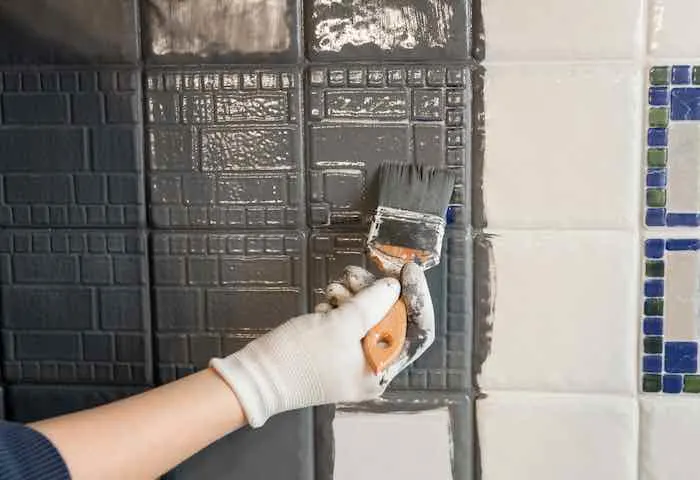 Pros and Cons To Painting Tile
Before taking the leap and learning how to paint tile, take a minute to read through the Pros and Cons of painting tile.
Pros of Painting Tile
Less Mess Than Replacing Tile
Removing any type of existing tile such as floor tiles, backsplashes, countertops, and everything in between can cause a lot of mess and a lot of garbage to dispose of. Chipping away at the old tile will cause dust to fly and you will need to wear extra protective gear as well as renting or purchasing contractor bags and bins to dispose of all debris.
Painting Tile Saves Money
Painting your existing home tiles will be better on the pocketbook as well. When replacing old outdated tiles not only are you purchasing the tiles, but you will also be buying the materials and/or labor if you are having a professional install the tiles for you. By following this DIY on how to paint tile you will cut out the hiring of a professional completely.
Painting Tile Is Completely Customizable
By painting your tiles you are open to completely customizing your space by picking the perfect paint that will match any other decor.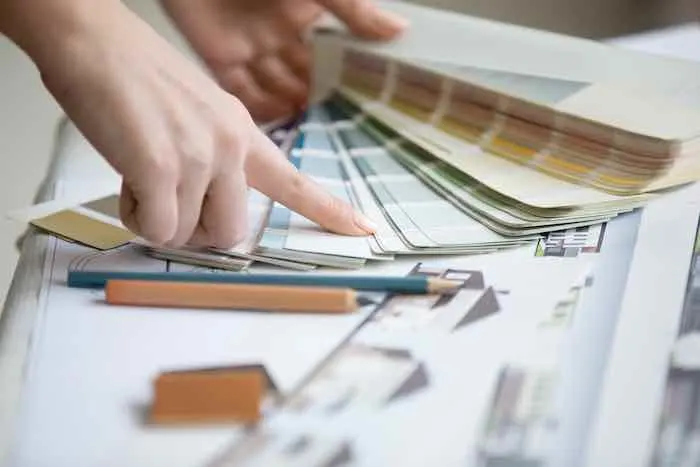 Cons of Painting Tile
It's A Large Undertaking
Being a DIY project you are the one in charge of researching the products, paint types, and tools. You will also be purchasing all of the items you will need, doing the prep-work, and the actual painting.
It Will Cover The Grout
Unfortunately, when painting your tiles you will thus be painting over your grout. Now, some could see this as a pro if the grout is stained and unable to clean, but, you will no longer have those distinctive grout lines separating the tiles.
Peeling and Chipping Is Possilbe (if not done right)
When painting tiles you will need to follow every step to ensure that the paint will not peel or chip. Over time, especially with high traffic areas, it is possible that your paint can peel or chip off the tile surface.
Painting Tile is a Budget-Friendly Makeover
Learning how to paint tile can save you a lot of money when all said and done. This is a project that you can learn how to do and if done correctly you can flip an outdated tile into one that is current and beautiful. Since this is a DIY you will have no need to hire any contractors or laborers, so right there you will be saving your hard-earned cash!
DIY To Save Your Money
Learning how to paint tile vs replacing tile is not only an easier DIY project, but it's a big money saver too.
Maybe you are looking for ways to update your home before listing it on the market? Getting ready to sell your home is a huge task, and you also need to stay on budget. Painting your outdated tile will save tons of cash as well as get more buyers interested in your home. They will love the updated look and think, "I am so glad we don't have to update anything!"
Or, maybe you are just plain tired of looking at your old outdated tile and need a bit of an upgrade. Budgeting for any home renovations can be stressful and I personally am all about DIY projects. There are no expenses for labor because you are the one doing the work, you can pick out the tools you will need (some in-expensive brushes will work just as good as the expensive name brand), and better yet you get the satisfaction of completing a project, saving your money, and have a stunning new tile to show off.
What Kind Of Paint To Use When Painting Tile
Now that we know the pros and cons and can see how we can save money by learning how to paint tile, you now need to know what kind of paint will actually give you a stunning long-lasting effect. With so many different paints and primers to choose from knowing what you will need can be a daunting task. Here's what we know, painting tile requires epoxy paint or specialty tile paint.
Epoxy Paint
Epoxy is a compound consisting of two separate elements, specifically a resin and a hardener. Once these have fully cured (dried) they create a durable and long-lasting finish.
One great epoxy paint you can use would be the Rust-Oleum Home which is a two-step system in which a base then a separate color needs to be painted on. This is great because you have a variety of different colors to choose from to suit your style or your other home decor. This will leave you with a long-lasting and durable paint that is easy to clean and resistant to most stains.
Epoxy Tub And Tile Kits
A second great option to painting your tile is to purchase a kit that will have everything you need to get the job underway. Rust-Oleum Specialty Tub And Tile is a highly rated all-in-one kit perfect for bathroom tile painting. Just be sure to follow the directions on these specific kits because one size does not fit all when using kits. There may be added information or steps you will need to complete to ensure your paint sticks and has a smooth and glossy finish.
How To Paint Tile – 7 Easy Steps
1. Clean The Tile
The first thing you will need to do is make sure the tile is completely cleaned. Make sure no dust or debris is on the tile, next you will need an alkaline cleaner such as a TSP cleaner to make sure the tile is in pristine condition before painting. Make sure the tile has been wiped with clean water and dried fully after cleaning with your alkaline cleaner.
What Is TSP?
TSP or trisodium phosphate is a chemical compound, usually granular, that once mixed with water is a highly effective cleaner, degreaser, and stain remover. Using TSP will help the paint adhere to the surface for better durability.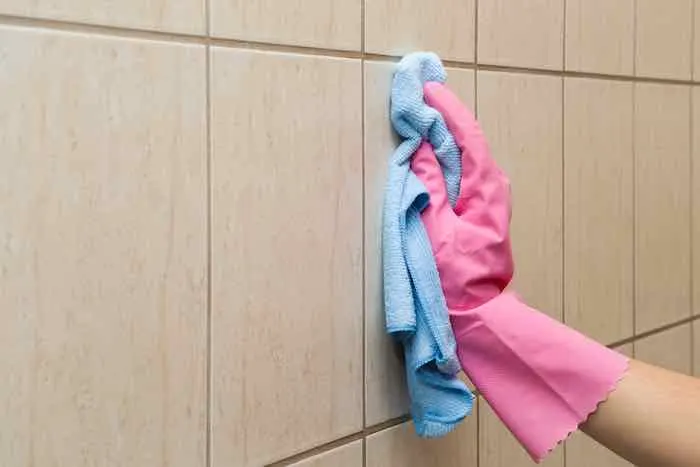 2. Repair
Using an exterior waterproof spackle or silicone caulk fill in any imperfections such as cracks and divets in the tile/grout. You want to be working with a nice smooth surface for the best adhesion of the paint. Make sure to work in a ventilated space by opening windows or doors and/or using proper face coverings. Make sure you give the proper amount of curing time before moving on to the next step.
3. Sanding The Tile
Put on the proper protective gear such as eye protection and a face covering before beginning to sand your tile. Using an orbital sander scuff up the tiles, you do not want to sand the tiles down too much, just enough to rough them up, this helps with adhesion giving the paint something to grab a hold of and helps prevent any peeling or chipping of the paint.
4. Protect Other Surfaces
Lay down plastic tarps or use painter's tape to ensure that you do not paint anything that is not supposed to be painted. Remember this paint is specifically designed for strong adhesion and will be extremely difficult to remove if it gets on to a surface it doesn't belong on.
5. Prime The Tile
Depending on if you purchased a two-step system to paint your tile or a tile kit there will be priming of the tiles involved. With the two-step system, the base is your primer, using a small roller apply the primer to the roller and paint the primer onto the tile. Work in small areas making sure to apply a nice thin coat to avoid any dripping. Let it fully dry. You may need to do a second thin layer depending on the type of paint you purchased.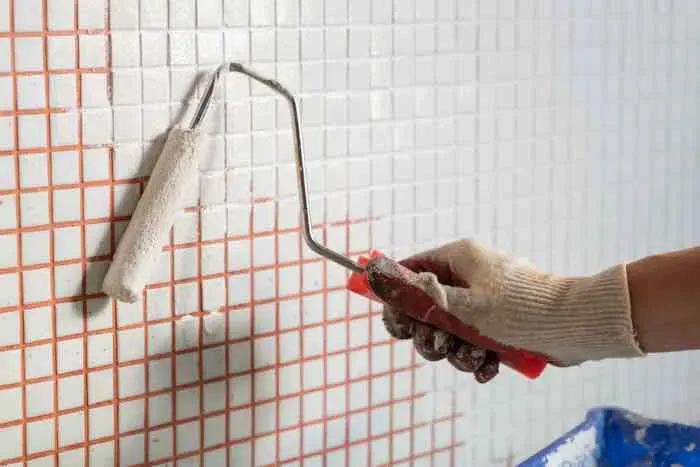 6. Paint The Tile
Now the best part, finally getting that paint onto the tiles. Once again working in small sections apply the paint to the tiles in a thin layer using a new paint roller, you may have to do multiple layers to achieve the desired look, but painting too thick of paint can cause dripping and unsightly marks on the tiles. To reach the corners or smaller areas you can use a small paintbrush. Make sure the paint fully cures before moving on to the final step.
7. Seal
Once the paint has completely cured, you will need to apply two coats of polyurethane sealer. This will add a protective layer so the paint will be free from peeling, chipping, and scratching.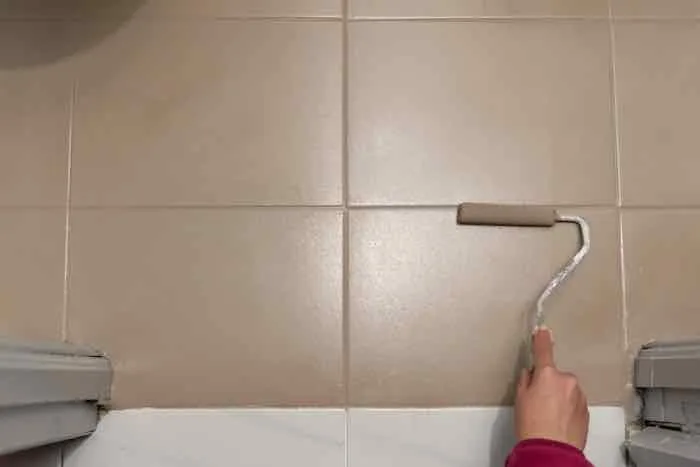 Enjoying Your New Painted Tiles
As we already discussed, there are some pros and cons to painting over your home's existing tiles. But, if you are looking for an amazing budget-friendly alternative, painting may be your way to go! If you execute the steps correctly as well as the directions on any specific epoxy paint you end up purchasing you will have stunning updated tiles. Making sure the steps are followed is very important for your painted tiles or you will run the risk of peeling and chipping.
Let us know in the comments below how well these tips on how to paint tile worked for you! If you are looking for more Painting DIY Tips sign up for the email list to never miss out on that next home improvement painting project.