Even though bathroom tile is practical, it's not always pretty. Tile is easy to wipe down, easy to clean, and lasts for decades. Unfortunately, that means you could be living with ugly but practical tile for a long time.
Fortunately, you don't have to remove and replace tile in order to give your bathroom a facelift. Painting bathroom tile is a great solution! With the right primer and paint, you can easily update your tile to match your decor. Read on for our complete guide to painting bathroom tile.
---
Why Paint Bathroom Tile?
Before you invest money, time, and energy into this project, consider the pros and cons. Yes, painting bathroom tile is an affordable way to update your space, but this project isn't for everyone!
It's Economical
Because tile is built to last, it's expensive to purchase and takes time to install properly. If the tile isn't damaged in any way, it can be hard to justify the expense.
Painting bathroom tile, on the other hand, can be done in a weekend for the cost of paint and supplies. If you need a budget-friendly option, painting is the way to go.
It's Customizable
Maybe your existing bathroom tile just needs a little pizazz. In bathroom decor, the tile often sets the tone for the room. Just like painting the walls, painting bathroom tile makes your space uniquely yours.
Box stores often sell bathroom tile in generic colors and designs that will appeal to a broad audience. Is your heart set on a custom look? You might have better luck painting the tiles yourself!
Even when purchasing specialty paint for tiles, you'll have plenty of colors to choose from. Personalize your tile even more by adding a stenciled design or faux finish.
But It's Not for Everyone
Painting bathroom tile requires a lot of prep work and dry time. Plus, paint that will be effective on slick surfaces like tile often have a strong odor. Count on the bathroom being out of commission for a few days after you've finished painting, too.
All told, while the painting itself can be done in a weekend, your bathroom will be unusable for a longer period of time. That's not ideal for a single-bath home or a bathroom that's hard to ventilate.
The material of your existing tile matters, too. Some tiles will hold paint more easily than others. Smooth ceramic tile is fairly easy to paint, for example. Getting paint in all the nooks and crannies of natural stone tile is much more difficult.
If painting bathroom tile isn't a good idea for your situation, you still have some options to update your space. On smooth tile, you can apply waterproof vinyl stickers. These are available in many colors and designs. They're a great solution for renters, too!
You can also incorporate your existing tile into your decor. Add accent colors to change the feel of the space. If your all-white subway tile feels boring, go bold on your wall color. Or, if your dark granite tile is too moody for you, add pops of color with your towels and accessories.
---
How to Prepare Bathroom Tile for Painting
You might be ready to tackle your bathroom tile, but don't crack open the paint just yet! Preparation is key for this project. Go slowly and be thorough to get your tile in prime condition!
Clean
First things first: wash the entire surface with a tile cleaning solution. Use a stiff brush to get in the grout lines! Wipe clean with a wet rag and let it dry.
Repair
You may have noticed a few chips or nicks in your tile as you cleaned. Go ahead and take care of them now.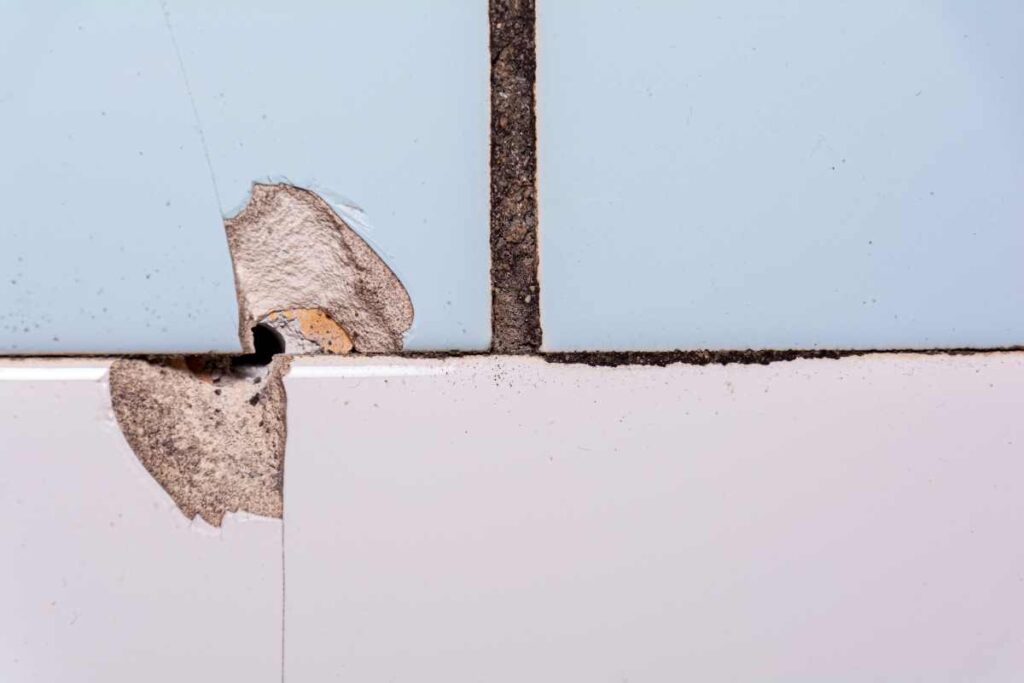 Simply use a waterproof caulk to fill in small cracks or broken corners. If any tiles have more significant cracks, spread spackle over the area with a putty knife and scrape it smooth.
After painting your bathroom tile, you won't be able to see the damage!
Sand
Sanding is an extremely important step if you are working with smooth, glazed bathroom tile. Paint adheres best to rough surfaces. Without some texture to grab on to, the paint can peel right off!
Use 120-grit sandpaper to remove the smooth, shiny finish. You should notice a difference in sheen after you've finished sanding. If you still see some shiny areas on your tile, keep sanding!
Once you've finished sanding, use a vacuum to remove all the dust. Follow up with a damp cloth. It's important to have a perfectly clean, dust-free space before you begin painting bathroom tile. Any dust or dirt left behind will mix into your paint and ruin your smooth finish!
---
The Best Products for Painting Bathroom Tile
As with all DIY painting projects, you need high-quality materials in order to get high-quality results. To paint your bathroom tile, you'll need to invest in primer, paint, and sealer.
Some products are made specifically for painting bathroom tile, but you don't need to buy an all-in-one kit. Just choose products that are made to work on your tile surface, whether it's ceramic, glass, or stone.
Primer is important for every tile painting project. Primer bonds tightly to the tile surface and to the painted topcoat. Choosing the best type of primer for your project will depend on the tile material and paint you are using.
For example, a urethane acrylic such as INSL-X is a great choice for slick ceramic tile. It will bond tightly with the smooth surface of the tile and provide excellent adhesion for nearly any type of paint.
The paint you use for your topcoat must withstand humidity and moisture. DIY painters often choose an epoxy paint for their bathroom tile.
If you aren't picky on color, grab a Rustoleum complete tile refinishing kit in a simple white or gray. Many painters also use latex paint, which is available in nearly every color!
Finally, you must ensure your painted bathroom tile is sealed properly. Some tile painting kits and epoxy paints don't require a separate sealer. They'll dry to a hard finish on their own.
However, if you use latex paint, you should add a sealant to preserve your hard work! Choose a product that will protect your top coat and seal porous tile, such as Miracle Sealant's 511 Sealer.
Of course, you'll also need painting supplies, such as a paintbrush for cutting in and a paint roller. Be sure to match the texture of your roller to your tile. A smooth surface tile will need a high-density foam roller. A textured stone will need a roller with a nap to fill in those gaps.
---
How to Paint Bathroom Tile
You've done your preparation and bought all the products you need. Now it's time to paint your bathroom tile!
Prime
Mix your primer very well with a paint stick. Do not shake the can, as this can create bubbles that become a nuisance on your painted tile!
Next, apply a thin coat of primer to your tile using a brush or foam roller. After it dries, apply your second coat of the primer.
Be sure to follow the manufacturer's directions for dry and recoat times. Specialty primers and paints often include a window of time for applying your second coat. Be sure to plan ahead so that you can complete each step within the recommended time frame!
Paint
This step depends heavily on what paint you plan to use. Most painted bathroom tile projects use either latex paint or epoxy paint. Either will generally require two coats, but the dry time or recoat time may be significantly different. Follow the manufacturer's directions precisely for best results.
Stencil
Now it's time to add some personality to your newly painted bathroom tile with stencils!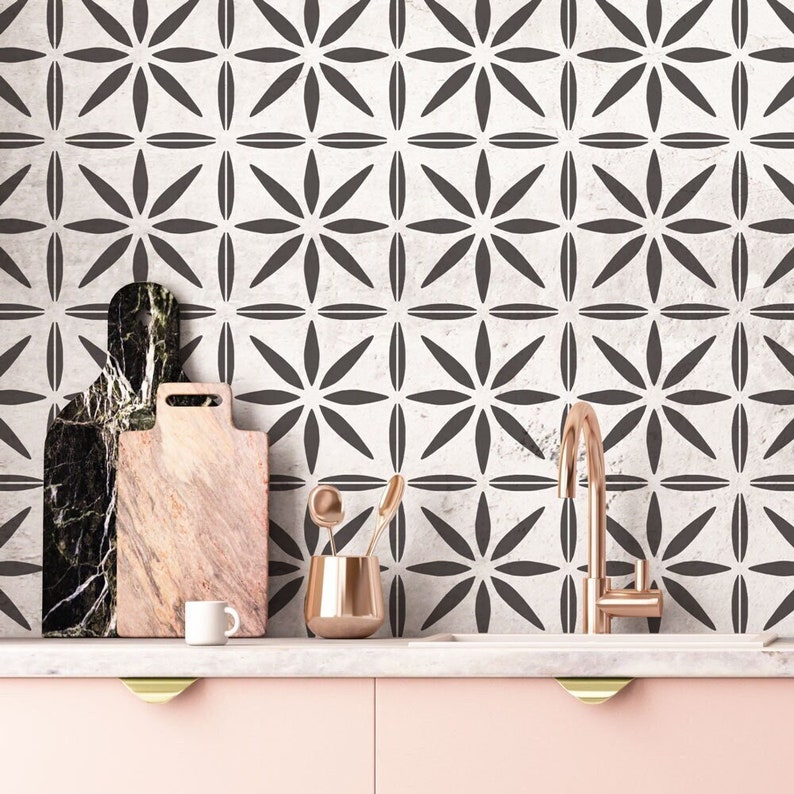 Tape your stencil on your tile with painter's tape. Be sure to line up your design so it's square with your tile! One off-center stencil will be very noticeable in a sea of otherwise uniform tiles.
Then, use a rigid up-and-down, pouncing motion to stipple your design. You can also use a mini foam roller if you are planning to fill in the entire design in one color.
Seal
Some products that are made for painting bathroom tile won't require a separate sealant. Otherwise, a high-quality sealer is essential. Not only will it protect your hard work from moisture and humidity, but it will make your surface more stain-resistant. In a bathroom that sees plenty of soapy scum, it's important to have easy-clean surfaces!
Brush or roll on your sealant just as you did the primer and paint. After the sealant has dried, your painted bathroom tile should be just as durable as the original!
For a detailed breakdown of these steps, check out our expert how-to post on painting tile floors!
---
Maintaining Your Painted Bathroom Tile
With proper care, your painted bathroom tile should last for years. Keep your tile in top shape with these tips.
Clean Regularly
Don't worry about using regular tile cleaners on your painted tile. The top coat and sealant will dry to a hard surface that can withstand cleaning.
Use a squeegee to wipe moisture off your painted bathroom tile after each shower or bath. Then, follow up with an all-purpose cleaner whenever you clean your bathroom.
Protect High-Traffic Areas
If you painted the floor tile as well as your shower and tub surround, you'll want to protect it from foot traffic. Invest in bathroom rugs that can be tossed in the washer and dryer for easy cleaning.
You can also protect the tile within your shower from soap scum and other build-up. Don't store soap directly on a tiled ledge or alcove. Instead, use an organizer that hooks over the shower head to organize your shampoo and supplies.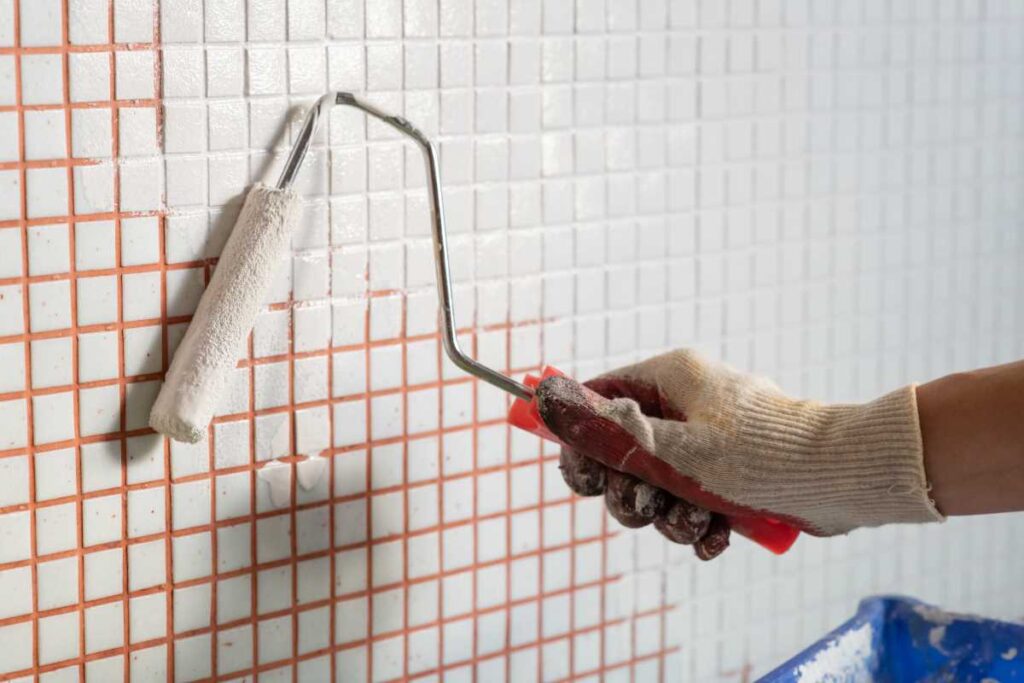 Touch Up As Needed
Your tile may see some wear and tear, especially in a kids' or guest bath. Thankfully, a few chipped or peeling tiles are easy to fix. Simply touch up any areas with a small foam brush and leftover paint.
---
All About Painting Bathroom Tile
Painting bathroom tile is an economical way to update your space. Rather than gutting perfectly good tile, you can refinish what you already have to match your taste. There's nothing more satisfying than a DIY update that creates the look you want for less!
For more quick, cost-effective ideas, check out these 15 weekend DIY projects to update your bathroom.