Slate blue is one of the most classic paint colors you can choose to use for a painting project. This earth-tone inspired color has long been a popular choice among homeowners to add a deep, sophisticated hue to their walls, home exteriors, and accent pieces.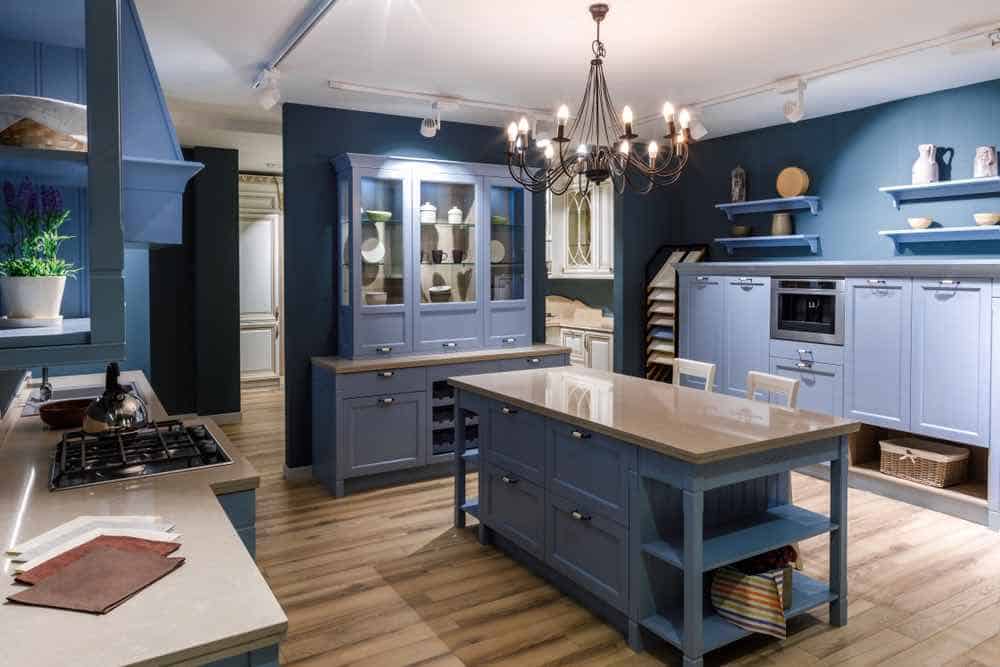 Slate blue, like all of the other slate colors, has a slight tone of gray to it. This color is often called blue-gray, or can also been known to be called "livid." Slate blue is named after the attributes of the metamorphic rock named slate.
Slate blue has a rich deep history in the United States and has its roots in an area of the United States known as Slate Valley. This 24-mile stretch of land on the Vermont and New York border has a land mineral composition that naturally produces pure, beautiful slate colors in hues such as purple, green, blue, black, and red.
Slate roofing shingles were extremely popular in the northeastern region of the U.S. and many of the homes in that area were decked out with beautiful, slate roofing in a variety of colors. However, the compounds necessary to compose slate were not readily available to most of the other places in America, so slate roofing did not become extremely popular nationally until the mid-19th century.
Gothic Revival homes were the choice home of this time period and these homes were often decked out with a deep, dark slate black or combination of light and dark slate tiles. Later during this era, extremely impressive Victorian style homes sported multi-colored slate patterns with hints of purple, blue, and green.
Slate has a deep history founded in the very foundation of this country which has spread to every state and most roofs in America. Today, companies are able to replicate the natural composition of slate to create polymer slate that mimics this signature style of roof color without having to deal with the fragility of pure slate tiles.
Slate is no longer confined to merely a home's exterior, but today has been captured in many different paint colors that are used in a variety of areas in home exteriors. Slate has a very distinctive look as it has a muted tone to it with just enough bright color mixed into it to bring a pop to whatever area it is painted on.
Slate blue is a popular color for its combination of earth-tone and sea-tone mixed together all in one. The color blue itself is among one of the most popular colors to paint with because it evokes feelings of tranquility and calmness. Blue is the color of the sky and sea and has a way of plunging you straight in two of the most beautiful and prevalent elements in our world. Blue also symbolizes loyalty, piety, intelligence, and stability.
The calming effects of blue couples with the balance and sophistication of gray makes for a perfect addition to add the perfect amount of depth to your home.
There are a variety of ways you can choose to use the popular slate blue paint color in your home. You can use it as the main attraction of a room or even on a small accent piece. Check out this collection of ways you can utilize slate blue paint in your home and a few popular paint brands to purchase to achieve each look!
Behr's Harmonious as a Dynamic Backsplash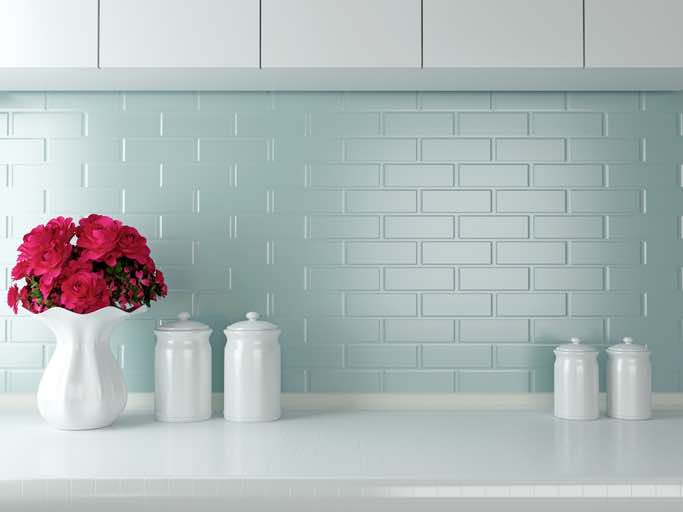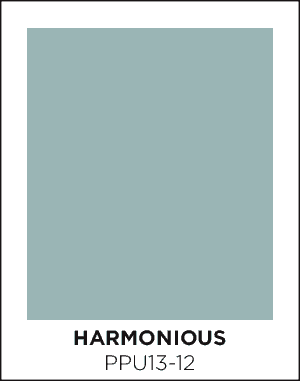 A backsplash is one of the greatest ways to incorporate a literal "splash" of color to your kitchen area. A backsplash serves two great purposes – to protect your wall from the elements of your kitchen (such as food splatters) and to bring a sense of style to an otherwise neglected area.
Harmonious by Behr is a beautiful hue of slate blue that reminds you of a soothing sea. It is bright and airy and has just the tiniest hint of aqua green to really bring in that seashore feel to your kitchen.
This color is perfect for a backsplash that is settled in a minimalistic, plain white kitchen style. This light grayish-blue color pairs great with bold, bright colors such as pinkish-red and cream. A great way to bring even more color to your kitchen is to incorporate natural elements such as brightly colored bouquets to your kitchen countertops.
This backsplash will be sure to bring just the right amount of color to a neutral kitchen.
Sherwin Williams' Smoky Azurite for A Cool Living Room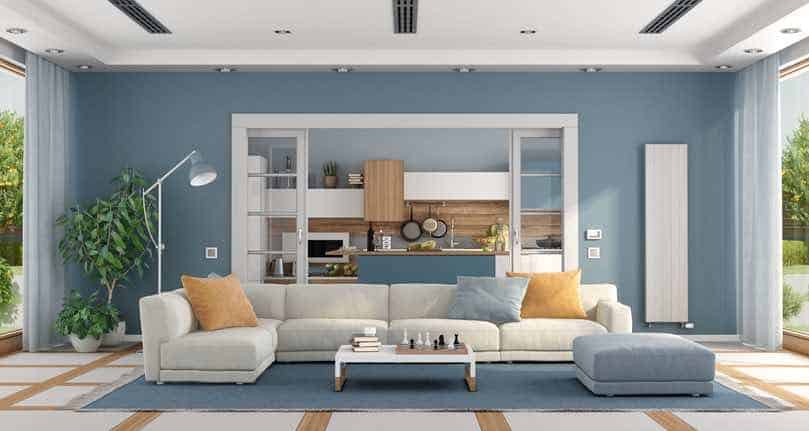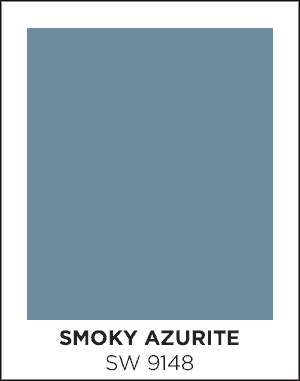 Blue is a very popular color to be used in many rooms, but the living room by far is one of the best places to add a beautiful shade of a nice, slate blue. As mentioned above – blue is calming. Isn't that exactly the emotion you want to feel when relaxing in your living room after a long day? It sure is!

Blue is great for living rooms because it can really bring everything together in a room with sacrificing a nice pop of color. This shade of slate blue from Sherwin Williams just screams "tranquility" when you see it. Pairing this specific slate blue paint color with a neutral couch and a slight pop of sandy yellow works extremely well.
Smoky Azurite is on the brighter and bluer side for a slate gray, but nonetheless is a magnificent choice of paint color for your living room.
Benjamin Moore's Vermont Slate for A Smooth Front Door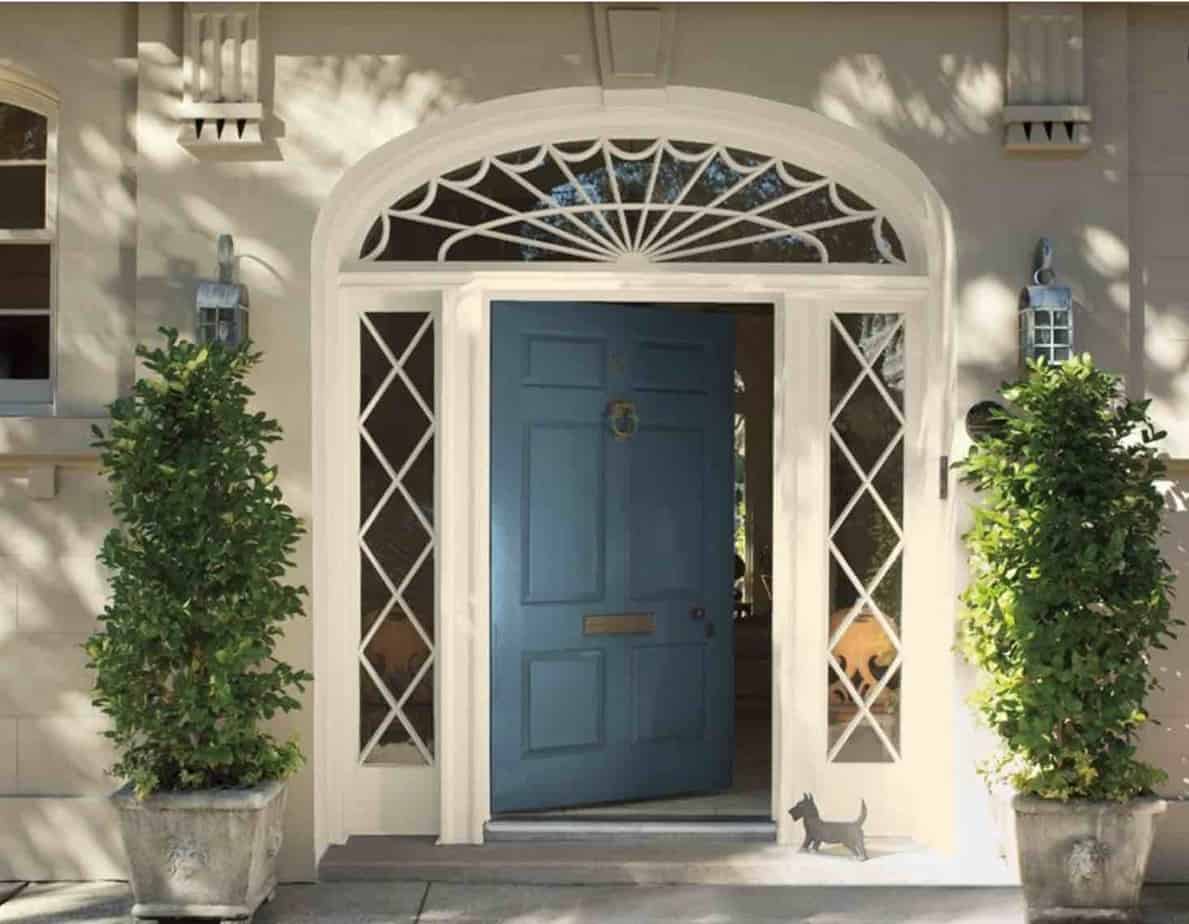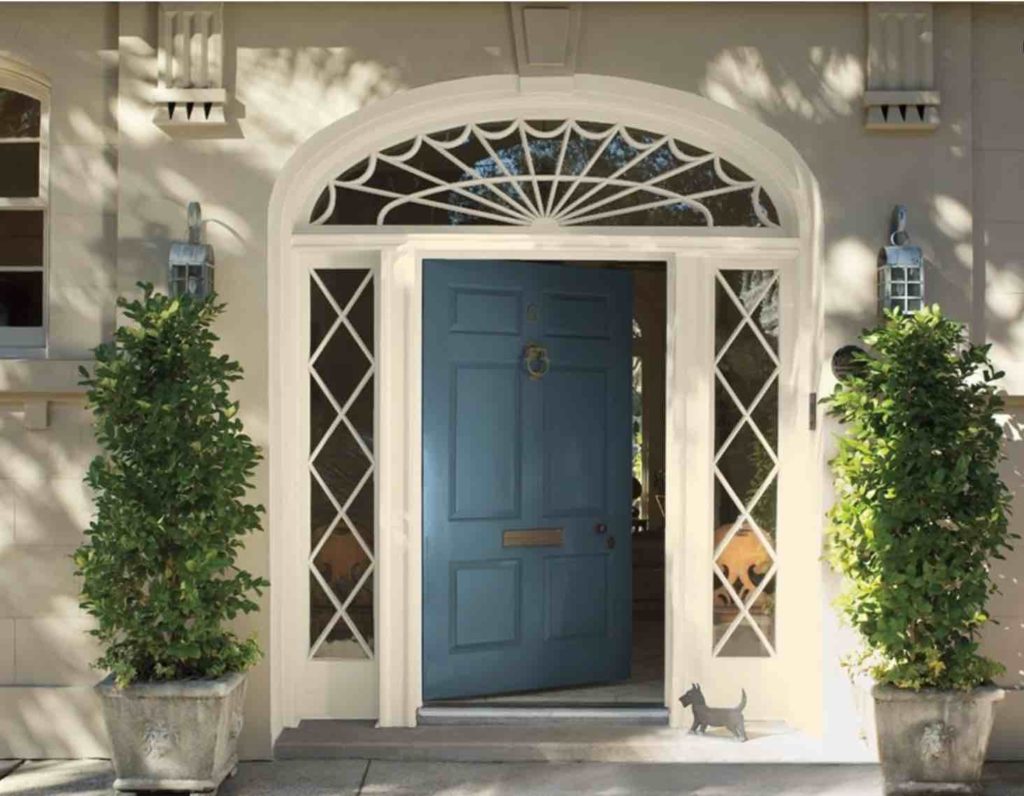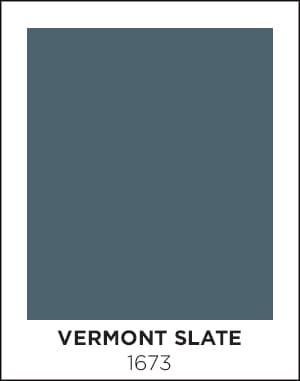 Nothing makes your house pop quite like a statement front door! If you want to truly make your house stand out on a block of mundane looking homes, painting your front door is the perfect way to do so.
Vermont Slate – named rightfully after the very birthplace of slate and slate colors – is a smooth and deep slate blue paint color that represents the richness of the slate genre of colors. It brings just the right amount of elegance when it is used as an accent color.
This color can either bring you way back to its original home in a more traditional style or work perfectly well on a modern home. Either way, you wouldn't want to distract from the beauty of this slate blue paint, so opting to pair Vermont Slate with a clean white or off-white is a wise choice.
Sherwin Williams' Granite Peak for All the Gray Lovers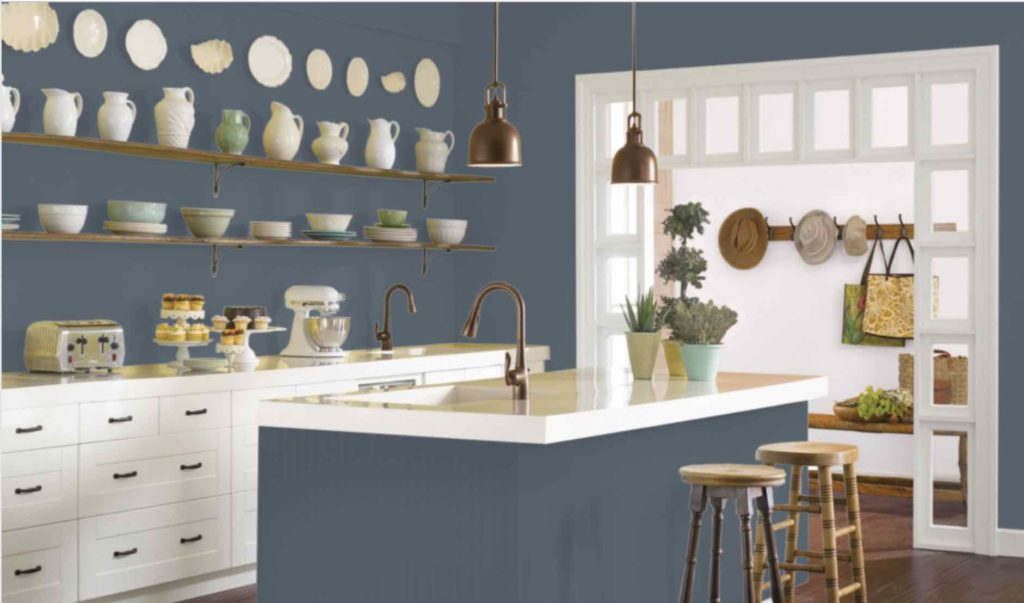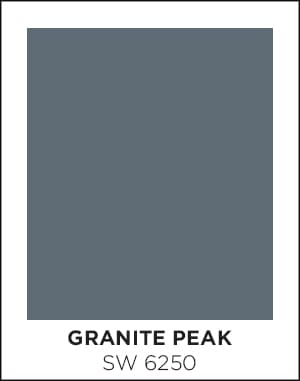 For a wonderful palatable look that goes well with almost anything is the Granite Peak paint color from Sherwin Williams. This heavily gray slate blue color is very pleasant to the eye and can be used in unexpected areas such as kitchen walls or a kitchen island.
The nice thing about this color is it still exudes a calmness to it even though is is quite a moody color. To brighten up your kitchen, you could opt for white accent cabinets and countertops. A real winning combination however is pairing this earthy blue with brass accents to bring a certain sense of luxury to your kitchen area.
Granite Peak is so gray it almost doesn't seem blue, but if you choose to paint your kitchen with this slate blue, it will bring all the color you could possibly need.
Benjamin Moore's Flower Box for the Perfect Floral-Earth Combination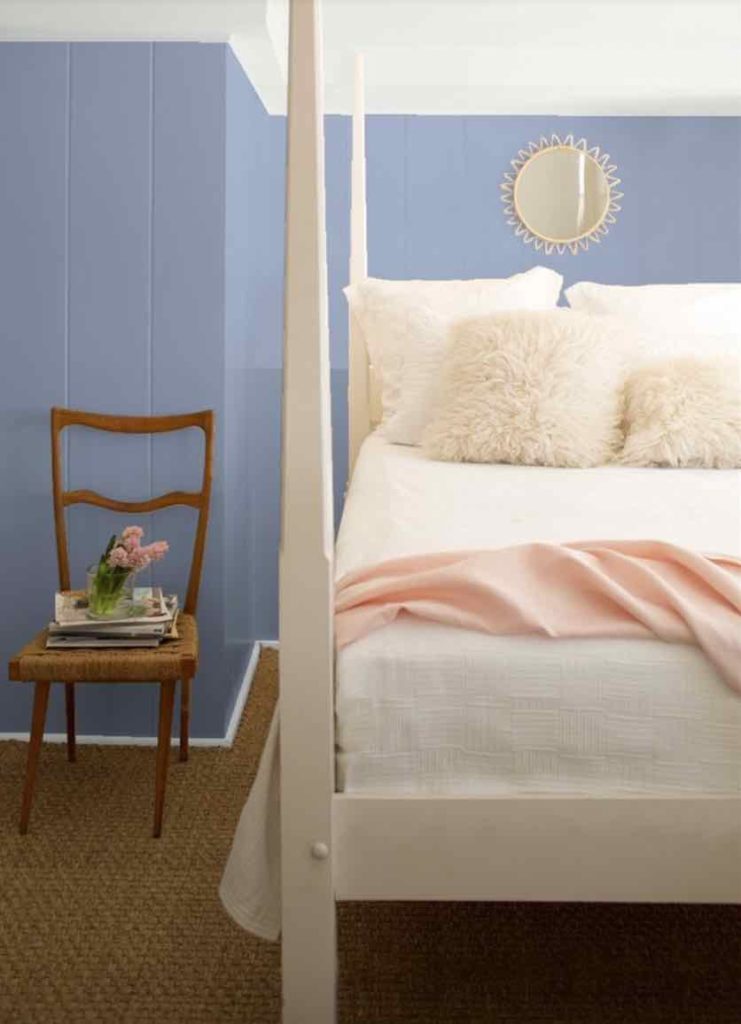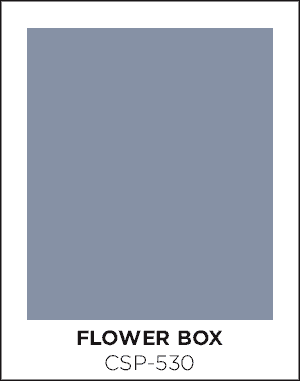 Step right into the beauty of nature but in the comfort of your home with this gorgeous slate blue color from Benjamin Moore. This softly faded color has just the smallest hint of lavender mixed in with gray and blue hues to make a paint color that reminds you of nature.
Flower Box is one of those colors that can work anywhere but would specifically bring a wonderful morning aura in a bedroom. Flower Box is energizing yet soothing and exudes just the right amount of femininity.
The possibilities for color pairing with Flower Box are endless, but it would definitely work best with either muted neutrals or bright colors that are commonly found in nature. Using natural wood elements such as a chair works extremely well with this paint color as well as flora-colored pillows and blankets.
Behr's Light French Gray for A Bright and Airy Morning Wakeup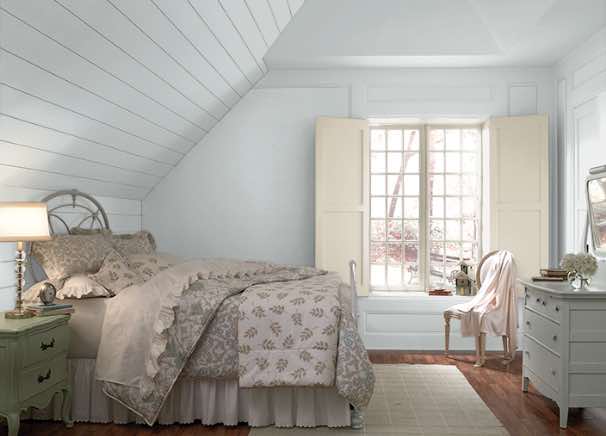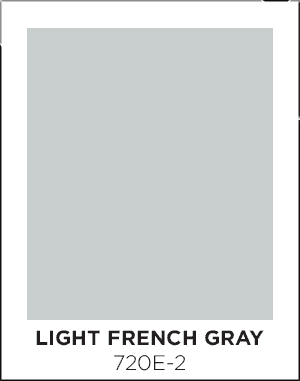 Whether you're a morning person or not, one of the first things you see in the morning light is your wall color. What better color to greet you than Light French Gray?
Behr curated this exquisite color that is light and pale but still true to the characteristics of a beautiful slate blue. This soft shade of bluish gray is very easy on the eyes and perfect for a bedroom, especially a bedroom with a large French window that pours in a ton of natural light.
Light French Gray pairs very well with other paler slate colors, such as pink, green, or a classic beige. Off white also works really well with this color to bring more of a nautical look. Whatever color you pair it with, this wonderful Behr paint color is a great choice and one of the best slate blue paints.
Benjamin Moore's Gentleman's Gray for Classic Sophistication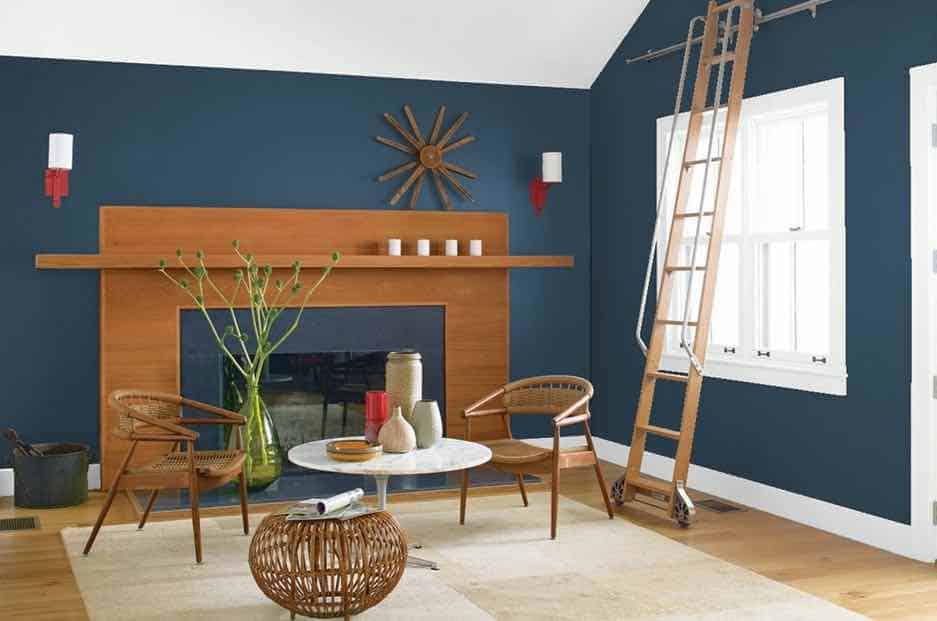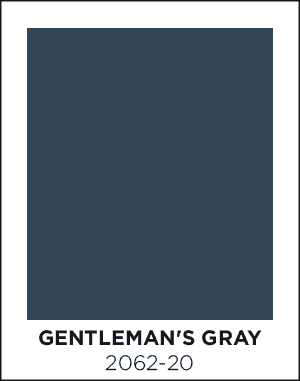 Not quite navy, not quite teal, but not quite plain blue either. Benjamin Moore embodies a classic, sophisticated look into a beautiful slate blue paint color.
Gentleman's Gray has a pure richness to it that has the power to transform any space into a formal and almost royal atmosphere. This color strays very much from some of the paler neutral slate blues and packs a punch with extremely deep tones of charcoal gray and blue.
This color is chock-full of depth and works well on tall, expansive walls in basically any room you choose. This color goes especially well with lighter shades of slate blue and even tan accents as well.
Behr's Thundercloud For A Soothing Living Room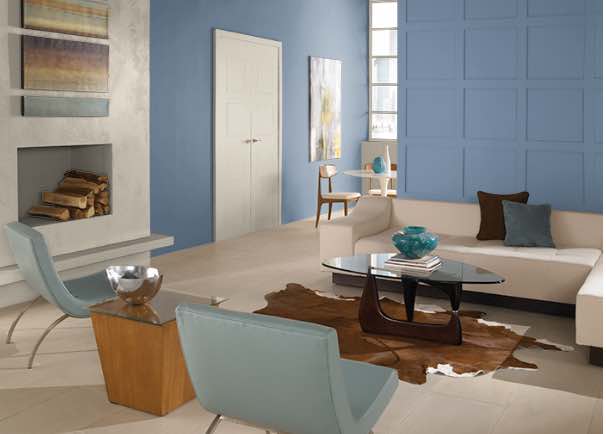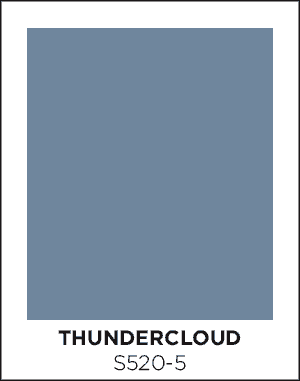 Reminiscent of a stormy sky with clouds getting ready to break for rain, Thundercloud is one of those classic slate blues that echoes the colors of nature inside your home. Behr's eclectic slate blue maintains the classic feel of a blue-gray with just the slightest undertone of green mixed in.
This color is truly exquisite and soothing and works well anywhere, but especially in a high-traffic room like your living room.
Pairing this paint color with paler shades of greenish-blue is a great idea. Other natural nature-inspired colors (like brown and tan) are perfect colors for accent pieces in a room that is painted with Thundercloud.
Icy by Sherwin Williams to Bring A Cool Breeze to Your Kitchen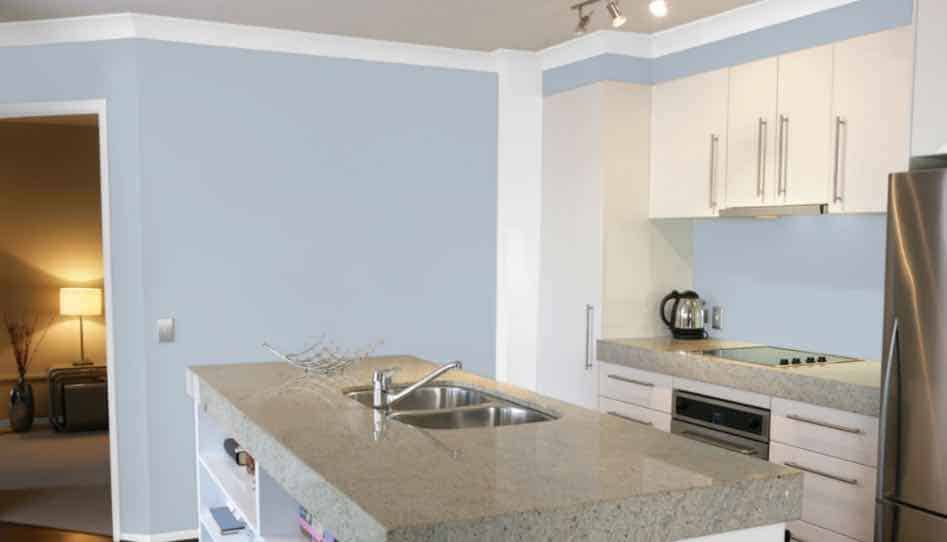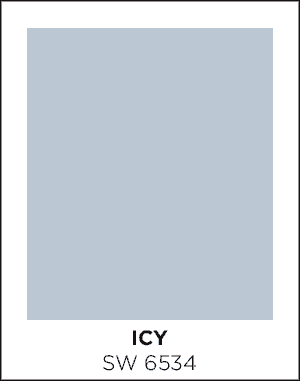 This frosty shade of slate blue paint is almost the polar opposite of Thundercloud (pun intended!) To give a nice light color addition to your kitchen, Icy by Sherwin Williams is an absolutely perfect neutral slate blue paint choice.
This lighter neutral blue has just enough gray undertones to differentiate it from a baby blue, but just enough blue tones to brighten up your walls. Adding this color in your kitchen is an excellent idea to add a boost of light in an area that may not have much natural light present in it. This color would also work well in a brightly lit bathroom.
This color goes well with any sort of neutral and especially helps to compliment a gorgeous marble or granite-style countertop.
Benjamin Moore's Slate Teal for A Fun Front Entrance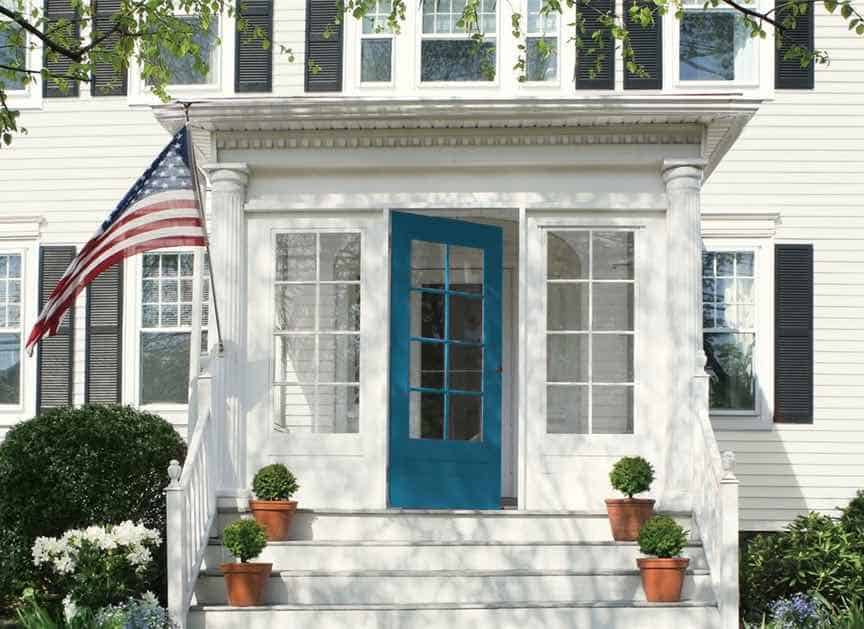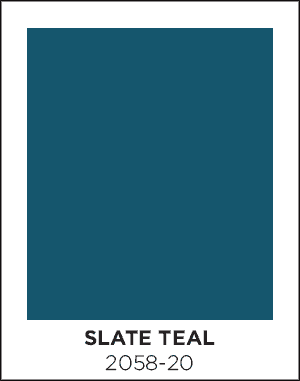 For an Americana feel with a slight edge, Slate Teal is a fun and vibrant paint color choice for your front door. This color has the ability to make your front entrance totally pop when painted on a tall front door.
This color is dramatic and deep and is absolutely perfect for accent pieces. Pairing this Benjamin Moore color with a simple pure white exterior house lets it stand on its own with confidence.
Hang up a high flying American flag and some simple pots of plants to aid in complementing your stunning front door. Your door may just end up being your favorite part of the house!
Behr's A Little Dipper for A Just A Little Color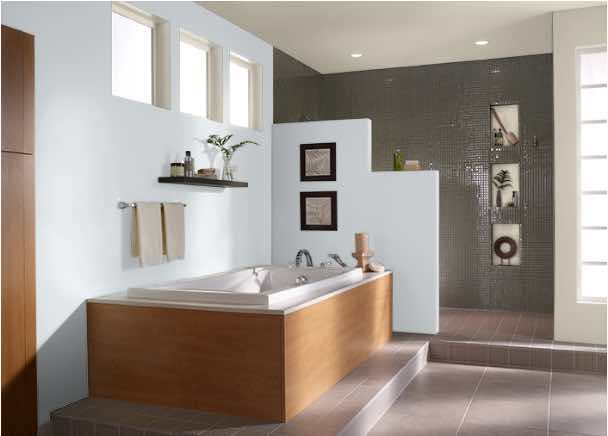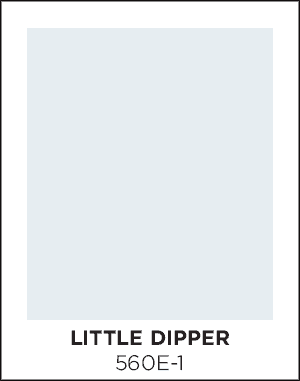 A paint color so light you may not even realize it's there, Behr's light shade of slate blue is the epitome of a wonderful neutral wall color.
Neutral paint colors work really well in bathrooms especially because they bring life to other accent pieces that already exist in your bathroom. Blue is mainly a popular bathroom color because it brings a spa-like feel to the room and little dipper does exactly that.
A stunning, wood wrapped tub with a sea of Little Dipper surrounding makes for an environment of total tranquility. This Behr slate blue paint color looks amazing when paired with a dark charcoal tiled shower. The deep gray brings out the subtle tones of gray in Little Dipper and reminds you it truly is a great slate blue.
Benjamin Moore's Philipsburg Blue for An Inspiring Office Space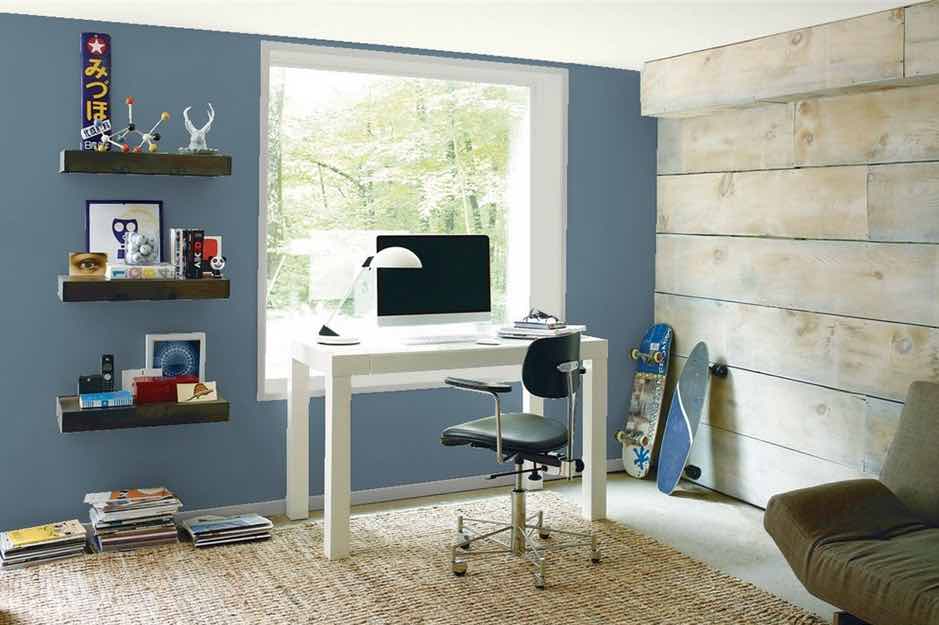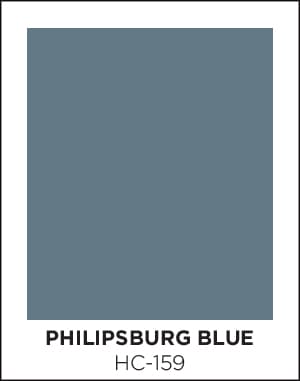 A member of one of Benjamin Moore's most popular color palettes, Philipsburg Blue brings a sense of history to modern day.
Philipsburg Blue is one of the many colors in Benjamin Moore's Historical Collection which is a palette of colors inspired by America's historical landmarks. This classic blue is a mixture of timeless and contemporary and can easily be reborn in modern homes of today.
Slate Blue In Conclusion
This slate blue paint color can work anywhere, but it really truly fits in an office space. Blue is a color that inspires you and promotes intelligence, so it is a great color choice for your office where you truly want to be the most productive and inspired.
This color is playful and can work with a ton of different neutral shades and even pops of bright colors like red or yellow. There is a lot of ambiguity with this color, so you could choose to pair it with classic pale colors or dark accents too.
Slate blue is a color choice with a rich history in the very soil of the United States. When miners were acquiring this unique substance many decades ago, we wonder if they knew it would inspire beautiful home interiors and accent pieces.
Slate blue is one of the best color choices to give a neutral look with a pop of color. It is simple to pair other colors with, comes in a variety of shades and undertones, and all around gives you a sense of calmness in the very place you should be feeling the calmest. So choose a shade of slate blue and settle into the pure serenity it creates in your humble abode!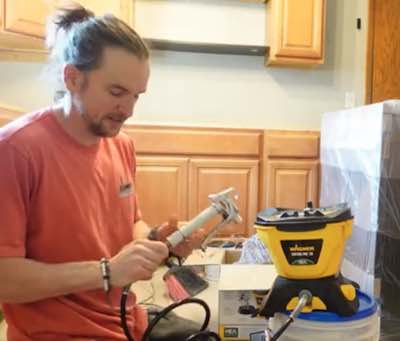 I've been a professional painter since 2001 and spent the last 12 years specializing in kitchen cabinet refinishing. I started the DIY Painting Tips blog in 2015 to start sharing everything I've learned over the years and help all the people who'd rather tackle their painting projects themselves. In 2019 I started the DIY Painting Tips Youtube channel where I publish in depth videos all about kitchen cabinet painting, painting gear reviews, and interior/exterior tutorials.