Let's face it, your garage and basement floors aren't the design focus of your home. They tend to be catch-all spaces that don't get a lot of traffic but rather, piles of junk.
A stained, cracked, or neglected concrete floor just adds to the disuse of the space. But you can easily change this and create a more inviting space with an afternoon and very little investment.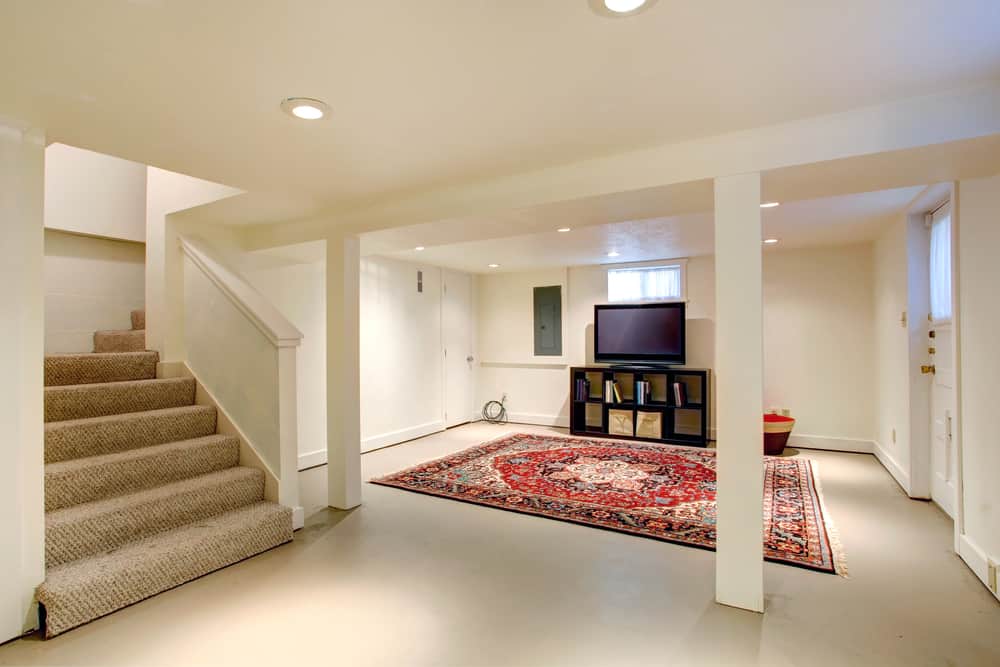 A few coats of concrete paint can spruce up a room and change the whole feel of it. The best concrete paint out there won't take all weekend to apply and will keep your garage or basement looking nice for years to come.
Regardless if a concrete floor has old paint or is bare, a new coat of concrete paint will protect the floor against daily wear and tear. A painted floor in a basement is a great way to add a finished feel, without the expense of putting in flooring. Painted garage floors are easier to clean, and better resist stains from gasoline and oil. There are myriad options for painting a concrete floor and a lot of considerations to take into account. Just a few of the things to keep in mind:
How much time is involved?
What's the final cost of the products?
How durable is the paint?
This article will go over the process of painting a concrete floor, the different between 1-part and 2-part cement coatings, and discuss the best concrete paint out there. In both garages and basements, a painted floor adds warmth to the space, looks cleaner (and is easier to clean!), and adds valuable, usable space to your home.
Concrete Paint Comparison Table
The following table compares the highest-rated concrete paints. They are all latex paints with added epoxy to make them more flexible and durable than standard exterior paint. Many of the best concrete paints have a single step option. However, you'll get a higher quality finish and greater durability by both priming and using a top coat.
Proper Preparation for Concrete Paint
Good preparation, while labor intensive, makes painting a floor easier. This is true for any DIY paint project, from upcycling furniture to painting cabinets. Any problems that you might encounter in the project later on are mitigated or eliminated by taking some extra time during preparation.
If you just don't have time to go through all the steps to prepare your floor, there are products available that don't require a primer, and can go over previous coats of paint. This guide outlines the "best practices" for getting a floor ready.
Gotta start somewhere…
The first step is to give a thorough wash to the floor. This is for several reasons. Most obvious, you don't want a patchy paint job because dirt is in the way. Something you may not have thought of though: a clean floor creates a strong bond between the paint and the concrete. The stronger the bond, the less likely future peeling and chipping will happen. Consider applying a degreaser to the concrete for better paint adhesion. If your garage floor has oil stains, the paint may not adhere well to those spots. You can apply both the cleaning products and degreaser with an airless sprayer.
Concrete floors must be 100% dry before painting, so start the prep process several days beforehand. After the floor is clean, scrape and sand off old paint and vacuum. Use a tack cloth to collect all dust.
You might be wondering…
Is it necessary to go through this much prep for a basement floor? Again, the more time spent preparing the floor, the better the paint will look and the longer it will last. To that end, give the floor a close examination. Old basement and garage floors may have gauges and cracks in them.
Once the floor is clean, use a concrete patch compound to fill in holes and cracks. Any imperfections in the floor will show through the paint.
Note: You may have to strip old paint off the floor to get proper adhesion for the new concrete paint. Here are our picks for the best paint strippers. You can also check out How To Remove Paint From Any Surface.
When the floor is smooth, clean, and dry, then line the walls with painter's tape. Best practice is to apply two coats of primer to the floor with a roller. Use a high quality paintbrush to edge the room & any hard to reach areas. When the primer is 100% dry, the floor is ready for paint. In summary, the steps to prep the floor are:
Thorough clean & degrease of the floor.
Let the floor dry.
Sand off old paint & debris.
Vacuum the floor.
Wipe with a tack cloth.
Patch holes, gauges, and cracks.
Roll-on two coats of primer.
Many epoxy paints advertise that no primer is necessary. That may be true, but using a primer helps the paint look better and last longer. If you're unbothered by the appearance of cracks and gouges in the floor, then you don't need to spend time patching them. Keep in mind that the best concrete paint is the one that does your job well. Choose a concrete paint that is durable and fast to apply and dry.
Pro Tip: Save your back and use and extension pole when painting concrete floors. Find our pick for the best paint roller extension here.
How is Concrete Paint Different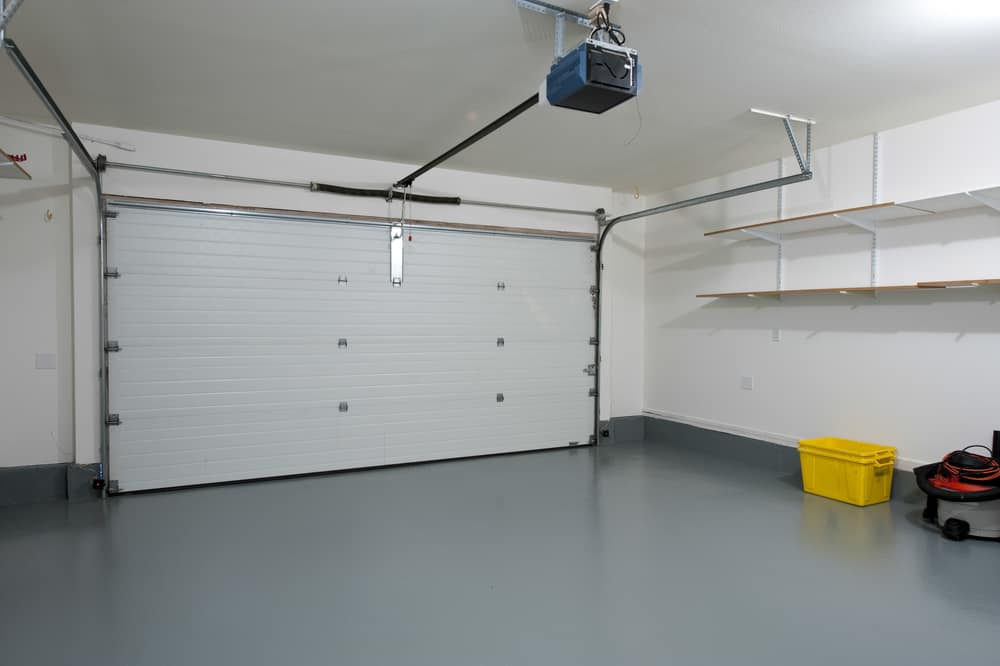 There are two kinds of coatings for concrete floors. One product category is a 2-part epoxy coating. The other, is epoxy paint. They go onto the floor in different ways and provide two different kinds of coating and protection.
First…
Epoxy coatings are not paint. The coating comprises an epoxy and a resin. The components are mixed right before application. They don't dry, they "cure." There is a limited amount of time to apply the epoxy coating to the floor. While a respirator should be used for all paint projects, it's important to keep areas well ventilated and use adequate lung protection when working with epoxy coatings.
The 2-part coatings come clear, but added tints can give the resin a color. They cure to a high-gloss thick finish common in car dealership showrooms. Epoxy coatings are popular in high-traffic or commercial garages, as they are more durable and resistant to staining and chipping. The preparation process for an epoxy coat is more involved than painting.
The floor must first be acid etched, shot blasted, or ground to prepare it for the primer. Primer, two-part epoxy and a top coat are all necessary to complete the process, before the floor is usable.
A less intense route…
For residential basements and low-traffic garages, the other option is a latex/acrylic blend paint with added epoxy. Because it's a paint, it dries instead of cures. Depending on the amount of effort you want to put forth, many paints can go on without sanding off old paint, or priming. They're made to be quick and easy in application.
They are also lower in VOCs and have a less-harsh odor. Some environmentally friendly products have no odor at all. They're a great option for family homes that need to be foot-traffic ready in a day or less. Concrete paint isn't the same as an exterior paint, however.
You may have some leftover exterior paint from a different project, and you're tempted to use that to paint your floor. After all, you figure, once there's a topcoat, it doesn't matter if it's a concrete paint.
Untrue!…
No matter what, you must use concrete paint on concrete floors. Epoxy / Latex blends differ from other exterior paints. The epoxy helps the paint to dry harder so it's more durable against foot traffic and tires in garages. It's also designed to bond to and move with concrete. When temperature rise, or humidity increases concrete swells and then shrinks as temperature decreases and humidity falls.
Exterior paint will crack and peel away from the concrete as it swells & shrinks. The unique formulated concrete paint will maintain its bond with the slab and move with it. Even though concrete paint may be a little more expensive, it's well worth the cost for greater durability.
What to Look for in a Concrete Paint
Your priorities determine what will be the best concrete paint for your project. Latex-enamel paints have an assortment of features, not all products will be the right choice for your floor. Before shopping, go over the following list and prioritize which bullet points are the most important. Once you have a list, it will be a lot easier to decide which one will be the best concrete paint for your project. An abridged list of considerations:
Prep time: does the paint absolutely require a smooth floor and primer?
Durability: will it withstand hot tire pick-up and heavy traffic?
Finish: do you need a high-gloss finish or is lustre ok?
VOCs & Odor: is it safe for a family home? How long will it smell?
Color: can you tint the paint? Does it come in your must-have color?
Additives: do you need a non-slip additive? What are the options?
Drying time: how long until it's foot traffic ready? Hot tire ready?
If the most important thing is getting the floor back to regular use, consider a self-priming product. Look for one that can go on over old paint and doesn't require the floor to be sanded first. If durability and finish are your priorities, look for products with longer drying times and be sure to prep the floor well.
Looking for the Best Porch and Floor Paint? Read More Here.
What Are Non-Slip Additives?
Especially in garages, concrete floors can get slippery. Precipitation brought in from outdoors, oil spills, and household chemicals can all create dangerous puddles. If you want a floor with a gloss or semi-gloss finish, the problem of slick spots is even worse. There are several ways to improve traction and make your floor safer.
Many paint brands sell add-ins for concrete paint and 2-part epoxy coatings. These add-ins give the paint texture for feet and shoes to grip against. They don't have to compromise the aesthetic of a gloss finish either. A few options for non-skid additives:
Commercial Add-In Grit
Silica Sand
Decorative Chips
Anti-Slip Top Coat
Most major commercial paint brands also manufacture add-in grit. They come in packages of just a few ounces to mix with either the paint or the topcoat. The grit doesn't change the look of the finish but adds in "barefoot-grade" texture. The grade refers to the fact that the grit is a low-profile and fine texture. It's comfortable to walk on in bare feet and is also easy to clean. Add in the commercial grit to the last coat of paint, or for the top coat.
Rather than purchasing a commercial grit, thrifty DIY-ers may have silica sand lying around the garage or craft room. Add in one part sand for every four parts of paint. Don't just use sandbox sand or sand from the beach, make sure it's silica sand. Sand will change the color appearance of the paint somewhat, so add it in for the first coat of paint. The texture will remain through the second coat and top coat but hide the dark specs that sand may cause.
Decorative chips are not mixed in with the paint but tossed over the painted surface. On the second coat of paint, be sure to work in small sections. As each section is painted, toss decorative chips across the surface. Besides texture, they also add embellishment. The chips come in a variety of colors, including metallic options. A topcoat can go over the chips for a semi or high gloss finish.
Some paints and topcoats come with anti-slip grit already mixed into the paint. These products are great if you don't want to change the color of the concrete, but want to make the garage or basement safer. They're also great for projects that need to get done in a short amount of time, as they don't require mixing in other products or topcoats. You can simply roll on the anti-skid paint and you're done.
The Best Concrete Paint Reviews
INSL-X Hot Trax Paint.
This concrete paint is specially formulated to resist hot tire pick up in garages, but that doesn't mean it won't work well on concrete floors in other rooms. It has a slower drier time then some other concrete paints but if you have the time, INL-X is a durable garage paint. It is ready for foot traffic in 24 hours, but wait up to 7 days before driving cars over it. The finish once dry is satin, ideal for people who don't want to add in non-slip products and don't need a high gloss finish. Even though its low VOC it still holds up against common spills in garages, such as oil, gasoline, and household chemicals.
Behr Premium Concrete & Garage
No primer needed for this Behr paint, it's an all-in-one. The formula also doesn't require any mixing, so application is easy. For those who don't mind a little mixing, it's standard slate-gray is fully customizable. Just add some of the Behr tints for creating the exact color you want. It's ideal for garages because besides resisting chipping and scratching, it's specialized not to peel from hot tires. There's only one finish that the product comes in, which is satin.
DRYLOK Water Based Floor Paint.
The DRYLOK product comes in a variety of colors, including Persian Red, Dove Grey, and Bamboo Beige. The array of colors makes it ideal for anyone who wants decorative stenciling on their garage or basement floor. It works fine without a primer and can go over previous paint without a primer, and still provide full coverage. Once the paint is dry, it offers superior protection against most spilled liquids found in the garage. DRYLOK withstands normal wear and tear, such as foot traffic, hot tires from cars, and regular washing.
Rust-Oleum Concrete Floor Interior/Exterior Paint.
This paint doesn't require any primer and is ready with a 1-step application. Post-painting it cleans up from paint brushes with soap and water. After it's dry, washing the floor is easy with household products. It comes in a standard Armor Gray but offers the more adventurous an attractive metallic finish to their floor with Metallic Gunmetal color. One gallon can cover up to 200 sq. feet, depending on the size of the project, a single gallon may get the job done. One last feature, Rust-Oleum is UV and weather resistant, for garage floors exposed to the outdoors.
Rust Bullet for Concrete.
2 new from $129.99
Free shipping
as of September 29, 2022 7:40 pm
This product is a little pricier, as it's only available through distributors or online sellers. It works great for uneven concrete floors that might require grinding with a different paint application. The paint creates an impervious shield between concrete and spilled chemicals, gasoline, and grease. Cleaning the garage floor is easy with this concrete paint. Rust Bullet sells assorted decorative flakes and non-skid options for topcoats. It's more labor intensive than some other options, with up to four coats recommended for heavy-traffic garages.
Kilz Acrylic Concrete & Garage Floor Paint.
Kilz is a dependable brand for primer and industrial paint. A single gallon of the Kilz Floor Paint covers 300-500 sq. feet. Two thin coats needed for complete coverage, but it's ready for re-coat after just 4 hours. An additional 24 hours are necessary before it's ready for foot traffic. Once dry, it provides superior protection against household & garage chemicals. It also comes in two different shades of gray: a light gray and a dark gray. Both options dry to a satin finish.
Seal-Krete Epoxy-Seal Concrete & Garage Floor Paint.
This floor paint is an epoxy/acrylic blend with an easy one-step application. A single gallon covers up to 500 sq. feet and it has an easy roll-on application. The formula is also UV resistant, making it ideal for projects that involve paintings both garage and driveway, or garages exposed to significant UV light. The paint also resists damage from hot tires (they recommend a 5 day dry time), oil, grease, and gasoline. People who aren't interested in the decorative potential of a painted floor will appreciate the ready-to-go Slate Gray color.
DRYLOK E1 Epoxy Floor Paint.
This DRYLOK product uses a different epoxy formula than its other floor paint offering. The Ester Resin added to the paint provides greater durability and protection. Application is easy with a floor roller, and a single gallon covers 300-400 square feet. Because it's a water-based formula, cleanup is easy for both tools and drips. Just use soapy water. Two coats are the most that any concrete floor will require for full coverage, and dry-time between coats is just four hours, so DIY garage and basement repainting will just take a single day.
Rust-Oleum Clear Shimmer Floor Top Coat.
Whether a basement or garage floor is bare or painted, you can add this Clear Shimmer Top Coat. It gives concrete a floating shimmery effect. While decorative, those with time to add a top coat will also add an extra layer of protection to their floor. This protective layer comes with a decorative effect. It's ready for foot traffic within 24 hours, although car traffic should wait a full 5 days for the paint to be 100% dry and ready to resist hot tires. One gallon covers up to 250 sq feet, and clean-up is easy with just soap and water.