Enamel paint has a glossy and durable finish great for areas of your home such as trim, kitchen cabinets, and doors. Enamels stand up well to use since they have a hard and scratch-resistant
surface. They are often used in areas such as kitchens and bathrooms since they are water-
resistant and washable.
There are two different types of commonly used enamels: traditional alkyd enamels and hybrid enamels. Traditional enamels are oil-based and smooth. Hybrid enamels use waterborne alkyd technology. This gives them the finish of oil-based paint with the easy application of water-
based paint.
Either type will work for a DIY home painting project, but you should know the pros and cons of each variety. Here's everything you need to know about what alkyd enamel paint is and how to use it.
Traditional Alkyd Enamel
Conventional alkyd enamel is known as oil-based paint. Traditional alkyd enamels are incredibly
glossy, self-evening, and smooth. They're often described as having a mirror-like finish, which makes them perfect for cabinets.
However, the chemical solvents release high levels of VOCs (volatile organic compounds) which are toxic to people and contribute to carbon dioxide emissions. This makes them a less popular choice than some water-based enamel options.
Alkyd enamel is made of alkyd resins in a chemical solvent. It dries as the solvent base
evaporates, which leaves behind the alkyd resins. These resin s cure as they air dry and oxidize,
which leaves very durable and glossy finish to the paint.
Traditional alkyd enamels can be used anywhere that needs a durable and glossy paint.
Cabinets, doors, and trim are often painted with alkyd enamels. One good option for traditional alkyd enamel is Valspar Oil-Based Door and Trim Paint.
Pros of Conventional Alkyd Enamel:
Incredibly durable and resistant to wear
Glossy, mirror-like finish
Self-evening and smooth during the painting process
Washable and water-resistant once cured
Cons of Conventional Alkyd Enamel:
High levels of VOCs (volatile organic compounds) which contribute to carbon dioxide emissions
Can yellow with heat and age, like most oil-based paints
Requires paint thinner to clean up
Hybrid Alkyd Enamel
Hybrid alkyd enamels bring together the best of water-based paints with the best of oil-based
paints. They use waterborne alkyd technology, so that the alkyd resins are suspended in a
water base rather than a chemical solvent.
Hybrid alkyd enamels are usually odorless and can be cleaned with soap and water. They still have the popular characteristics of traditional alkyd enamels. They're smooth and self-leveling
with a glossy and durable finish. Hybrid enamels have excellent adhesion and are washable.
Basically, all hybrid alkyd enamels have the advantages of both oil-based and water-based
formulas. They have similar application and appearance to oil-based enamel. However, they are
more environmentally friendly due to low VOC levels.
You'll often find hybrid enamels with a blend of alkyd and acrylic or urethane resins. This
provides added hardness and reduced yellowing to the paint. It does not affect the application
process of the paint.
Hybrid enamels can be used just like traditional alkyd enamels. They are a good choice for trim,
cabinets, and doors. Some good hybrid enamels include ProClassic Acrylic Alkyd Enamel and
Hybrid Urethane Alkyd Enamel. Benjamin Moore Advance is a great option for painting kitchen
cabinets.
Pros of Hybrid Enamel
Durable and resistant to wear
Very hard and glossy finish
Self-evening and smooth during painting, just like conventional alkyd enamels
Washable and water-resistant when cured
Low VOCs compared to traditional alkyd enamels
Clean up with soap and water
Cons of Hybrid Enamel
Sometimes has a less hard finish than oil-based enamel
Some varieties are less glossy than oil-based enamel
What to Use Enamel Paint For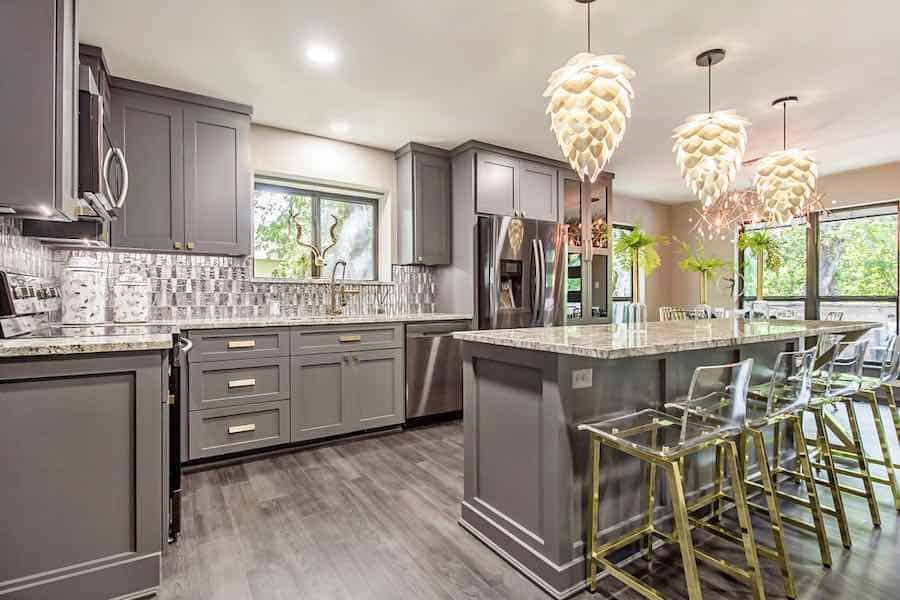 Enamel paints have a durable and glossy finish that is water-resistant. This makes them a great
choice to paint heavy-use areas of your home. Try using enamel paint for the following areas.
Kitchen and Bathrooms
Cabinets
Trim or baseboards
Windows and doors
Heavy-use furniture such as dressers or chairs
Metal furniture or appliances
How to Apply Alkyd Enamel Paint
Enamel paint is thicker and more viscous than most interior latex paints. It can be tricky to
apply if you've never used it before.
The same process can be used to apply traditional alkyd enamels and to apply hybrid enamel
paints. Both paints have a very similar feel during painting and finish, with the exception that
hybrid enamels are easier to clean up.
The Materials You'll Need to Apply Alkyd Enamel Paint
You'll want to select the right materials for applying enamel paint. Decide whether you want to
use a hybrid enamel or traditional alkyd enamel. Keep the following tips in mind as you choose
your materials.
Hybrid enamel paint has fewer VOCs and has come a long way, but alkyd enamel paint is
traditionally regarded as slightly more durable.
Choose a stiff-bristled paintbrush that can spread thick enamel paint. Be sure the brush
is clean.
Choose the right primer for the type of enamel you are applying. Oil-based primers tend
to work best with enamel paint because they seal the wood of cabinets and trim, so the
enamel can adhere well.
If you're painting cabinets, doors, or trim with enamel paint, you'll need the following materials.
Paintbrushes
Primer
Sandpaper or sanding sponges
Drop cloths or old sheets
Painter's tape
Enamel paint: ProClassic Acrylic Alkyd Enamel, Urethane Alkyd Enamel, and Valspar Oil-Based Door and Trim Paint are good options.
Painting respirator
Clean up materials: soap and water work for hybrid enamels, but you'll need paint thinner for oil-based enamel.
Applying Alkyd Enamel Paint
Whether you're painting cabinets, doors, trim, or something else the process for applying
enamel paint remains relatively similar.
Find out how much paint you'll need and gather all of your materials.
Choose a well-ventilated area to avoid inhaling chemicals and toxins. This is more important for traditional alkyd enamels than for hybrid enamels. Alkyd enamels have higher levels of VOCs, so you may want to use a painting respirator when applying them.
Lay down drop cloths or sheets to protect the area you are painting. Tape around trim and baseboards.
If whatever you are painting already has a coat of paint, remove it with a paint stripper.
Prep the surface you'll be painting. Sand the surface, working up to finer grits. Clean and prime the surface.
For best results, you should usually apply two coats of enamel paint. If you can, give the enamel 24 hours to completely dry in between coats.
If any paint is splattered or spilled, clean it up as soon as you can. It is very difficult to remove when dried.
Be sure to properly dispose of any leftover paint.
Enamel paint usually requires 8-24 hours in between coats so it can dry completely. To be safe, wait the entire 24 hours. Water-based hybrid enamels may dry a little faster. Try to avoid heavy use until the paint is fully cured, within one or two weeks.
How to Avoid Brush Marks When Using Alkyd Enamel
If you're new to using enamel paint, you may wonder how to avoid brush marks and make the paint level. There are a few ways to make this happen.
Because enamel paint has such a smooth and glossy finish, it can draw attention to imperfections in the surface you've painted. If you're painting wood cabinets or trim, be sure to follow the natural grain of the wood. You may want to use a wood grain filler for a perfectly smooth finish.
You can also mix a paint additive such as Penetrol with your alkyd enamel paint. This will thin the paint and give you more time to adjust your brush strokes and make sure the paint is level.
Remember to tip off the paint on the last coat. Tilt the brush and drag it the entire length of the surface. This will help hide any imperfections and minimize brush marks. This is especially important when painting long surfaces such as doors.
Now you've learned everything you need to choose the right alkyd enamel paint for your painting project. Next time you're using alkyd enamel, remember these tips for a perfect finish.
Ready To Learn More?
Check out our Painting Kitchen Cabinets hub page for everything you could want to know about cabinet painting including costs, how-tos, reviews, and more.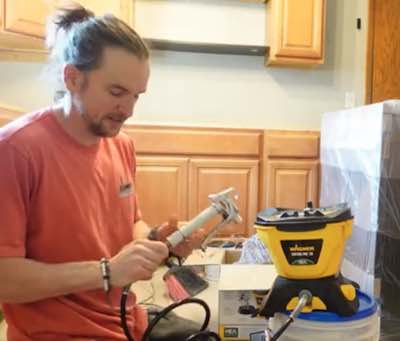 I've been a professional painter since 2001 and spent the last 12 years specializing in kitchen cabinet refinishing. I started the DIY Painting Tips blog in 2015 to start sharing everything I've learned over the years and help all the people who'd rather tackle their painting projects themselves. In 2019 I started the DIY Painting Tips Youtube channel where I publish in depth videos all about kitchen cabinet painting, painting gear reviews, and interior/exterior tutorials.