---
---
What Type of Paint Do You Use in the Garage?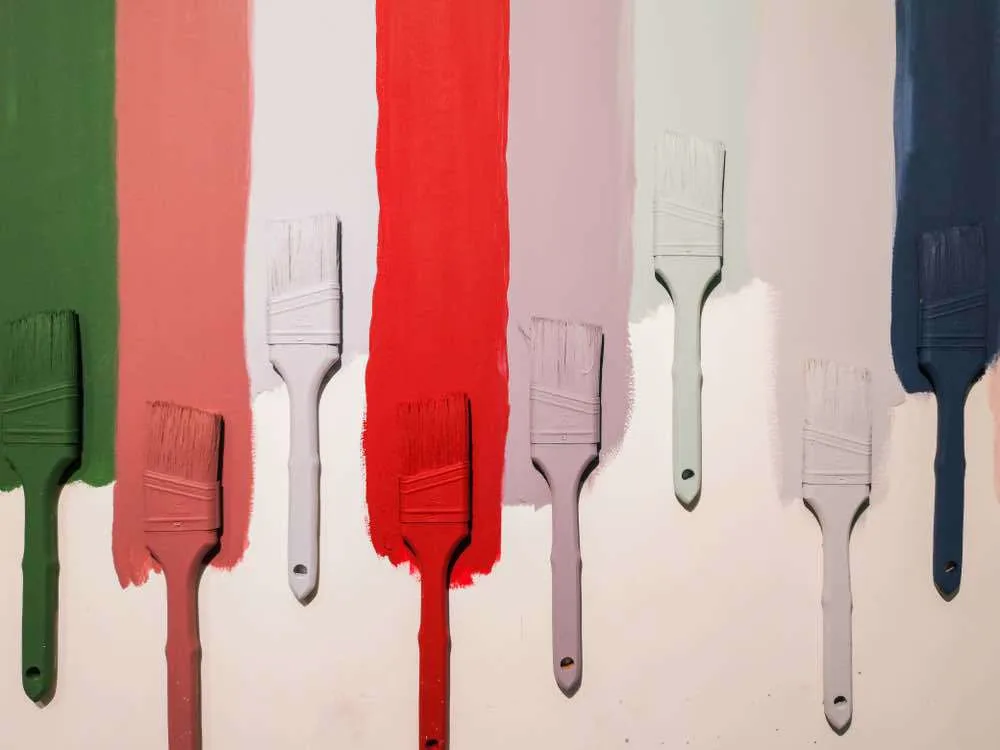 There aren't many reasons not to use latex paint for all of your DIY painting jobs. That's still true, even when you paint a garage. Oil-based paints used to be the standard of professionals and DIYers alike. But there's been so much development in paint technology over the last decade that water-based latex paint performs like an oil-based paint without the volatile organic compounds (VOCs).
Many brands now offer two-in-one paint and primer, which cuts down on prep work and how much time you`ll spend with a paint roller in your hand. They're often zero-VOC, and low-odor so you don't have to clear the family out of the house for the day.
Whatever paint you end up deciding is right for you, for safety and convenience, get a latex paint.
Can You Use Interior Paint in a Garage?
You can use both interior and exterior paint in a garage. Each type of paint addresses different needs. You already know that you can't use interior paint on the outside of your home and expect long-lasting results. Just like, you wouldn't use exterior paint to redo your bedroom. Here are the differences in the two paint types:
When to Use Exterior Paint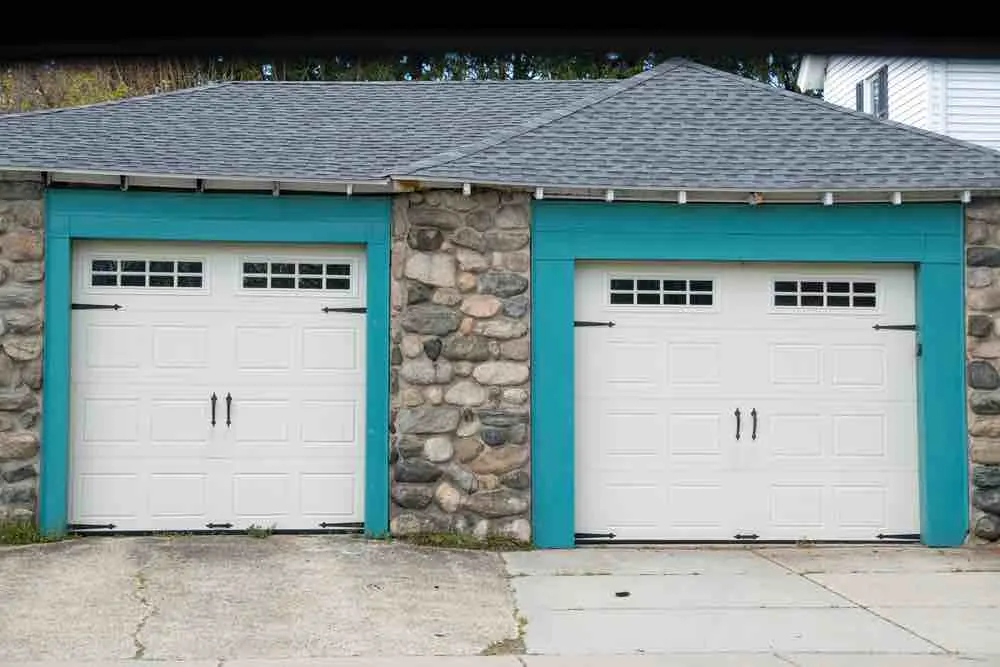 The critical difference between exterior and interior paint is the resin mixed in with the pigment and solvent. The resin that binds the paint together is softer, and more flexible in exterior paint. Because of that, the paint will:
Survive temperature changes.
Withstand exposure to moisture.
Resist mildew and mold.
Resist fading in UV light.
Won't peel or chip with age.
However, there's a downside to this handle-everything paint. Even with low- or no-VOC exterior paint, other compounds come with strong odors. The chemicals that help prevent fading, and resist mold and mildew also smell, sometimes for years.
What is Interior Paint Use For?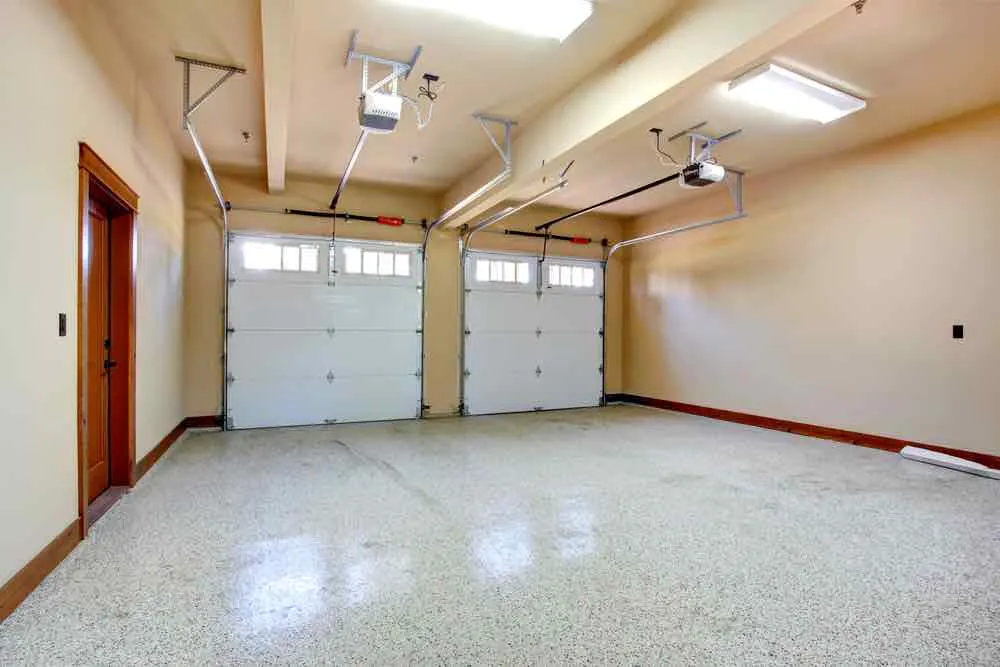 By comparison, interior paint is a little fussier. The resin used is stiffer, so it's doesn't withstand significant temperature changes or damp conditions. Interior paint works well inside because they:
Resist cleaning and scrubbing.
Don't scuff or smear.
Have both high- and semi-gloss sheens for high traffic areas.
Don't off-gas from resin or added chemicals.
But keep in mind if you have a damp or un-insulated garage, interior paint may crack or peel with exposure to moisture and temperature changes. However, they're true to the low- and no-VOC. You still have to keep the rooms you're painting well ventilated, but the smell should subside within a few days.
How Do I Paint My Garage Walls?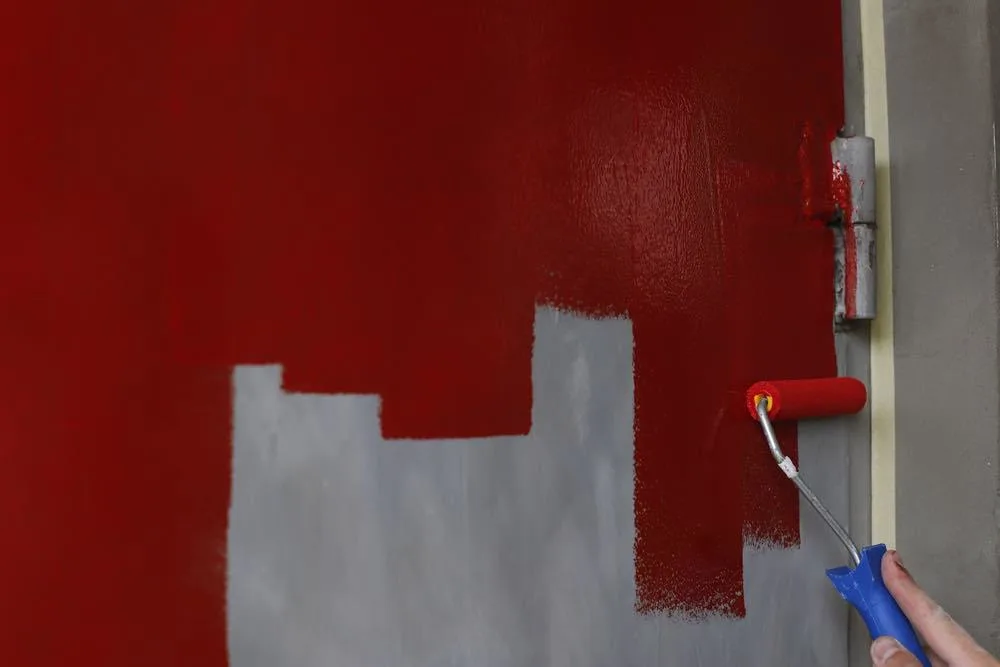 Your garage walls aren't so different from the other rooms in your house. As with any job, preparation is the most crucial part. When you rush the prep, you may end up with a sloppy or uneven paint job. Garage wall paint will go on the same as any other room you've painted in your home. The preparation will look a little different, however:
Move your car into the driveway or onto the street for the weekend. While you're painting, you don't want to risk dripping paint onto your car's finish, but you also want the paint to cure before exposing it to exhaust fumes.
Clean up the walls and floor. Trust us""you're not alone if you've got spiderwebs and dust bunnies galore in your garage. Painting your garage is the perfect time to clean your garage. Start the weekend with a yard sale. Then wash the walls, sweep, and get organized. Pro tip: rent or buy a shop vac to get the place spic-and-span in no time.
Prime your garage walls. Even if you're using a paint and primer in one, you`ll want to throw on a heavy-duty primer. Keep reading for a section below on why a high-quality paint primer will help protect latex paint on a garage wall.
Tarp and tape. Use tarps or plastic on your garage floor to catch drips and tape the edges of the wall..
Box your paint. Even the best garage paint will have slight variations from one gallon to the next. To prevent noticeable changes in the paint shade, mix all the paint for the project together, and then pour it back into the gallon cans. By boxing your paint, you know every gallon looks the same.
Work one wall at a time. It helps to protect the project against the unpredictability of life. Instead of doing all the edging at once, then rolling on all four walls; work a single wall at a time. You can speed things up with an edger and do a single full coat of paint for garage walls. Start your second coat when it's dry to the touch, but before it has time to cure. Even if you get called away early, you'll have a wall at a time finished.
You can tell how dry garage wall paint is by the dissipating of that new-paint smell. It happens around 48-hours after you apply the last coat.
While you're waiting for the walls to dry, why not take advantage of your spic and span garage to paint the garage floor?
You'll be shocked by how much a professional-quality DIY paint job will transform your garage. It's easier to keep painted garages clean and organized. After you paint the garage floor, you can use the additional space in your home as a craft area, home office, or the workshop of your dreams.
Why You Should Prime Your Garage Walls
A good primer, like Kilz Restoration Interior Primer, will help cover up old water stains and prevent new ones from forming. It will also help cover any old paint or discoloration. Even though Kilz Restoration is water-based, the behaves like oil-based paints. Here are a few things a high-quality primer will do for paint for garage walls:
Covers stains from medium to substantial water damage, rust, smoke.
Blocks odor from mold or mildew in the wood.
It covers a variety of materials""drywall, stucco, wood, and tile""for a uniform painted surface.
Easy sanding for perfect topcoat coverage.
Priming first is a great way to protect your top coat from cracking and peeling with changing weather or exposure to moderate moisture. Your garage wall paint may last for years when you take the time to protect and seal the drywall and wood first.
The Best Paint for Garage Walls
As we said before, you can use interior or exterior paint on your garage walls, depending on where you live and the kind of garage you have. If you have an attached garage in a moderate climate, your best bet is interior paint. Exterior paint stands up to dramatic conditions better""like a wet climate, experience extreme temperatures, or if you have a detached garage. Our recommendation for the best paint for garage walls comes in both interior and exterior formulas.
---
This is another paint and primer in one paint from Sherwin-Williams. They guarantee one-coat coverage with it but use our paint calculator to find out how much paint you should plan on buying for your size garage. It offers many of the same features as the Glidden but only comes in an interior formula. Here are some features we love:
Stain-blocking: again, you should be able to rely on your primer to cover old stains, but it's nice to have an interior paint that will cover old paint, stains, and damage for a fresh start.
Superior scrub resistance: don't worry about using your elbow grease when cleaning up the garage""the dirt goes, but the paint will stay.
GREENGUARD Gold Certification: certified for use in green buildings and complies with LEED v4 regulations.
Antimicrobial: resists the growth of mold and mildew, which may be vital if you live in a damp climate.
Tintable: choose from over 300 colors in vibrant collections like Livable Luxe and Natural Wonder.
The HGTV HOME collection by Sherwin-Williams also runs a slightly more affordable price point compared to the Glidden.
How to Pick a Garage Wall Paint
We've recommended two of the most highly reviewed, expert-recommended brands. We think they're the best for painting your garage walls. But you don't always need to pick the most expensive paint to get satisfactory results. When you use a primer and take your time applying even coats of paint, you'll have painted garage walls that will look just-painted for years to come. Here are some tips for picking a garage wall paint that's just right for you:
Set a budget for the project. Be honest with how much you expect to spend on painting your garage. Remember, you'll need equipment (if you don't already have it) besides paint.
Decide if you need to use interior or exterior paint. If you have an attached garage, use interior latex-based paint.
Calculate how much paint you'll need. Use our handy paint calculator to find out how many gallons of primer and paint you'll need. Plan on a single coat of primer and two coats of paint. Don't forget the ceiling!
Gather the painting tools you already have and decide what you'll need to get the job done. We'll provide a checklist in the next section to help you get ready.
Find the best paint within your budget after you gather equipment. Look for low-VOC, stain-blocking, mold and mildew resistant, scrub resistant, and a hue you love!
It's worth it to splurge on higher-quality paint if you can afford it. You may save yourself a few dollars getting a bargain paint in the short-term. But down the road, you must repaint the garage walls much sooner. Cheap paint will show stains, dirt, and won't be able to hold up to regular cleaning and scrubbing. It may contain harsh chemicals and VOCs that off-gas for days.
Good prep, professional-grade equipment, and the best paint for garage walls and you'll only have to spend one weekend every decade painting the garage.