Over the last 20 years, ladders have gone through some major transformations.
After the introduction and success of the Little Giant ladder (which blew up in a 2003 infomercial), companies have tried to produce the next great ladder. Some are incredibly handy while others are not.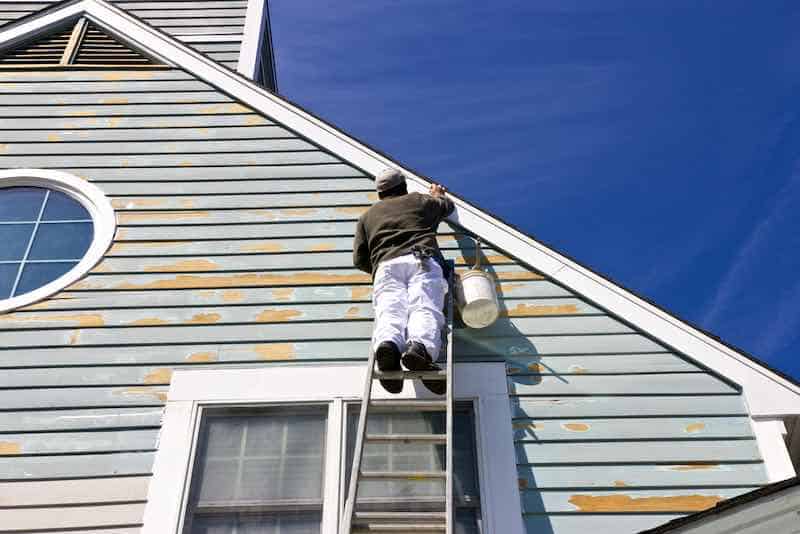 Thankfully, we've tried them all and can help you find the best ladder for your needs.
Index
The Best Ladders For Interior and Exterior Painting
Every type of painting project has different tools that are best suited to that particular job.
Having the right ladder for your project will help you with your efficiency and maneuverability, it will keep you safe, and it will allow you to produce high-quality results.
For example, using an extension ladder in a stairwell with high ceilings may work, but it will require you to dangerously reach into some areas and not allow you to create perfect cut in lines. By using a multi-ladder, you won't need to put yourself in any dangerous positions and you will be able to give the project your highest quality effort.
The Best Ladders For Exterior Painting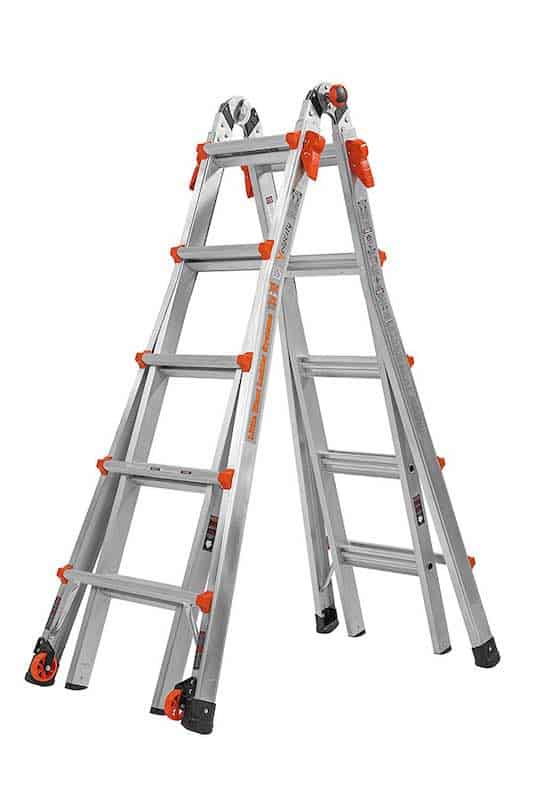 The Multi-Ladder is far and away the most versatile and useful ladder for exterior painting.
It can adjust to make working on hills or uneven ground safe and It can go high to get peaks. It can also be used as a stable step ladder for low work as well.
Most 1-2 story homes won't even need another ladder to complete their exterior painting project. A 17′ model should get all the peaks on a 1 – 1.5 story home. While a 22 – 26′ model should get everything on a 2 story home.
What If You Have A Taller Home
I love multi-ladders and they can easily replace many if not all the ladders you own, but many homeowners will need to add an extension ladder to their arsenal to complete their projects.
A multi-ladder may not be enough for some 2 story homes and definitely not enough for 2.5-3 story homes.
In this case, a lightweight aluminum extension ladder would be required.
To get an idea of how high you'll need to reach on your home, a story is typically considered 10 feet in construction. So if you are painting the exterior of a one-story home, you should need a reach of roughly 10 feet (give or take depending on the home construction).
One Story Homes = 10 Foot Height
Two Story Homes = 20 Foot Height
2.5 Story Home = 25 Foot Height
3 Story Home = 30 Foot Height
The Best Ladders For Interior Painting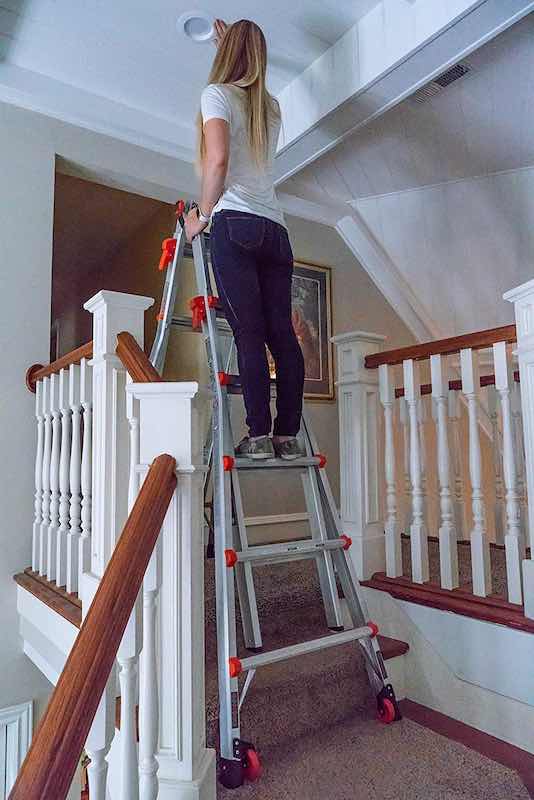 While the multi-ladder is a great ladder for exterior painting, it's an even better ladder for interior painting.
Starting off with painting 8 and 9-foot walls, using the multi-ladder as a sturdy a-frame is perfect for cutting in ceilings.
On higher vaulted walls, you can use the multi-ladder as either an a-frame on 10-12 foot walls or an extension ladder on even higher walls.
Where the multi-ladder really shines though is when painting stairwells. By setting up the ladder in the a-frame position and extending one set of legs down further than the other, you can easily and safely paint nearly any stairwell.
Painting high walls and ceilings can be tricky, that's why we wrote an entire post just on painting high ceilings.
Ladder Safety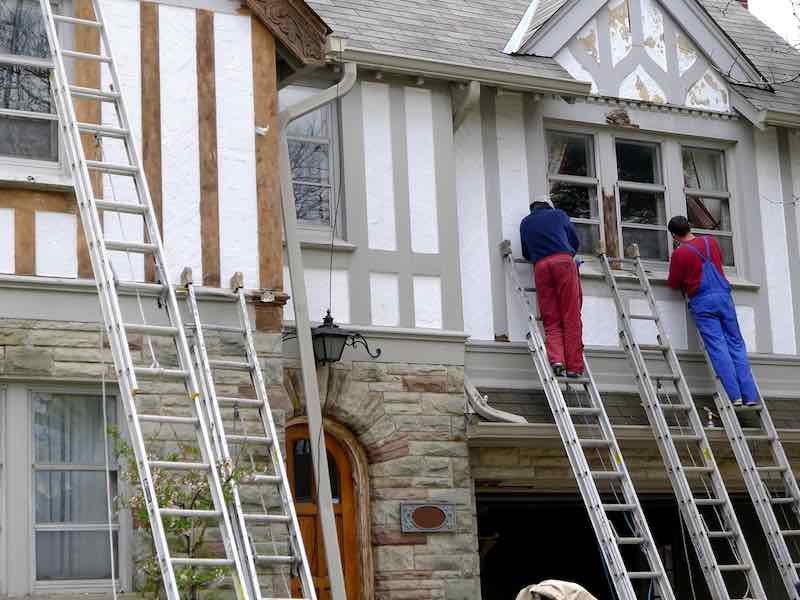 Any time you are woking on a ladder, you must take the work seriously. Each year there are over 160,000 ER visist due to ladder falls and 300 deaths.
What's really sad is that most of the deaths from ladder falls are from 10 feet or less. So no matter how high you are working, you need to take ladder safety seriously.
Here are some basics of ladder safety:
Never use your ladder around power lines.
Always use your ladder how it was intended for use. This includes weight limits, height limits, and stabilization.
Always maintain 3 points of contact with the ladder (typically 2 feet, 1 hand).
Do not use the top step of any ladder (unless it is built for that purpose).
Only use ladders on stable surfaces.
How To Safely Place Your Ladder Against A Wall
To safely place your ladder against your home, you need to place the feet of the ladder 1 foot out from the wall for every 4 feet of height the ladder is extended.
For example, an 8-foot ladder should be 2 feet out from the wall. A 16-foot ladder should be 4 feet out from the wall. A 24-foot ladder should be 6 feet out from the wall.
What Height Will Your Ladder Reach?
When determining the size (height reach) of the ladder for your exterior or interior painting project, you must remember that the height stated on the ladder is not the actual height you can necessarily reach while using it.
The height listed on the ladder simply means that is how tall the ladder is. Once the ladder is angled on your home, the reach will be less. Also, you cannot stand on the top rung of the ladder, you should never stand any higher than the third rung from the top.
So your actual working reach is typically less than 24 feet. Typically, your maximum reach is 1-3 feet less than the ladder's stated height.
For more ladder safety information, check out the resources below:
The Different Types of Ladders
While there are actually quite a few different types of ladders out there, we are only going to be talking about ladders specifically for painting.
In the painting industry, there are 6 main types of ladders. Of the 6, I only use three for all the painting I do (while most people could get away with 1 or two).
Multi-Purpose Ladders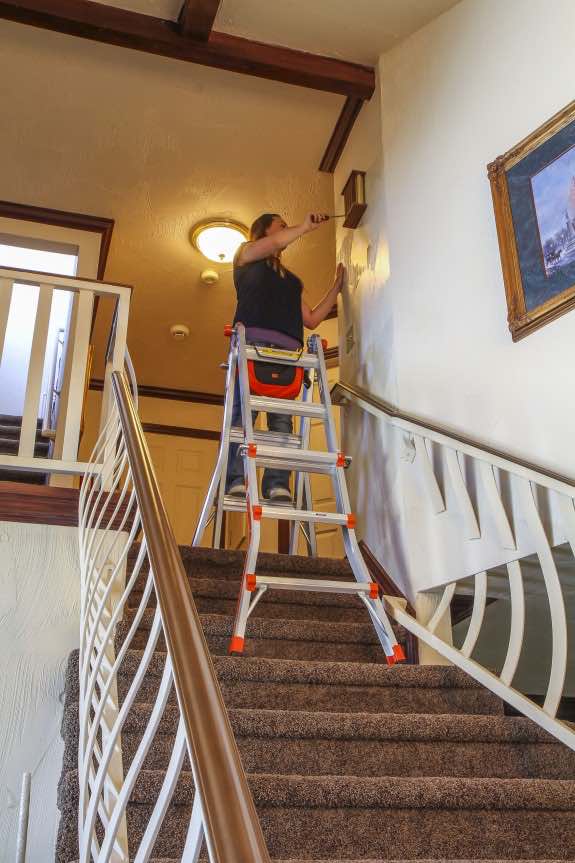 First off is the Multi-Purpose Ladder. This is my favorite ladder by far for its versatility.
Multi-purpose ladders can be set up in a variety of different ways. They can be used as an a-frame step ladder, an extension ladder, and a stair ladder to name a few.
Most homeowners can get away with owning just one multi-purpose ladder and have all of their ladder needs covered.
One of the best features of this type of ladder is how it makes painting stairwells safe and easy. This is done by setting it up in as an A-Frame ladder with one end extended farther than the other.
The Little Giant brand made these types of ladders extremely popular in the early 2000s and continues to be the leader in this category.
You can typically buy multi-ladders in 13′, 17′, 22′ and 26′ sizes. You can see all the options at Little Giant.
Extension Ladders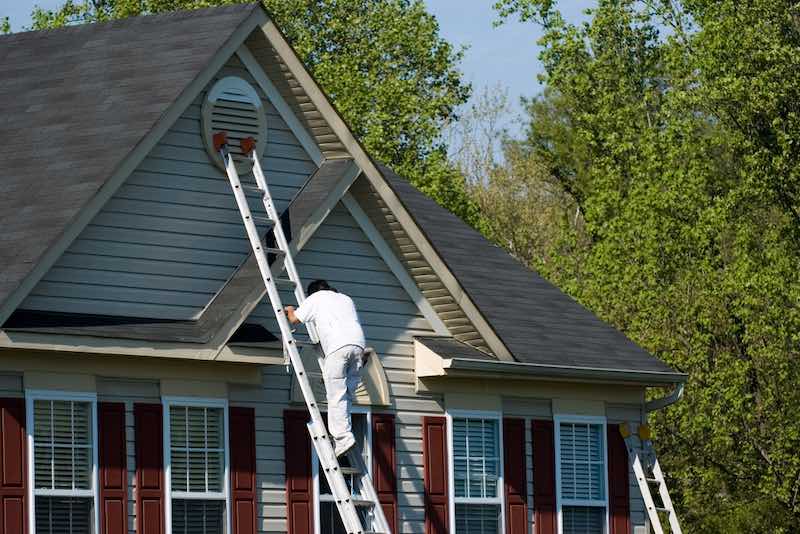 Extension ladders are ladders that have two sections and extend out, allowing you to reach very tall areas.
They most commonly come in 16′, 24′, 28′, 32′, and 40′ versions and typically come in aluminum or fiberglass. Fiberglass extension ladders are extremely heavy and are only recommended for electrical use. Aluminum extension ladders are much lighter though the 32 and 40 foot versions are still very hard to maneuver and are best handled with two people.
In the painting world, extension ladders are mainly needed for exterior painting and occasionally interior painting where ceilings are vaulted.
a 24-28 foot extension ladder is usually perfect for up to a 1.5 story home, while a 2 – 2.5 story home will often require a 32 foot and sometimes even a 40-foot ladder to reach every area.
Personally, I don't think most homeowners should invest in 32 or 40-foot ladders. They are hard to work with and dangerous. If you need that level of ladder, consider hiring the work out.
When looking for an extension ladder, make sure to check the weight ratings.
Type 3 will support 200 lbs
Type 2 will support 225 lbs
Type 1 will support 250 lbs
Type 1A will support 300 lbs
Type 1 AA will support 375 lbs.
Platform Ladders
Platform ladders are a-frame step ladders that have a small square platform for the final step on the ladder.
These ladders are very useful for interior painting on 8-9 foot high walls since you can easily set your paint bucket and any other tools on the platform. I actually use these types of ladder quite often when doing interior painting.
Tall Step Ladders
Tall Step Ladders are basic a-frame ladders with wide steps on one side and a support structure on the other side.
Personally, I don't find step ladders very useful when painting. There are just too many other good options. Step ladders are set to one height and cannot be adjusted, thus making them impractical for many uses.
Telescoping Ladders
Telescoping ladders are extension ladders that telescope out to different lengths and can be easily stored in the trunk of a car or in a cabinet in a garage.
There are definitely situations where a telescoping ladder can be practical. If you have to travel with your ladder but do not have a truck or ladder rack or if you have very limited space where you can store your ladder.
If space isn't an issue for you though, then I would typically recommend a multi-ladder or an extension ladder.
Short Step Stools (1-4′)
Short ttep ladders are simple (and cheap) small ladder for basic interior and exterior projects. They are light and handy for basic wall painting.
They typically come in 2, 4, or 6 step versions depending on the height you need.
Due to how cheap and easy to work with step ladders are, I usually bring one to my job sites for easy to reach areas since it is so light and quick to maneuver.
The Best All Around Ladder For Your Home
If it's not clear already, I believe that a multi-ladder is simply the best ladder for homeowners.
The multi-ladder replaces nearly every ladder in your home and replaces it with a versatile and safer version.
Check out our Exterior Painting page for even more information on exterior painting, paints, and products.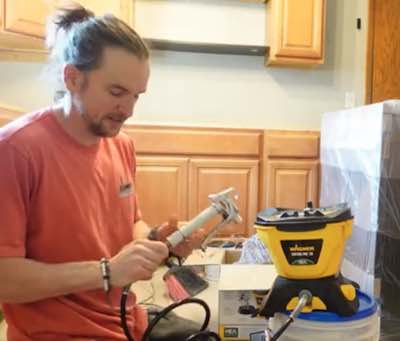 I've been a professional painter since 2001 and spent the last 12 years specializing in kitchen cabinet refinishing. I started the DIY Painting Tips blog in 2015 to start sharing everything I've learned over the years and help all the people who'd rather tackle their painting projects themselves. In 2019 I started the DIY Painting Tips Youtube channel where I publish in depth videos all about kitchen cabinet painting, painting gear reviews, and interior/exterior tutorials.