Painting your ceiling and the paint you use, are oftentimes an afterthought of most homeowners as they are painting their home.
They don't realize that a well painted ceiling will brighten your room, make it feel larger, and improve the look of the paints on your walls.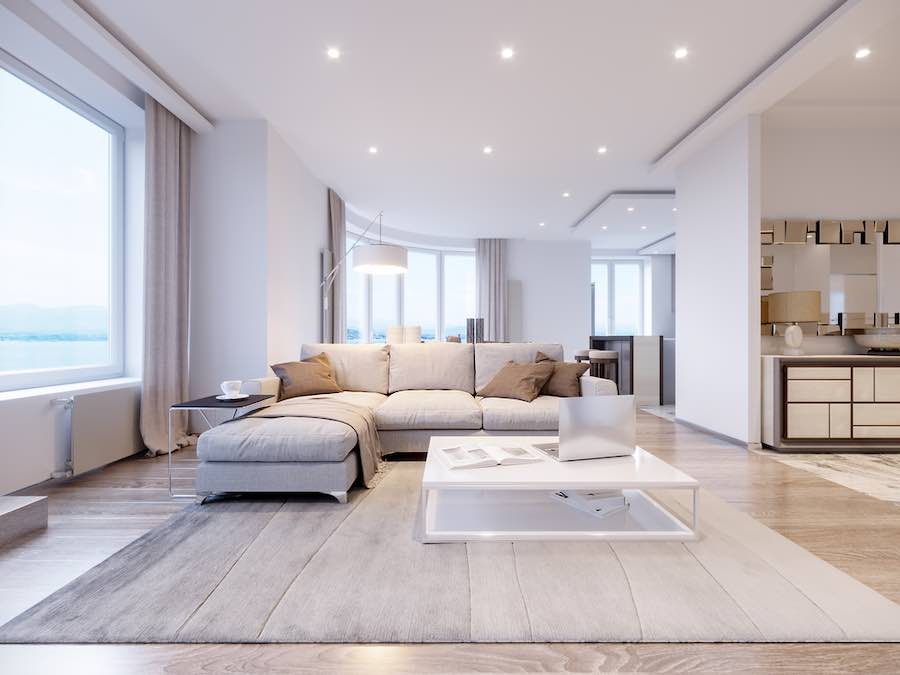 Ceiling paints are extremely important and choosing the right one can make your home look even better.
| | | | | |
| --- | --- | --- | --- | --- |
| Product | Hide | VOC Rating | Editor Rating | Buy |
| Killz Ceiling Paint | Excellent | Zero | 5 | |
| Benjamin Moore Ceiling Paint | Good | Zero | 4 | |
| Behr Ceiling Paint | Excellent | Low | 5 | |
| Zinsser Ceiling Paint | Good | Low | 3 | |
| Glidden Ceiling Paint | Good | Medium | 4 | |
---
Index
The Best Ceiling Paint Reviews
Killz Ceiling Paint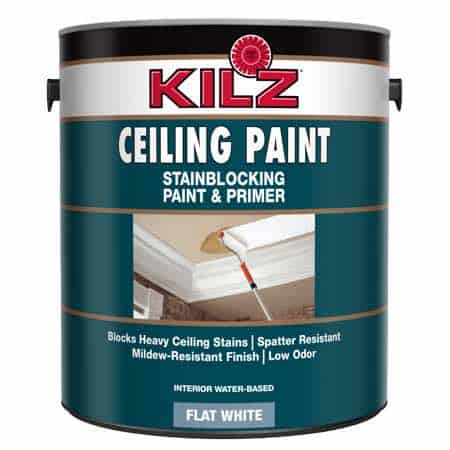 Editor's Rating: 5
Killz makes some of the best primers and stain blockers on the market and their ceiling paint is no exception.
Killz Stainblocking Ceiling Paint is one ceiling paint that can handle nearly any painting situation you throw at it.
Have a smoke stained ceiling? No problem. Water stains? Killz Ceiling Paint will cover them as well. Mold or mildew stains? Again, Killz is made for these.
If you have any kind of staining on your ceiling, Killz Ceiling Paint is the perfect choice.
I like to use this product any time that I have a ceiling that isn't already nearly perfect. If it has staining of any kind or is just plain dirty, Killz works wonderfully. Even if your ceiling is already in good shape, this is still a good product for you.
Product Highlights
Stain blocking on water based stains.
Changes color as it dries (helps avoid missed spots).
Re-Coat in 2 Hours
Spatter resistant formula
Zero VOC
Coverage: 250 sq. ft. per gallon.
What I Like
Killz Stainblocking Ceiling Paint has a higher level of solids than all of the other ceiling paints listed here. A higher level of solids typically means that it covers better. It also means that the paint won't go as far, only 250 sq ft of coverage, but that is the price you pay for a high quality product.
What I Don't Like
Honestly, there isn't much to not like about Killz Ceiling paint. My only recommendation would be to not over estimate it's stain blocking ability. If you have some really terrible water stains, you may still need to hit them with a Killz oil-based stain blocker first to get rid of them 100%.
Benjamin Moore Ceiling Paint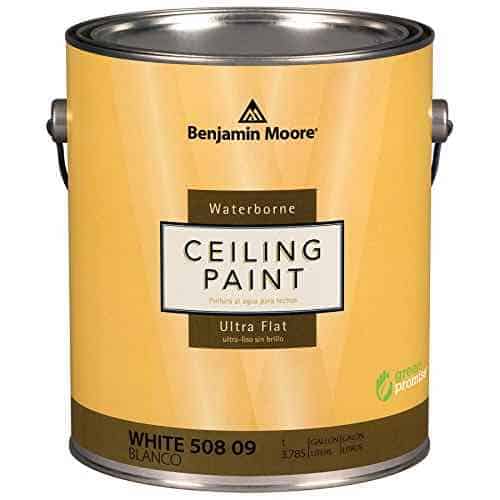 Editor's Rating: ★★★★
Benjamin Moore promises "ultra premium" quality in their ceiling paint, and they successfully deliver on this promise.
Whether your ceiling is unpainted drywall, wallpapered, textured drywall, ceiling tile, plaster, or anything else, Benjamin Moore ceiling paint is up for the task.
This is my go-to paint for nontraditional ceiling materials, such as tile or wallpaper. The quality coverage will make you forget what was there before. Even if your ceiling is simple drywall, Benjamin Moore ceiling paint is sure to deliver fantastic results.
Painting a bathroom ceiling with a history of mold or mildew growth? Benjamin Moore Ceiling paint will work to prevent future growth on the surface of the paint.
Product Highlights
Zero VOC
Coverage: 400-450 sq.ft. per gallon
Splatter resistant formula
Self priming over drywall
What I Like
The flat, quality finish of Benjamin Moore Ceiling paint provides the best diffusion of light to help prevent ceiling glare. That means using this paint won't only make your ceiling look better, it will enhance the look of the whole room. With such fantastic coverage of uncommon surfaces, this paint is the one for the job.
What I Don't Like
There's so much more to like than not like. One downside is that for any surface other than unpainted drywall, you will need a coat or two of primer before beginning with the Benjamin Moore ceiling paint. However, this little bit of extra work is worth it for the great results.
Behr Ceiling Paint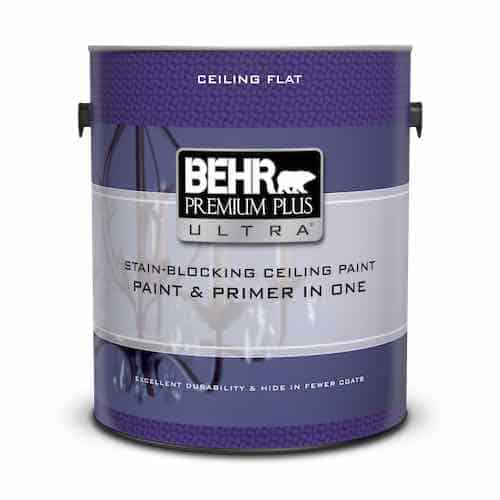 Behr Ultra Ceiling Paint delivers "ultra" results to your ceiling.
If you're painting a light color over a dark ceiling, Behr is the best for the job. With paint and primer in one, this paint quickly covers over darkness in just a few quick coats.
Have a brown ceiling you need to be white? No problem.
The thicker consistency of Behr ensures you won't have drips falling on you as you roll the paint above your head.
This water based paint also makes for easy clean up once the painting is done.
Product Highlights
Paint and primer in one
Stain blocking design
Coverage: up to 400 sq. ft. per gallon
Greenguard certified for low chemical emissions during usage
Water based (cleans up with soap and water!)
What I Like
The best thing about Behr is the smooth even finish at the end. No matter what crazy color or pattern was there before, this paint will roll on smooth and leave a consistent finish of your desired color. The certified low chemical emissions also ensure you are safe while painting the ceiling in your own home.
What I Don't Like
This paint and primer in one is high quality with little to complain about. However, if you're looking for one coat coverage this is not the paint for the job. Two to three coats will likely be needed to get the ideal results from Behr Ceiling Paint. The paint does dry quickly so the need for more coats should not slow down your project time.
Zinsser Ceiling Paint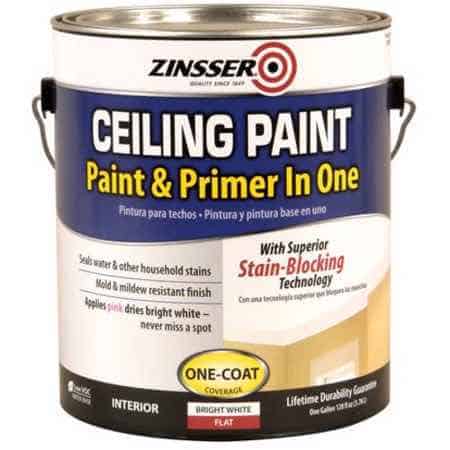 Zinsser Ceiling Paint offers a stellar one coat finish. The thickness of the paint is perfect for hiding blemishes and imperfections in the texture of the ceiling.
Amazing stain blocking features help Zinsser Ceiling Paint cover water spots, smoke stains, and any other flaws in the ceiling that need covering.
The quick drying formula of Zinsser will help your project be completed in no time so you can start enjoying your transformed space.
Zinsser Ceiling Paint will become your go-to choice to bring old, stained ceilings back into their full glory.
Zinsser is the ideal choice for the ceilings in kitchens, basements, bathrooms and other areas that experience a lot of smoke or moisture.
Product Highlights
Low VOC
Low odor formula
Paint and Primer in One
Coverage: 250-400 sq. ft. per gallon
Dries in less than 1 hour
What I Like
The best part of Zinsser Ceiling Paint in white is that it rolls on pink but dries white. This is especially helpful when you are painting over a ceiling that is also fairly white. Never miss a spot with this handy pink to white formula.
What I Don't Like
This Zinsser Ceiling Paint is easy to love. The one downside is that it can cause some trouble when painting the ceiling in a bathroom. Because it is water based, it can take up to a month to fully cure to the ceiling. If it gets moist in this time frame it may begin turning pink again in some spots. But after 1 month this problem completely disappears.
Glidden Ceiling Paint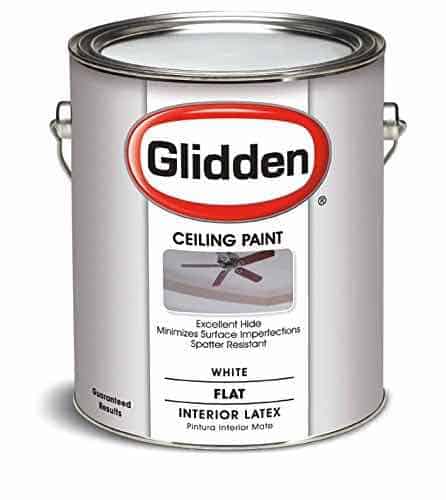 Glidden Ceiling Paint saves time with amazing one coat coverage.
The low odor and spatter resistant formula of Glidden Ceiling Paint will make for quick and easy clean up once the painting is complete. Even on rough or popcorn ceilings, this paint rolls on like a breeze.
Glidden Ceiling Paint is often available at a more affordable price point for projects with a low budget.
Your bathroom ceiling will keep a beautiful shine over time thanks to the mildew resistance in Glidden Ceiling Paint.
Glidden Ceiling Paint also offers great coverage over surface imperfections or dark stains, though this may require more than one coat.
Product Highlights
Low VOC
Coverage: up to 350 sq. ft. per gallon
Resists mildew growth
Latex formula
Recoat every 4 hours
What I Like
There's so much to love about Glidden Ceiling Paint. My favorite part is the time you save with one coat coverage and easy clean up. Painting the ceiling can be rough on your back and neck, so the less coats needed the better. I'd much rather relax and enjoy my space than roll out another coat.
What I Don't Like
Glidden Ceiling Paint has far more positives than negatives, especially considering the more affordable price point. However, it does have a longer dry time than some other brands. The wait is worth it though when you see the results.
Ceiling Paint Buyer's Guide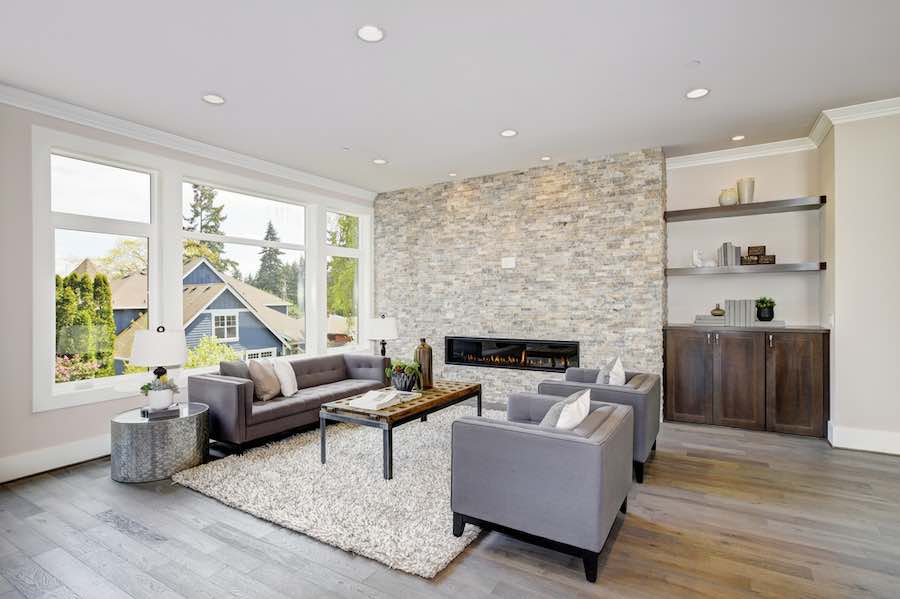 Ceiling paint shouldn't be too complicated of a purchase for most homeowners. There are really only a few things to consider and/or look for when making your purchase.
These things are what shade of white you want, percentage of solids the paint has, VOC ratings, and finally the ease of use of the paint.
Other than that you should find that ceiling paint is a bit cheaper than wall paint. This is due to the fact that wall paint must be more durable and better at hiding than ceiling paint does for obvious reasons.
Read more about VOCs on the EPA's website here.
Ceiling White vs Bright White
There are really only two main whites I use when painting ceilings. By all means, you can paint your ceiling any color, but these are the two I use 99% of the time.
Each brand has their own version of ceiling white and bright white, but they are similar enough to discuss here.
Ceiling White is a slightly grey'd white. This is to help hide imperfections in the ceiling. Imperfections often show by producing shadows on ceilings. With a slight touch of grey in your white, the shadows become less obvious and thus help hide imperfections in your ceiling. You shouldn't be able to notice the grey with your naked eye. It will simply look white to you.
Bright White is often considered un-tinted white straight out of the can. This white has no grey added to it and is as bright as possible. I prefer this to ceiling white since I like to have my ceilings as bright and clean looking as possible.
Percentage of Solids
The percentage of solids is worth noting in paints, but don't over worry about it. A higher percentage of solids typically means that the paint will hide the ceiling better but also cover a little less distance. Fewer solids mean runnier paint, less hide, but further coverage.
Typically, if a paint has a higher solid count, it typically costs more. You can usually safely assume that more expensive paints will cover better.
VOC Ratings
VOCs, as often mentioned in this blog means Volatile Organic Compounds, are released as paint cures and are harmful to humans.
That being said, most people will have no ill side effects from painting their home every handful of years and they will hardly even notice the smell.
If you work with paint every day, are hypersensitive to smells, have medical conditions, or have small children in the house, consider a low or no VOC paint.
Ease of Use / Spatter
Spatter, the tiny drops of paint that come off your roller while painting, can be really annoying to a painter. They get on the floor and all over your body.
You should have your floors and furniture covered anyway, so other than a nuisance, spatter shouldn't matter too much.
Want to know the cost to paint your ceilings? Check out both our DIY costs and the cost to hire a painting contractor in our Cost To Paint a Ceiling post.
Ceiling Paint FAQ
Will Painting My Ceiling Eliminate Odors
Painting your ceiling can help with odors, but usually a stain/odor blocking primer will be needed first.
Do I Need To Prime My Ceiling Before Painting It?
Usually, you do not need to prime your ceiling before painting. Most ceiling paints such as Killz, Behr, Zinsser, and Benjamin Moore are paint and primer in one. If your ceiling has water or smoke stains, priming with a special stain-blocking primer would be advised.
What Is The Difference Between Ceiling Paint and Wall Paint?
Ceiling paint is specially formulated to cover imperfections more so than wall paint. Its color and sheen are made specifically to help hide seams and other irregularities.
Why Does My Ceiling Look Patchy After Painting?
One of the main reasons for patchy ceilings is uneven paint. If you roll on paint heavier in one area and lighter in another, it will look uneven. If you did patchwork before painting but didn't prime your patches, that can cause patchy ceilings as well. If your u003ca href=u0022https://diypaintingtips.com/best-paint-edger/u0022u003eedgesu003c/au003e dried while painting, this can also cause an uneven looking finish.
What is best paint finish for ceiling?
A flat sheen is always the best finish for ceilings. Flat paints help to hide imperfections in ceilings, do not reflect as much light and basically go un-noticed.
How many coats of paint does a ceiling need?
Ceilings will typically require two coats of paint. One coat may leave the ceiling looking striped and blotchy. When doing two coats, do the first North to South and the 2nd coat East to West.
Wrapping It Up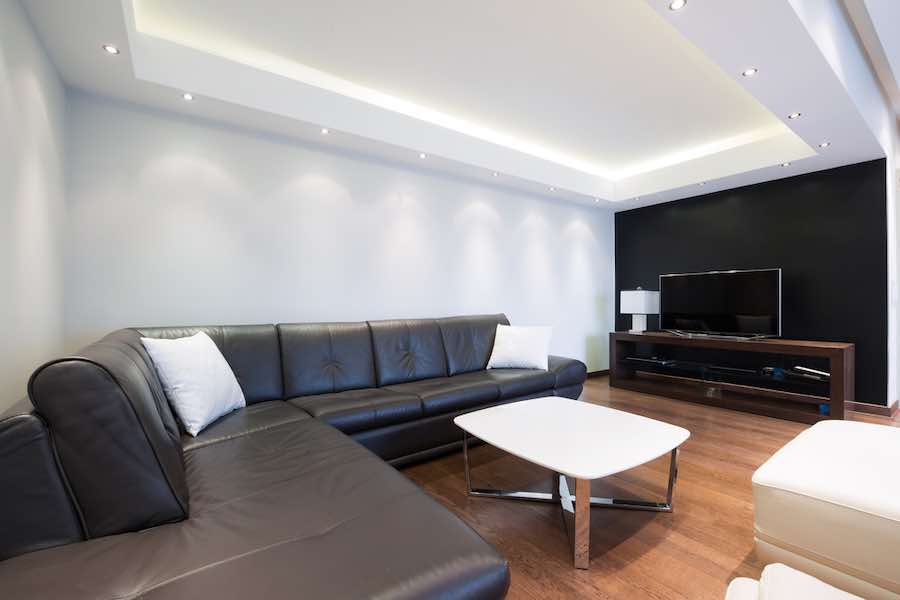 The above paints have all been used by me and all make my list of the best ceiling paints.
If you want more DIY Painting advice, check out some of my other posts: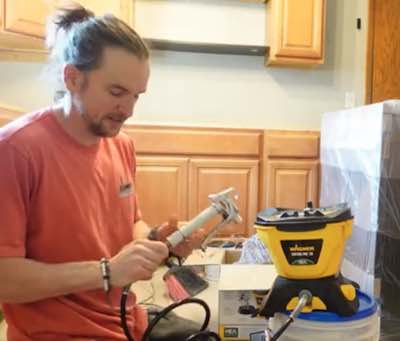 I've been a professional painter since 2001 and spent the last 12 years specializing in kitchen cabinet refinishing. I started the DIY Painting Tips blog in 2015 to start sharing everything I've learned over the years and help all the people who'd rather tackle their painting projects themselves. In 2019 I started the DIY Painting Tips Youtube channel where I publish in depth videos all about kitchen cabinet painting, painting gear reviews, and interior/exterior tutorials.