With fields of blooming sunflowers, groves of olive trees, and an awe-inspiring sea, Tuscany reflects centuries of Italian tradition and culture in a way that is simply breathtaking.
Tuscany`s rustic essence is one of warmth and elegance, and this is most aptly reflected by the beautiful color palette the region has inspired.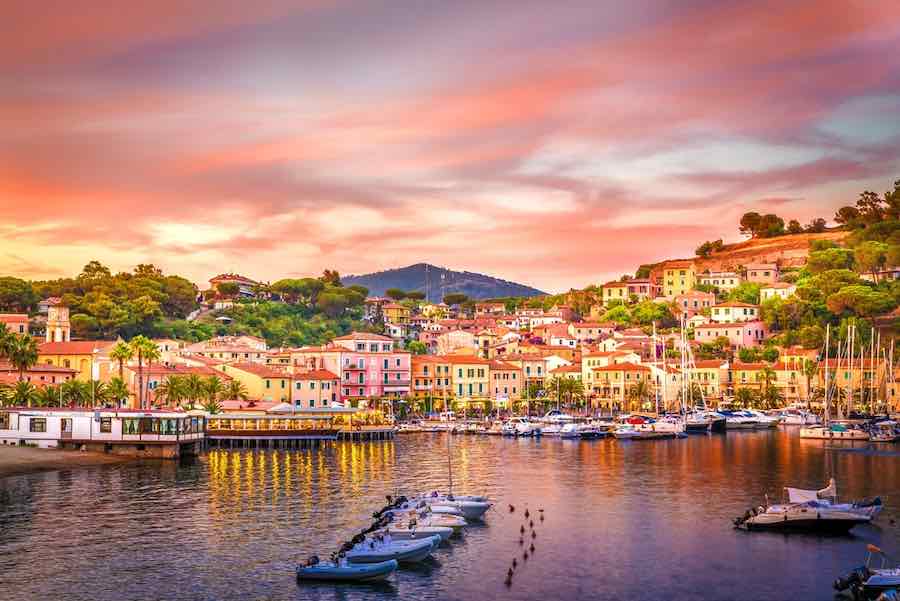 The combination of warm and cool Tuscan paint colors showcases a longstanding devotion to food, art, and landscape, offering an effortlessly balanced palette that`s perfect for any space.
Using these colors makes Tuscany`s timeless style easy to capture, allowing you to fill your home with a sense of welcoming and comfort.
If you`re looking to emulate this stunning region as you decorate your home, then you`ve come to the right place.
We`ve compiled a list of 15 Tuscan-inspired paint colors that are guaranteed to enhance any space and bring a small piece of the Tuscan countryside into your home, no matter where you are.
1. Georgian Clay from Microblend
This gorgeous mix of brown and vibrant orange perfectly captures Tuscany`s warm and rustic style and is guaranteed to breathe life into any kitchen, living room, or dining space.
Inspired by Tuscany`s signature terracotta stone roofs, this clay-like color will help you feel grounded and reconnected to the natural world (even when you`re indoors). No matter where you choose to use this color, you`ll be amazed by how quickly the feelings of comfort and liveliness occupy the room.
You can easily balance things out with a cream or off-white trim, or with cooler colored accents.
2. Bee Nectar from Prestige Paints
A stunningly vibrant color, Bee Nectar is guaranteed to make you feel as if you`ve been transported to one of the many acres of golden Tuscan grasses.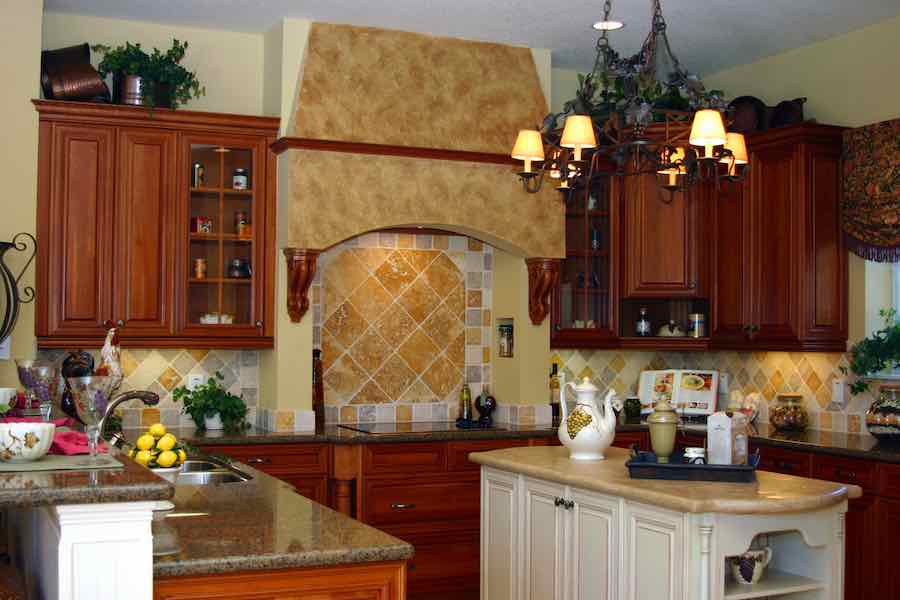 This gorgeous shade is ideal for an accent wall or to bring a sense of warmth into any kitchen or dining room. Balance with an off-white trim, or use dark and wooden furniture and accessories to offer a delightful contrast that`s both clean and cozy.
3. Ballet Pink from General Finishes
This soft and subtle pink shade brings a feminine touch to the traditional reds often found in Tuscan-inspired color palettes.
Designed to represent the look of natural, unglazed terracotta, Ballet Pink would make an interesting backdrop to help showcase bolder hues such as deep greens and more vibrant pinks. Ideal to be used on both main and accent walls, this shade would easily enhance a sunroom or any space with lots of natural lighting.
4. Clear Waters from Prestige Paints
This sea-inspired blue shade will stand out even when placed among the warmer tones that traditionally make up a Tuscan color palette.
The refreshing coolness of Clear Waters would make a gorgeous ceiling color to enhance a warmer room with ample amounts of light.
You could also use this shade to add a splash of color to a main or accent wall, and it even offers itself as a potentially fantastic accent color for walls gold or terracotta hues.
5. Cosmic Purple from Glidden
This bright yet subtly muted blue and purple shade is similar to that of the lavender bushes that thrive below the warm Tuscan sun.
Cosmic Purple will effortlessly complement the warmer and more rustic tones in your palette, such as vibrant golds and deep oranges. Adorn an accent wall with this shade or use it as a ceiling color to bring a well-rounded sense of balance and completeness to your Tuscan-inspired color scheme.
6. Baked Earth from Microblend
Baked Earth is a beautiful and attention grabbing dark brown that wonderfully emulates the magnificent wood beams used to decorate many Tuscan homes.
This color will easily bring a dark and weathered quality to any room it adorns as well as an interesting amount of depth and drama. You can use this deep brown to create an eye-catching accent wall or to complement otherwise plain furnishings or accessories.
7. Jazz Age Yellow from KILZ Tribute
Jazz Age Yellow is a sweet and sunny shade that will immediately transport you to Tuscany`s seemingly endless fields of beautiful golden sunflowers.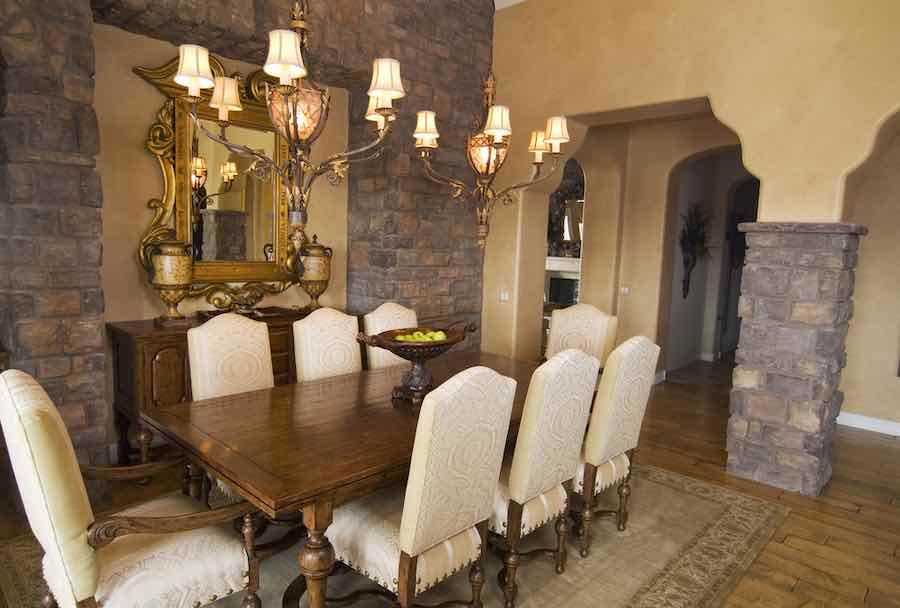 Perfect for any kitchen, sunroom, or breakfast nook, this bright and crisp color would even make a great choice for exterior decorating. Contrast with light or dark blue hues to create an elegant color combination that`s classically Tuscan.
8. Peru from Prestige Paints
No Tuscan-inspired color palette is complete with an eye-catching shade of red, and Peru from Prestige Paints fits the role perfectly.
This lush shade will stand out even when paired with a variety of warm and cool colors, but you won`t ever find yourself feeling overwhelmed by its vibrancy.
Peru is a wonderfully bold color that will easily liven up any living room or dining area. Combine with golden or yellow tones to open up the area and offer a sense of bright spaciousness.
9. Old Sage from Microblend
Inspired by the soft and abundant foliage that covers the Tuscan landscape, Old Sage offers more warmth and comfort compared to similar sage shades.
This color pairs beautiful with rich, deeper reds or russet accents and furnishings, allowing you to enjoy the beauty of the Tuscan fields from the comfort of your own home. The contrast between this relatively cooler tone and warmer red and golden furniture or accessories will cultivate a friendly and visually satisfying sense of restfulness.
10. Bronze Mist from KILZ Tribute
From the moment you paint it on your wall, this warm and extremely versatile neutral will remind of the smooth sand that occupies the Tuscan beaches.
Bronze Mist is ideal for living or family rooms in addition to being the perfect complement to a dramatically bold accent wall.
This color is perfect for integrating different colors from room to room, or you can use it to help show off any vibrant and colorful accessories or pieces of furniture.
11. Cabernet from Glidden
No Tuscan color scheme is complete without paying proper homage to the grapes of the region.
Similar to how these grapes look against the golden Tuscan grass, Cabernet is a wine-inspired burgundy shade that`s guaranteed to look absolutely magnificent when paired with walls and accessories containing vibrant gold or soft cream hues.
While this shade is not as intensely warm as some of the other colors in a Tuscan palette, it will still complement your color scheme in the most gorgeous way possible by incorporating a sense of depth and comfort.
12. Patina from Montage Signature
This gorgeously gray neutral shade allows you to take part in the Tuscan decorating tradition of painting walls with light neutral tones meant to be paired with brighter, more vibrant hues.
You can pair Patina with bright pinks or oranges for a heightened amount of contrast, or match with a rusty red shade to create a more traditional look.
While this shade is meant to act as a tie between the stronger colors of the room, you can easily cultivate a softer, more subtle feel by incorporating additional muted shade such as light blues or greens.
13. Spicy Mustard from Glidden
A mustard-colored wall is the ultimate shade to capture the rustic style of Tuscan decorating. Use as your main wall color or for an accent wall to give any room that special something. Contrast with burnt orange or deeply rich purple accents to bring forth a bold sense of liveliness, or pair with an off-white trim to keep things more fresh and subtle. This shade is especially beautiful when paired with darker brown or cream-colored furniture and accessories.
14. Apricot Melon from Prestige Paints
Using an apricot shade for your wall color offers an interesting and modern twist on the traditional orange and blue color scheme that occupies many Tuscan homes.
This warm and subtle shade allows for a better contrast with bright blue and gold hues, creating a gentler and more elegant feel that would for almost any type of room.
This shade would look especially gorgeous when paired with darker colored furniture or terracotta flooring.
15. All About Olive from Glidden
Tuscan style is all about incorporating natural earth tones, and this beautifully rich olive shade is the perfect way to capture the true essence of Tuscan color and emulate the feel of one of Tuscany`s authentic vineyards.
This restive and calming color will effortlessly complement a terracotta backdrop, or you can use it as a main wall color paired with a cream or off-white trim. Olive walls are also a wonderful way to show off any dark or wooden furnishings or accessories.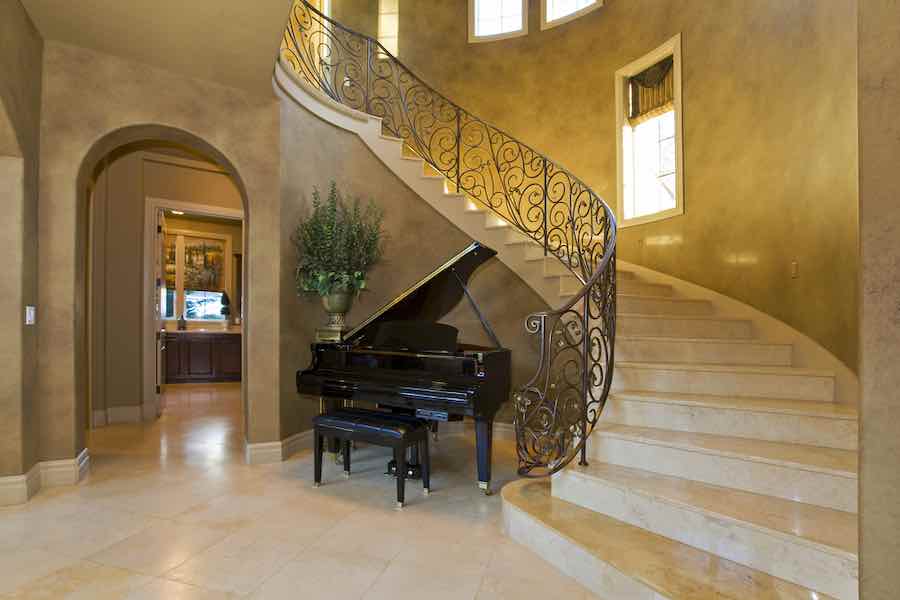 Now that you`ve examined our list and compiled the perfect color palette, you`re ready to harness the rustic beauty of Italy`s most beautiful region and bring an unparalleled sense of elegance and sophistication into your home.
Check out more from DIY Painting Tips to find information on interior and exterior painting as well as inspiration for tons of DIY and home improvement projects! Before you run off to the store, you can even use our handy paint calculator so you don`t waste a single drop.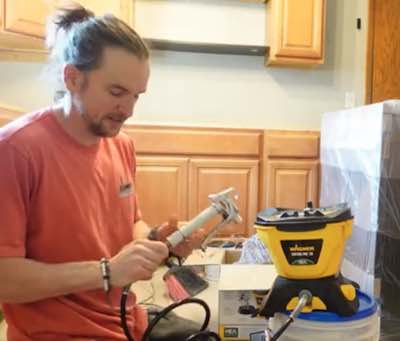 I've been a professional painter since 2001 and spent the last 12 years specializing in kitchen cabinet refinishing. I started the DIY Painting Tips blog in 2015 to start sharing everything I've learned over the years and help all the people who'd rather tackle their painting projects themselves. In 2019 I started the DIY Painting Tips Youtube channel where I publish in depth videos all about kitchen cabinet painting, painting gear reviews, and interior/exterior tutorials.