Staining a deck is one of the most satisfying DIY projects, and it's not hard to do if you're willing to put in the time. The key is picking the right product – because there are many types of stains out there!
Behr Semi Transparent Deck Stain has been around for decades and homeowners love it because of its' reasonable price, great look, and easy application. It also offers great water proofing and wood protection without being too slippery when wet.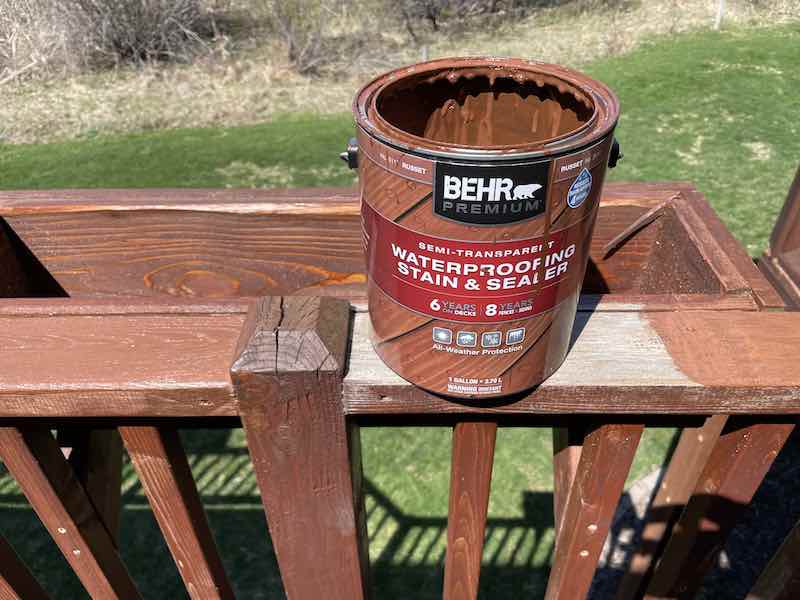 In this post, I'm going to give my honest review of Behr Deck Stain (most notably their semi-transparent version), how to properly apply the stain, and finally, answer some common questions about Behr Deck Stain.
My Experience With Behr Semi Transparent Deck Stain
Behr has had a line of deck stains for as long as I can remember and I've been painting for over 20 years now.
Back in 2010 is when I really started appreciating Behr products, how easy they were to find, and their great pricing. I actually tried out their first version of vinyl safe paint, and it ruined my siding. Behr completely covered the cost of re-siding my home and won me over with how they handled issues.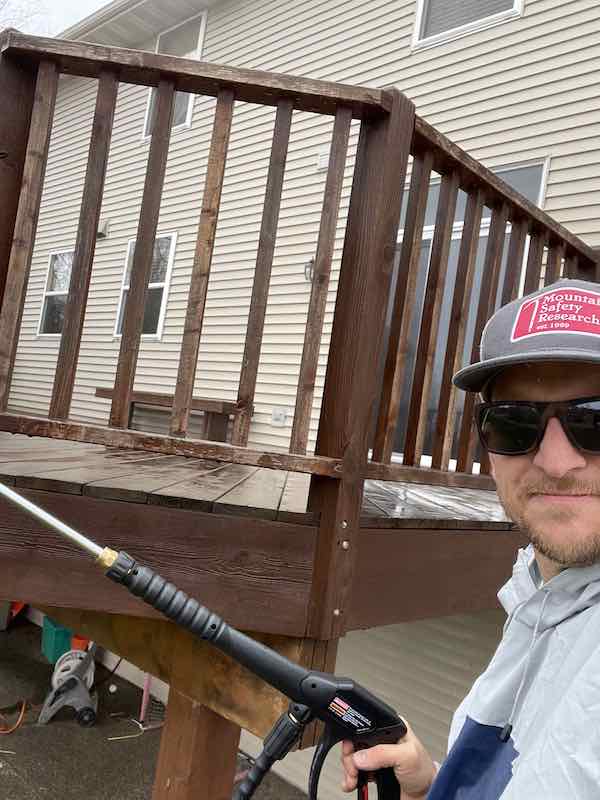 Since then, I have used their interior paints, exterior paints, and deck stains on probably 50% of my painting projects.
I have used their deck stain on probably an average of 10 decks a year for the past 10 years. Not to mention, I am in the middle of a deck where I am using Behr Semi-Transparent deck stain right now.
During this time, I have not had one single call back on my decks.
My deck process is pretty basic. I power wash them clean, wait for them to dry out properly, and then apply 1 coat of Behr Deck Stain to all surfaces.
Occassionally I will apply two coats to horizontal boards on my decks. This is only if the first coat feels like it sucked up the stain and is still thirsty (could use more stain to properly seal the wood).
How Does Behr Deck Stain Look?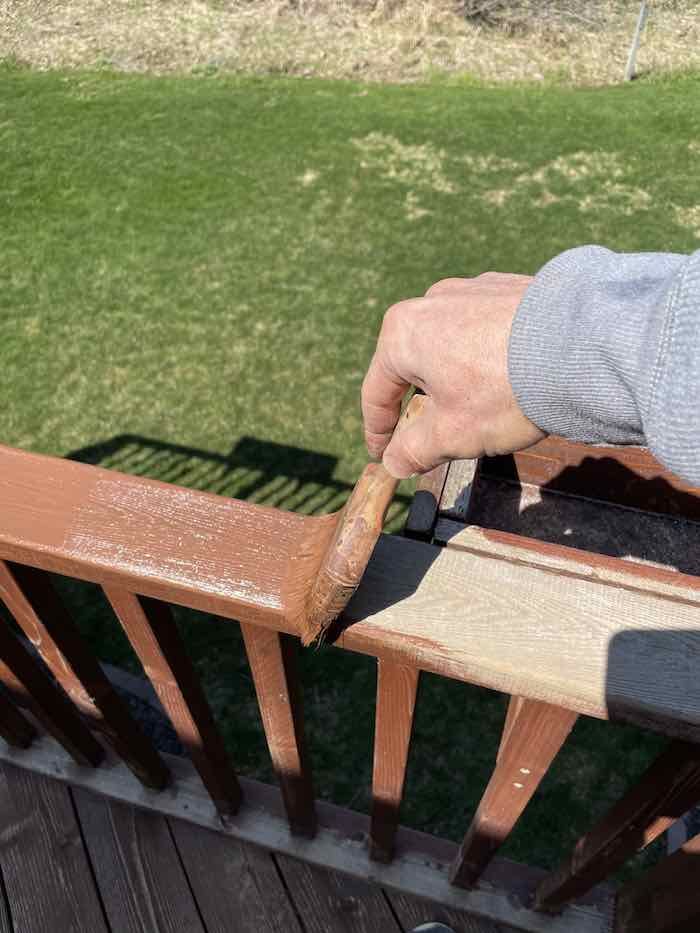 I am also really happy with the look of Behr Deck Stains as well. The look is something that is hard to describe, but some stains look dry and dull, but Behr has a really nice rich finish to it that I really like.
How Well Does Behr Deck Stain Wear?
How a stain wears is also really important. I tell my clients to expect Behr to last them 3-5 years here in Minnesota. We have rather harsh weather and I consider 3-5 years a success on a deck.
But deck stains tend to wear out differently. I want a deck stain that wears evenly, basically it should fade out over time. This way, when I apply a new coat years down the road, it looks even when freshly stained.
Many deck stains will start to peel or wear very unevenly. Peeling means that it never absorbed into the wood and when you apply your new stain, it will look blotchy and uneven.
Differnt Deck Stain Options From Behr
Behr Deck Stain offers an amazing selection of stains in various colors and finishes. We'll take a look at Behr's lineup of products below, along with their features and specs to help you find the best stain for your deck!
Behr Deck Over
Behr Deck Over is a solid deck stain that goes on incredibly thick and is only meant for covering up decks where the wood is in terrible shape.
Deck over will completely hide the wood grain along with imperfecitons on your deck such as cracks, splinters, knots, and gaps.
I only recommend Deck Over in situations where the deck is on it's last leg and an owner is trying to get a few more years out of their deck.
NOTE: I used Deck Over on my deck at my own home. I have 7 kids and 3 pets. I need to re-stain or replace my deck this year, but I got a solid 5 year life out of Deck Over on my deck.
Behr Solid Deck Stain
Behr Solid Deck Stain goes on a lot like paint. It will completely hide the old color of your deck, but still show the wood graining.
Solid deck stains can look really nice and typically last longer than semi-transparent and toner stains.
I recommend using solid deck stain when your old stain is blotchy and uneven, but the wood is still in good shape.
Behr Semi-Transparent Deck Stain
Behr Seme Transparent Deck Stain is probably their most popular option. You get a significant amount of color, while still allowing the character of the wood to show through.
Most deck staining projects I do are with sem transparent stain. If done right, you can keep a deck in great shape using semi-transparent stain for many years.
Behr Toner Deck Stain
In my opinion, Behr Toner Deck Stains look the best. But, they offer the least amount of protection and shortest lifespan.
Toners are great to enhance the natural beauty of your wood deck. I often recommend toners on new decks and decks that have only had toners previously applied.
When Should You Re-Stain Your Deck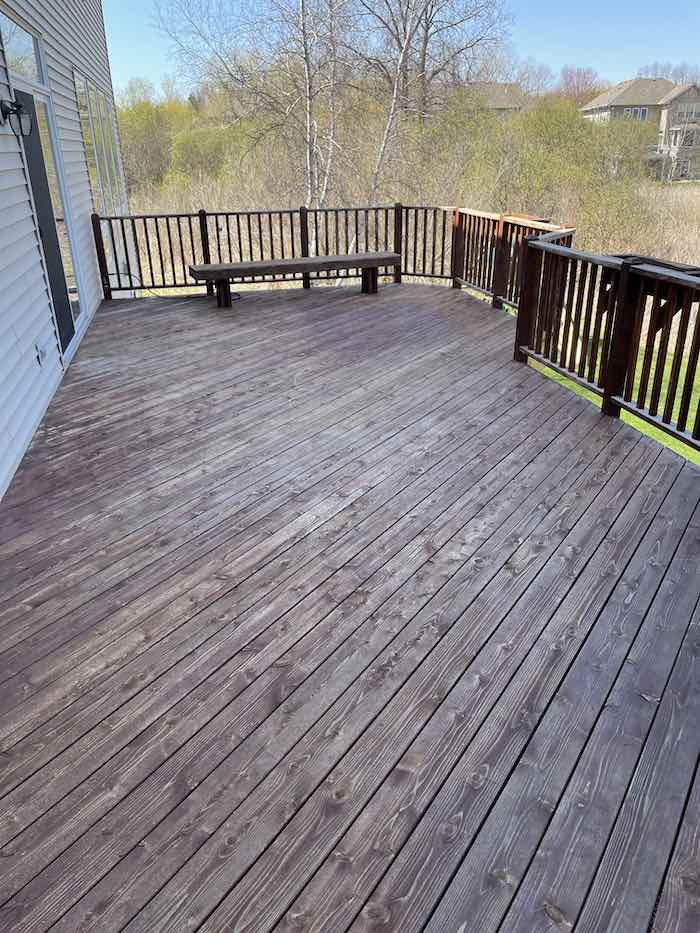 Re-staining your deck before your deck boards become damaged is important to getting a long life out of your deck.
What you want look for when determining if it is time to re-stain your deck is if the previous stain has faded significantly and if your deck is looking dry.
Most of the time, it is painfully obvious that a deck needs to be re-stained as most people typically wait about 1-3 years too long before restaining.
However, a simple test you can perform (though not a perfect test) on your deck is to spray it with a hose and watch if the water beads up, or absorbs into the wood. If it beads up, your wood is still well protected. If it absorbs into the wood, your deck is taking in water and will slowly start to deteriorate.
How To Apply Behr Deck Stain
I am going to quickly share my process for staining decks. Honestly, it's nothing too special, but maybe it will give you an idea or help you save a bit of time.
For more info on deck staining, check out my post How To Stain A Deck.
Clear The Deck Of Furniture, Grills and Other Items
This step is obvious. Get everything off the deck. Don't go around chairs or tables if possible, they will leave marks on your deck.
Clean The Deck
The ideal way to clean a deck is with a pressure washer. I just picked up a new Ryobi 2900 PSI, 2.3 gallon per minute pressure washer at Home Depot.
Pressure washers are great to have around to clean your driveway, siding, playsets, and cars. Ryobi's pressure washers are reasonably priced, have a great warranty, and are pretty nice reliable machines.
I'll be post my review of my new Ryobi here shorty, so check back soon if you want to read my thoughts on it.
If you don't have a pressure washer and don't plan on buying one, you can wash your deck with a scrub brush and Behr Wood Cleaner. Make sure to scrub your deck good and rinse thoroughly when done. This is not my favorite method, but it does work.
Apply Your Behr Deck Stain
Lastly, it's time to apply your deck stain.
I like to start on the exterior side of the railings whenever staining a deck. I go up on a telescoping folding ladder and stain just the back sides of all the railings.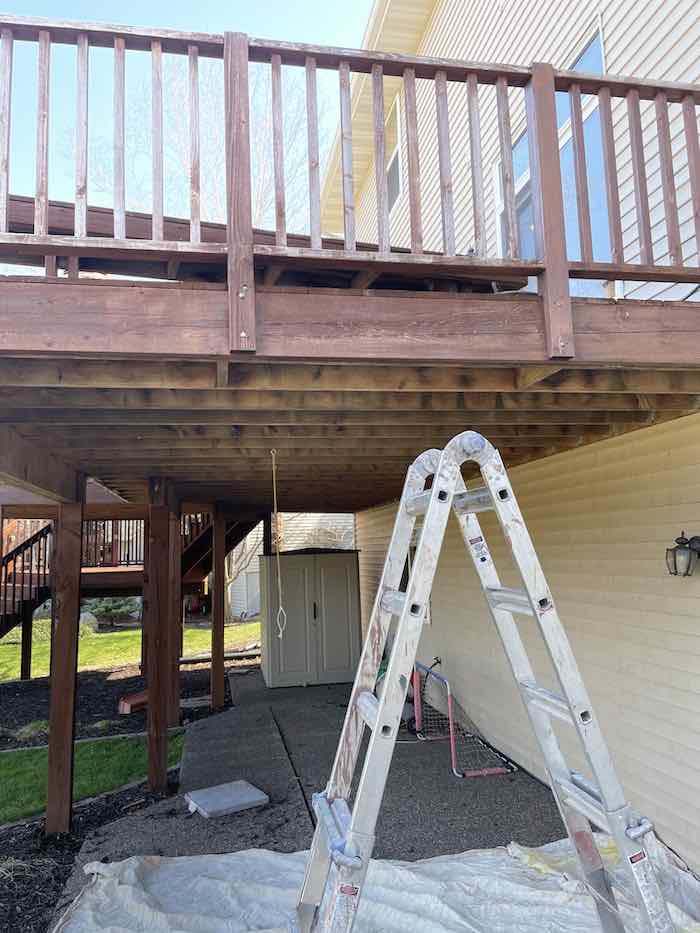 Next, I go up on the deck and finish staining the other 3 sides of the railing while standing on the deck.
After the rails are done, I go back and stain all of the hand rails. Hand rails are a part of the deck that I will sometimes 2 coat if they look like a second coat might be necessary.
Lastly, I finish by staining all of the floor boards. I usually sit down on my butt, put on some music, and brush out the floor boards with a thick 4″ deck staining brush.
If you want to save your back, deck brushes are built to allow you to un-screw the handle and screw in a standard pole (like the pole from a typical broom). This can allow you to stand up while staining the floor boards and not end up quite as stiff and sore. Angled deck stain brushes are perfect for this.
Staining Your Deck With A Brush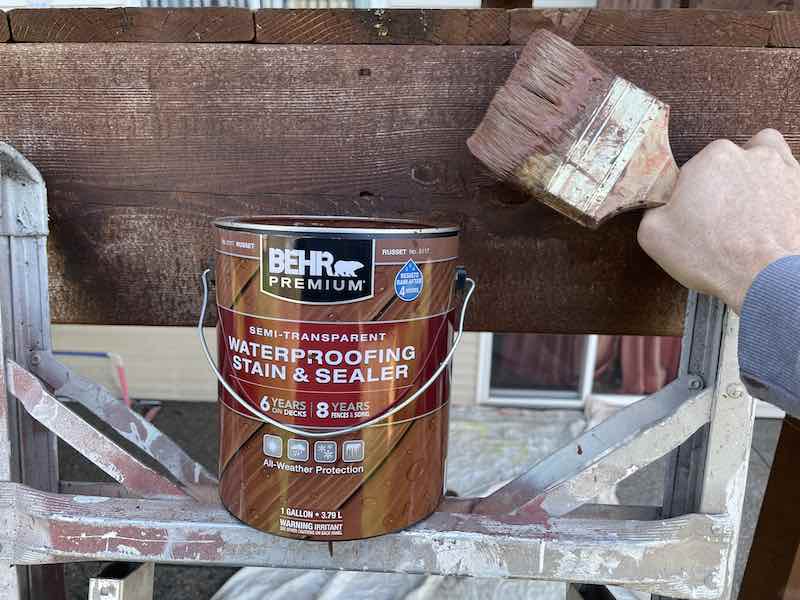 I always apply my deck stains with a thick 4″ deck brush. Deck brushes are made to hold a lot of stain, allow you to apply stain quickly, and allow for the most control (and best finish in my opinion).
Staining Your Deck With A Roller or Pad
There are many deck staining pads and rollers out there that claim they will speed up your deck staining job. But here is my opinion, rollers and pads are only good for deck floors, they are terrible for spindles and rails.
They typically don't apply the stain as smooth as a brush and they will only save you a small fraction of time over a brush on the deck floor, which is already the easiest part of staining a deck.
Staining Your Deck With A Sprayer
Decks stain can absolutely be sprayed, but there are two big problems. First, spraying deck stain outside is just asking to get stain all over your siding, sidewalk, car, or something else. It requires a lot of prep.
I personally only recommend spraying stain on fences, then back brushing the stain into the fence. Fences are slow and tedios, but they are typically away from siding and other areas where over-spray could be a problem.
Behr Deck Stain Colors
Behr Deck Stain FAQ
How To Remove Behr Deck Stain
Removing deck stain is not an easy task. Power washing and sanding are great ways to remove existing deck stain. Behr also makes a chemical stain stripper called Behr Wood Stain and Finish Stripper.
Personally, I like to power wash, then sand the deck with a random orbital sander and finish using Wood Stain and Finish Stripper if needed.
How Long Does Behr Deck Stain Take To Dry
From my experience, Behr Deck Stain is typically dry to the touch in about 30 minutes. It typically needs 1-2 two hours before you can re-coat and 72 hours before full traffic on your deck may resume.
How Long Before Behr Deck Stain Is Water Proof
Behr Deck Stain is water proof within 1-2 hours in normal conditions. High humidity and overcast may cause full waterproofing to take longer.
How Long Before I Can Walk On My Stained Deck
Stained decks should be given at least 48 hours before walking on them and 72 hours for full usage.
Alternatives To Behr Deck Stain
If you're not sold on Behr Deck Stain, don't have a Home Depot nearby, or want to compare some alternatives, here are some other deck stains that I use regularly.
Sherwin Williams Super Deck
Super Deck is another great product for those who have a deck that they want to protect and beautify.
Super Deck offers fantastic defense against weathering, while allowing natural character of the wood grain to show through. It can also be applied to damp wood, so most jobs using SuperDeck can be finished in a single day.
Benjamin Moore Arborcoat
Benjamin Moore Arboarcoat Deck Stain provides great protection against mildew, blistering, peeling, stains and scuffs. It also offers mildew protection and UV protection so your deck looks great season after season.
Cabot Deck Stain
Cabot Deck Stain is another massively popular deck stain that has been around for over 100 years. Cabot is fantastic and I've used it on many decks over the last 20 years and have no problem using it on my clients decks.
Final Thoughts on Behr Deck Stain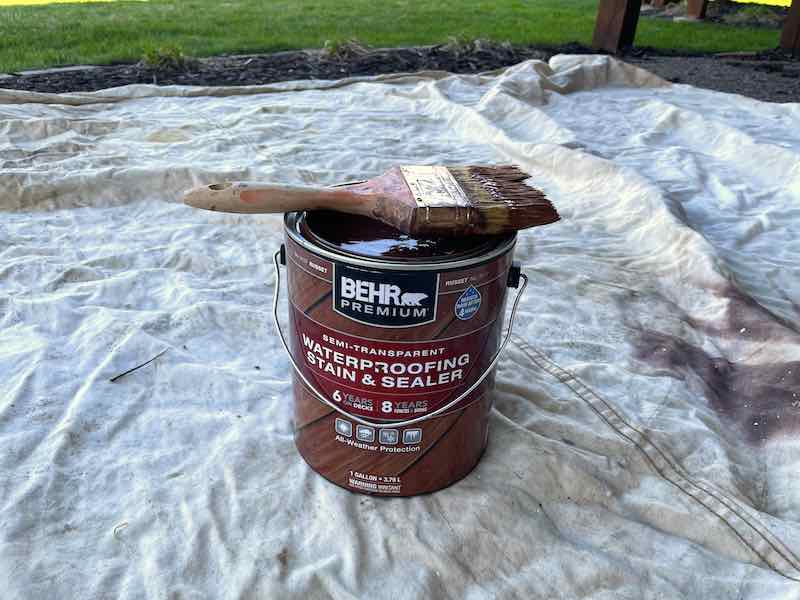 With all of the options out there for deck stain, it can be tough to decide which one is right. I've given you my take on Behr Deck Stain and how I think this product stacks up against other popular brands in the industry.
If you're looking for a deck stain that is easy to apply, looks great and lasts a long time- Behr Deck Stain may be the perfect choice. The company has been in business since 1947 and their products are exclusively available at Home Depot nationwide.
If you have a question about your project or want more information before making your decision, leave a comment below! I make sure to answer every comment.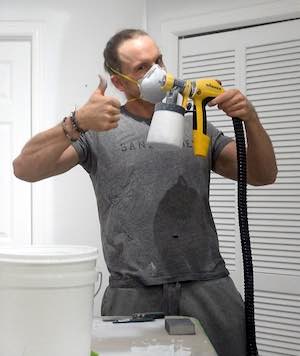 I started painting in 2001 and have seen just about everything in my painting career. I started in production and commercial painting, then moved over to new construction and remodeling during the boom of the early 2000s. Post 2010, I niched down into residential painting where I have done everything from exteriors, decks, interiors, furniture and more. Over the last few years, I've had a focus on kitchen cabinets.
I started the DIY Painting Tips blog in 2015 to start sharing everything I've learned over the years and help all the people who'd rather tackle their painting projects themselves.
You can follow my Youtube Channel where I show you everything that you read about on this site: https://www.youtube.com/@diypainting
You can also hire me directly from DIYPaintingTips.com here: https://diypaintingtips.com/free-painting-quote/
Contact me at: ryan@diypaintingtips.com