Love it or hate it, many homes have the traditional popcorn ceiling texture, its cheap and it does the trick. What many people don't realize is that spraying this texture is actually incredibly easy and a perfect project for any DIY Painter.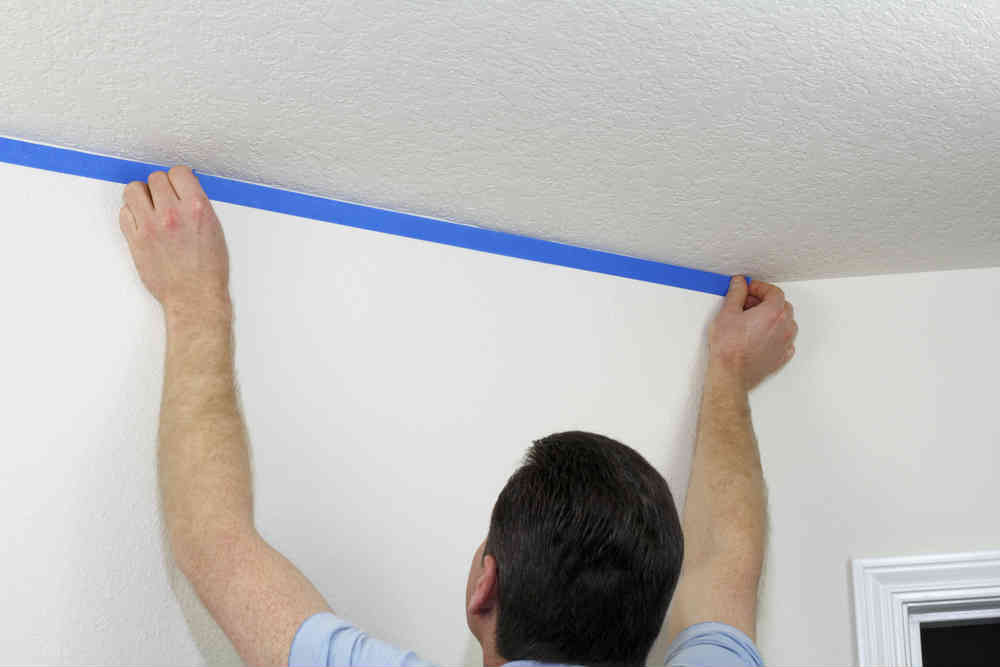 Whether you have to do a small repair, a whole room or even a whole house, spraying popcorn ceiling texture is all about keeping a steady arm and a consistent texture mix.
The best part about this project is that it's actually quite cheap to do as well. All it requires for purchase is a bag of ceiling texture mix, prep materials such as plastic and tape and finally a texture sprayer.
A quick note about texture sprayers. For the DIYer, I recommend the Wagner Power Tex Texture Sprayer. The reason for this is that it is a compact all in one unit that does exactly what it says it will do and it doesn't cost a fortune (usually around $80 – $90). I prefer this over texture hoppers that require air compressors because they require compressors with a really high CFM. Even if you have a large compressor, do you really want to haul it into the house?
Tools & Materials
Bag of Popcorn Ceiling Texture
Spray Can of Primer
Step 1: Prepare Your Work Area
The first step in any project is to prep your area and make sure it is ready for your project. Start by removing everything from from the room. This includes furniture, wall hangings, everything possible.
Next, I like to set up an area with all of my work tools set neatly out and organized. This helps me make sure I have everything I need for my project before I get started and helps me keep track of all my tools and materials during the project.
Step 2: Cover Your Walls
Spraying popcorn texture is incredibly messy, unless you plan on repainting your walls when you are finished, you will want to cover them 100%.
The easiest way to cover your walls is to start with a roll of 2″ low tack tape (such as Frog Tape Delicate Surface). I use low tack because this tape will be applied directly to your wall and you don't want it to pull any paint off your wall as you remove it. Rip off a 2′ piece of tape and place it on the wall right where it meets the ceiling. You will want the tape perfectly in the corner where the wall meets the ceiling. Next, press the top 1/2 inch of the tape firmly to the wall trying hard to make sure the bottom 1″ of the tape is loose (we'll be attaching plastic to this next). Run the tape around all of the walls in the room you are working on.
Now, take your painters plastic and pull out enough to go all the way around the room you are working on. Unfold the plastic and carefully attach the top of the painters plastic to the bottom 1″ of the painters tape that you just ran around the room. Pull the plastic down your walls and make sure it goes all the way past your base trim.
Step 3: Cover Your Floors
When spraying ceilings, I prefer not to use regular canvas drop cloths to cover the floors. So much texture falls to the floor and makes a mess that I prefer to cover the floors with a plastic drop cloth that can be rolled up and thrown away when done rather than trying to clean off my drop cloths.
To make sure that no portin of your floor is left uncovered, lift up the plastic that you have hanging from the walls and run another strip of tape on top of all of the baseboard in the room you are working on. Pull out another large sheet of painters plastic and this time pull out the plastic and use it to cover the floors. Attach the edges of the painters plastic to the tape you just ran around the room on the baseboard to keep if from moving around while you work. You must make sure to not pull the plastic too tight as you tack it to the tape or this will cause it to rip and tear. Make sure it is loose to prevent this.
Step 4: Preparing The Ceiling For Sprayer
Make sure your ceiling is 100% ready for ceiling texture before spraying. A few tips:
Popcorn texture won't cover up a rough ceiling. Make sure your drywall work is good and smooth.
If you are doing repairs, make sure any loose texture has been removed. Otherwise once you start spraying, the old texture can become loose and start falling off.
If you are repairing water damage, make sure to prime the damaged areas with an oil based primer.
Step 5: Prepare Your Texture & Sprayer
Depending on how big of an area you are spraying, you will want to prepare enough texture for the entire job at once. I like to mix my ceiling texture in a 5 gallon bucket and a mixer that attaches to a drill for easy mixing.
Keep adding water to your mix until your popcorn mixture is runny, but not quite to a watery texture. It cannot be too thick or it will not spray out of your texture sprayer, if it is too thin it will splatter on your ceiling. A good idea is to start with a small batch and do a few sample sprays on a large piece of cardboard.
If you are repairing a spot on an existing ceiling, make sure that your new texture matches your old texture. Typically texture comes in coarse, medium and fine.
Step 6: Spray The Ceiling
Now that your room is prepped and your texture is ready to go, it's time to finally spray on your popcorn texture.
Just like spraying with paint, spray your texture in long even strokes that overlap by roughly 50%. Start each stroke about 12″ before the area you plan on spraying and finish each stroke about 12″ after the area. This will help to blend the area in.
While you are spraying, you arm will likely become exhausted very quickly as it is not used to this type of work. Use a small step ladder to get yourself closer to the ceiling and converse energy in your arm.
If you are trying to repair a small area in the middle of a ceiling, spray the new texture out 2-3′ into the old texture to help blend the old and new together.
The real trick is finding a balance where your texture isn't too thin or too thick. The best way to do this is to practice on a piece of plywood or cardboard before working on your actual project. You can spray and re-spray this piece until you find the perfect amount of texture that you are looking for.
Step 7: Cleanup
If you properly prepped your work area, then cleanup should be easy. Simply remove your tools, wash your texture sprayer and wrap up all of your plastic into a big ball. Hopefully after you pull your plastic there won't be any areas that were missed!
More Info
Check out our guide on How To Paint Popcorn Ceiling Here.
Need more help? Check out our Drywall Resouce Page for all things drywall.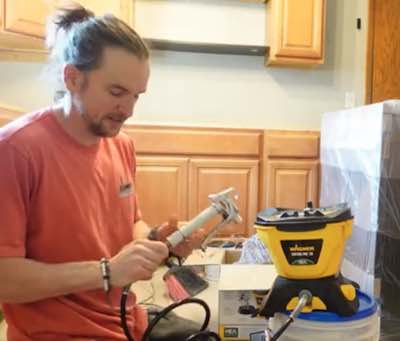 I've been a professional painter since 2001 and spent the last 12 years specializing in kitchen cabinet refinishing. I started the DIY Painting Tips blog in 2015 to start sharing everything I've learned over the years and help all the people who'd rather tackle their painting projects themselves. In 2019 I started the DIY Painting Tips Youtube channel where I publish in depth videos all about kitchen cabinet painting, painting gear reviews, and interior/exterior tutorials.