Whether it's from cooking, spider webs, old paint jobs or something else entirely, ceilings get dark and dirty and need to be repainted. You may not even notice that your ceiling has been yellowing or browning over the years, but odds are, it's not the bright white it started as years ago.
Painting a ceiling can brighten up a room significantly making it feel bigger, cleaner and even help the overall mood of the room.
While you may not have thought about it before, painting popcorn ceilings can acutally be quite a challenge. From texture falling off, to lines in your finish and even paint drops all over the place, it can be quite easy to make a mess of things if you don't know what you're doing.
I'm going to show you how to properly paint your popcorn ceiling so that you end up with a great finish and complete the project in as little time as possible.
Article Index
Tools & Materials Needed
10 Steps To Painting A Popcorn Ceiling
Step 1: Gather Your Materials and Set Up Your Workspace
The first step in any paint job is to gather all your materials and set up your workspace. It's actually a lot like cooking, you don't want to start your job only to realize you don't have everything you need.
A few notes about materials needed:
I like to clear a space where I can place a 4' x 5' canvas drop cloth and lay out all of my tools any materials on the drop cloth. This allows me to stay organized and make sure that I have everything I am going to need.
For prepping off walls and furniture, I like to use 12' painters plastic. This length allows me to prep off nearly any wall that I run into plus have an extra foot or two to pull out onto the floor.
The last item to note is the 3/4″ nap Golden Eagle roller cover. This is a very specific roller cover I use for ceilings. The thick 3/4 nap means it is thick enough to hold plenty of paint and fill in around all of the thick texture. It also rolls evenly and the knitted polyester doesn't pull off the popcorn texture as you paint.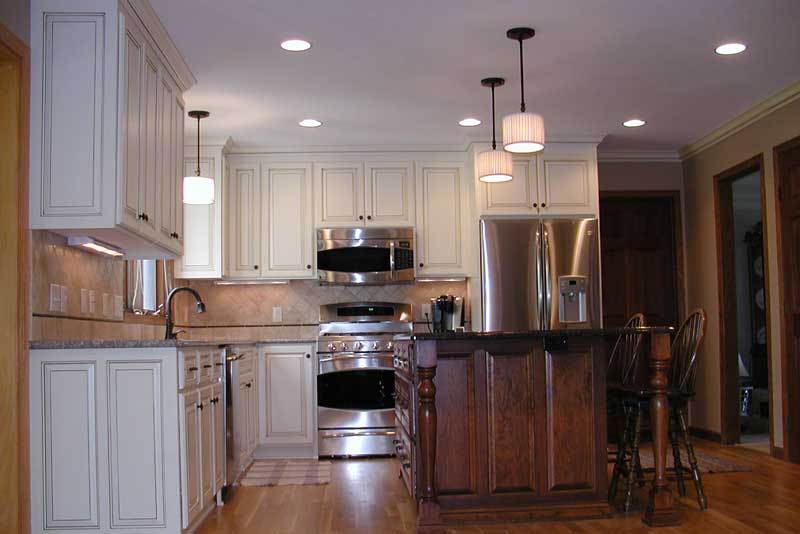 Step 2: Prep Walls, Floors and Furniture
Furniture
To prep your walls floors and furniture, start by making sure you room is clean and clear of everything you can possibly remove from the room. If furniture is unable to be removed, place a drop cloth in the middle of the room and place the furniture on the drop cloth. Next, cover the furniture with your 12′ painters plastic and tape the edges down to the top cloth to make sure they don't come up during painting.
Walls
If you plan on repainting your walls after you finish painting your ceiling (which I recommend if possible), then you won't need to prep off any of you walls, just run some plastic over any windows and doors. To do this, cut out a square of plastic that expands over the window / door at least a good foot in every direction. Take your tape and run a strip of tape along the top of the plastic over the window. Once the top is taped, tape down each corner of the plastic so that it is tight and won't allow paint drops to access the window.
If you don't want to paint your walls after painting your popcorn ceiling, you will need to prep off your walls. To do this, I start by running a strip of tape along the walls right where the wall meets the ceiling. Go ahead and press this firmly against the wall. Make sure to use 3M's Low Adhesion Masking Tape so that you don't damage the walls when you are finished. Next, take your 12′ painters plastic run it along the piece of tape you just taped on the wall next to the ceiling. Place a small piece of tape very 1-2 feet to keep the plastic in place. Once you have gone around the entire room you can go back and run a long piece of tape to connect your plastic to your first piece of tape.
Floors
After the furniture and walls are all covered, you will need to prep off the floor. You can do this in a few ways. If you have enough drop cloths, you can use these and cover your floor, make sure no flooring is showing, painting ceilings can be pretty splattery! Another option is to use your box of painters plastic to cover the floors. I often time use painters plastic and use pieces of tape to tape the edges of the plastic to the trim around the room to keep it in place. You will have to be gentle when walking on the floor to keep from ripping the plastic though.
Back To: Tools & Materials Needed
Step 3: Prep The Ceiling For Painting
Now that your walls, floors and furniture are all covered, this is the time to check and see if you ceiling needs any repair. I'm not going to cover major drywall and taping repairs here, but if needed, now is the time to complete these projects. If you just need to patch some popcorn texture to cover up small blemishes, then Popcorn Ceiling Patch by Zinsser is perfect. Popcorn Ceiling Patch is ready mixed ceiling texture you can brush or knife on to fix any small blemishes.
This is also the time that you should plastic off any light fixtures on your ceiling. Start by running your masking tape about the part of the light that is attached to the ceiling. Next, cut out a large piece of plastic and attach it to the tape already on the light. Wrap the plastic and tape it shut so no paint sneaks in and gets on your light.
Step 4: Paint Edges & Around Lights With Brush
When you are ready to paint, the first thing I recommend doing is going around the edges of room with a brush and your ceiling paint. Your roller won't be able to get into the small edges, so a nice 3″ paint brush is perfect for this step of the project. Use your brush and work the ceiling paint into all the edges between the wall and ceiling, I like to brush the paint out about 2″ from the wall.
This will also paint over any old "whoops" paint spots on your ceiling where you may have gotten paint on the ceiling the last time you painted the walls.
Once all the edges are painted out, use the same brush and brush the ceiling paint around any light fixtures. Again, I like to paint out about 2″, this gives me just enough room to get close with my roller later on.
Step 5: Roll Ceiling First Coat in North / South Direction
Once you have completed your edge painting, it's time to start rolling some paint onto the popcorn ceiling. Get your paint and roller set up, hopefully you are using the Golden Eagle roller cover I recommend (it's perfect for this project!).
I also highly recommend using a 2′-4′ or 4′-8′ extension pole depending on your height and your ceiling height. This will save your arms, neck and back as well as drastically speeding up your painting project. Also, by using an adjustable extension versus a fixed length extension, you give yourself the ability to get the perfect length for your body.
On your first coat, you want to make sure to have all of your roller strokes going in the same direction. Make sure to fully cover all areas on the ceiling and go slow as to not create a lot of splatter. This will take a while and will most likely tire out your neck, shoulders and arms, even with an extension pole.
When rolling, I like to overlap about 50% on each stroke. This ensure's even paint on the entire ceiling.
Another note when rolling, don't press the roller too hard into the ceiling (or any surface when painting), this will flatten your roller over time and minimize the amount of paint that it is able to hold. Ideally, keep your pressure against the ceiling light and allow the centripetal force to move the paint out of the roller and onto the ceiling. Centripetal Force:
Of course, if you ceiling was in pretty good shape, it may only need one coat. If that is the case make sure your one coat looks good to avoid roller lines.
Back To: Tools & Materials Needed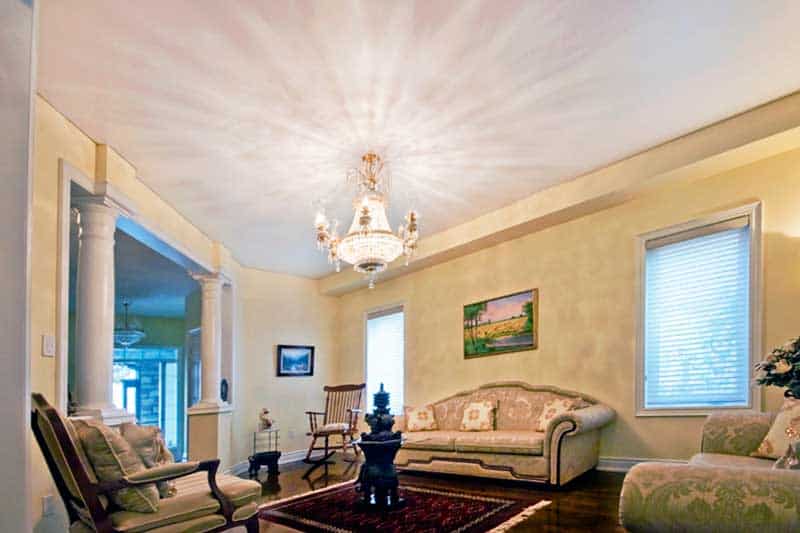 Step 6: Allow All Paint To Dry
Here is some entertainment to pass the time:

Step 7: 2nd Coat Cut All Edges & Lights With Brush
If a second coat is needed (personal note: I almost always do a second coat. If you have already gone to this much work, do the second coat and make it look perfect!), then go back and repeat step 4, cutting in around the edges and light fixtures.
Step 8: 2nd Coat Roll Ceiling in East / West Direction
When you roll out your second coat, you will want to change directions from your first coat. By doing this you greatly reduce the chances that you have any lines in your final finish. So, if you went North / South on your first coat, make sure to go East / West on your second coat.
Step 9: Check For Imperfects & Touch Ups
Now the ceiling should be done, but before your pull your prep down and clean up your tools, look over your project really close. If you find any imperfections, now is the time to fix them since you still have everything set up. If you clean everything up and find an issue later on, odds are you won't want to get your tools out again and you will let it slide.
Step 10: De-prep & Cleanup
Your ceiling should now look great, but before you go and pull down all your plastic and prep, give everything an hour to dry. If you pull down the prep right away, you may have wet paint on the plastic and get paint on your floor or furniture.
Summary
Congratulations, you painted your popcorn ceiling! Hopefully the project looks great! A nice freshly painted ceiling adds a lot of brightness to a room!
Back To: Tools & Materials Needed