As one of the most-used spaces in the home, bathrooms are prime places for DIY projects aimed at making interior improvements. Among the DIY projects that can be tackled fairly easily is painting cabinets in a bathroom.
And when we say painting cabinets in the bathroom, that's just what we mean. It might be tempting to take down bathroom cabinets for painting, but there's no need to add that extra step to your DIY project.
Read on to learn how to paint cabinets in a bathroom, including your vanity cabinet. In addition to a tutorial on the process, you'll also find answers to frequently asked questions about painting cabinets in a bathroom.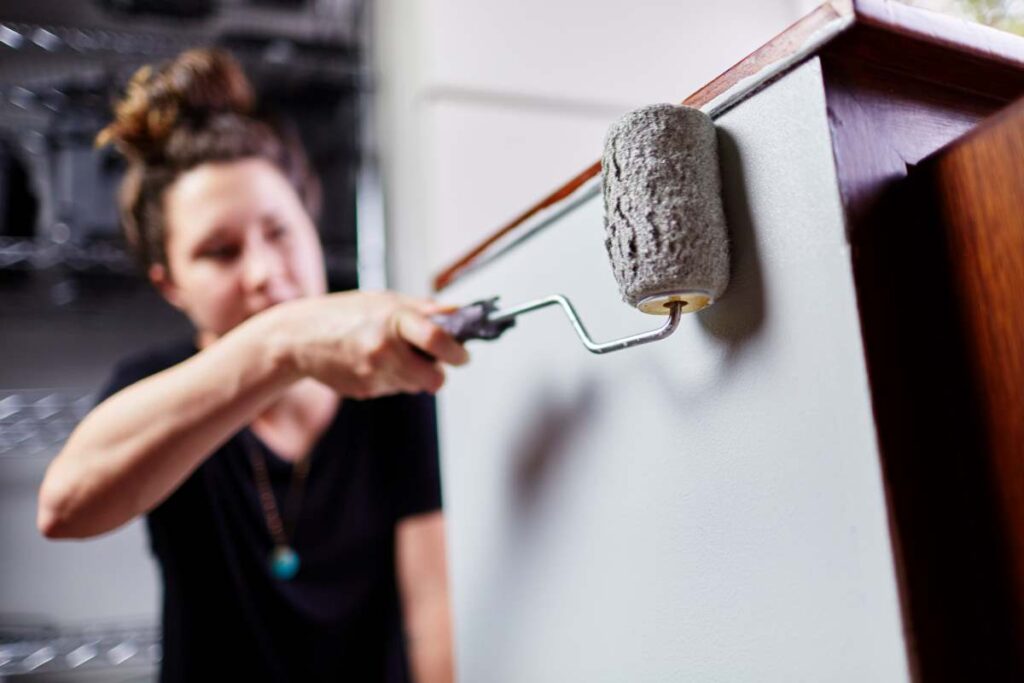 ---
Why Leave Your Bathroom Cabinets in Place for Painting
OK, sure, there are arguments for removing cabinets from your bathroom before painting them. Taking your medicine cabinet out to your back porch, or detaching your vanity cabinet and sliding it outside, move any potential messes outdoors.
But, removing your bathroom cabinets requires that they be reattached once they've been painted. And that means reattaching them through the same holes originally drilled for their placement. In the process of detaching and reattaching, those connection points can be weakened, potentially making your cabinets less stable.
That's not to say you shouldn't do some disassembly before painting cabinets in a bathroom. Removing doors and drawers for painting elsewhere will, in fact, ensure a more professional-looking job.
---
Safety Rules for Painting Cabinets in a Bathroom
Because your bathroom is a relatively confined space, you'll need to be particularly mindful of the potential for paint, primer, and other noxious fumes to build up and present a danger to your health.
To keep that from happening, open whatever windows you have in the bathroom or nearby. If there are no windows in your bathroom, place a fan immediately outside the door. Ensure that it is blowing air away from the bathroom before you start work.
For further protection from paint and other fumes, a respirator is recommended safety equipment for painting cabinets in a bathroom. It's also a good idea to wear clothing that covers your body to avoid getting paint or other liquids on your skin. Protective goggles for your eyes are another good idea.
---
How to Prepare the Bathroom for Painting Cabinets
Once you have safety gear squared away for painting cabinets in a bathroom, it's time to prepare the bathroom itself for your DIY project.
First, take everything out of the cabinets and store it elsewhere temporarily. Then, spread drop cloths across the bathroom floor to protect it from paint drips or spills.
Finally, use painter's tape to mask off any areas adjacent to your cabinets that you don't want to paint. For example, you should apply painter's tape to the wall where it meets your cabinets, and to the underside of your vanity top, to avoid messes.
Remove Drawers and Doors
The next step in painting cabinets in a bathroom is to remove the doors and drawers from the cabinets. To remove drawers, pull them out until they stop moving, then tilt them downward to get them off their guide rails. Once the drawers are off the guides, just pull them straight out.
Be sure to mark each door and drawer with painter's tape and a number, or code of some kind, so you can return them to the correct spot after painting.
At this point, particularly if space is at a premium in the bathroom, you might want to take the doors and drawers elsewhere. If the weather is nice, take them outside. Once you've decided where you'll keep your drawers and doors, remove the hardware.
Place the hardware in plastic baggies or other containers. Remember to mark the containers so you'll know where the hardware should be reattached once the work of painting cabinets in a bathroom is done.
If you plan to replace any hardware, it's easiest to make sure the new hardware will fit in the holes for the previously installed hardware. If your new hardware isn't the same measurement as your old hardware, you'll need to fill in the old screw holes with wood filler.
Place wood filler in both sides of any screw holes that go through the wood. Let the filler dry and sand it down before painting.
---
Removing Old Paint from Bathroom Cabinets
Unless the old paint is peeling, flaking, or bubbling, there's no need to use a chemical stripper before painting cabinets in a bathroom.
On a related note, there's also no need for stripping if you notice what is called tannin bleed-through in the old paint on your cabinets. Tannin bleed-through occurs when oils in the cabinet wood leach into the paint. Bleed-through can be concealed effectively with primer during the cabinet painting process.
If you do need to chemically strip old paint while painting cabinets in a bathroom, make sure the area is well-ventilated. Also, be sure to wear a respirator and other protective gear. When choosing a paint stripper, try to find one without methylene chloride or N-methylpyrrolidone (NMP).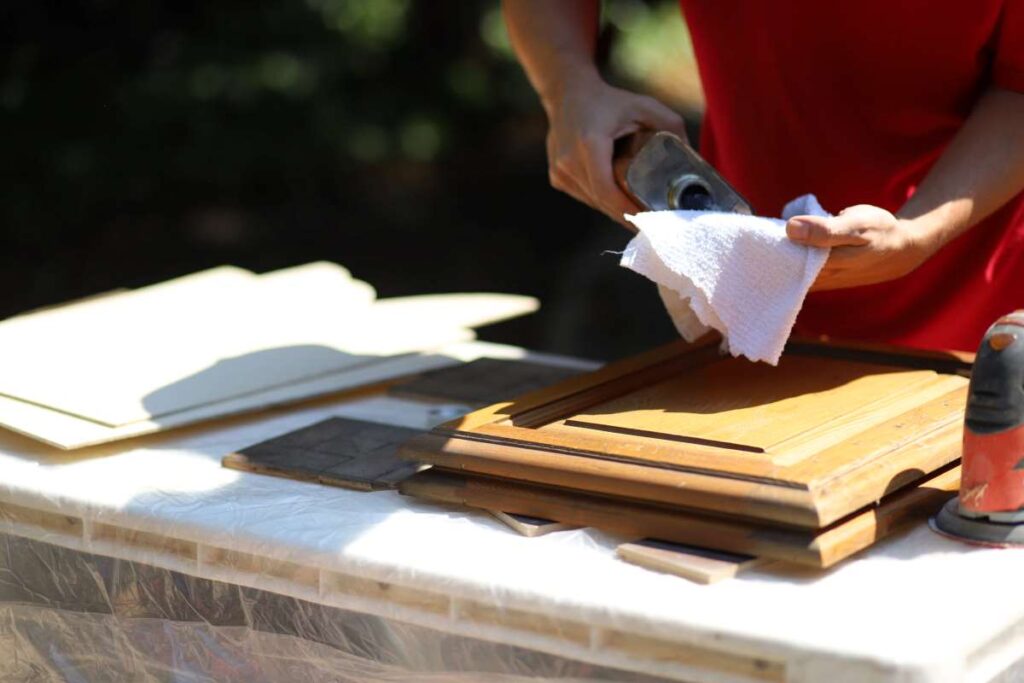 Sanding
It's certainly possible to sand the surfaces of your cabinets, doors and drawer fronts by hand when painting cabinets in a bathroom. But you really should consider buying a power sander for the work.
Whether you use a power sander or do the work by hand, start with 120- to 150-grit sandpaper to remove old paint. Once you've sanded off the paint, go over the cabinets and their components with 220-grit sandpaper.
If you're installing unfinished cabinets in place of your existing cabinets, you'll need only to sand them once with 220-grit sandpaper.
After you've finished sanding, go over the cabinets and components with your vacuum cleaner, using its dusting brush attachment. Next, in your prep work for painting cabinets in a bathroom, go over the cabinets, drawer fronts, and doors with a damp cloth.
Finish your prep work by going over the cabinets with a tack cloth.
---
How to Apply New Paint to Bathroom Cabinets
Finally, it's time to paint your cabinets. Like all painting projects, the first step is priming the cabinet surfaces to make sure the paint will adequately cover them. Read on for guidance on the best way to prime and paint your bathroom cabinets.
Priming
Because moisture is an issue in bathrooms, don't use a water-based primer (also called latex primer) on your bathroom cabinets. Instead, choose an oil-based primer or shellac as moisture protection.
Apply the primer with a paint roller, using a natural bristle paint brush to reach into any recessed areas or corners.
Apply two coats of primer to cabinets that are being repainted. A single coat should be sufficient for unfinished cabinets.
Painting
Just like you did when priming, you can use a paint roller for most of the work when applying paint to your cabinets. Also as with priming, you can use a brush for getting into corners and other hard-to-reach areas.
You can use either oil-based paint or latex paint on your cabinets. But if you choose latex paint, be sure it is mold- and mildew-resistant. Generally, oil-based paint is the best choice, but latex paint dries faster and contains fewer volatile organic compounds, a health concern for some people.
When painting cabinets in a bathroom with oil-based paint, use a roller made with natural fiber, a polyester blend, or wool. With latex paint, use a synthetic roller.
For detail work with oil-based paint, use a natural bristle brush. When using latex paint, use a synthetic brush for detail work in corners and other tight spots.
---
How to Paint Cabinets in a Bathroom Frequently Asked Questions
Even with the details provided so far, it's possible that you may have some remaining questions about painting cabinets in a bathroom. Read on for answers to a few frequently asked questions that go beyond the basics of painting cabinets in a bathroom.
What paint sheen is best for painting cabinets in a bathroom?
Before getting into the specific question here, let's take a quick look at what is meant by a paint's sheen. Briefly, sheen is a reference to the amount of light reflected by the paint. There are five levels of sheen. From lowest to highest reflectivity, the sheens are flat, eggshell, satin, semi-gloss, and gloss.
Generally speaking, the higher the paint sheen, the more durable the paint. Also, generally, the higher the paint sheen, the easier it is to clean. A glossier paint sheen will protect your bathroom cabinets from mold and mildew better than lower-sheen paints.
Semi-gloss paint is a great choice for bathroom cabinets, although satin and gloss sheens can also work. You should know, though, that higher-sheen paints will show defects more clearly than lower-sheen paints, so be careful when applying them to your cabinets.
Some flat and eggshell paints provide protection to surfaces. However, unless you're going for an understated or rustic look in your bathroom, it's probably best to avoid those sheens.
Is chalk paint a good option for bathroom cabinets?
In recent years, low-sheen chalk paint has become a popular DIY choice for rustic looks. One reason is that chalk paint can be applied with minimal preparation of the surface to be painted. Chalk paint can even be applied over existing paint after just light sanding.
Can dark colors work on bathroom cabinets?
It's not a good idea to paint entire bathrooms in dark colors because they will make an already relatively small space seem even smaller. However, your bathroom cabinets should be darker than your bathroom walls. Just exactly how much darker will, of course, be up to you.
On that point, it's perfectly OK to go with very dark colors on your bathroom cabinets, particularly to get a sufficient contrast with your bathroom walls. Shades of gray, gray-green, or beige are worth considering if you'd like to move beyond white and other traditional light colors.
---
Wrapping up How to Paint Cabinets in a Bathroom
As you've learned, while painting cabinets in a bathroom has some challenges, it is certainly a reasonable DIY project. As a bonus, it's an inexpensive way to give your bathroom an updated look.
But of course, painting cabinets in a bathroom isn't the only easy and inexpensive way to improve that space.
Check out other posts at DIY Painting Tips for help with everything from painting your bathtub to quick bathroom update projects. And as always, have fun with your DIY projects!