Looking for exterior paint colors to update your home or add some fresh new curb appeal? In this list, you'll find 21 of the most popular Benjamin Moore exterior paint colors for 2023, tips on how to decide which one is right for your home, and color ideas to pair them with.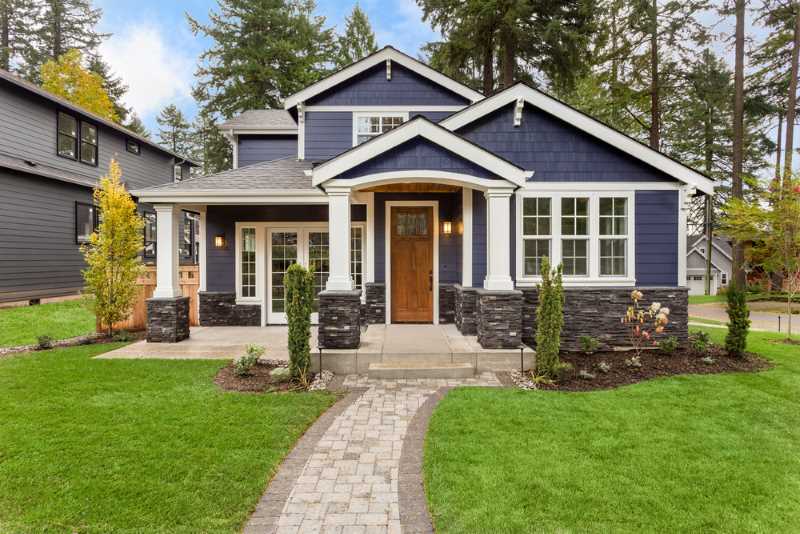 Whether you want to freshen up existing colors or create a whole new style, changing your exterior paint color is a great way to change up the look and feel of your home without doing major renovations. Keep reading to get some inspiration for your exterior painting project.
How to Choose the Perfect Benjamin Moore Exterior Paint Colors
There are many color options out there and it can be hard to decide which one will be right for your home's exterior. When choosing an exterior paint color for your home, think about the other colors in your neighborhood. What colors are on the other houses? What colors do you see in nature on your block? You'll want to choose something that complements the other homes in your neighborhood and the natural landscape around you.
Don't forget to think about accent colors for things like shutters and doors. You'll want to create a whole color scheme that blends well and isn't overwhelming. Depending on the style of your house, a maximum of 3-5 colors usually works well. Start by choosing the main color in a shade that will look amazing and enhance your home's curb appeal. Next, choose complementing colors that bring out the unique features of your home and match your personal style.
Gray Benjamin Moore Exterior Paint Colors
Gray has been a popular color for a few years now. Gray can be either warm or cool depending on the shade you pick and what undertones it has. All grays have undertones that can make the color look quite different depending on the light and what colors it's paired with. When choosing gray paint colors, you'll definitely want to try a sample to make sure it's the right shade for you.
One of the great things about gray is that because it's so neutral it's easy to coordinate with other colors. Gray complements most classic roof colors and it's a great background for adding bolder colors like a bright red front door. Gray also hides dirt well so it's easy to maintain as an exterior paint color and looks great without a lot of upkeep. Keep reading to find the perfect shade of gray for your exterior.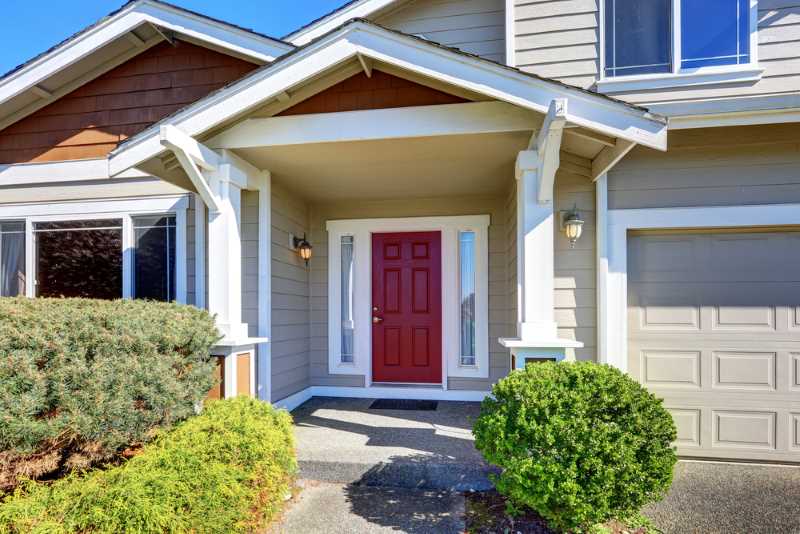 Revere Pewter
This popular shade is a warm gray with beige undertones. In the right lighting it even has a hint of green undertones giving it an earthy look. If you have a lot of evergreen trees surrounding your home this can really bring out the green undertones. Pair Revere Pewter with light blue or white for a bright and fresh look, or use greens and browns to bring out the earth tones.
Chelsea Gray
Chelsea gray is a medium-toned warmer gray with a slight green undertone. It's a great choice for an exterior paint color if you want to go darker without getting too dark. It's beautiful on siding and also looks great on trim and shutters. Warm and muted Benjamin Moore exterior paint colors are complementary accents to go with Chelsea Gray.
Amherst Gray

This darker gray is slightly warm with barely noticeable undertones of green. It looks like a true gray most of the time. Amherst gray looks fantastic next to lighter gray stonework or brick. If you love the color but don't want to paint your whole house with this darker shade, try it as a front door or trim color.
Kendall Charcoal

Kendall charcoal is a creamy, dark, slate gray shade. It has subtle undertones of brown and green that usually aren't very noticeable making this a very neutral shade of gray. Incredibly versatile, Kendall Charcoal pairs well with many colors including vibrant shades and other neutral colors.
Cape May Cobblestone

Cape May Cobblestone is a medium gray with taupe undertones. In the right light, you'll also see some blue undertones. It has a light reflectance value (known as LRV) of 39.53. It looks great on trim with brushed gold or matte black hardware. If you like medium to darker Benjamin Moore exterior paint colors, try it as your main exterior paint color.
Sag Harbor Gray
Part of Benjamin Moore's historic color collection, Sag Harbor Gray is an elegant and timeless warm gray with undertones of brown and green. Pair it with moss or sage greens to bring out the earthy tones, or use creamy whites for a brighter look.
Boothbay Gray
Boothbay gray is a medium gray with lots of blue undertones. It has an LRV of 43.16. Pair it with cool colors to bring out the blue or pair it with warmer paint colors to tone it down. Boothbay gray looks striking with cool white trim, or use it as the trim color with a lighter cool gray as the main color.
Copley Gray

If you're looking for a darker greige color, check out Copley Gray. This medium gray with taupe and green undertones is part of Benjamin Moore's historic color collection. It's a rich warm color that looks great with darker gray accents or pops of color.
White, Ivory, and Taupe Benjamin Moore Exterior Paint Colors
White, ivory, and taupe are classic color choices that work well with many different home styles. These neutral colors are the perfect base for adding in bright colors, or for embracing nature with wood accents and incorporating shades from the landscape around your home.
White shades can give your exterior a bright, fresh, and clean appearance while taupe feels warm and natural. Bright whites create an inviting atmosphere and can make your exterior spaces, such as a porch, feel bigger. Ivory and taupe shades can be warm and cozy and pair extremely well with earth tones.
Swiss Coffee
Swiss Coffee has a high LRV of 83.93. This off-white shade is creamy and warm without feeling yellow. It's light and bright but still feels warm and homey. It pairs well with warm grays and rich colors as accents.
Olympic Mountains
Olympic Mountains is a lighter shade of beige that is almost white. It has gray undertones and looks good paired with pretty much everything. Use it as your main exterior paint color for a bright, fresh look. It's a classic, timeless color that won't go out of style any time soon.
White Heron
This soft white paint color looks white without being stark. While many white paint colors have strong undertones, White Heron usually just looks white. It has very subtle undertones of yellow and gray that give it warmth and softness. It's a classic, clean white that looks great on all types of houses.
Fairview Taupe
Another member of Benjamin Moore's historic color collection, Fairview Taupe is a deep rich brown shade of taupe. It looks great as a main exterior color on homes surrounded by nature. If you have a lot of trees around your house, Fairview taupe will look amazing without taking away from the natural beauty surrounding it.
Simply White

This crisp, bright white has very subtle yellow and gray undertones that keep it from being too harsh. It's the perfect combination of brightness and softness. Use Simply White as an accent color to brighten up darker exteriors, or use this light and airy color as your main exterior color.
Blue and Green Benjamin Moore Exterior Paint Colors
Blue and green paint colors have been increasing in popularity in recent years. There is a lot you can do with blue and green. Choose calming shades to bring a natural look to your home or create a striking look with a bolder shade.
Creekside Green
This rich, saturated color has warm brown and gray undertones that make it look natural and help it blend into the foliage around it. Pair Creekside Green with browns and warm grays to enhance the natural look, or add in brighter colors to highlight trim and make your home stand out.
Newburg Green
Newburg Green is a rich deep teal. It can look cooler or warmer depending on the light and what it's paired with. To bring out the warmth, use it next to natural brown shades of wood or brick. To bring out the cool undertones, pair it with a crisp white or light gray exterior paint color.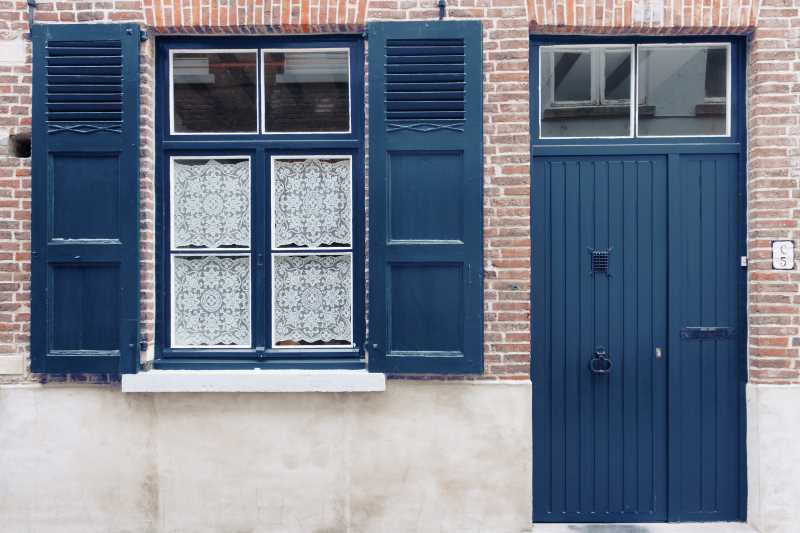 Hale Navy

A dramatic deep navy color that works well in a variety of styles, Hale Navy adds depth and dimension in a classic and timeless way. It has both cool and warm undertones, so it works well paired with just about anything. Use Hale Navy with earthy greens and browns for a natural look, or pair it with bright whites for a nautical feel.
Oxford Gray

While it's called a gray, Oxford Gray really appears bluer, especially when used as an exterior paint color. With an LRV of 27.69 this deep cool blue-gray is rich and soothing. Pair it with a classic gray to bring out the blue even more.
Normandy
Another gray-blue shade, Normandy appears bluer than Oxford gray but still has a lot of gray undertones making it a lovely, subtle blue color. It works well as a base color and looks beautiful paired with brown, white, or gray.
Weekend Getaway

Part of Benjamin Moore's classic color collection, Weekend Getaway is a lovely sage green with gray and brown undertones. It's light and airy and looks beautiful as the main exterior color or as an accent color with ivory or light gray.
Other Benjamin Moore Exterior Paint Colors
Depending on where you live, bolder color options like orange and yellow can blend into the local landscape and look absolutely beautiful. In other neighborhoods, they'll stand out and make your home look cheery and inviting. These warm colors can appear bright and sunny or deep and rich depending on the shade you choose.
Hawthorne Yellow

This warm buttery yellow is such a happy color. It looks soft and warm as the main exterior color. If you love yellow but don't want to cover your whole house with it, try Hawthorne Yellow on your front door or shutters to add warmth and brightness without going too bold.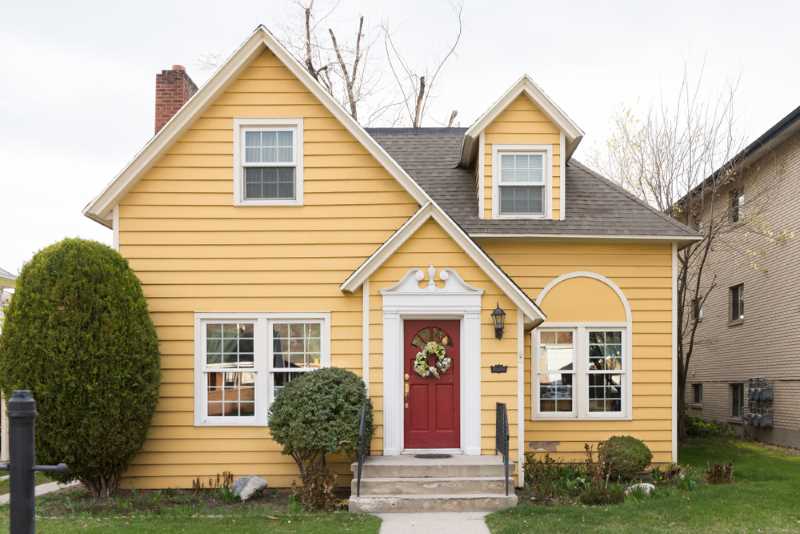 Arizona Peach

Arizona Peach is a warm, soft shade of peachy beige that isn't too orange or too bright. It's a great way to add a hint of color without going overboard. Use it as an accent color to add a subtle sense of warmth and light to your exterior, or use it as the main color to really brighten up your home.
Wrapping Up Benjamin Moore Exterior Paint Colors
Remember, the color you see on your computer or phone screen may appear different than it does in person. That's why we recommend getting a paint swatch or sample of your favorite Benjamin Moore exterior paint colors so you can see how the color is really going to look.
Choosing the wrong exterior paint color is an expensive mistake, so take your time when choosing a color and make sure it looks the way you want it to before you paint your entire house. For help calculating the cost of your exterior paint project, check out our DIY painting cost breakdown. Which color are you thinking of using on your exterior? Let us know in the comments!
Check out our Exterior Painting page for even more information on exterior painting, paints, and products.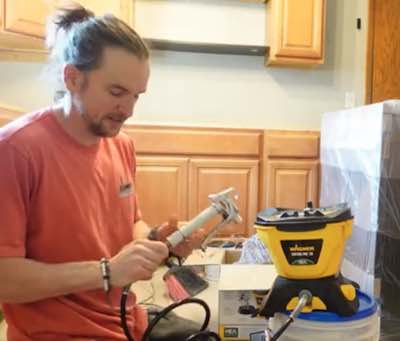 I've been a professional painter since 2001 and spent the last 12 years specializing in kitchen cabinet refinishing. I started the DIY Painting Tips blog in 2015 to start sharing everything I've learned over the years and help all the people who'd rather tackle their painting projects themselves. In 2019 I started the DIY Painting Tips Youtube channel where I publish in depth videos all about kitchen cabinet painting, painting gear reviews, and interior/exterior tutorials.