Want to get an idea of what your exterior painting project will cost you before you start collecting bids or buying paint?
In this post, I will break down all of the costs involved in exterior house painting and help you get an idea of what you should expect to pay a painting contractor and how much it would cost you to DIY paint your home's exterior.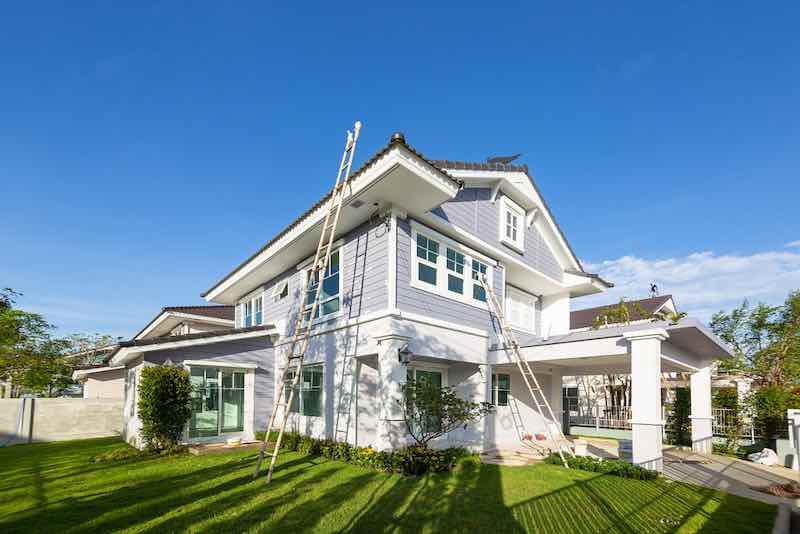 Average Costs To Paint A House
I know the feeling of calling up a contractor and not knowing what to expect in terms of costs. I don't know if my remodeling project is going to cost $4,000 or $40,000. I have no idea if my plumber is going to cost me $500 or $5,000!
It helps to have a general idea of what to expect a project will cost you before you start getting bids.
So let's start by getting a few simple averages out of the way.
Average Cost To Paint a 1,500 Square Foot Home in Decent Condition:
A typical 1,500 square foot home will usually be 1 story tall and cost in the range of $2,000 – $3,000 for power washing, priming, and two coat repainting.
Average Cost To Paint a 3,000 Square Foot Home In Decent Condition:
A typical 3,000 square foot home that is two stories tall will cost in the range of $4,000 – $6,000 for power washing, priming, and two coat repainting.
Average Cost To Paint a 5,000 Square Foot Home In Decent Condition:
A typical 5,000 square foot home that is 2.5 stories tall will cost in the range of $6,000 – $10,000 for power washing, priming, and two coat top coating.
All of these averages I just mentioned are simply a starting point. There are many factors that go into determining the cost of exterior painting such as the current condition of the home, the paint used, does the trim need paint, and so on.
Read on to go through these variables and get an even more accurate idea of what it will cost to paint your home's exterior.
Paint Costs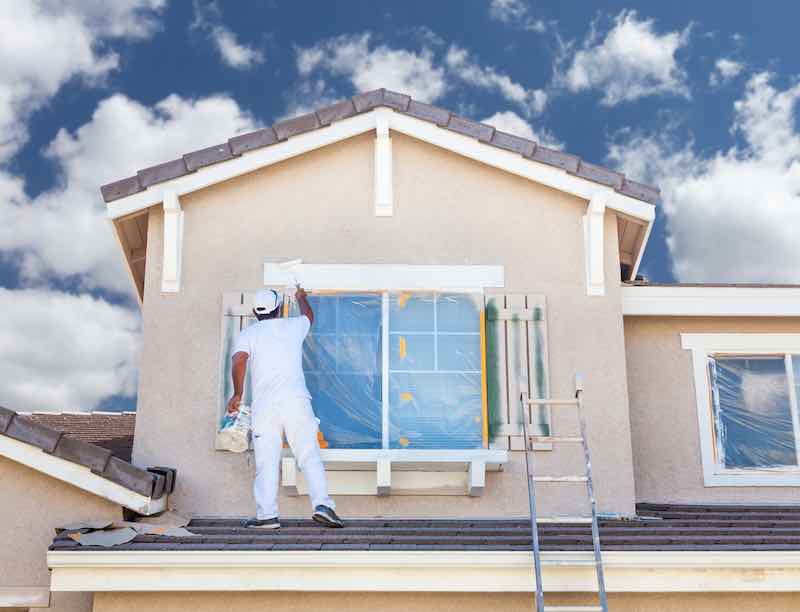 Exterior paint will typically start around $25 a gallon for a decent paint and go all the way up to $60 per gallon for the most expensive exterior paint.
A good middle-of-the-road paint will cost you $40 per gallon and will cover roughly 300-400 square feet per coat depending on the surface you are painting.
A primer like Zinsser Peel Stop is also going to be roughly $40 per gallon and cover 300-400 square feet per gallon.
Now assume you will need one primer coat and two topcoats. Your paint costs should run you about $120 per 400 square feet of painting, or $0.30 per square foot.
Material Costs
Whether you do your house painting project yourself or hire a painting contractor to do it for you, there will be material costs.
Materials needed (sundries) for painting your house are going to differ for every project. Some of the most common tools and supplies needed are:
Paper
Painter's Plastic
Drop Cloths
Roller Frame
Roller Pads
Mini Rollers
Scraper
These tools and supplies should come out somewhere in the $200 – $400 range.
It's pretty safe to assume a $0.10 per square foot cost for sundries on a typical exterior painting project.
Some of the bigger items you may or may not need are:
Step Ladder: $50 – $100
Extension Ladder: $200 – $300
Ladder Leveler: $100
Paint Sprayer: $300 – $750
I wrote up a review on the Graco Magnum X5, and the Graco Magnum ProX17, both of which are great sprayers for exterior projects.
A painting contractor is typically going to charging in the range of $0.40 per square foot for sundries + paint on an exterior painting project.
If you are going to DIY the project, it is safe to assume that you will have expenses of roughly $0.50 – $0.60 per square foot due to the contractor getting better pricing and already having more of the tools needed.
Labor Costs
If you plan on doing your painting project yourself, you obviously won't have any labor costs, but keep in mind, you may need to buy more materials and tools.
A typical painting contractor or painting company will charge $50 per hour on the low end and up to $100 per hour on the high end for each member of their team.
A painting contractor will be charging you $50 – $100 per hour of work in their estimate plus an additional $0.30 per square foot for paint and $0.10 per square foot for sundries.
How To Estimate Square Footage of Your House
There are a few different ways to go about getting the square footage of the exterior of your home.
Since you are likely interested in a rough estimate and exacts aren't crucial, I recommend the arm span method.
The typical person has an arm span equal to their height. I am 6′ 1″, so my arm span is 6′ wide (roughly).
I can walk across a side of the home and measure how many arm spans wide that side of the home is, then estimate how tall it is and get a surprisingly close guesstimate to the square footage of that side of the home.
Take out a few square feet for each window, and I'm done with a guesstimate.
For a more precise bid, a measuring wheel, tape measure, and laser measure are all good tools to get an accurate estimate.
I break down every side of the home into easy to measure squares and triangles. I then measure the width and height of each square, times them by each other, and I have the square footage of each square. Then I take the width by height and divide by 2 for all the triangles.
Do this for all four sides and you've got the square footage of your home's exterior.
To be even more accurate, count your windows and doors and subtract 15 square feet for each window or door; this seems to be a good average.
Factors That Go Into House Painting Costs
As I said above, every exterior painting project is different and there are many factors that make up the final cost to paint a house.
In this section, I am going to briefly discuss each of the different factors that go into creating an accurate exterior painting estimate.
Prep Work
Every exterior paint job must include prep work. This
Power Washing
Power washing is needed to clean the dirt and debris from a home before painting to ensure proper adhesion of the new paint.
Power washing typically takes 1 hour per side on a small home, 2 hours for a medium home, and 3 hours per side for a large home.
Power washing should absolutely be included in every exterior painting estimate.
Caulking Gaps, Cracks, and Seams
The caulking of gaps, cracks, and seams should be included in every exterior painting bid and should not be considered an extra. Make sure that your contractor has this specifically written into the contract.
If you are doing your exterior painting yourself, a good estimate is to plan on 4-8 hours for a smaller home, 6-12 for a larger home, and 8-16 for a big home.
Trimming Bushes / Brush
Trimming bushes and brush is definitely an extra. I run into homes quite often where I have to cut back bushes in order to get to the siding of the home.
This typically adds no more than 4 hours for extremely over-grown bushes.
This is also an easy area for you to save some money when hiring a painter and not trust a painter with shaping your shrubbery.
Taping Off Windows, Doors, Decks, and Non-Painted Areas
Setting Nails / Filling Nail Holes
Setting and filling nail holes is another task that will typically be included in an exterior painting project but must be written in if you expect it to be done.
This is also another highly variable task.
I've worked on homes where every single nail in the siding is ugly and needs work, while others need nothing.
Factoring In Other Variables
Below are some variables that will not affect every home, but they may affect the cost to paint your home. Go through them and see if any apply to your exterior painting project.
Height and Access To Your Home
Painting Companies are going to charge more for siding that is high and/or harder to access than they will for easy access siding.
This is because taller homes require more ladder work, which slows painters down significantly. In order to paint siding that is 2+ stories tall, ladders, braces, and other precautions must be taken to keep the painters safe. Some areas may even require one painter to brace a ladder while the other painter climbs and works on the ladder.
Siding on uneven ground will also add to the cost of your exterior painting project. If your home is on a steep hill, expect to be charged more.
Some areas are on taller homes are only accessible via the roof. A painter may have to set up safety harnesses or other precautions in order to stay safe while reaching these areas.
Tall homes and hard to access areas add a lot of cost to exterior painting projects, so if you have a tall home, uneven terrain, or hard to access areas, be ready for your painting costs to exceed my estimates above.
Scraping Peeling Paint
Scraping peeling paint is easily one of the biggest variables that you will run into.
Some homes don't need any scraping, while others may require 8-24 hours of scraping per side. Scraping is however all labor cost.
For simple reference, a 1,500 square foot home where all paint is peeling will likely require up to 24-32 hours of scraping. This should add roughly $1,500 to your painting project.
A 3,000 square foot home with peeling paint throughout will add roughly 32-48 hours of scraping and an extra cost of up to $2,400.
A 5,000 square foot home with peeling paint will add roughly 48 – 64 hours of scraping and up to $3,200 of extra cost.
If you only have one side of your home with peeling paint, take the costs above and divide them by 4.
Siding Repairs and Replacement
Painters are often expected to repair and replace damaged siding when painting your exterior.
The most common repair I do is patchwork of rotting boards or window sills. Patchwork typically consists of removing rotting wood, securing the remaining wood, filling in with a patch, sanding, and priming.
The second most common is to replace 1-3 rotten boards at the bottom of a home. If more than that needs to be done, I typically recommend a siding contractor.
Repairs like this are typically going to cost roughly $25 – $75 per instance. So if you have 10 windows with rotten sills that need filler, expect a $250 – $750 increase in exterior painting costs.
Different Siding Costs
Wood Siding and Cement Board Siding
This is the most common type of siding that will need painting. All of the costs mentioned above should cover the painting of wood, cement board, and similar types of siding.
Brick, Stucco, and Concrete
Painting brick, stucco, and concrete typically require a bit more work, and paint won't go as far on these surfaces. Expect a 5-15% markup when painting these surfaces.
Vinyl and Aluminum
Vinyl and aluminum can absolutely be painted. They don't even require any significant extra work. What is required is knowledge of how to properly prep and prime these surfaces, so make sure your painting contractor has done these types before.
I just completed a post on how to paint vinyl siding and am working on my how to paint aluminum siding (hopefully, I will publish it shortly).
Vinyl and aluminum siding shouldn't cost you any extra to have painted and may even save you some money if it is in good shape since you will be able to avoid scraping paint, rot, and other things.
Exterior Painting Cost Add Ons
Garages
Garages are one of the most common exterior painting add ons. They can be thought of as a mini one level home. Detached 2 Car garages typically add in roughly $1000 of additional painting costs when hired out.
Trim, Soffits, and Fascia
Lots of extra trim, soffits, and fascia are going to be a factor in how much it costs to paint a house. These should be included in the prices listed above, but if you home has a lot of trim work, you can expect some extra costs.
Gutters & Downspouts
Gutters and downspouts are not typically included in an exterior painting bid and would only be included by request.
Having your gutters and downspouts included can easily add an additional $500 – $1000 in expenses for a typical exterior paint job.
Lead Paint
If your siding was installed before 1978, you will need to have your exterior tested for lead. Even if it's been repainted over the years, old lead paint will be under the new layers.
I'm not going to get any more into lead paint in this post; rather I will leave it at this: lead paint will add a significant cost to your exterior painting project due to laws about how to safely remove it.
How To Save Money Painting Your House
After reading through this post, you may be thinking that hiring a contractor for your exterior painting project is just too expensive. Well, I've put together a few ideas on how you can save money on your painting project no matter how much of the project you want to do yourself.
Do It Yourself
This is obviously the biggest way to save money if you have the time. Exterior painting is roughly 80% labor (or more oftentimes), so you can save a lot of money by doing it yourself.
If you do plan on tackling the project yourself, make sure you are comfortable with heights and hard work!
Get multiple bids
Always make sure that the bids you are getting are fair. Sadly, there are always a few contractors out there who will take advantage of someone if they see an opportunity.
I recommend getting no less than three bids for any painting project. I don't necessarily recommend going with the lowest bid, however. Once you have multiple bids, compare them, the companies reputation, and make the best choice you can.
Do The Prep Work Yourself
If you want to do some of the work but not all of it, doing prep work can save you some big bucks.
Cut back any bushes
Repair and replacing rotten boards
Power wash your home
Scrape the loose paint
Paint The Trim Yourself
Another great way to save money is to hire a painting company to paint the body of your home. Then you can take your time and paint a couple of windows a day, or paint one side of trim a weekend until the project is done.
Don't Wait Too Long To Repaint
Believe it or not, waiting too long can actually cost you a lot of extra money.
When you wait too long to repaint your exterior, you risk damage to the wood siding, window sills, and more. You also risk more peeling paint than necessary.
Peeling paint and damaged siding add a lot of extra costs to an exterior painting project.
Use a Painting Calculator
If you want to figure out even more precisely what your exterior painting project will cost you, go ahead and check out my paint project calculator.
The Painting Calculator will give you labor and material estimates for interior painting, exterior painting, and kitchen cabinet painting. You can even get an estimate of how long it will take you to DIY the project.
Exterior Photo Examples With Prices
If you want a visual representation of how much it costs to paint a house, I have grabbed a few photos of different size homes.
In this section, I'm going to show you a home and then go over what it should cost to paint the exterior of that home. Hopefully, this will help give you a visual idea of what to expect on your own home.
Small Ranch Style Home Painting Costs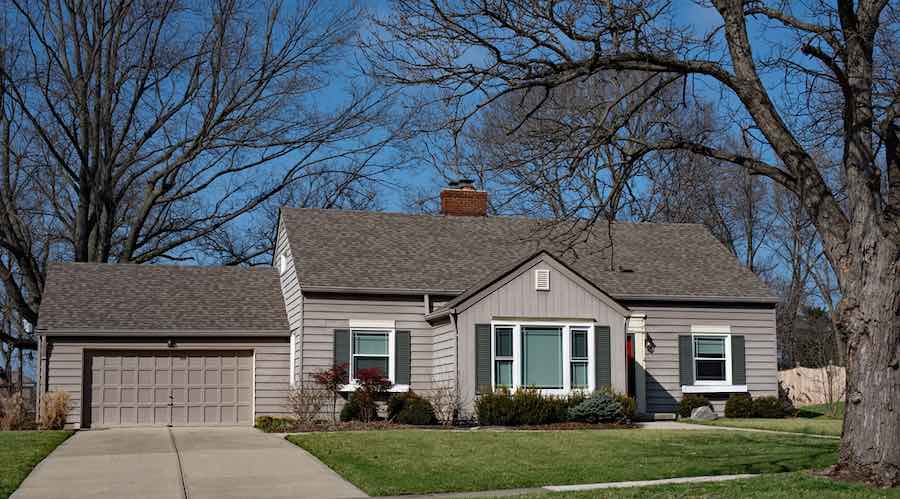 The above home would be broken down as follows:
Power Washing: 4 hrs
Prep Work: 6 hrs
Minor scraping, repairs, and caulking: 4 hrs
Spot Priming: 4 hrs + 1 Gallon Primer
1st Coat: 8 hrs + 10 Gallons
2nd Coat: 8 hrs + 10 Gallons
Cleanup: 3 hrs
Total: 37 hours + 21 Gallons of Paint
Labor Costs: $1,850 – $2,775
Paint Costs: $630
Total Costs: $2,480 – $3,405
There are variables that could change the price of the above exterior hour painting such as repairs, extensive peeling paint, higher quality paint, and more, but this is a pretty good starting point.
Large 2 Story Home Painting Costs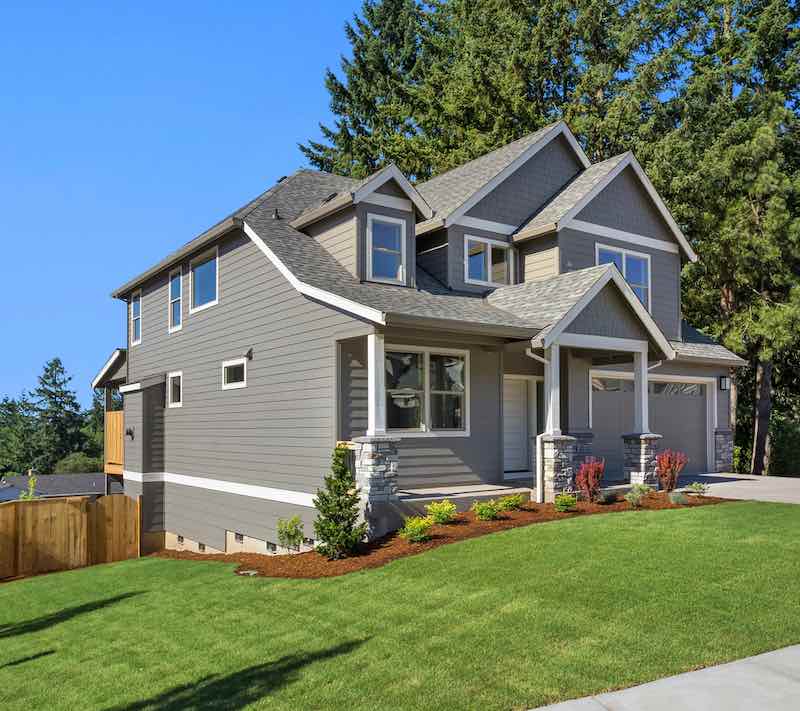 The Above Home Would Break Down as Follows:
Power Washing: 8 hrs
Prep Work: 12 hrs
Minor scraping, repairs, and caulking: 8 hrs
Spot Priming: 6 hrs + 1 Gallon Primer
1st Coat: 16 hrs + 15 Gallons
2nd Coat: 16 hrs + 15 Gallons
Trim Work: 36 Hours + 2 Gallons
Cleanup: 4 hrs
Total: 106 hrs + 33 Gallons of Paint
Total Labor Costs: $5,300 – $7950
Total Paint Costs: $990
Total Cost: $6,290 – $8940
Again, the final cost will vary depending on if extensive scraping or repairs are needed. Also, remember some painters may charge more or less per hour the $50-$75 I referenced above.
How Much Does It Cost To Paint a House? Conclusion
Hopefully, this post has either given you a good starting point on how much it will cost you to paint your home or if you are a new painting contractor, maybe it will help you set your prices.
If you have any questions, or want to tell me how wrong I am 😉 please leave a comment, I make sure to answer every comment!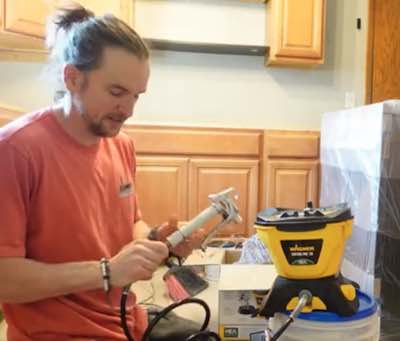 I've been a professional painter since 2001 and spent the last 12 years specializing in kitchen cabinet refinishing. I started the DIY Painting Tips blog in 2015 to start sharing everything I've learned over the years and help all the people who'd rather tackle their painting projects themselves. In 2019 I started the DIY Painting Tips Youtube channel where I publish in depth videos all about kitchen cabinet painting, painting gear reviews, and interior/exterior tutorials.