You might be wondering, why bother researching the best paint for cabinets?
There's a reason everyone congregates in the kitchen during a party. It's the heart of your home. Plus, all the snacks are there. But what if the center of your home reflects the taste of the previous owners? Or some impulsive cabinet purchases you made years ago?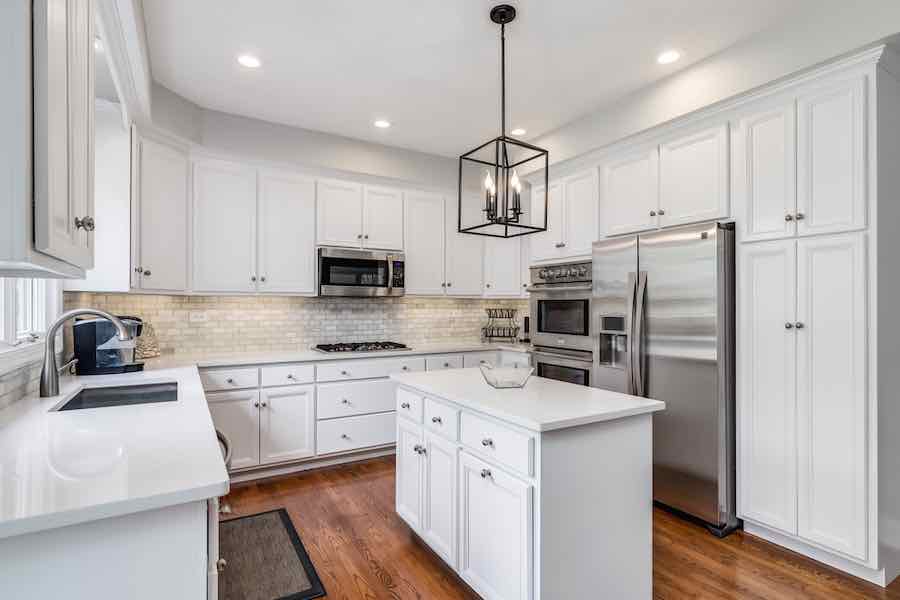 If you dread spending even a minute in your kitchen, it's time to treat yourself to an upgrade. You can get a stylish kitchen without the expense and hassle of a major renovation. Did you know you can paint kitchen cupboards?
By the way, looking for a sprayer for painting your cabinets? Check out my personal favorite HVLP Sprayer here.
It's true, with just a little planning and the best paint for cabinets, you can transform your kitchen. Make this the year your house feels like a home. Using the best kitchen paint for cupboards, you can change your ho-hum kitchen into the heart of your home.
My Top Kitchen Cabinet Paint Picks
---
The Top Kitchen Cabinet Paints
INSL-X Cabinet Coat
INSL-X Cabinet Coat is my top pick for kitchen cabinet paint because of its blend of performance, ease of use, price, and durability.
Cabinet Coat sprays, brushes, and rolls incredibly easily and lays down wonderfully to give you a smooth, professional-looking finish.
Add in that cabinet coat is a low VOC product that comes in at 44 grams per liter and it resists yellowing over time, and you have the perfect kitchen cabinet paint for DIY painters.
---
Benjamin Moore Advance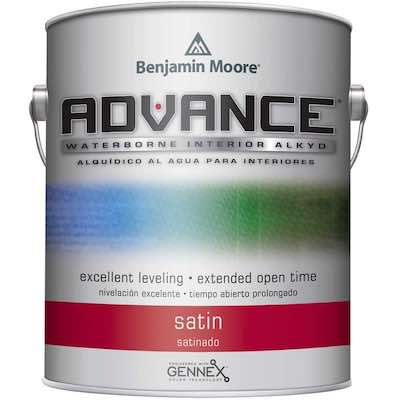 Benjamin Moore Advance is the finish that I often use in my client's homes. Advance is a hybrid enamel, meaning that it acts like an oil-based finish while being a water-based finish. Basically, you get the best of both worlds, extreme durability and vibrant finish of oil, easy clean up, and low VOC content of water.
Advanced is priced similarly to Cabinet Coat but does take a little longer to dry. If you plan on using Pure White, some people have noticed that pure untinted white can yellow a bit over time, though I have not personally found this to be a problem.
---
Behr Hybrid Urethane Alkyd Enamel
Many people are surprised when I talk so highly of Behr products, but Behr never seems to disappoint. They produce high-quality products at some of the most affordable prices on the market.
Behr Urethane Alkyd Enamel is no exception. I have personally used this product on over ten different projects and consider it to be one of the best performing while still reasonably priced enamels on the market.
Behr Urethane Alkyd Enamel is the cheapest kitchen cabinet paint on this list by about $35, so savings can be significant.
---
Sherwin Williams Emerald Urethane Enamel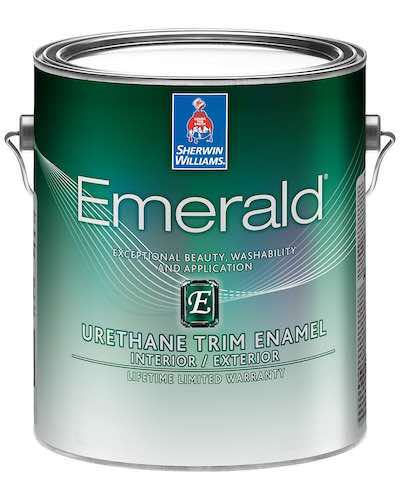 The only reason that Sherwin Williams Emerald Urethan Trim Enamel is coming in last on my list is because of its price. Emerald will cost you $110 per gallon, which is $30-$70 more than every other paint on this list.
After you get past the price of Emerald, you will see that it is one of the absolute best paints for kitchen cabinets. It has an amazing look, perfect sheen, has great flow, and is incredibly durable. This finish will last, and it touches up great (kids and pets can damage anything!).
---
Additional Kitchen Cabinet Painting Resources
Here are a few other posts I have written on DIY Painting Tips about painting kitchen cabinets as well as a few videos.
How To Paint Kitchen Cabinets Like a Pro
Cabinet Painting Follow-Along Video
Home-Made Grain Filler Video (Blog Post)
All Kitchen Cabinet Resources on DIY Painting Tips
---
Common Types of Kitchen Cupboard Paint
Painting your kitchen cabinets isn't quite as easy as grabbing a gallon of eggshell and going to town. It takes a little more prep than painting a room. You'll have to remove the doors from the cabinets, for starters. And there's special paint for kitchen cabinets.
It used to be the case that professionals swore by oil-based paint. As you'll read in the following section, technology's improved paint formulas. Oil-based paint is no longer the best paint for cabinets, just as it's no longer suitable for residential applications. Many professionals now use latex paint, citing the improvements to the formula and the as-good-as finish they can get on most surfaces. We actually prefer a third type of paint for cabinets, the hybrid enamel.
There are three common types of kitchen cabinet paint:
Oil-Based Paint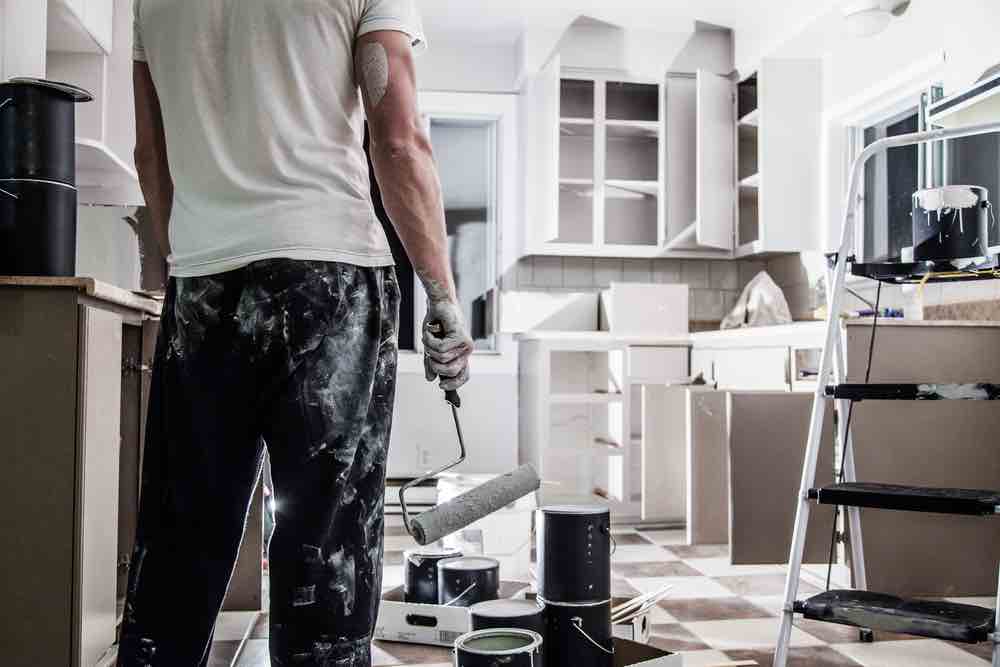 Oil-based paint is the go-big-or-go-home of interior paints. In it, the color pigment is suspended in oil and then thinned with an agent like mineral spirits. It was the preferred type of slow-drying paint to use on wood in homes because of the uniform paint surface. Plus, it's durable–perfect for things like trim and cabinets that experience a lot of wear. Historically, it's considered the best paint for cabinets.
You can't even buy oil-based paint in California anymore, and more states are following suit. Not because California hates lustrous, hardy paint in the home. It's high in Volatile Organic Compounds (VOCs), which is dangerous to breathe and harmful to the ozone.
It's also messy and wasteful. You need mineral spirits on hand to clean up any mistakes and spills. You have to take special precautions when disposing of leftover paint, painting equipment, and used-mineral spirits.
Oil-based paint is a lot of hassle, dangerous, and bad for the environment. Also, you can get a durable, beautiful finish on your kitchen cabinet doors with other kinds of paint.
Latex, Water Enamel Paint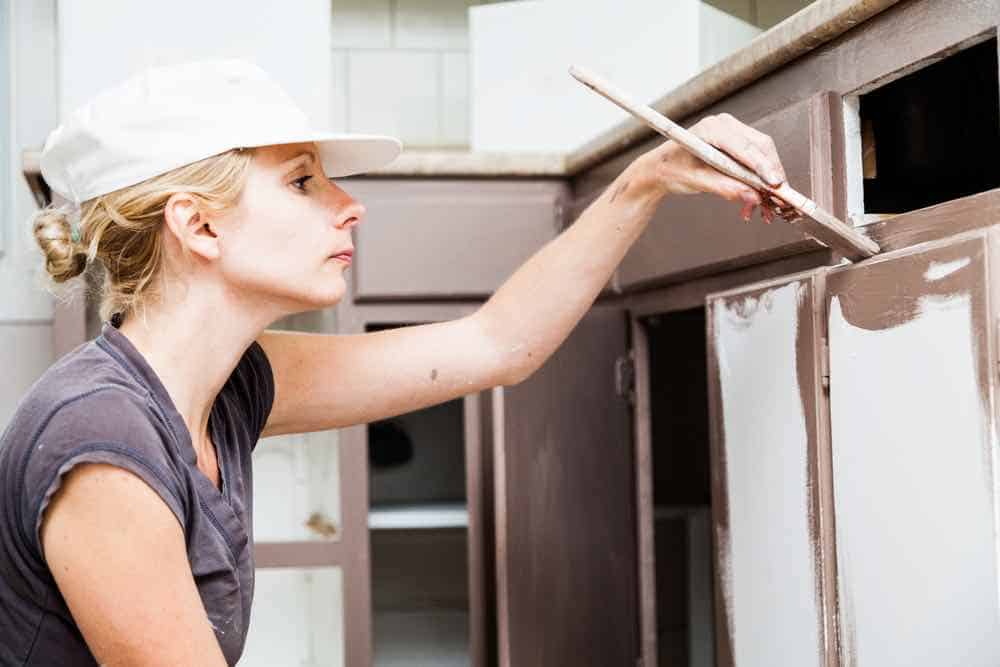 Compared to the history of paint, latex paint is still the new kid on the block. Sherwin-Williams used a synthetic rubber, latex, in the 1940s to create the first water enamel paint. Since then, its safety, environmental friendliness, and ease of use have motivated the ongoing development of latex paint technology.
The Best Latex Water Based Enamel is INSL-X Cabinet Coat.
Because of the improvements in latex paint formulas, it's almost as durable and polished as the finish you'd get from oil-based paint. Almost, but not entirely. Latex paint dries much faster than oil-paint, making it difficult to get as even and lustrous of a finish. Using a paint sprayer will minimize unevenness. But if you're using a roller or brush–you'll notice a difference while painting kitchen cabinets.
So what's the solution? Oil-based is dangerous and a hassle, latex is natural and safe but compromises quality. Luckily, you can have the best of both worlds.
Hybrid Enamels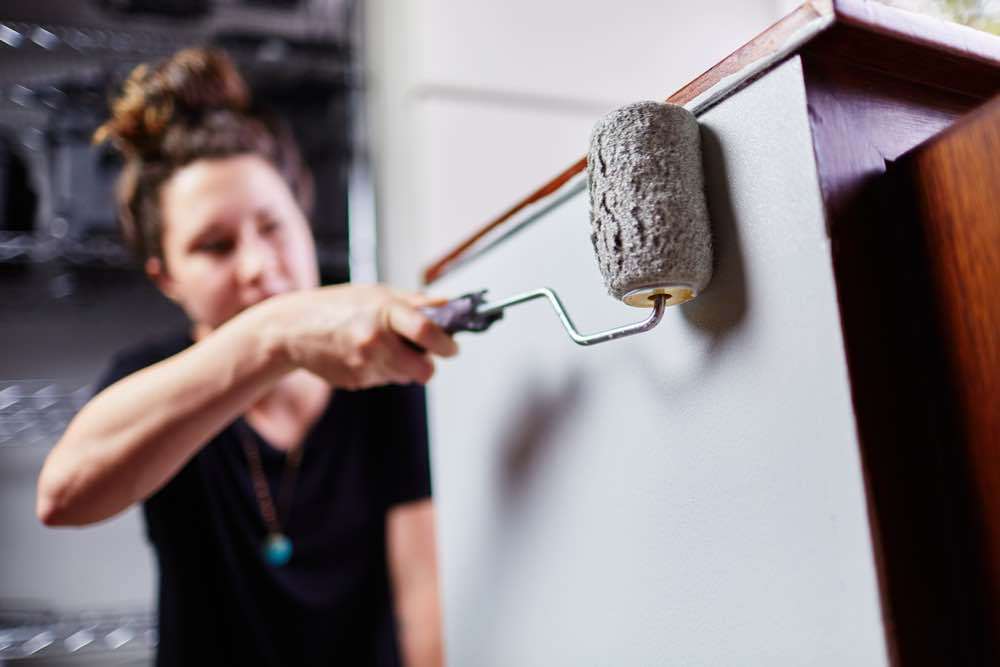 Science didn't stop with just latex. In developing low VOC paints, pursuing an exceptional finish and excellent protection when painting wood kept researchers going. Within the past few years, they came up with the answer–Acrylic Alkyd paint. It gives you oil paint's beautiful finish, but with the easy clean-up of waterbased paint. An oil molecule surrounded by water molecules carries the pigment. As the water evaporates, it leaves behind the oil–and that lustrous, durable finish we talked about earlier.
Plus, it takes just soap and water to clean up. If you have leftover paint, just let it dry out and throw it right into the garbage–no annoying trips to the hazardous waste disposal sites. And you can pick your method to paint kitchen cabinets. A paint sprayer will give you the easiest, even coat. But with hybrid enamel paint, your wood cabinets will look great if you opt to brush or roll the paint.
---
The Best Hybrid Enamel Paint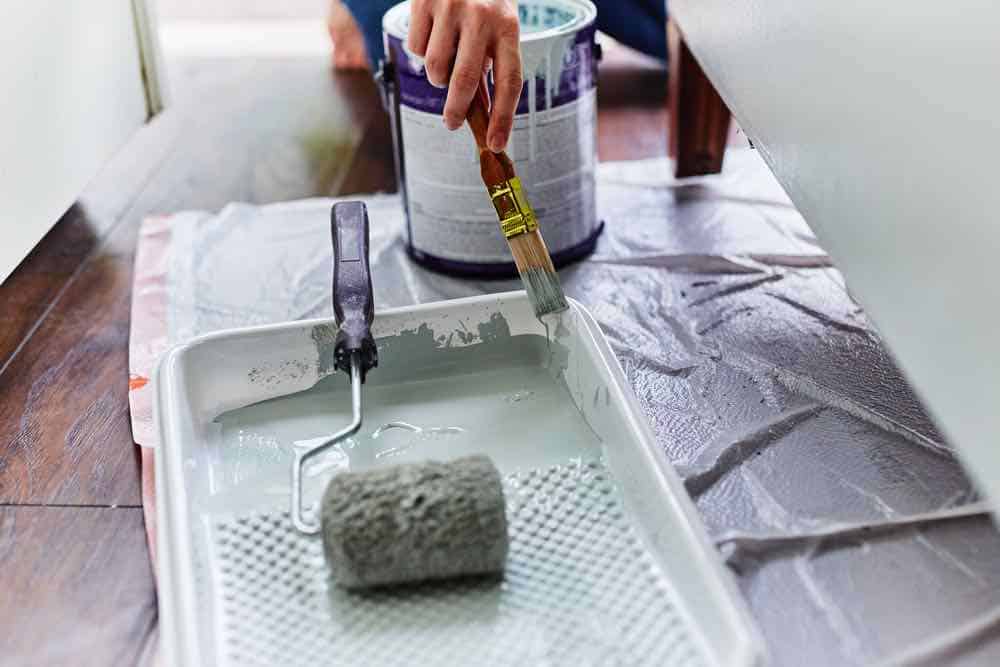 If you agree hybrid enamel paint is the best material for your kitchen cupboard painting project, we've rounded up some of the best products available on the market today.
Sherwin Williams and Benjamin Moore put out superior products that provide a finish as good as oil but without toxic and illegal VOCs and easy clean-up. In particular, Benjamin Moore provides a primer besides topcoats and the most sheens out of any brand. It's the best kitchen cabinet paint if you want to make a powerful statement with a high-gloss or matte finish.
---
Which Sheen Is Best for Kitchen Cabinets?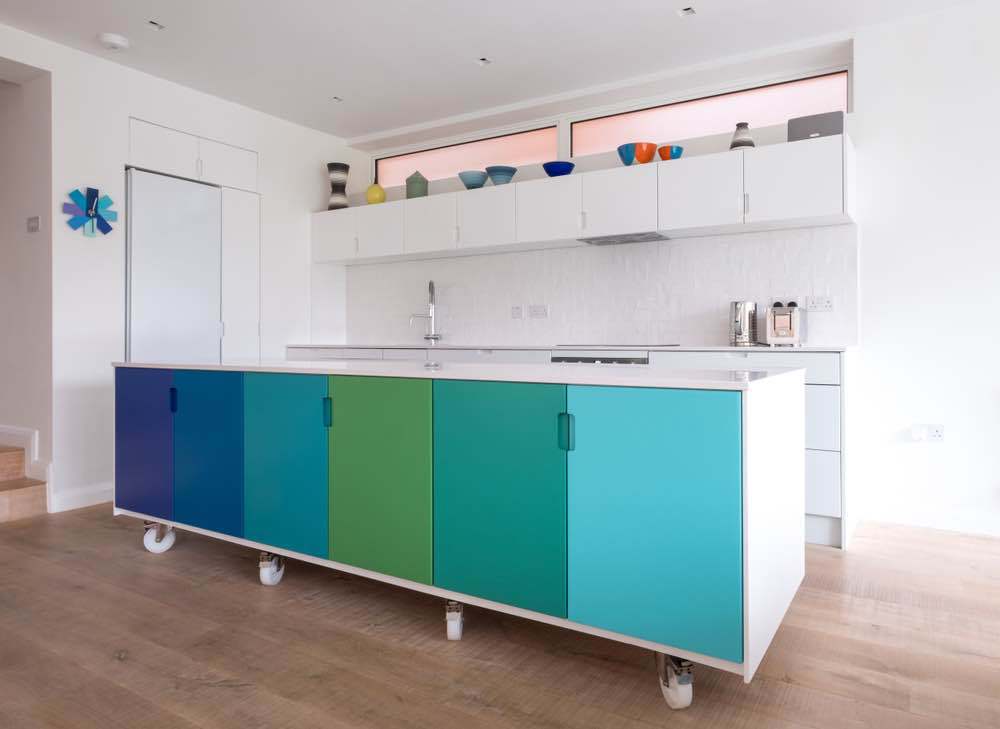 Do you go deer-in-the-headlights when you're picking out the right paint sheen for your home? Don't feel bad; it happens to the best of us. It feels like there's a correct answer, but it's also about preference. Sheen refers to how shiny the paint surface is after it dries. When you're painting kitchen cupboards, the sheen is part of the total package, along with the luster and color.
Which sheen should you pick for the best paint for cabinets? Whatever you like. We recommend saint paint for cabinets because satin looks the best hands down. Semi-gloss tends to be too much sheen and can cause too much glare on your cabinets.
Chalk paint and matte finishes have their place on wood furniture. But for the daily wear and tear wood cabinets must withstand, you need to protect them. Unless you enjoy repainting.
Most hybrid enamel paints come in satin and semi-gloss. Satin falls right between semi-gloss and eggshell finish. Benjamin Moore makes a broader range of products, including high-gloss for that candy-coated finish on your cabinets. And they also make a matte finish for a more durable paint specific for wood cabinets.
Again, pick whatever sheen makes you happiest. Just know that the more matte you go, the more it'll show dirt and wear. The more high-gloss you go, the more difficulty you'll have getting a smooth finish on your cabinets.
---
How Do I Get a Smooth Finish on Kitchen Cabinets?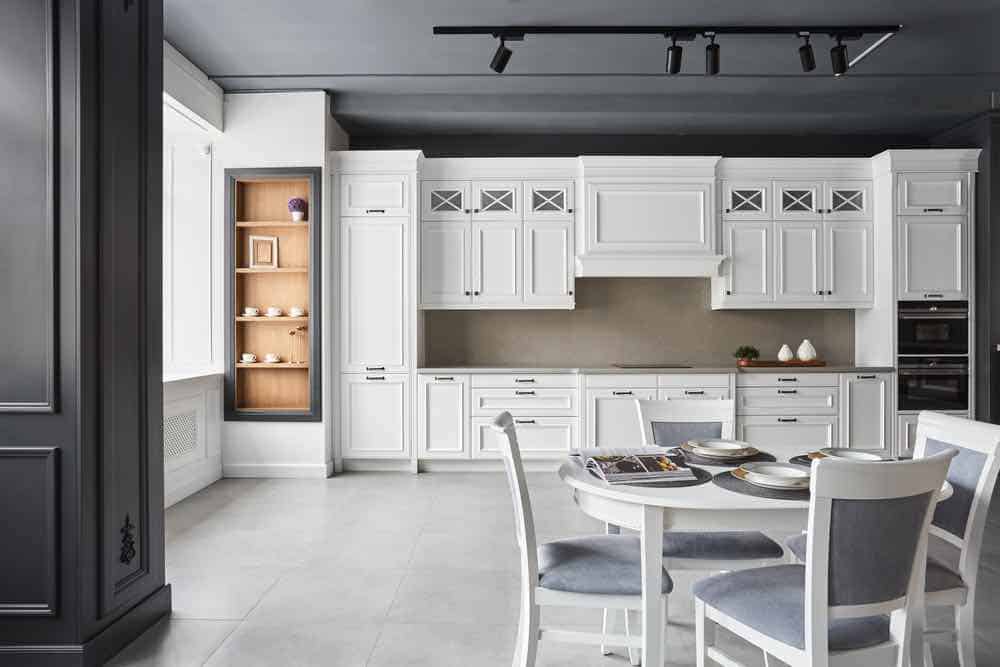 Patience and prep work are vital to getting a professional-quality smooth finish on your kitchen cabinets, even when you use the best paint for cabinets. All DIY-paint projects involve a lot of prep work, just like the professionals do. The more thorough your prep, the easier the painting will be, and the better the finished product. Check out our ultimate guide to painting kitchen cabinets for all the tips and tricks from start to finish.
One of the easiest ways to get a smooth finish on your kitchen cabinets is to use flood coating with your primer. Always sand in between coats of paint. It helps the new layer of paint bond with the previous layer and the primer to make a more even coat.
What is Flood Coating?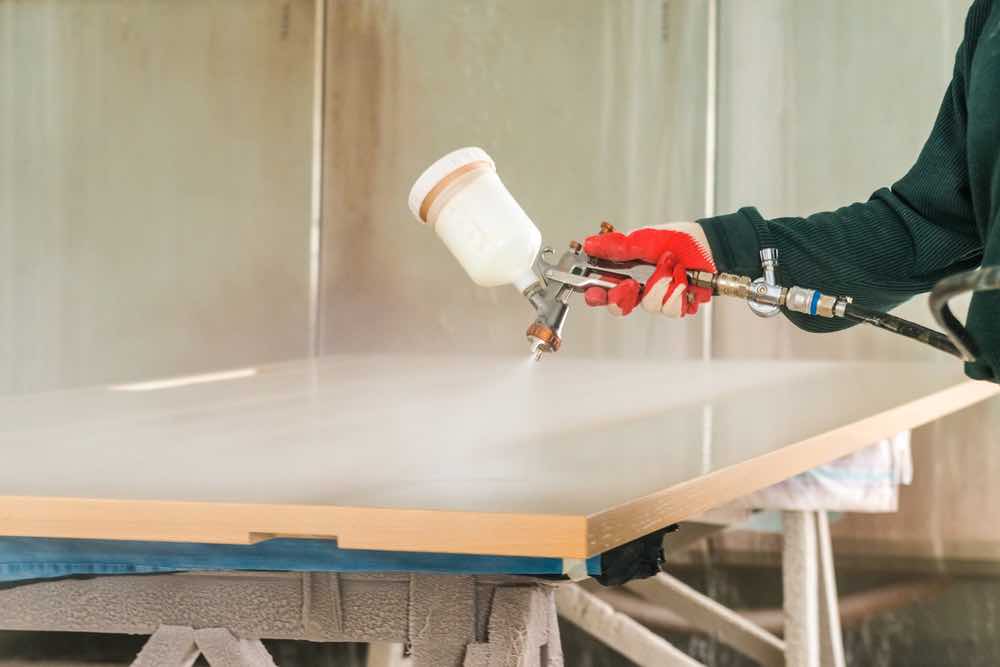 You can use two methods to apply primer to your cabinets:
Sprayer: slow down the sprayer and use twice the amount of paint you usually would.
Brush: apply two to four coats of primer with a brush.
Use a fine-grain sanding sponge to even out the primer after you've flooded the wood grain. Then you're ready for the topcoat of paint, which will dry to a perfectly smooth finish thanks to your hard work prepping the cabinet surfaces.
---
What is the Best Paint for Cabinets?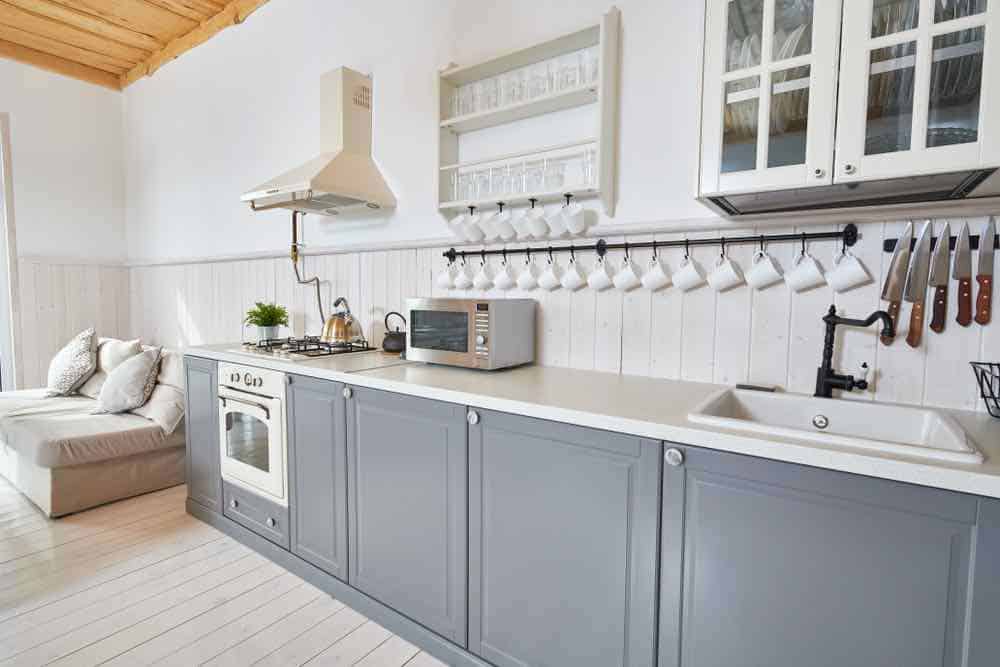 Use a the best paint for cabinets, hybrid enamel paint, and check out our post on the best kitchen paint colors for this year. Take your time with the prep work, and use care to sand and clean in between coats of paint. DIY painting is an affordable way to transform a room. Taking the time to repaint kitchen cabinets is a brilliant way to spruce up a lackluster kitchen and fall in love with your home's heart.
---
---
Ready To Learn More?
Check out our Painting Kitchen Cabinets hub page for everything you could want to know about cabinet painting including costs, how-tos, reviews, and more.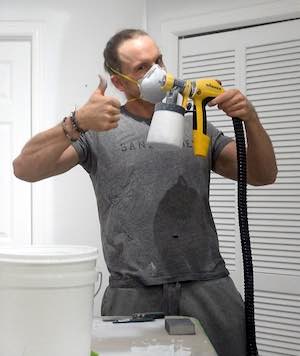 I started painting in 2001 and have seen just about everything in my painting career. I started in production and commercial painting, then moved over to new construction and remodeling during the boom of the early 2000s. Post 2010, I niched down into residential painting where I have done everything from exteriors, decks, interiors, furniture and more. Over the last few years, I've had a focus on kitchen cabinets.
I started the DIY Painting Tips blog in 2015 to start sharing everything I've learned over the years and help all the people who'd rather tackle their painting projects themselves.
You can follow my Youtube Channel where I show you everything that you read about on this site: https://www.youtube.com/@diypainting
You can also hire me directly from DIYPaintingTips.com here: https://diypaintingtips.com/free-painting-quote/
Contact me at: ryan@diypaintingtips.com