The Graco Magnum ProX17 is a great entry level sprayer for painting contractors, house flippers, property managers, and DIYers who have a lot of painting projects.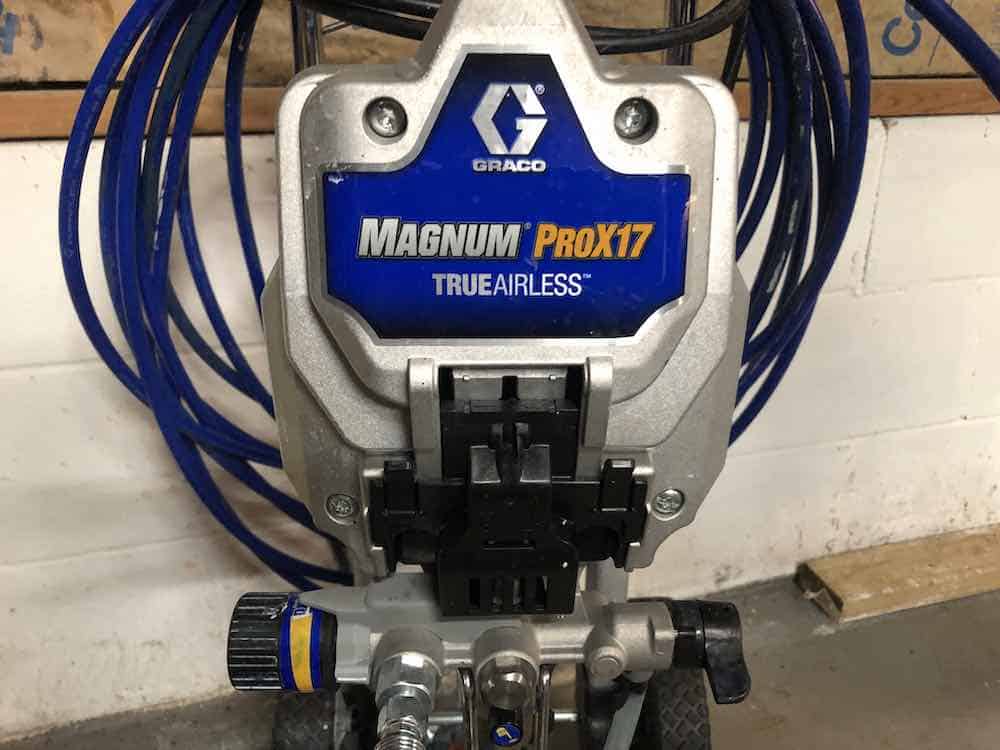 It has the ability to handle multiple large projects and keep on spraying. Thick paints such as exterior paints are no problem for this sprayer and it can easily handle interior drywall primers and ceiling paints, while also being able to handle finer projects like spraying cabinets and furniture painting projects.
Read on to get my thoughts on the Graco Magnum ProX17 after I have used it on two of my most recent painting projects.
About The Graco Magnum ProX17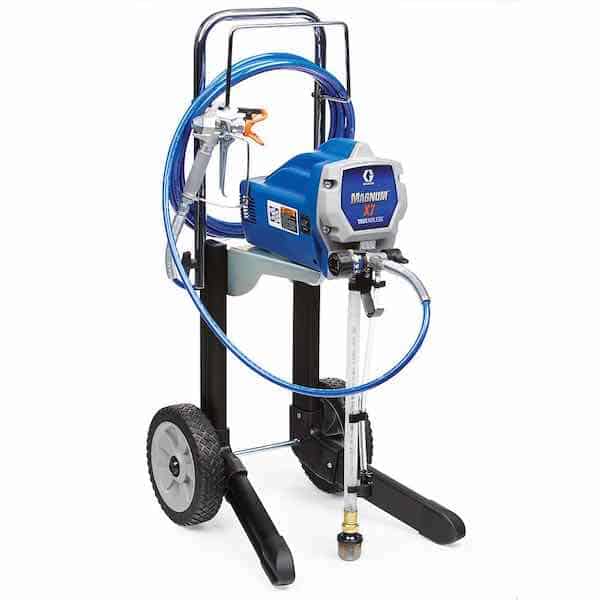 The Graco Magnum ProX17 is one of the entry models into Graco's contractor level sprayers. These sprayers are built a little better and more durable than Graco's consumer line of Magnum airless sprayers.
When you first look at the ProX17 you'll notice that the front of the pump looks different from the regular Magnum series. This is because the ProX series are built to have a replaceable pump, meaning that if the actual pump on the sprayer gets worn out or damaged, you can easily replace it.
When I say easily, it really is easy to replace the pump. I've been painting for 20 years and when I first started, I had far more expensive sprayers and replacing the pump meant brining your sprayer to the repair shop for a few days.
These days you can replace the pump in less than 5 minutes with no tools. I didn't replace mine, but I did try taking it out and putting it back in. Super Easy.
Since the ProX17 will run you $550 – $620 depending on if you buy the stand version or the cart version (other than that it is the same sprayer), you'll want to keep this sprayer running for as long as possible. So being able to replace the parts that will eventually wear out is important for a painting company. Rather than spending $600 for a new sprayer, you can spend $100 on a new pump and keep going.
Graco Magnum ProX17 Technical Specs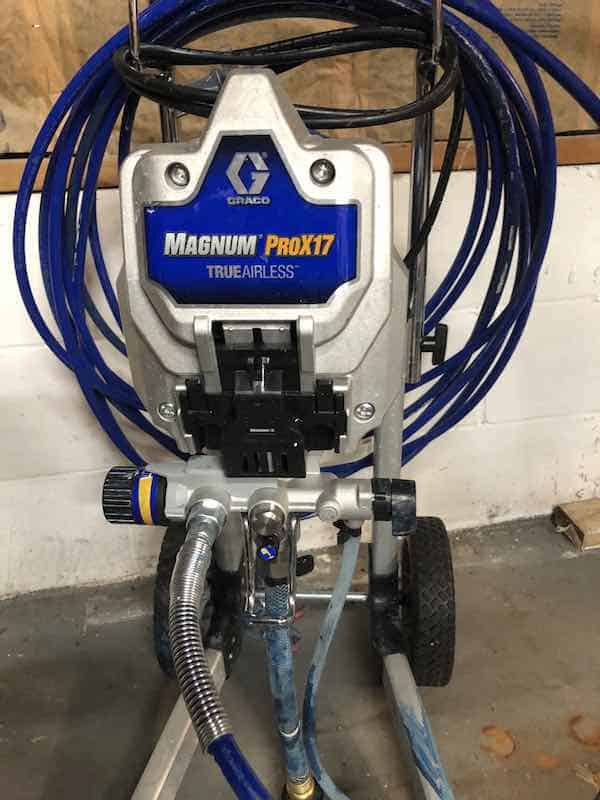 The Graco Magnum ProX17 has enough power for most jobs that a paint contractor or property manager would run into. If you need to spray heavier products like block filler, you'll definitely need to move up to a bigger sprayer.
Annual Recommended Usage: 300 Gallons
Recommended annual usage is a guideline by Graco just to help give consumers a guideline on the durability of a pump and how much it can handle. The higher the annual usage, the better the quality of the pump.
This is a great little metric to help guide you on a sprayer purchase, but with good care, a sprayer can handle much more than the annual usage recommendation (or a lot less with poor care).
300 gallons is a lot of paint. Painting the exterior of a 4,000 square foot home will typically take 20-30 gallons. Painting the interior of the same 4000 square foot home (including ceilings) will be anywhere from 40-60 gallons.
So 300 gallons should let you complete 6-10 exterior / interior large paint jobs per year.
Max Flow Rate: 0.34 Gallons Per Minute
As I stated in my review of the Magnum X5, the flow rate tells us how much paint the pump can send through the sprayer per minute. This, in turn, tells us how big of a spray tip we can use in the sprayer.
0.34 gallons per minute is a lot of paint. Don't be fooled when comparing this to other larger sprayers. Yes, it isn't near the 1.1 gallons per minute of a Graco 795, but 0.34 is still drastically faster than brushing and rolling.
In fact, my son who paints with me, for some odd reason decided to brush and roll the side of an exterior we were working on while I wasn't there. It took him and our hourly employee one full day to brush and roll one coat on this home. 16 total hours.
I was a bit upset and we talked about how much time was wasted by not spraying. The next day, my son and I sprayed two coats of paint on the other side of the home with the Graco Magnum ProX17 in about 4 hours. So in 8 total hours, we did twice the work.
Max Tip Size: 0.017″
Tip size is referring to the orifice of the spray tip, the hole that paint actually comes out of. The biggest orifice hole size that the ProX7 can handle is a .017″ hole. That doesn't sound big, but a lot of paint flows out of a 0.017 orifice.
Most homeowners will want to use a .015 tip size and not even bother using a .017. It's just too much paint and will cause you to get runs and have other issues. It is usually best to slow down a touch and keep it under control.
In fact, the most common tip size I use is a 515, which means a 10″ spray fan from 12″ away and a 0.015 orifice. If you double the first number, that is the width of the spray fan, while the second two numbers refer to the orifice hole size.
Max tip size is directly related to the flow rate (gallons per minute). The more paint flowing through a pump, the larger spray tip it can support.
Max Hose Length: 150 Feet
The max hose length can be a great thing for those who need it. Most people won't spend the money on extra hose length nor should they.
The Graco Magnum ProX17 comes with 50 feet of hose which will nicely handle almost every job.
The extra hose length can be nice if you are painting a large exterior and you want to keep the pump in one spot while you work around the house. Or if you are spraying drywall primer in a new home and want to keep you pump clean and in one spot.
SG3 Spray Gun Included
The SG3 is one slight improvement from Graco's entry-level SG2 spray gun which comes with the regular Magnum series of sprayers. The SG3 is exactly the SG2 expect that the SG3 has a built-in swivel to help prevent hose twists.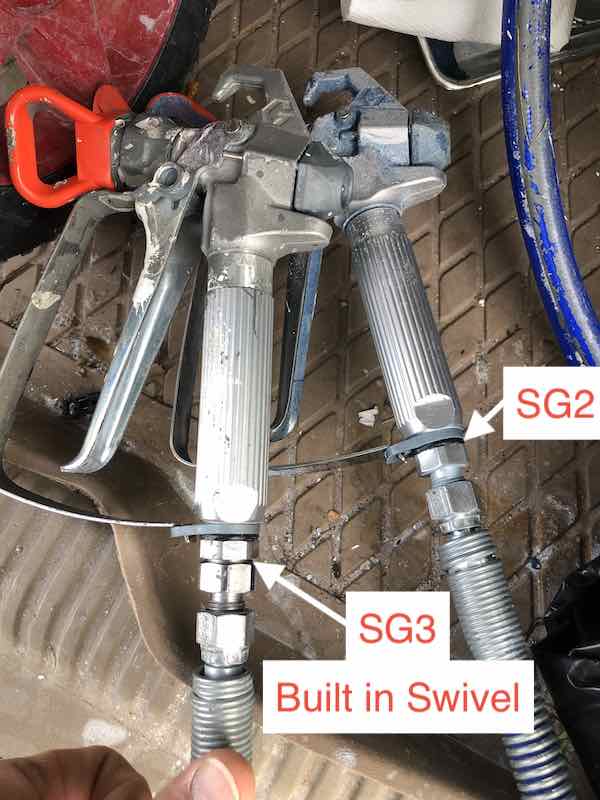 This may not sound like much, but it is a fantastic little feature. It helps you keep the gun at your desired angle without pressure from hose twists pulling on your spray gun while spraying.
What Projects Should You Use The Graco Magnum ProX17 On? (who is this pump meant for?)
Exterior Painting
The Graco Magnum ProX17 is perfect for exterior painting. It can easily handle thicker exterior paints without any lag in the pump. You can move up to a .017 tip size and run 150 feet of hose if you really want to go fast.
Property Management
Parking a pump in the entry and spraying all the walls, ceilings, and trim with primer in an apartment turn is great. You can then go in and paint the walls and trim with a brush and roller if you want, but spraying will save you a ton of time.
New Construction & Remodels
The first thing a painter usually does in new construction or remodels is to head in and prime all the drywall and paint the ceilings. The ProX7 can easily handle this work. But if you tend to paint a lot of new construction (I used to do over 100 homes a year), you should definitely invest in a bigger sprayer (like the Graco 395 or 595).
DIYers With A Lot Of Projects Who Want Their Sprayer To Last
If you are busy DIYer than this sprayer is perfect for you as well. If you plan on painting your exterior, your parents, your neighbor, and maybe a home remodel in the future. Investing in the ProX7 is a no brainer. It will last and make easy work of your projects.
Don't Use On: Cabinets and Furniture
Ok, you absolutely can use an airless sprayer on kitchen cabinets and furniture painting projects, but this is not the right tool. Use the right tool on the right job for the best results.
When you're painting kitchen cabinets, you should absolutely be using an HVLP sprayer. You'll get better results like less runs, a better finish, less wasted paint, and less headache.
An entry-level HVLP sprayer will only cost you roughly $100 while a nice one will cost quite a bit more. My personal favorite that I use all the time is the Titan 115 HVLP Sprayer.
What I Like About The ProX17
There really is a lot to like about the Magnum ProX17.
First off, it's built to last. You can tell just by picking up a Magnum ProX sprayer vs a regular Magnum sprayer that it is drastically heavier. That is because higher quality parts usually mean more metal and more weight.
You can also change out the pump easily, like 5 minutes with no tools easily. This is huge if you want your sprayer to last you 10+ years.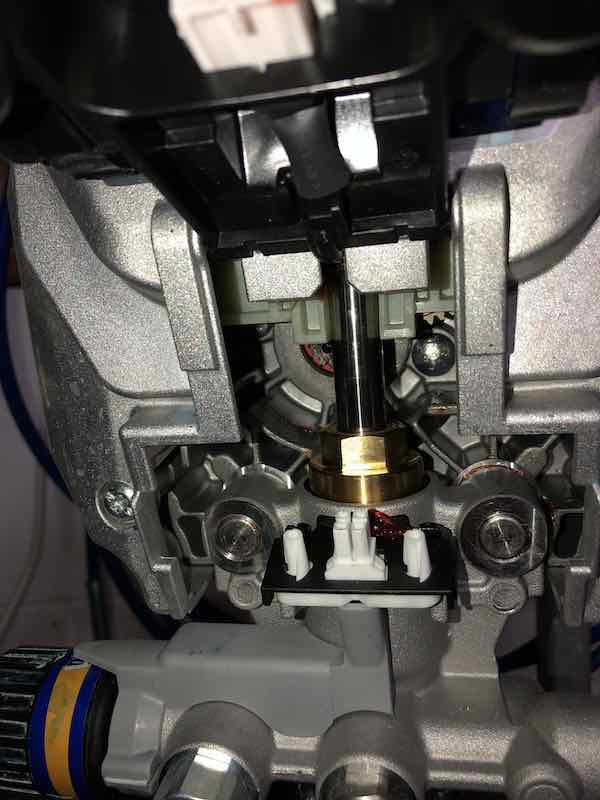 It is also powerful enough to handle almost every job that most paint contractors, homeowners, and property managers run into.
It can handle a big tip 0.017 and has pushed out a lot of paint (o.34 gallons per minute).
Also, it's not too heavy or too big where it is a paint to move up and down flights of stairs or put into the back of a pickup truck.
I also really love Graco's Power Flush adaptor which it includes on most of its sprayers these days. Basically it is a garden hose attachment that allows for super-fast cleaning by attaching a hose and running lots of water quickly through the sprayer.
What I don't Like
Honestly, there isn't really much to dislike about the Graco Magnum ProX17. Graco is upfront with their sprayers and you get what you pay for.
Match the recommended gallons per year to your desired usage and you should be fine.
Graco makes great paint sprayers and every single one I have owned has been absolutely abused and yet sprayed like a champ for decades.
My Final Thoughts
Over the years I have used $6,000 airless paint sprayers down to the cheapest Wagner. The Graco Magnum ProX17 feels like more like a high end sprayer than it does the low end Wagner, but the price point is much closer to the Wagner.
For a small painting contractor, or a DIYer with a lot of work, the ProX7 is a great sprayer for the money and I highly recommend it.
Check Out My Other Paint Sprayer Reviews
Check out our Exterior Painting page for even more information on exterior painting, paints, and products.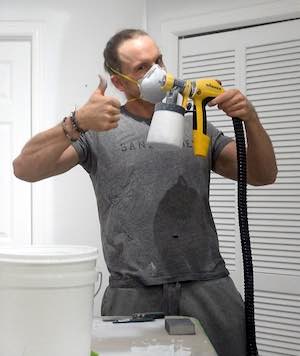 I started painting in 2001 and have seen just about everything in my painting career. I started in production and commercial painting, then moved over to new construction and remodeling during the boom of the early 2000s. Post 2010, I niched down into residential painting where I have done everything from exteriors, decks, interiors, furniture and more. Over the last few years, I've had a focus on kitchen cabinets.
I started the DIY Painting Tips blog in 2015 to start sharing everything I've learned over the years and help all the people who'd rather tackle their painting projects themselves.
You can follow my Youtube Channel where I show you everything that you read about on this site: https://www.youtube.com/@diypainting
You can also hire me directly from DIYPaintingTips.com here: https://diypaintingtips.com/free-painting-quote/
Contact me at: ryan@diypaintingtips.com