Painting vinyl siding is a topic that comes up quite often here in DIY Painting Tips, mostly as a question of "Can you paint vinyl siding?".
Lots of homeowners have vinyl siding that is faded or is an old color that they are just tired of.
Other than the look of the siding, it is still in good shape though, so it doesn't seem right to replace it.
This is when they start thinking about painting their vinyl siding.
In this post, I am going to be going over the pros and cons of painting vinyl siding, mistakes to watch out for, and how to paint your vinyl siding so that you have a finish that lasts for many years to come.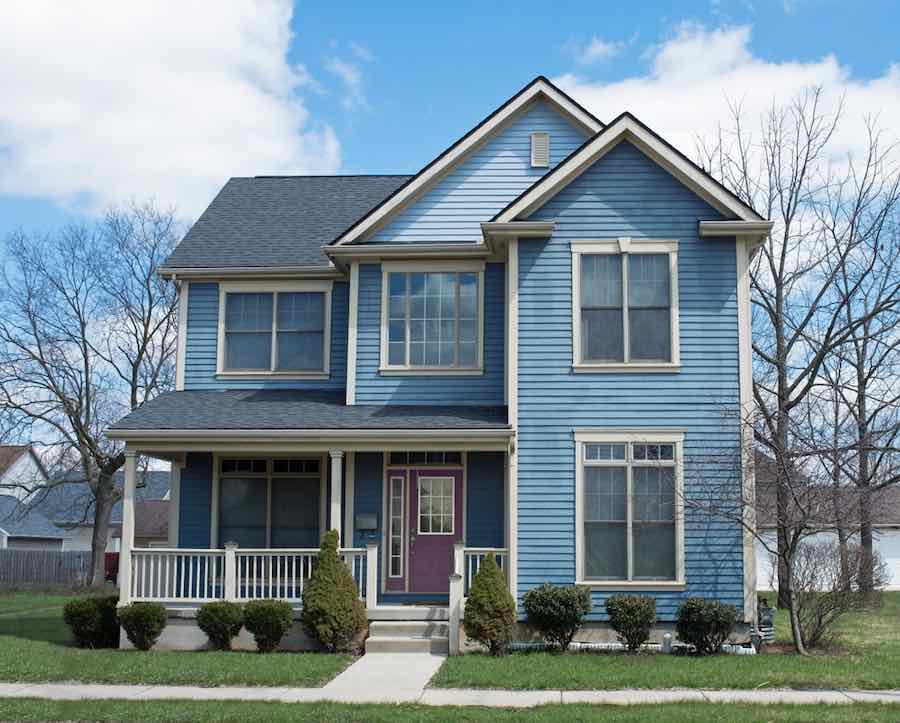 Can You Paint Vinyl Siding
Absolutely you can paint vinyl siding. I've actually done it quite a few times over my 20+ years as a professional painting contractor.
The first time I painted vinyl siding was back in 2008 (I think), and I was lucky enough to be one of the first people to test Behr's new vinyl safe paint. I decided to use this product on my own home thankfully because it was a complete disaster! It ruined all my siding.
Behr was awesome though. They resided my house and kept working on creating a truly vinyl safe paint.
Fast forward to 2012 and I have been painting vinyl siding ever since with zero callbacks using Behr, Sherwin Williams, and Benjamin Moore products.
The key to successfully painting vinyl siding is properly prepping your vinyl siding, choosing the correct paints, choosing the correct colors, and applying the paint properly.
I am going to teach how to do each one of these steps.
Why Paint Vinyl Siding
Painting your vinyl siding is really a great way to get some extra life out of the vinyl siding that you've fallen out of love with. It may be an ugly color that you just can't stand anymore, or maybe it's faded and gotten quite ugly over the years.
By painting, you can extend the life of your vinyl siding for another 5-20 years for a fraction of the price of new siding.
Painting your vinyl siding is also a great low-cost option to add some curb appeal to your home when you are getting ready to sell.
Pros Of Painting Your Vinyl Siding
Re-painting your home gives an average of 80% Return on Investment
Extend the life of your siding
Increased satisfaction with your home
Drastically cheaper than new siding
Cons Of Painting Your Vinyl Siding
Will likely void your siding warranty
If done wrong, you could have peeling or warping issues (which is why I am going to show you how to do it right)
Cost of Painting Vinyl Siding vs Cost Of Replacing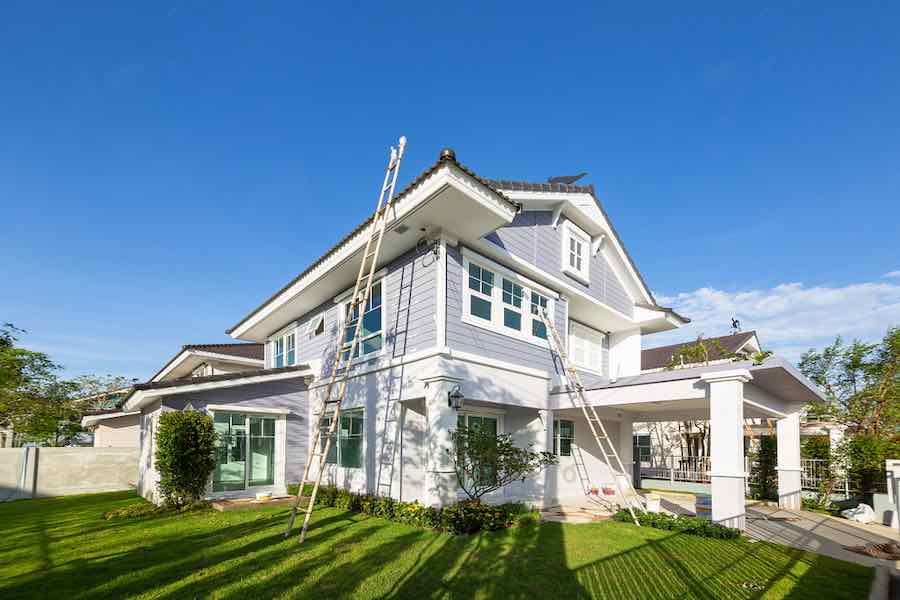 Cost is always a consideration in any home renovation project, and it's no different when you are debating painting vinyl siding.
Thankfully, painting the exterior of your home is a DIY project that most people can tackle and save some money!
If you were to paint your vinyl exterior yourself and you had zero tools, assuming you have roughly a 2,000 square foot house, you would spend in the range of $1000. Tools you would need would be an airless sprayer, like the Graco Magnum X5 (roughly $300), a 24′ aluminum extension ladder, paint, and misc tools like rollers, brushes, tape, and plastic.
Of course, you could always rent some of the tools and save money too.
You can actually estimate exactly how much your painting project would cost using my Painting Calculator! Get cost estimates, time estimates, and even an estimate of what a professional would charge.
If you were to hire a painting contractor for the same house, you would likely spend in the $2,000 – $4,000 range.
If you hire. Painting vinyl siding on a 2,000 square foot home, should run you between $2000 – $4000 depending on the height of the home, access, and so on
Now, if you were to hire a siding company to come and install new vinyl siding, this project would cost you in the range of $5000 – $14,000.
This means that painting your vinyl siding is roughly 5-10 Times cheaper than getting new vinyl siding.
Note: New vinyl siding will last much longer than your painted vinyl siding.
How To Paint Vinyl Siding
Now that we've gone over some of the pros and cons of painting vinyl siding as well as costs, let's dig into the how to!
Tools Needed To Paint Your Vinyl Siding:
5 Gallon Bucket
Vinyl Safe Paint
Vinyl Safe Primer
Roller Frame
Roller Pads
Painter's Plastic
Drop Cloths
Choosing The Right Paint For Your Vinyl Siding
Choosing the right paint for your vinyl painting project is probably the most crucial step in making sure that your job is successful and lasts a long time.
Vinyl siding has a high rate of thermal expansion and contraction, this means that the siding is going to expand and contract a lot over the course of the year. You need to find paints that will hold their bond during this expansion and contraction.
Bonding Primer
Bonding primers are specifically formulated to bond to hard to stick surfaces like vinyl. They are also typically made for interior and exterior surfaces, making them the perfect primer to use when painting vinyl siding. Below are three of the bonding primers that I have used and recommend.
Kilz Adhesion Primer – Kilz Adhesion Primer is an awesome primer that is great for any hard to bond to the surface.
Behr Bonding Primer – Another great primer that won't break the bank.
Sherwin Williams Extreme Bond Primer – SW Extreme Bond Primer is an amazing primer, but also the most expensive on this list. It retails for $66 per gallon.
Vinyl Safe Paint Colors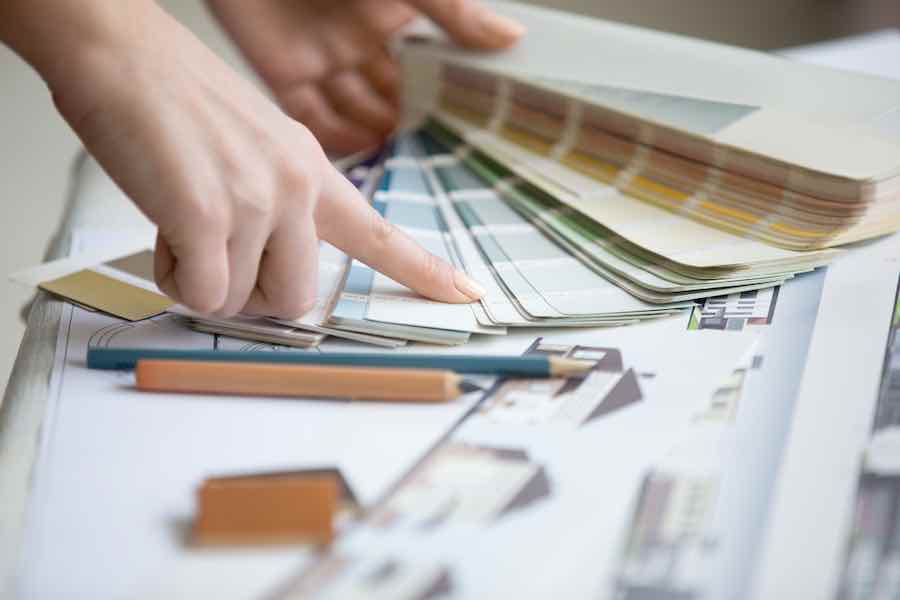 Once you have a good bonding primer, you need a topcoat with a vinyl safe color.
You can actually top coat over the bonding primer with almost any exterior paint, but the color is what really matters.
Certain colors, especially dark colors, will cause the paint and thus the vinyl, to absorb more heat than the vinyl can handle, causing it to overheat, warp, and cause peeling.
Sherwin Williams has a list of vinyl safe colors that you can find here.
Benjamin Moore also has curated a vinyl safe collection of colors that you can find here.
If you are unable to use either Sherwin Williams Vinyl Safe colors or Benjamin Moore's, then the next best solution is to choose a light color for painting your vinyl.
Dark colors will absorb more heat while light colors will reflect the heat. Too much heat will cause premature peeling and potentially siding warping.
Prepping Your Vinyl Siding For Paint
There are two steps that if you want a long-lasting painting job, cannot be skipped.
Washing Your Exterior
First, you need to thoroughly wash your vinyl siding.
I like to use a large car washing brush, 5-gallon bucket, and a gallon of Simple Green.
Mix up a batch of the simple green in your 5-gallon bucket and scrub down your siding with your car washing brush.
Before the Simple Green dries, wash it off with your hose and a spray nozzle.
Power washing your vinyl siding works, but I personally think that scrubbing with a brush and Simple Green is a better method for prepping vinyl siding.
Sanding The Vinyl Siding
Next, you want to scuff sand all of the siding. Many people skip this step, but it really doesn't take that long and is vital in ensuring that you have a long lasting paint job.
By sanding the vinyl siding, you are scuffing the siding and giving the bonding primer a rougher surface to adhere and bond to.
I like to use 3M Medium Grit sanding sponges. It usually only takes me roughly 1 hour per side of the home, unless the home is really big.
Applying The Primer
The primer can be applied either using an airless sprayer or with a brush and roller.
I'm not going to go into all the steps to prep your house for painting and setting up a sprayer in this post (I'll do that in a future post soon).
However, if you plan on spraying your primer and top coat, check out my reviews on both the Graco Magnum X5 and the Graco Magnum Prox17, these sprayers are fantastic airless sprayers and will save you many hours of painting.
Most bonding primers are ready to top coat after roughly one hour of dry time.
Applying The Vinyl Safe Top Coat Paint
The next step in painting vinyl siding is finally applying the top coat.
I personally mainly use Behr, Sherwin Williams, Valspar, and Benjamin Moore exterior paints.
Just remember to choose a light color or pick from one of the vinyl safe colors that I linked to above.
Painting Vinyl Siding FAQ
Why does paint peel from vinyl siding? Expansion and contraction more than paint can handle. Traditional paint fails quickly as the bond loosens.
Can I Paint Vinyl Siding A Dark Color? No, you should not paint your vinyl siding a dark color. If painted a dark color, the vinyl can absorb too much head which will, in turn, cause the paint to peel and/or the vinyl to warp.
Should I Paint My Vinyl a Light Color? Yes. Light colors will reflect the heat and keep the siding cooler, thus giving less peeling and warping risk.
How Long Does Painted Vinyl Siding Last? If done correctly, painted vinyl siding could easily last 10 – 20 years. I have been successfully painting vinyl siding for over 8 years now and have not had any callbacks during that time due to peeling or warping.
In Conclusion
I hope that if you've read this entire post, you now understand that painting vinyl siding is not only possible but can give your home a beautiful new look that can last many years if done right.
Make sure to pay attention to your prep work, choosing the correct primer, and a good vinyl safe color and you'll be ready for success.
Have you painted your vinyl siding, planning on doing it soon, or have any questions about the process? Leave a comment below, I answer every comment.
Check out our Exterior Painting page for even more information on exterior painting, paints, and products.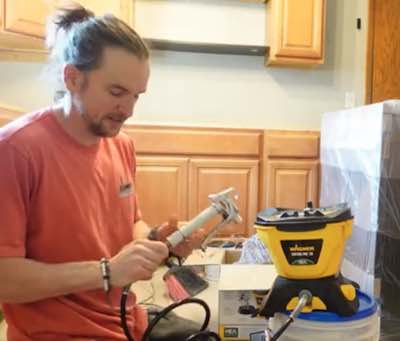 I've been a professional painter since 2001 and spent the last 12 years specializing in kitchen cabinet refinishing. I started the DIY Painting Tips blog in 2015 to start sharing everything I've learned over the years and help all the people who'd rather tackle their painting projects themselves. In 2019 I started the DIY Painting Tips Youtube channel where I publish in depth videos all about kitchen cabinet painting, painting gear reviews, and interior/exterior tutorials.