This post is a review of the Graco Magnum X5 from my personal experience.
I have been painting since 2001 and have had the pleasure of using some really nice sprayers. From the Graco 1595 (which was my biggest sprayer), Capspray electrostatic sprayers, Titans, Wagner, and many more.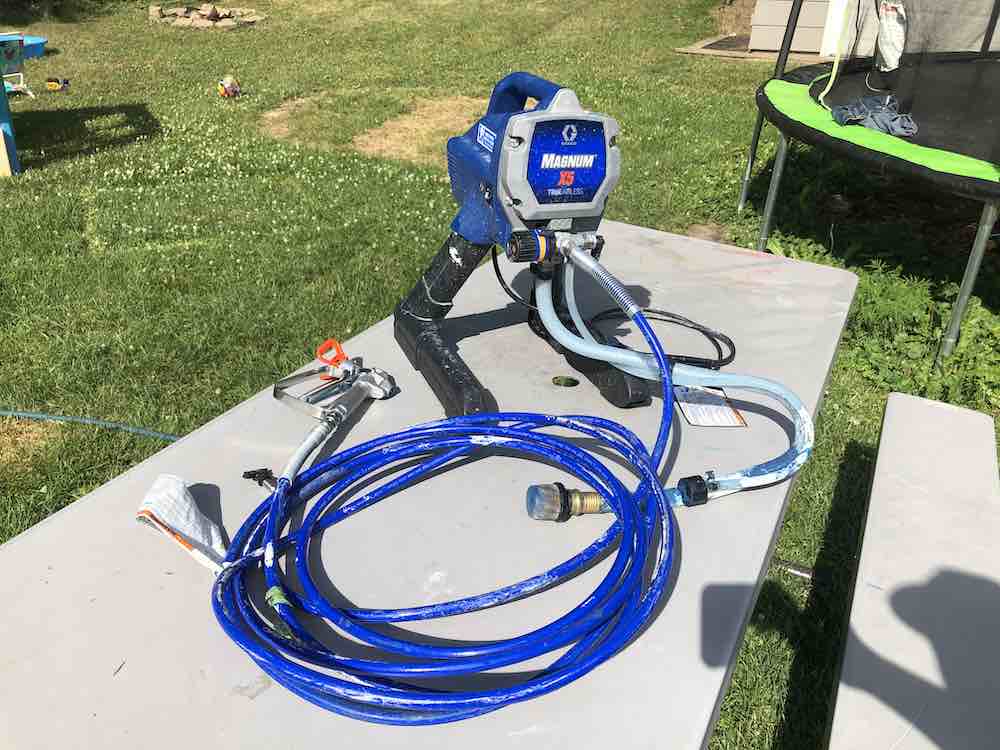 I haven't had a lot of experience however with smaller home sprayers. Most of mine have been commercial-grade and lasted (and still chugging along) through thousands of gallons of paint.
So I decided it was time to try out some of the smaller sprayers on the market that are meant for the weekend warrior and DIYer.
The first sprayer I decided to take a look at is the Graco Magnum X5.
About The Graco Magnum X5 Airless Sprayer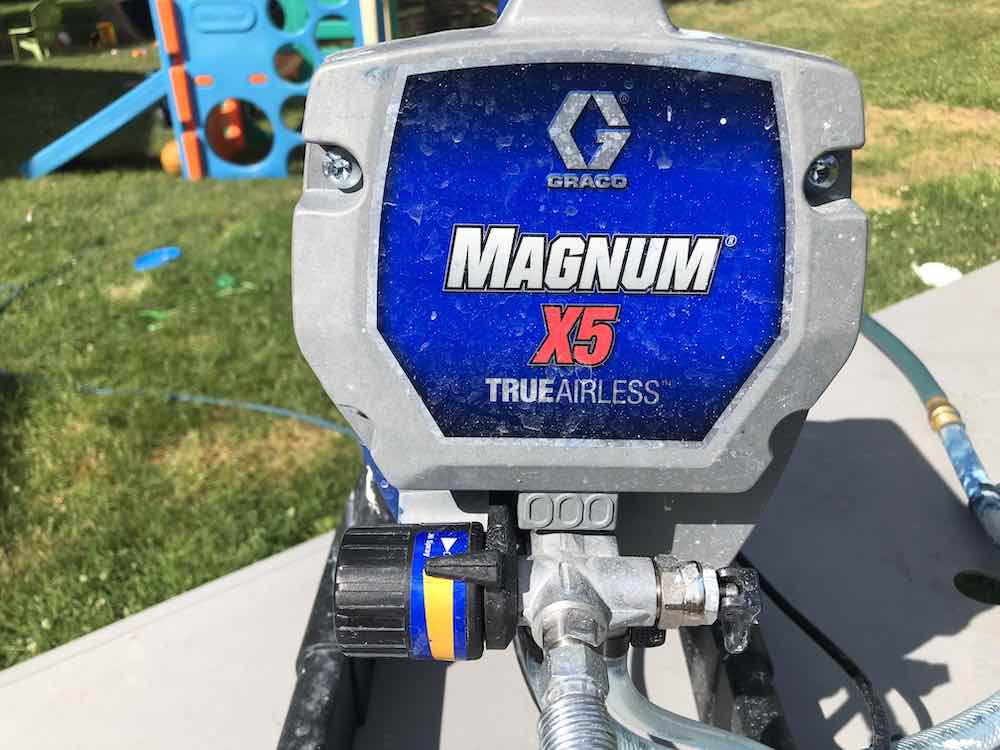 The Graco Magnum X5 airless sprayer is an entry-level airless sprayer that you can find on Amazon, at Home Depot, Lowes, Menards, and anywhere else that sells sprayers.
This sprayer is meant for the homeowner who has a couple of small projects but won't use the sprayer really more than once a year or so.
It's super lightweight and small which makes it easy to pack into storage until you have another big painting project. The lightweight is at the cost of quality metal components. If you compare this sprayer vs Graco's entry-level contractor sprayers like the 390 or 395, the weight difference is huge. This is because those sprayers have metal components and are meant to last for thousands of gallons of years of harsh use.
Graco Magnum X5 Technical Specs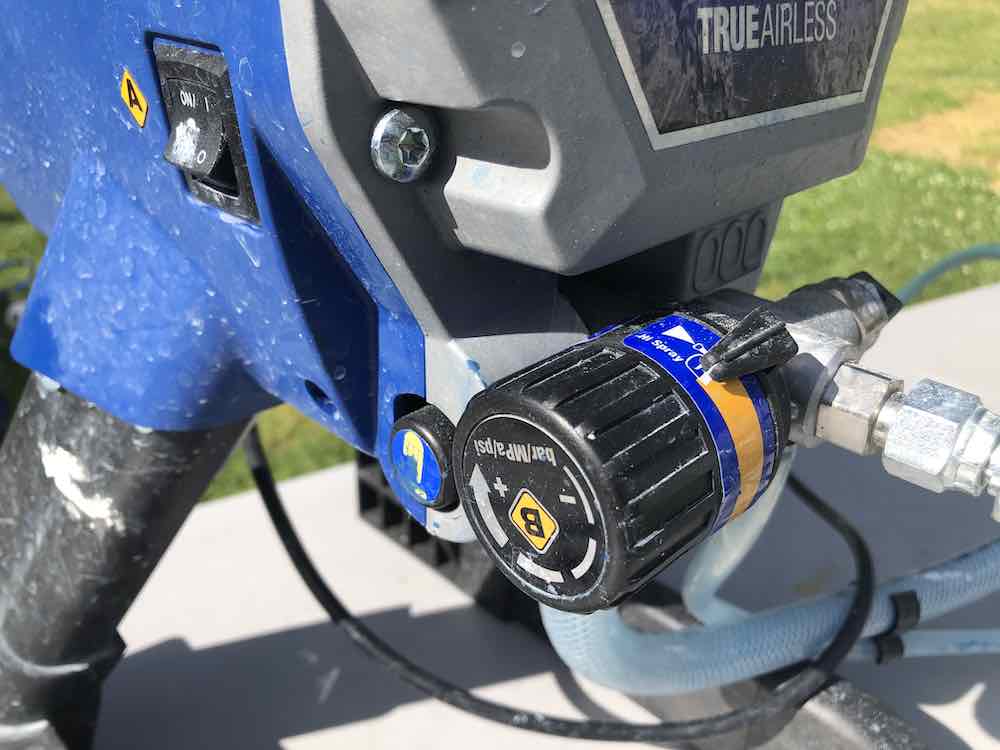 The Graco X5 has some impressive technical specs for such a small cheap sprayer.
Flow Rate: 0.27 Gallons Per Minute
The flow rate is how many gallons per minute a sprayer can pump out on average. 0.27 is actually plenty of paint for any DIYer. This is more than enough paint flow to spray your exterior or ceilings. You would actually want to turn down the pressure of the sprayer if you were spraying furniture, fence stain or something smaller.
The gallons per minute is really an indicator of how big of a tip size the sprayer can handle. With a flow rate of .27 GPM supports a .015″ orifice, which is plenty for all DIY jobs.
Max Tip Size: 0.015 Inches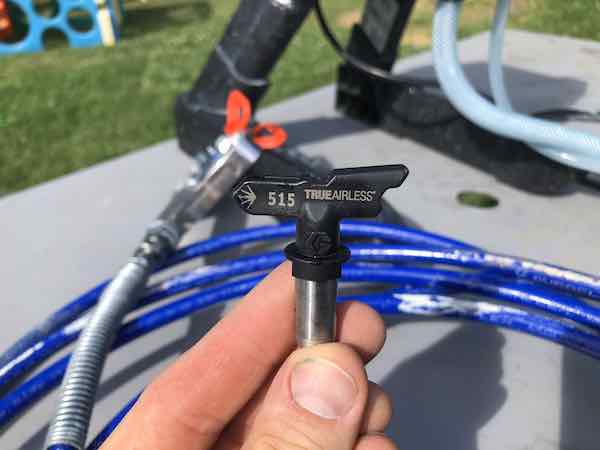 The max tip size is determined by the flow rate of the pump as I mentioned earlier.
If you have no experience and you are looking at the paint sprayers at the store, you may wonder if you need an airless sprayer that supports a .017 or larger tip size. I am being 100% honest here, you don't.
A spray tip typically has 3 numbers. The tip that comes with the Magnum X5 is a 515 tip. The first number "5" means that at roughly a distance of 12″ from the surface you are spraying, you will have a 10″ wide spray fan. That's pretty big.
The second number is the orifice (the hole that paint comes through) size. In this case .015″. That's actually a lot of paint.
When I am painting exteriors and interiors, a 515 is the most common tip I use. I can use bigger tips (and do for some jobs), but you need a lot more control and experience with a bigger tip as it sprays a lot of paint and has a lot of overspray.
For other projects such as deck staining, fence staining, or spraying cabinets or furniture, you will actually want a smaller tip like a 311 or a 411. Meaning a 6″ or 8″ spray fan and a slower rate of paint flow.
Max Hose Length: 75 Feet
While the Graco Magnum X5 does support up to 75 feet of hose, it will lose some pressure with that much hose and I personally don't recommend it.
The sprayer comes with 25′ of hose, which is ok. But 50′ is really my personal favorite length.
With only 25′ of hose, you may have a hard time reaching high points on your home's exterior and you will have to move the sprayer a lot.
If you plan on painting an exterior, I highly recommend purchasing an additional 25′ of hose. It will make your life much easier.
SG2 Spray Gun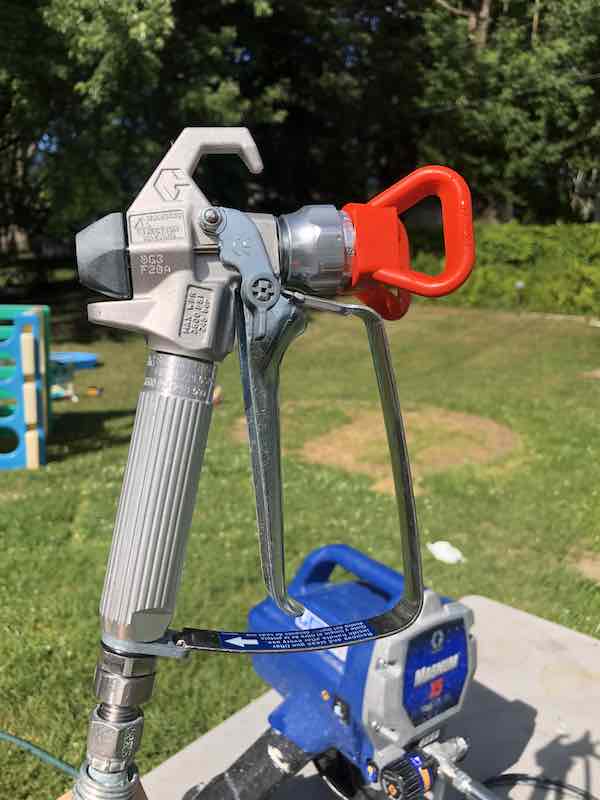 This spray gun is Graco's entry-level spray gun and is included on almost all of their sub $1,000 sprayers. It is a fine gun and gets no complaints from me.
A more expensive gun will have a better feel, easier trigger, and a few other features. But these are not needed for the occasional DIY painter.
Comes With:
Sprayer
SG2 Spray Gun
.015″ Spray Tip
25′ of Hose
What Projects Should You Use The Graco Magnum X5 On?
The Graco Magnum X5 is great for projects such as exterior house painting, ceiling painting, and painting new drywall.
It is ok, but not ideal for furniture painting, kitchen cabinet painting, deck staining, fence staining.
Exterior Painting
This sprayer is powerful enough to handle most exterior paints. Exterior paints tend to be thicker than interior paints and harder on pumps. The Magnum X5 is in my opinion, the cheapest / smallest pump that is acceptable for exterior painting projects.
If you are planning on painting your own exterior, this pump is perfect. An investment of $300 into this pump is cheaper than renting a sprayer for 1-2 weeks
Compared to brushing and rolling your exterior, it will literally save you lots of time (I'm talking 50-100 hours on a good size house). Plus, it gets paint into the gaps in between shakes and under lap siding much better than a brush and roller.
Interior Ceilings and New Drywall
If you're moving into a new home and the ceilings are a bit dirty from cooking or smoking, the Graco Magnum X5 is a great sprayer for ceiling painting.
If you roll ceilings, you can cause a lot of damage (popcorn starts falling off). Spraying is drastically faster and won't cause damage to your ceilings.
If you have a remodel going and you need to prime out new drywall, this is another great use for the X5.
Why Not Furniture and Cabinets?
In my opinion, furniture and cabinets require a finer finish and more controlled spraying. I prefer to use an HVLP sprayer for these types of projects (you can buy an extry level HVLP for under $200).
With a little practice, an airless sprayer can be used to achieve great looking sprayed cabinets and furniture. But I will warn, I have seen many "professional" painters use airless sprayers on cabinets only to have runs galore and a not so smooth finish in the end.
What I Like About The Graco Magnum X5 Airless Sprayer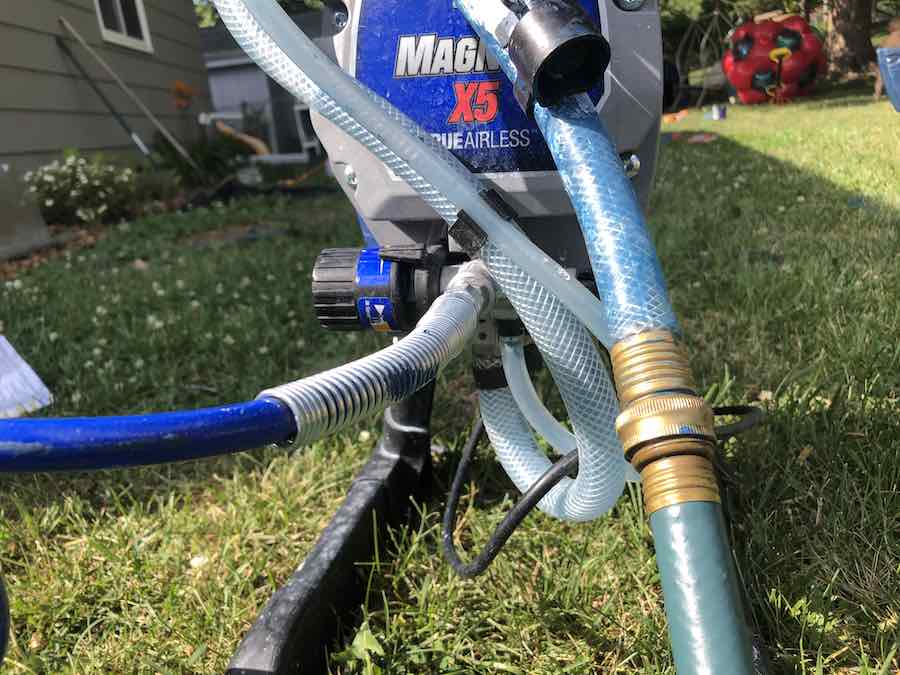 There is a lot to like about this airless sprayer. First of all, it is cheap. For the small investment vs the time saved on your painting projects, it is well worth it.
I also love that Graco has fitted the inlets of their new sprayers with the power flush adaptor (it's a garden hose adaptor). This simple addition makes cleaning your sprayer significantly easier and quicker.
The SG2 spray gun is a solid entry-level spray gun that really doesn't have any major negatives. If you sprayed every day, you would find that your hand would fatigue, but this sprayer isn't meant as an every day sprayer, so that is really not an issue.
What I Don't Like
The only thing that I don't love about the Graco Magnum X5 is that it is rather cheaply built. But that is exactly what the X5 is supposed to be, a cheap entry-level sprayer.
Don't expect to be able to fix the sprayer or take it to the repair shop. When it's done, it's probably time for a new sprayer.
So, if you have a lot of painting projects coming up or you are just starting a new painting business, this is not the sprayer for you. It won't last.
My Personal Thoughts On This Sprayer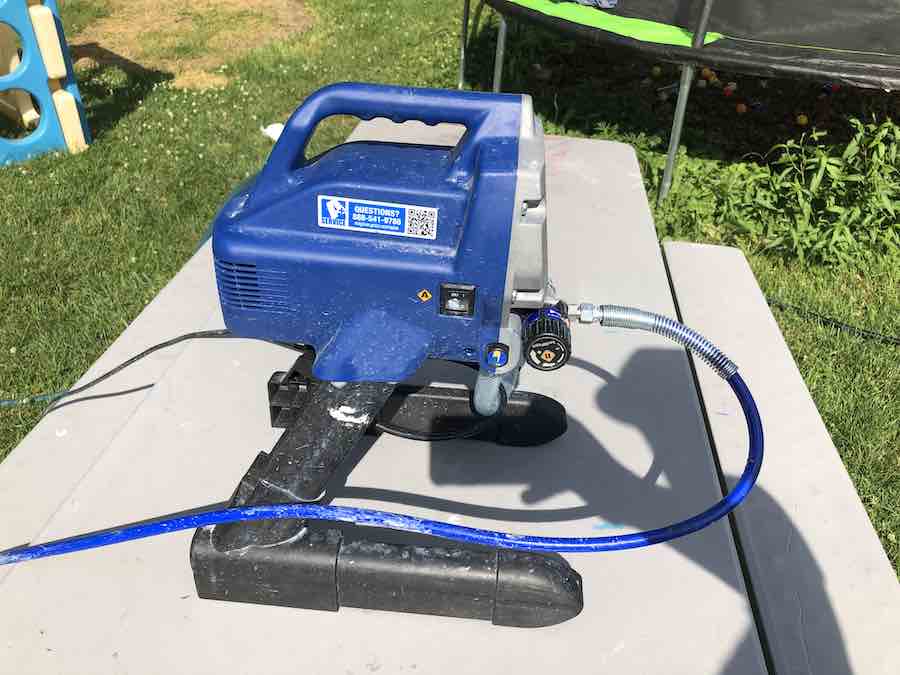 The Graco Magnum X5 is cheap and will improve your painting quality and speed drastically.
I personally used it on two homes just to get some time with it even though I have much bigger and nicer sprayers.
I wasn't slowed in the slightest using the X5. I used it to spray Behr Ultra (their mid-grade exterior paint) and didn't notice any lag in the sprayer at all on the first home.
On the second home, I started having some issues with the sprayer needing to catch up. I realized that if any of the filters get dirty at all, the pump isn't powerful enough to overcome an even slightly dirty filter. So make sure to keep your filters 100% clean and take care to give it an extra good clean at the end of the day before it goes into storage.
At the end of the day, this is the perfect sprayer for someone who plans on painting their own exterior and that's it. You could buy the sprayer, use it on your home, save yourself 50 hours, then sell it on Facebook Marketplace for $100 – $150 and you're only out $150.
A paint sprayer rental from Home Depot is $91 a day or $360 per week. For an average 2 story home, you would need it for at least a week (if not more), so the X5 can easily save you money.
If you want to see how long your home will take you to paint, check out my paint calculator to get a time estimate, material cost estimate, and even an estimate of what a paint contractor would charge.
If you plan on painting more than 1 home a year, I highly recommend upgrading to a better sprayer such as the Graco Magnum ProX17, which can easily handle 5-10 homes a year.
If you have any thoughts or questions about the Graco Magnum X5 airless paint sprayer, leave them below, I personally answer all comments on DIY Painting Tips.
Check Out My Other Paint Sprayer Reviews
Check out our Exterior Painting page for even more information on exterior painting, paints, and products.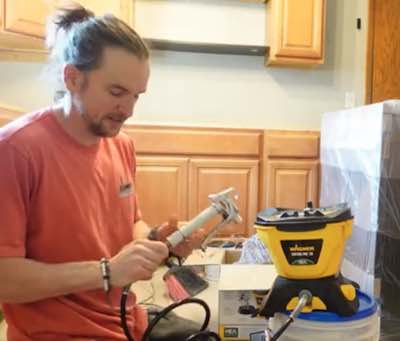 I've been a professional painter since 2001 and spent the last 12 years specializing in kitchen cabinet refinishing. I started the DIY Painting Tips blog in 2015 to start sharing everything I've learned over the years and help all the people who'd rather tackle their painting projects themselves. In 2019 I started the DIY Painting Tips Youtube channel where I publish in depth videos all about kitchen cabinet painting, painting gear reviews, and interior/exterior tutorials.