Right now is the perfect time to switch it up. While this might mean dyeing your hair for some, we love the idea of giving your home a new splash of color with some shabby chic paint.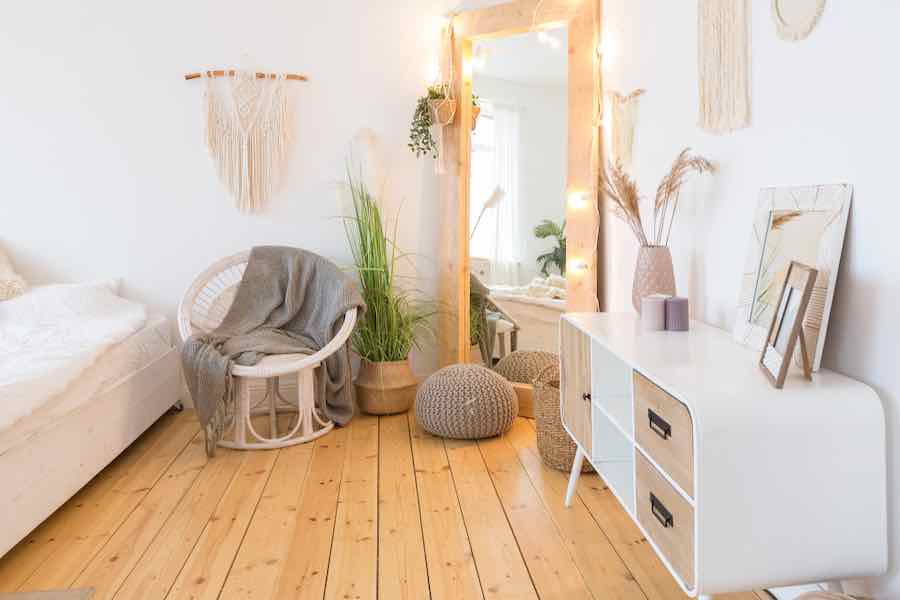 Shabby chic is one of the most popular color pallets in the home decor world right now, so adding some to your house will undoubtedly have heads turning. But, where do you start?
Let`s be honest: there are a lot of paint colors out there. To make it easier, we`ve made a list of 21 shabby chic paint colors that are perfect for your home.
With quick links and brief descriptions of the color, you`ll know exactly which ones are right for you.
21 Shabby Chic Paint Colors For Your Home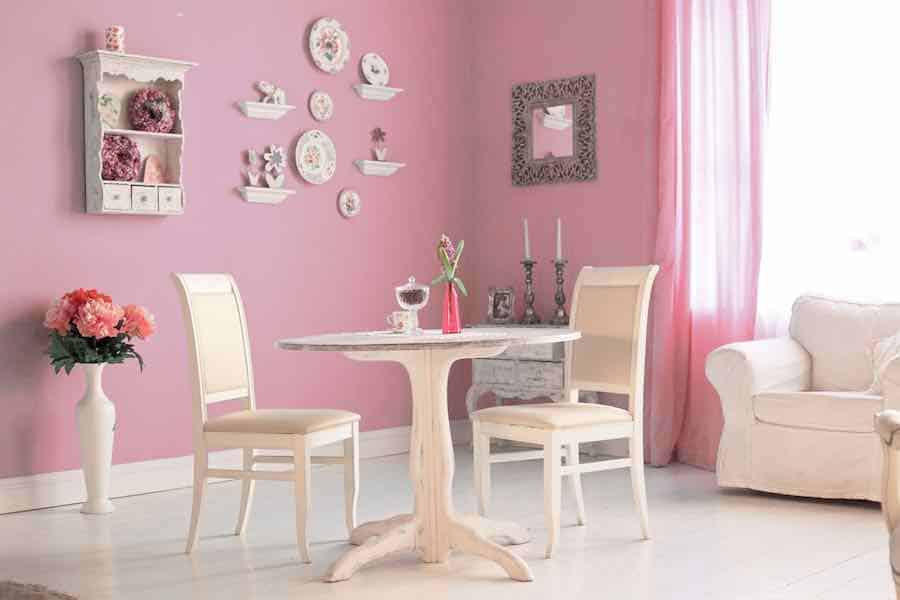 21. Peach
To give your home a sprinkle of brightness, peach paint colors are a great option. Not too bright that it`s distracting and not too dull that you`ll walk right past it, peach creates for a perfect neutral color that can be matched with almost everything– light or dark.

Our favorite peach paint comes from Prestige Paints on Amazon. Their semi-gloss Paradise Peach is the perfect mix of light pink and orange, a color just dying to be accented in your home.
20. Country Gray
Nothing beats the smooth, sleek look of gray accents. Medium-to-light shades of gray provide beautiful juxtapositions between lighter, brighter colors, adding dimension to any home.
Light gray colors won`t make your rooms feel smaller, either; conversely, its bright notes open up even the tightest spaces.
Rust-Oleum offers a beautiful Country Gray paint shade that`s ultra-matte. No worries of shine or sheen, this shabby chic color goes perfectly in any home.
19. Light Yellow
Embracing the sun and warmth of summer, light yellows create great shades to decorate your home with. Shabby chic yellows are going to paler in color, still emitting warmth but not as overwhelming as bright, highlighter shades.
Great paired with whites, grays, and even pale blues, light yellows like Prestige Paint`s Fun Yellow will give you the splash of color you`ve been missing.
18. Pastel Purple
Light purples scream shabby chic like no other. These calming, pretty shades are great inside any home, especially for those looking to be a bit more untraditional.
Light purple lavender colors bring light into a house or make for a beautiful accent color. Glidden offers a stunning Lavender Haze color that you`ll only need one coat of to transform your entire home.
17. Baby Blue
If you couldn`t tell, shabby chic is all about the light colors–baby blue is no exception.
This extra-light shade of blue is great for more than just nurseries: baby blue provides light just as welcoming as the blue sky overhead.
Prestige Paints has a color they call Blue Refrain that we think perfectly captures our shabby chic vision.
16. Sand
Matching everything, warm, and totally neutral, sandy paint colors make for a great match with most shabby chic colors.
While brown shades may seem boring at first glance, this mix of brown, gray, and light yellow is dynamic enough for any wall or furniture piece. Glidden`s Seriously Sand shade is the perfect example of this gorgeous paint color.
15. Charcoal
While you may not want to paint all four walls charcoal, dark grays do make for great accent colors, especially when juxtaposed to lighter shades like cream or yellow.
Charcoal can easily be manipulated to look aged or worn, creating a nice classic style alongside the shabby chic.
On Amazon, Rust-Oleum makes the perfect Charcoal shade that is one-coat coverage for extra-easy painting.
14. Coral
Not too pink but not too pale, coral is a beautiful color to decorate your home with. This is a staple within the shabby chic style, both as an accent or main wall or furniture color.
Coral is yet another color that adds brightness to a room, even in the smallest amounts. Prestige Paints` Coral Reef paint color is a gorgeous example of this shabby chic color. =
13. Lilac
Slightly lighter than your typical lavender color, lilac is yet another beautiful purple shade that every home needs. Lilac paint shades add a touch of luxury and elegance to whatever it`s applied to, and everyone will gravitate toward your lilac-colored pieces or walls.
Prestige Paints offers a shade called Rhapsody Lilac that`s meant for interior (shabby chic) paint jobs.
12. Serenity Blue
The perfect mix of light blue and light green, serenity blue shades are so unique that you`ll want your home slathered in its charm.
Light enough to be a great wall paint and distinct enough to be used on furniture pieces and accents, this multifaceted blue will add more to your home than just a new paint color.
Rust-Oleum offers an ultra-matte Serenity Blue shade that`ll be shipped right to your front door the moment you want to start painting.
Image Source: Amazon
11. Winter Sage
Different than your regular shades of sage, winter sage is a blue-hued color with neutral undertones that encompass shabby chic to a T. A minty green, winter sage makes a stunning curtain of color that most homes are missing.
Prestige Paints sells a beautiful Winter Sage semi-gloss paint shade meant only for interior use.
Image Source: Amazon
10. Gray-Blue
Gray-blue paint colors are perfect shabby chic shades, and you can`t help but think "Ëœvintage` when you see it. Gray-blue shades can easily be added to full walls for dynamic highlights, and it matches with practically any furniture piece you may have.
Kilz Tribute has a great gray-blue shade called Northern Sky that would transform any home entirely.
9. Cream
Sometimes, simplicity is best. Cream is a gorgeous, neutral shade that boasts milky tones, not too intense nor too muddied for the everyday wall or furniture piece.
Though somewhat standard, cream is considered a shabby chic shade for its traditional, classic use throughout history. Rust-Oleum has a paint that encompasses this simple beauty perfectly, and that`s their Chiffon Cream option.
8. Evergreen
In the case that you`re looking for a darker accent shade, we like to think that evergreen is the perfect option.
This dark, forest green paint color is beautifully added onto any piece, light or dark, and adds a vintage feel that plays flawlessly into your shabby chic theme.
Evergreen isn`t too dark and definitely not too light, making for the perfect middle ground green paired with your favorite yellows, creams, and grays.
Boomerang offers an eco-friendly Evergreen paint color that tickles our fancy quite a bit.
7. Salmon
One shabby chic color that is quickly growing in popularity is salmon. Salmon is a nice pink/orange color that adds warmth and charm to any room, whether it`s in small doses or large.
Salmon accent walls or salmon accents show your guests that you`re creative and love the non-traditional–just like us.
Prestige Paints sells a soft Salmon Run paint color that we adore.
6. Teal
Nothing says shabby chic like teal paint colors. Teal has quickly been growing in popularity as people embrace its vintage ties and gorgeous undertones.
In any home, teal paint will grab attention and create feelings of elegance, regardless of what you`re painting.
One of our favorite teal paints we`ve come across is Prestige Paints` Vintage Teal. The name says it all!
5. Mint Green
Beautifully bright and pretty when paired with whites and grays, mint green perfectly encompasses shabby chic.
Add it into the home and you`ll see an instant transformation in all aspects. As a playful color that isn`t regularly seen in the home, mint green demonstrates that you`re ready to stand out.
Prestige Paints has a beautiful Mint Frost semi-gloss that would look lovely in any home.
4. Beige
You just can`t go wrong with a simple shade of beige. Perfect for the walls, furniture, and just about anywhere, beige goes perfectly within our shabby chic tones.
If you`re in need of a beautiful, neutral tone, The Spruce Best Home by Kilz makes a shade called Macrame Beige that seamlessly encompasses simplicity with class.
3. Celery
No, no, we`re not talking about the food. Celery is a green clay shade that`s neutral enough for practically any pairing.
On walls, celery green shades will bring feelings of elegance and individuality unlike your typical paint shade.
Kilz Tribute makes a shabby chic Subtle Celery color that we think we could go great in the everyday household.
2. Champagne
Light, light pink with hues of brown, champagne is a classy neutral color that any home deserves to be decorated in.
Not as traditional as white or brown shades, champagne`s gorgeous vibrancy can make a house feel like a home.
Kilz Tribute makes a perfect champagne color called Angelic Pink that we think is totally shabby chic.
1. Blush Pink
The epitome of shabby chic is blush pink. Blush pink tones are subtly bright with hues of luxury that add beauty to a house like none other.
Whether it`s on the wall or accented on furniture, having a splash of blush pink changes the atmosphere tenfold. Glidden makes a perfect Ballet Slipper shade that`s identical to blush pink.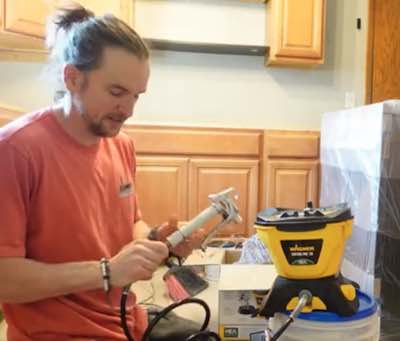 I've been a professional painter since 2001 and spent the last 12 years specializing in kitchen cabinet refinishing. I started the DIY Painting Tips blog in 2015 to start sharing everything I've learned over the years and help all the people who'd rather tackle their painting projects themselves. In 2019 I started the DIY Painting Tips Youtube channel where I publish in depth videos all about kitchen cabinet painting, painting gear reviews, and interior/exterior tutorials.