Sometimes, every home needs a new pop of color. Whether you're hoping to paint your walls or decorate a piece of furniture, modern paint colors are some of the best ways to give your house a whole new look. These colors aren't too flashy but aren't too simple, either: they're perfect for your home.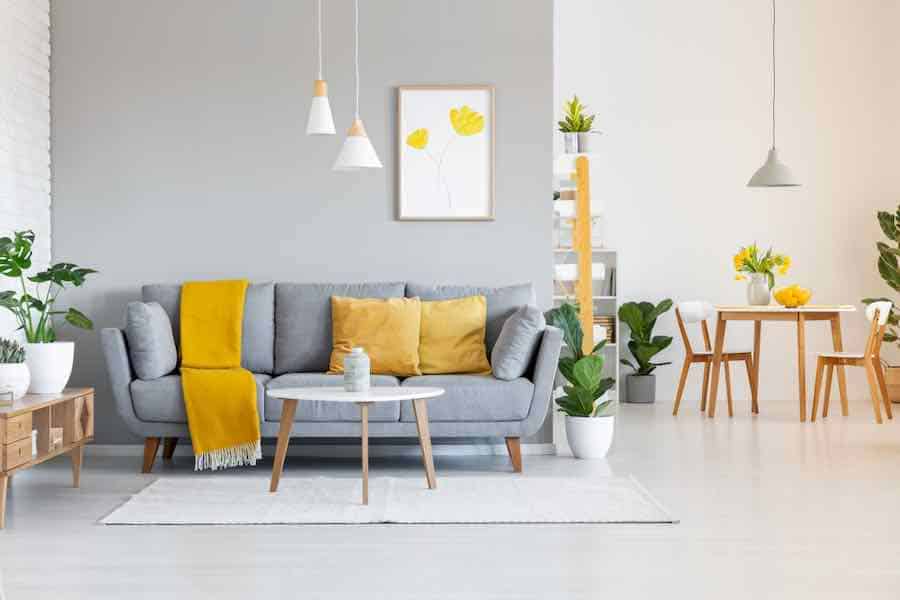 Below, we've listed 17 of our favorite modern paint colors that will look great inside your house, painted on your furniture, or even on the walls of your guest bathroom. No matter how you're using these modern paint shades, we promise that they'll enhance your home's look tenfold.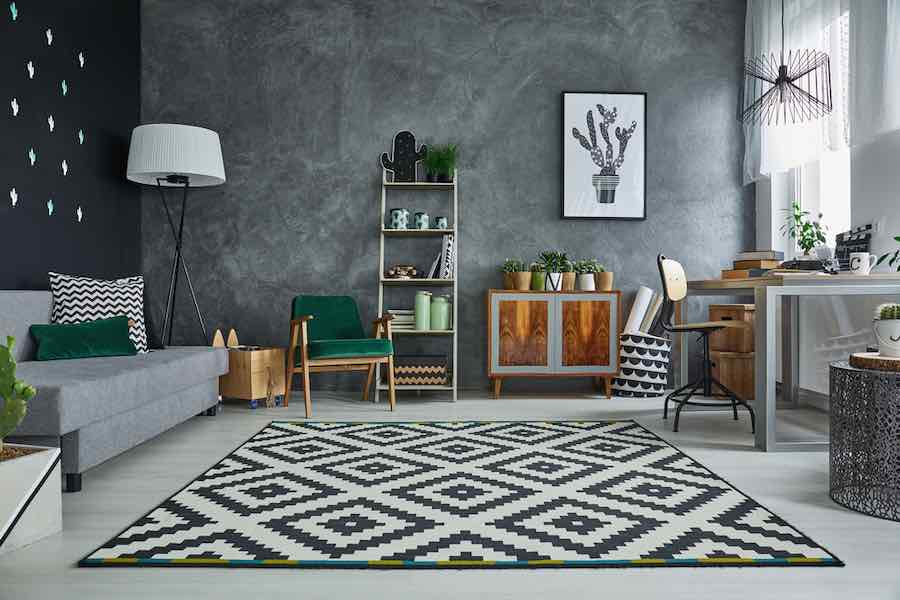 1. Mustard
Mustard yellow has become a staple within modern color pallets. This warm yellow tone isn't too bright nor too dark, helping to boost moods and reflect sunshine in ways that most colors can't. Prestige Paints carries a stunning Mustard paint color that would enhance the appearance of any room it was added to. If you're trying to show your modern side, this yellow color is the one to do it.
2. Olive Green
Beautifully painted onto walls, furniture, or even your kitchen cabinets, olive green paint colors encompass modernity to a T. These dark green shade of green isn't overly ambitious, but it still adds a touch of color that brings light to any room. Especially in a house full of plants and warmth, olive green tones are perfect pairings. Glidden's All About Olive paint color is definitely our favorite.
3. Pewter
Every house needs a neutral shade, but, that doesn't mean the neutral shade has to be boring. Pewter is a beautiful modern paint color that mixes beige with gray in the most seamless way possible. Surprisingly bright when painted on the wall, pewter paint colors pair wonderfully with almost all other modern shades. RECOLOR carries a Pewter wall paint that would transform any house in a modernist paradise.
4. Farmhouse Red
We all could use some bright red accent in our homes every once in a while. Rust-Oleum's Farmhouse Red wall paint color is a beautiful deep red that goes perfectly within our modern color pallet. Ultra-matte and one-coat coverage, this paint is a quick, easy option for a beautiful touch of modernity.
5. Ocean Blue
Not as dark as black but not nearly too bright and distracting, ocean blue shades are the ideal addition to your modern paint color pallet. Ocean blues goes wonderfully on their own, but, when paired with other, brighter colors, this shade of blue pops like no other blue shades. Non-traditional, having this dark blue color on your wall will feel like you're living in a dream–right in your own house. Rust-Oleum's Coastal Blue paint showcases this flawlessly.
6. Sand
A perfect contrast to a bright white or other vivid paint shades, sandy paint colors are a great shade within any home wanting to add a touch of modernity.
Sand shades are super light brown with slight hues of orange when the sun hits at just the right points.
As the main color or as an accent, this modern shade of brown is ideal for someone looking for a less-traditional neutral shade. Glidden's Cheddar Biscuit paint color is a very close resemblance to this sand color we're describing.
7. Intercoastal Gray
Nothing quite says modern' like gray-blue paint colors. Prestige Paint's Intercoastal Gray paint is a perfect shade of gray that, when hit by the light, reflects gorgeous hues of blue that'll give any room warmth and elegance.
Whether you choose to add this color to a wall or your kitchen cabinets, having such a modern paint color will let all of your guests know just what you're about.
8. Sage Green
Having sage green walls helps you connect right to Mother Nature herself. When paired with creams and grays, this light green color becomes a modernist's dream.
On walls, sage green paint colors soak in sunlight and help your room feel bigger and more welcoming than ever. Even as an accent color, light greens reflect tones of modernity and class that spice up every house or bedroom. Glidden's light green shade Harmonious does this perfectly.
9. Espresso
Dark chocolate browns are some of the most popular shades in the paint world right now. When paired with lighter colors like creams or even yellows, paint colors like espresso stand out like never before.
Great for reflecting style and class, espresso paint shades are surely a modernist favorite. Glidden's sells a beautiful dark chocolate shade called Little Bear that we think matches our description of 'espresso' perfectly.
10. Linen White
Of course, we can't talk about modern paint colors without finding the perfect shade of white. White, while traditional, is the perfect accent within modern color pallets, giving all other shades a beautiful hue to juxtapose.
To really embrace the modern look, white shades tend to lean on the creamier side, to create a more muddied, less intense neutral look. Rust-Oleum sells a gorgeous Linen White paint color that'll cover your walls easily and flawlessly–without looking too bright, either.
11. Baby Blue
Traditionally, we tend to rely on baby blue wall paint for boy's nurseries. However, that antiquated idea has long passed, and baby blue has now become a beautiful modern paint shade that goes great in practically any room in the house, whether as an accent or the main color.
This soft blue shade goes will so many other colors, and when paired with a matte black or gray, you get the ideal modernist look. Glidden's Blue Peal paint color a favorite baby blue shade of ours.
12. Tangerine
Few colors display modernity and fun the way that tangerine paint shades do. Tangerine isn't your typical shade of orange: it is a great bend of both orange and red hues.
These colors combined make for bright tones that aren't overwhelming or distracting. Instead, this modern paint color is welcoming and attractive.
While we love it on furniture pieces, tangerine shades also go extremely well as an accent wall color, too. Prestige Paints creates a color called Zest which we think perfectly encompasses this tangerine shade.
13. Plum
A great way to add some color without being over-the-top is by adding some plum to your walls or furniture. No, we're not talking about the fruit; we're talking about the deep purple color that is quickly becoming a favorite within modern paint colors.
This intense purple shade is not only fun, but it's non-traditional and helps you stand out from the rest. Surprisingly, plum shades pair well with many other classic modern hues, too. Glidden's Victorium Plum is a great option for both walls and furniture.
14. Coal
We know, we know, dark gray?! Trust us on this one. Dark gray shades are integral in modern color pallets nowadays.
Black walls or black furniture pieces are some of the chicest designs you'll find that blend perfectly with practically any other color out there.
While we don't recommend painting your whole house this color, having it as an accent throughout any home shows that you really know interior design. Boomerang's Eco-Friendly Coal interior paint is the best option we've found.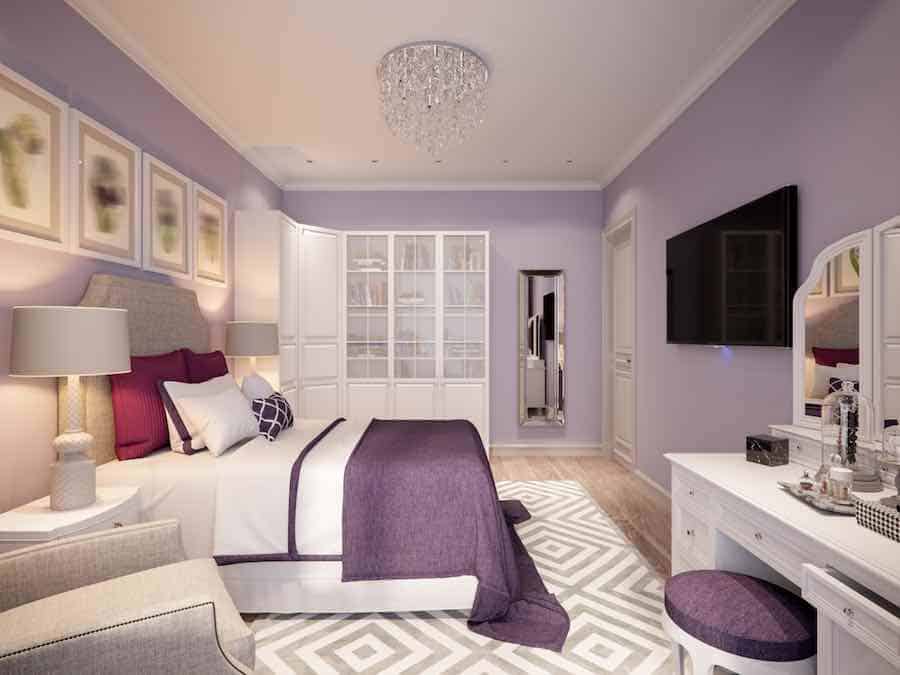 15. Lilac
Pastels are huge within modern paint color pallets nowadays, and lilac is no exception. This gentle light purple shade produces calming, soothing feelings whether it's in a bathroom or bedroom.
This shade is great for any type of room that just needs a hint of color. Plus, lilac paint shades are neutral enough to be matched with most other modern paint colors, making for an easy transformation within your home. Prestige Paint's Rhapsody Lilac shade reflects this perfectly.
16. Spiced Cider
No other color says warmth and welcoming like that of spiced cider. This dark brown shade has hues of dark red to give it a fall-like atmosphere.
However, this modern paint color is gorgeous during more than just the colder winter months: year-round, spiced cider hues reverberate feelings of calm and togetherness. Glidden's Spiced Cider paint shade is easily one of our favorites.
17. Teal
Teal is easily one of the most popular modern paint colors right now. This beautiful blend of blue and green make for an even more attractive shade when added into the home.
As the sun bounces off of your new teal paint, your home is full of modern hues that bring warmth, class, and elegance. Prestige Paints carries the perfect Teal paint color to add to any wall or furniture piece.
Start Painting!
Now that you've found all of the modern paint colors you could ever want, it's time to start painting! DIY Painting Tips has everything you could need to help you get started on your home's transformation, whether it be interior, exterior, or anything in between.
Painting doesn't have to be intimidating. Get started on making your home look like a modern paradise and let DIY Painting Tips help you every step of the way.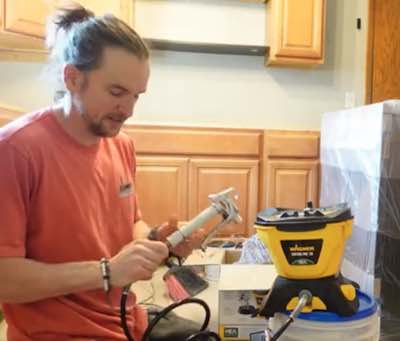 I've been a professional painter since 2001 and spent the last 12 years specializing in kitchen cabinet refinishing. I started the DIY Painting Tips blog in 2015 to start sharing everything I've learned over the years and help all the people who'd rather tackle their painting projects themselves. In 2019 I started the DIY Painting Tips Youtube channel where I publish in depth videos all about kitchen cabinet painting, painting gear reviews, and interior/exterior tutorials.