When it comes to contemporary paint colors for your home, a lot of homeowners think of muted, neutral tones. While these shades are certainly a big part of "contemporary" colors as a whole, surprisingly enough, there`s a lot of other vibrant colors that could also fit your modern and updated interior as well.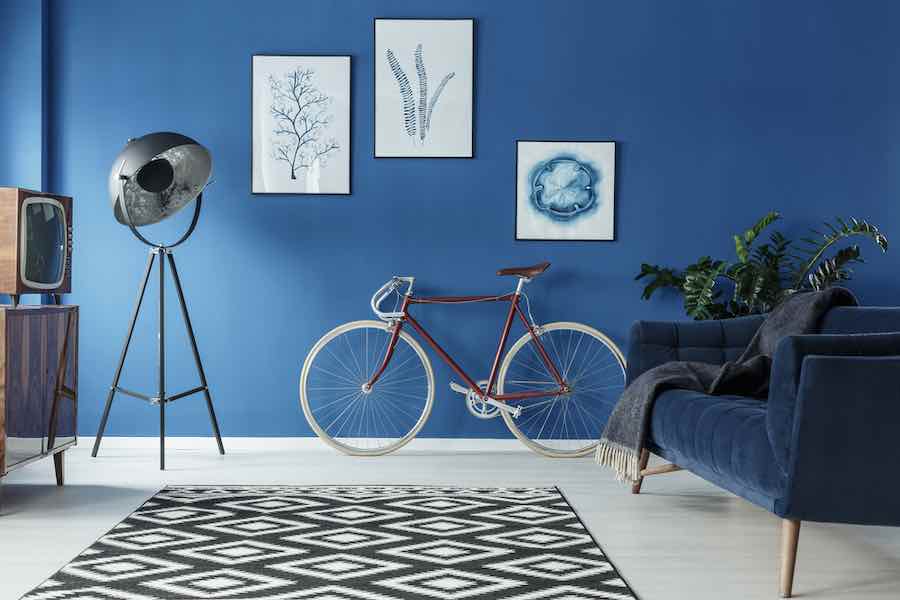 With this in mind, we`ve put together a list of some of the best contemporary paint colors you can use in your home to achieve a modern aesthetic in any room.
1. Taupe
The first of our contemporary paint colors is Taupe. Neutral shades are wonderful for individuals who are looking for something that won`t be hard to live with, and Poised Taupe by Sherwin-Williams accomplishes just this. This color is beautiful when it`s paired with white, and can emulate timeless versatility and broad appeal.
2. Deep Blue
Deep blue is one of my favorite contemporary paint colors. As a softer alternative to simple black, Farrow & Ball`s Railings is a deep blue shade. With it`s deeper shades, the color creates a much more dramatic feel to spaces in your home such as kitchen cabinetry.
The color can be ramped up with a gloss finish when painted on areas like your pantry door or cabinets. A more relaxed finish with this color can be afforded with an Estate finish. Whichever you choose, this color will be a conversation-starter and attention-grabber.
For homes that are inspired by retro colors such as terra-cotta orange, avocado pink, and mauve, this color is a wonderful addition. The color also looks good in homes with palettes of blue such as denim and country blue colors.
3. Muted Green
For those looking to make any room feel more soothing and relaxing, Flora by Benjamin Moore could be the perfect choice for contemporary paint colors. Some might even describe this as the perfect shade of green, since you really can never go wrong with a paint colored soft safe.
The color represents a certain richness without being too dark, as well as feeling earthy without being too heavy. Medium and dark wood tones look great with this color, which can be used in a far reaching range of home styles including traditional and modern.
4. Pale Orange
Sundream from Spruce Best Home is a wonderful way to add a little feng shui energy to your living space, creating a very welcoming and inviting atmosphere.
This orange paint color is a wonderful way to lend happiness and brightness to a room. While it could be classified as a warm beige, it is subtle enough to paint all four walls, yet it still emanates the sweetness of positivity in a room.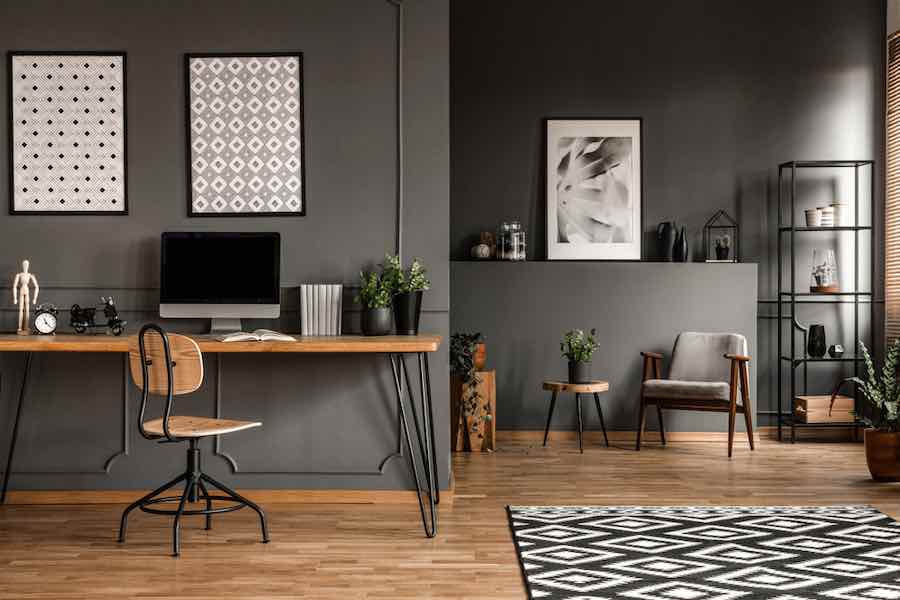 5. Mid Grey
Pavillion Gray from Farrow & Ball is recommended for those times when you want a little more color than plain white. Described as a "mid-gray," Farrow & Ball paints use a water base that`s eco friendly, low VOC, and child safe, as well as low in odor. A sample of this color can be purchased for just $8.
6. Apple Red
For individuals looking to serve a bold and stimulating color for areas such as an accent wall, Glidden`s Red Delicious is a wonderful choice for contemporary paint colors.
As a powerful and energetic Red hue, this color looks refreshing when paired with White trim. This color choice is really a timeless and bold version of red that will not go out of style anytime soon.
7. Dark Green
For individuals looking to balance a sense of calm and relaxation, look no further than Card Farrow & Ball`s Room Green. This green color in particular is wonderfully therapeutic and looks wonderful when paired with tones of gray, mustard, and pebble.
8. Pastel
A current home trend surrounding the popularity of the "hygge" movement (which is basically cozy/comfortable danish-inspired decor, furniture, and colors) puts an emphasis on promoting happiness in the home by creating cozy spaces that positively impact an individual's commencement and well-being.
PPG Paints` Whiskers is a wonderful color to embody individuals hoping to join in on this movement, As a nuanced pastel, this color is a wonderful way to inspire comfort within a space. It`s a light shade of greige that helps the walls of a room transform into a cozy retreat enveloping around you.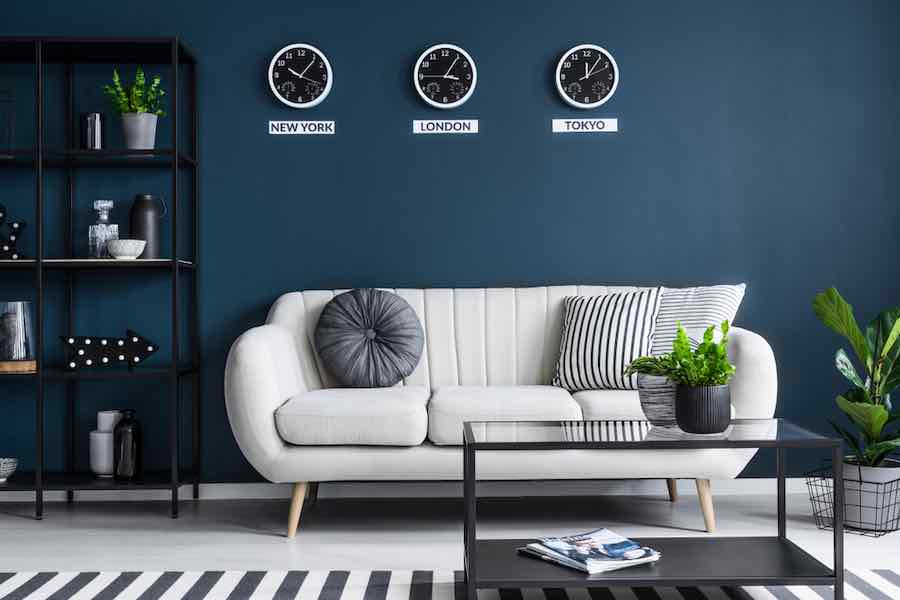 9. Dark Blue
Benjamin Moore`s Gentleman`s Gray is a wonderful shade adored by many. Much of the love surrounding this color can be ascribed to it`s versatility in use within a large variety of spaces.
This color can be made to look even better when used with a gloss finish, which serves to add character to any room. It`s deep blueish gray tone provides a serene, comforting feeling that can be used in spaces ranging from offices to places like the bedroom.
10. Light Gray
Alaskan Husky by Benjamin Moore is a classic and timeless shade that emulates a perfect neutral tone of Gray. As a wonderful color for guest bedrooms and front entryways, this is a classic shade that will compliment any accent color in your home.
You may find yourself coming back to this neutral color time and time again in the future.
11. Warm White
You cannot go wrong with Alabaster by Sherwin-Williams, a lovely creamy white that`s perfect for homes with a north-facing view. No matter the room that you choose, this is a wonderful go-to white to warm a space up with some northern exposure.
12. Roman Clay
Roman Clay from Portola is a wonderful option for individuals looking to go with something different than your average paint. It`s a plaster finish that`s applied using a putty knife to give spaces a cool, marbly look. The plaster adds some great texture to walls and additionally is made with natural ingredients and almost zero VOC.

This finish looks wonderful in spaces such as bathrooms that tend to have more hard surfaces, and can quickly make a boring space more interesting. The line offers a variety of color options to choose from, including the wonderful Rock Stone.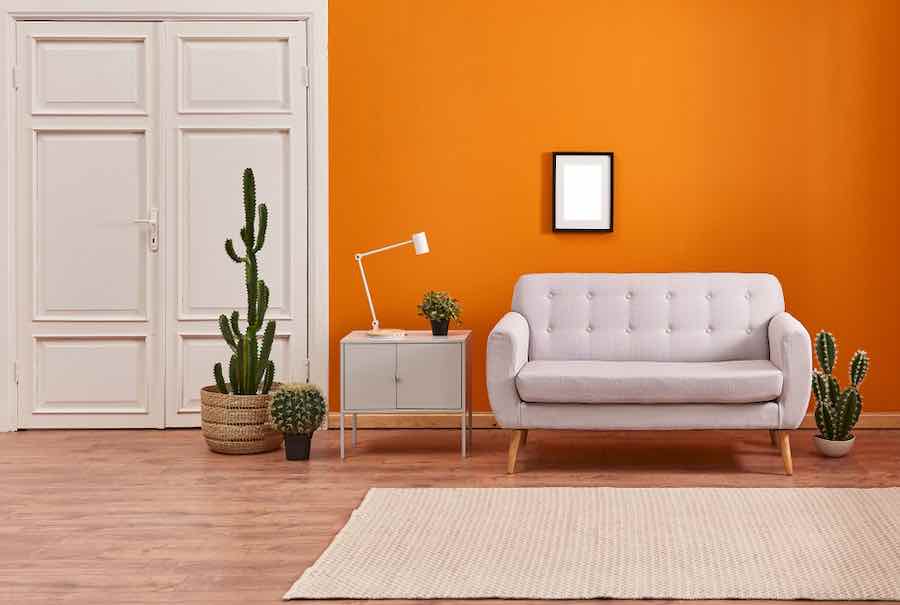 13. Sriracha
Clare`s Sriracha looks just like the title would suggest it does, a spicy saturated terra-cotta hue. This color is a wonderful way to make a bold and energetic statement in a room.
14. Chalky Blue
For Paintzen color experts, Chalky Blue by PPG Porter Paints is a top paint color pick. The color can be described as something between blue and gray, with a velvety shade that can actually be used as a neutral tone. This hue is a wonderful color to try in your kitchen, one of your bathrooms, or in your bedroom.
White trim looks beautiful with this Blue tone, and can be made even more impactful with rich, black accents. This is also a wonderful color addition to rooms with a monochromatic pallette, where it can add a lot of depth to different shades of blue-gray on both the lighter and darker end of the spectrum.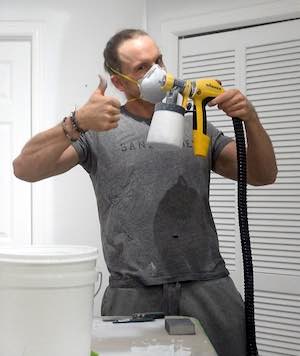 I started painting in 2001 and have seen just about everything in my painting career. I started in production and commercial painting, then moved over to new construction and remodeling during the boom of the early 2000s. Post 2010, I niched down into residential painting where I have done everything from exteriors, decks, interiors, furniture and more. Over the last few years, I've had a focus on kitchen cabinets.
I started the DIY Painting Tips blog in 2015 to start sharing everything I've learned over the years and help all the people who'd rather tackle their painting projects themselves.
You can follow my Youtube Channel where I show you everything that you read about on this site: https://www.youtube.com/@diypainting
You can also hire me directly from DIYPaintingTips.com here: https://diypaintingtips.com/free-painting-quote/
Contact me at: ryan@diypaintingtips.com