You`ve decided that you`re ready for a new living room look, but you don`t have a clear vision of the finished product. Whether you`re remodeling because you`re putting your home on the market, moving into a new apartment, or you`re ready for a change, you can use these ideas to inspire your home transformation.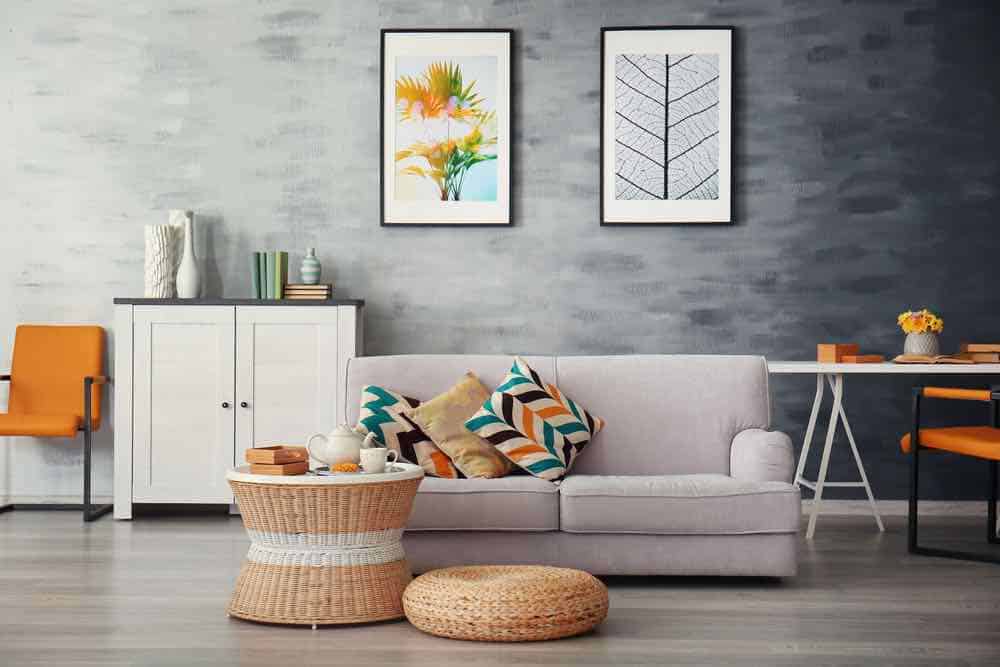 When you paint, take time to plan a whole-room makeover. Don`t just pick a color and slap it onto the walls. Use this time to declutter, get rid of furniture that you don`t love, or maybe rehab your floors.
Follow the advice of the organizational sage Marie Kondo and remove whatever no longer brings you joy, "When you imagine your ideal lifestyle, you are really clarifying why you want to tidy and envisioning your best life."
Think about your ideal use of your living room space. Is it for entertaining friends and opening your home to people? Or maybe it`s a cozy space for the family to relax and bond. Or some combination of the two.
Research the best paints available, the equipment you`ll need (a high quality respirator is vital for your health & safety), and how to take care of your paint tools. Properly washing brushes and rollers can extend their life and save you hundreds over the course of your remodel.
Once you have a vision of the finished product, it`s easy to make decorating choices. These 21 living room paint ideas are great examples of inviting style for every aesthetic. Use them for inspiration and find a paint color that fills you with joy every time you walk into the room.
Decorating with Dark Neutrals
Dark neutrals are shades of gray with a hint of color mixed in. They are a luxurious choice, when paired with the right decor. Bright and bold colors dramatically pop against dark neutral walls.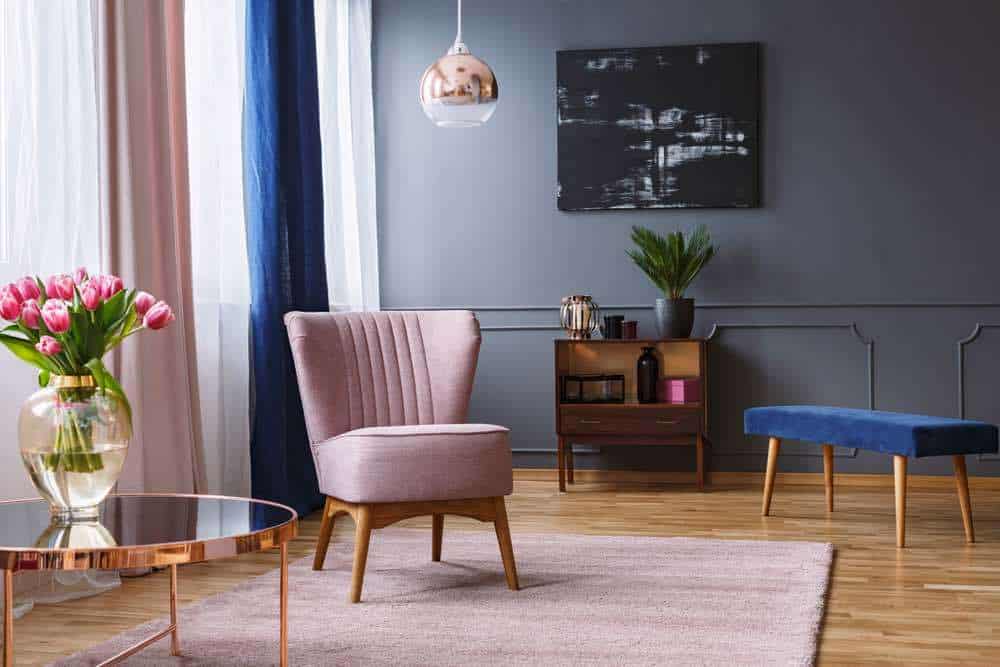 With the right undertone, metallic finishes to furniture and decor will shine against a dark neutral wall, like BEHR Coal Mine.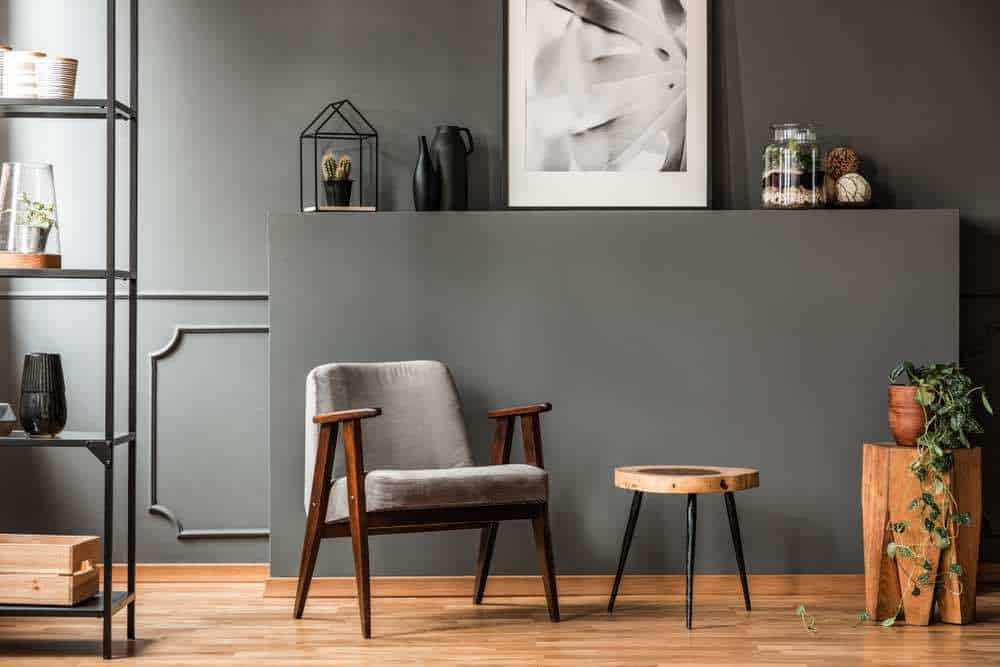 Combine brick walls, wood flooring and natural accents with Prestige Paints Night Owl walls for a rustic, inviting living room. Varied textures and materials add depth and nuance. For example, try a faux-finish for the walls or furniture. Well-chosen artwork will complement the look.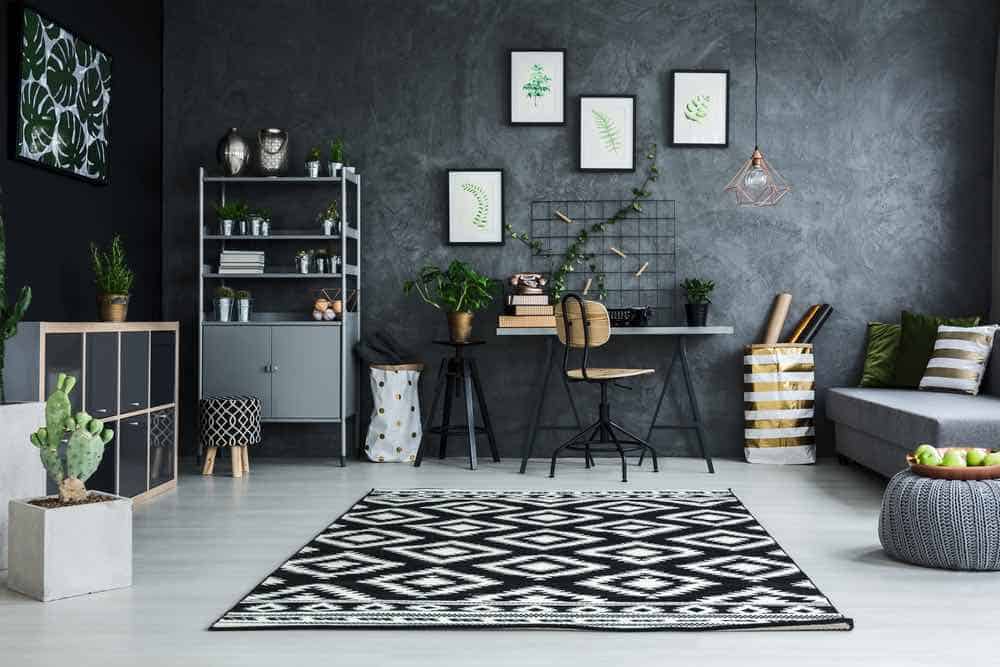 Neutral colors, like Valspar Forest Canopy, allow you to experiment with bold patterns. Dark neutral colors are great for easing into dramatic style changes in the rest of your decor.
Monochrome
Decorating in monochrome isn`t making everything one exact color. Find a single base hue (that you love!) and then decorate with a variety of shades, tints, and tones. It`s a bold decorating choice but is still inviting.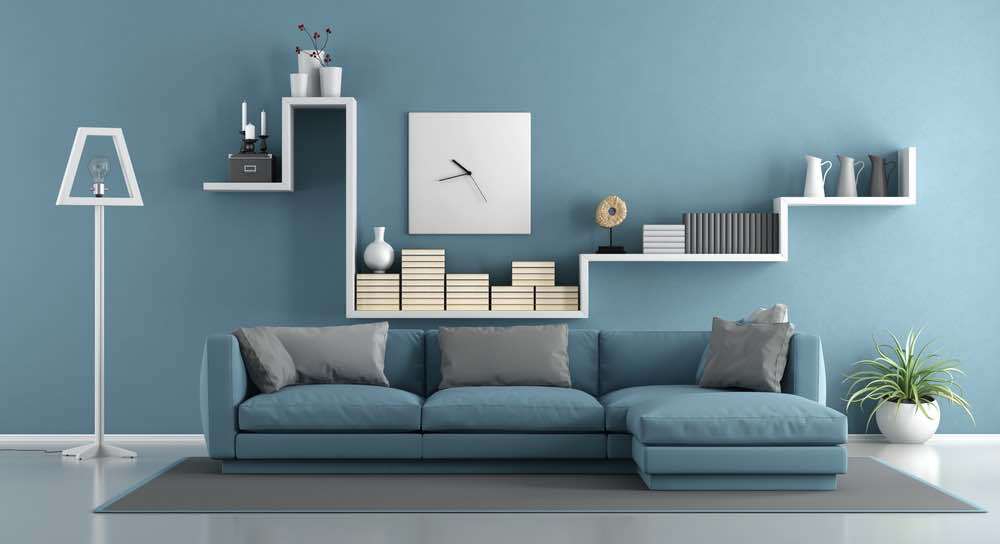 You can create more drama in a space by using a variety of textures paired with Prestige Paint Open Sea.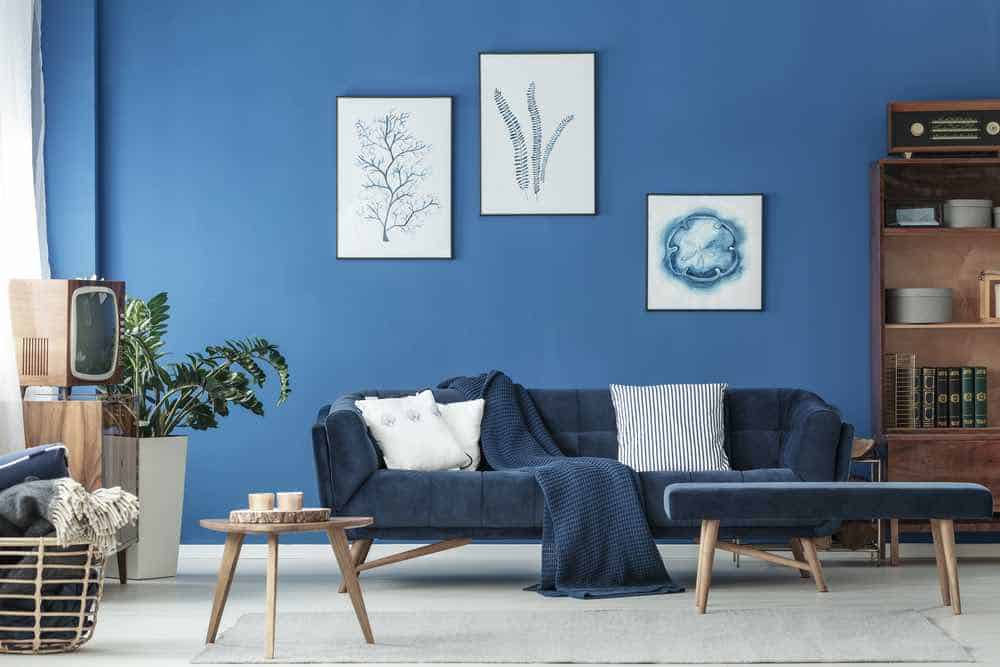 Monochromatic blue rooms use white accents to create excitement. They balance energy with casual & relaxing. Neutral accents prevent space from becoming monotonous.
Light neutrals keep a small space airy. Dark neutrals and black will make a space luxurious and cozy. You set the tone with a color like BEHR Cosmic Cobalt in a monochrome room. One color for bold, elegant, or glamorous. Decorating this way is challenging, but fun.
Jewel Tone
Jewel tones are any shade that reminds you of deep and luxurious gemstone.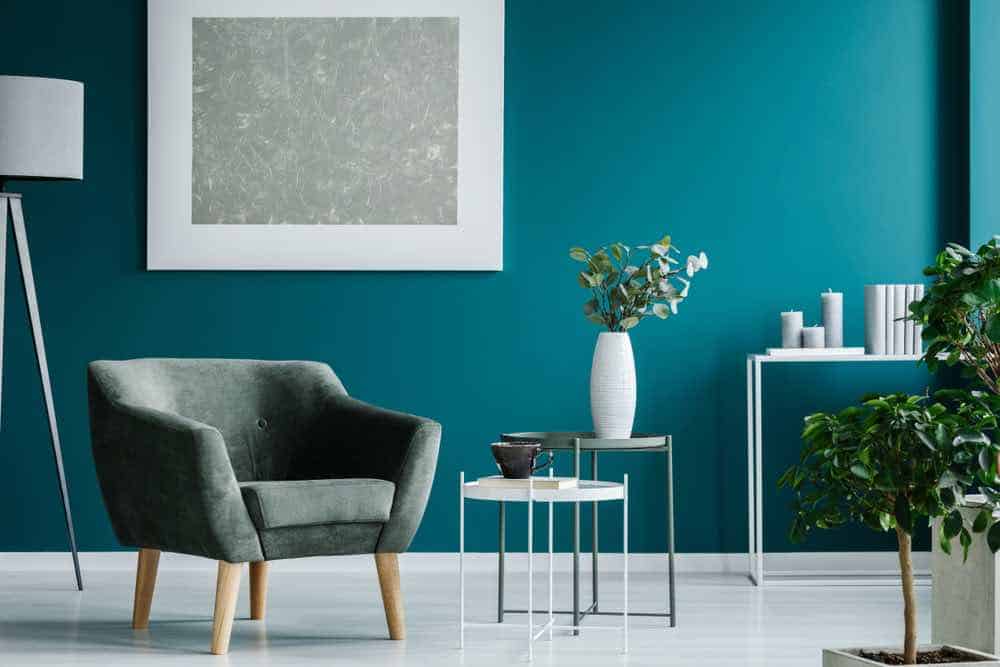 Richly saturated Prestige Paint Blue Nile will turn your living room into the focal point of your home. Bold colors are challenging to decorate with, but also rewarding. If you entertain in your home (or want to entertain more) than a jewel tone room makes every get-together feel like a celebration. Even if it`s just family hanging out on game night.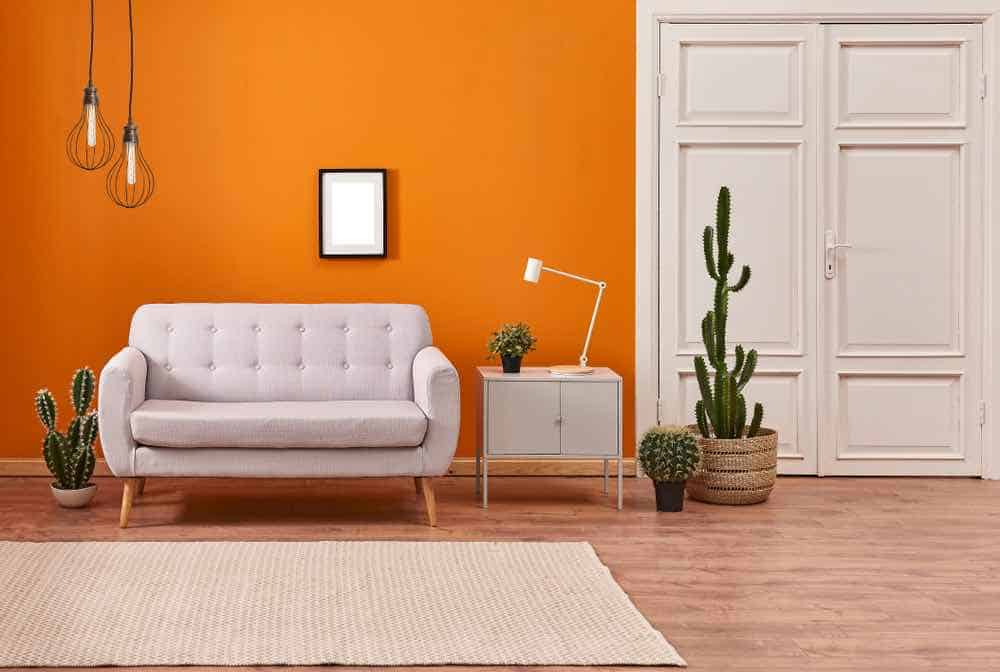 A citrine wall like this BEHR Joyful Orange one is great for highlighting indoor plants or adjacent outdoor space. You don`t have to keep to just one jewel tone while decorating either.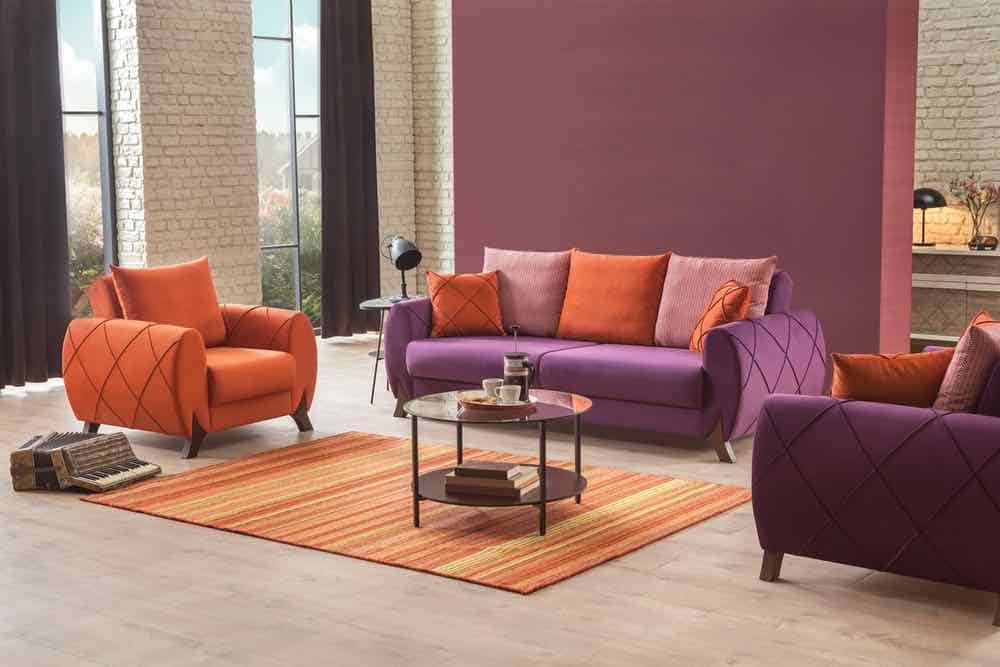 This room uses rich orange to create drama. The contrast with Valspar Plumberry creates tension. Stack multiple jewel tones while decorating for true luxury.
Striking Red
Red in a living room can be more than just an accent wall.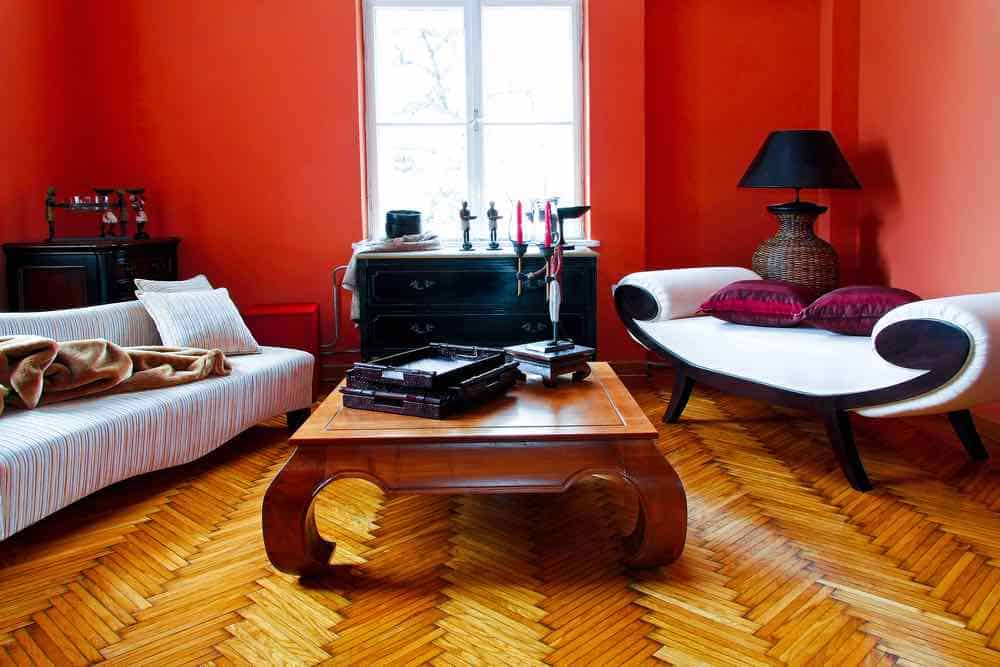 With Prestige Paint Tanager (and maybe a touch of monochrome styling) you can create a cozy earth-toned autumnal room. Try this if you`re decorating a room with warm wood floors or natural elements.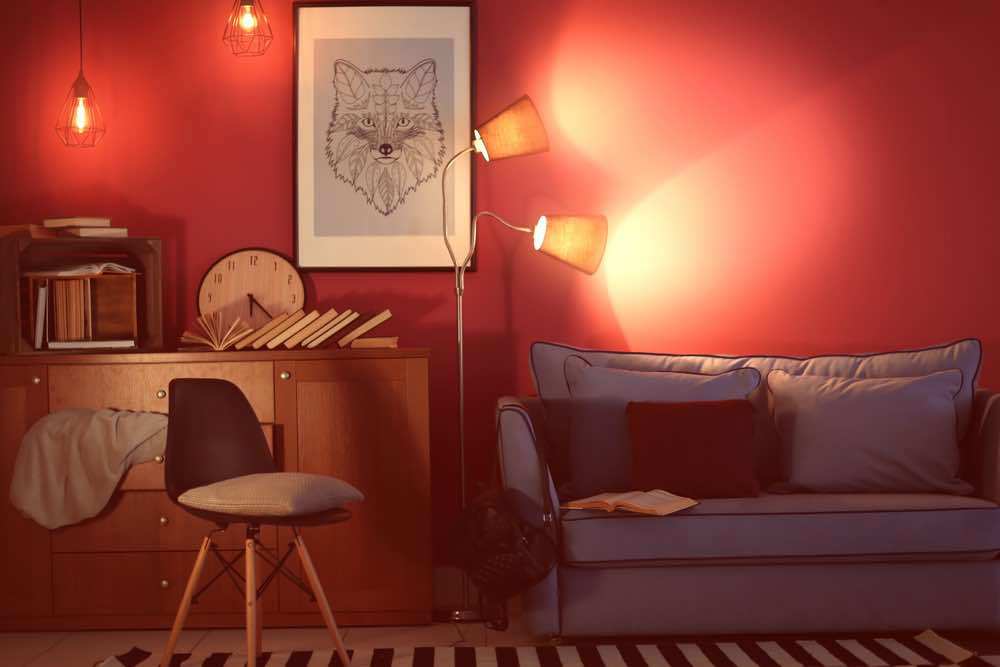 In this bold Valspar Scarlet Sun living room, a dark gray couch is a cozy cocoon for relaxing and unwinding. Red will always be a bold and fun accent wall.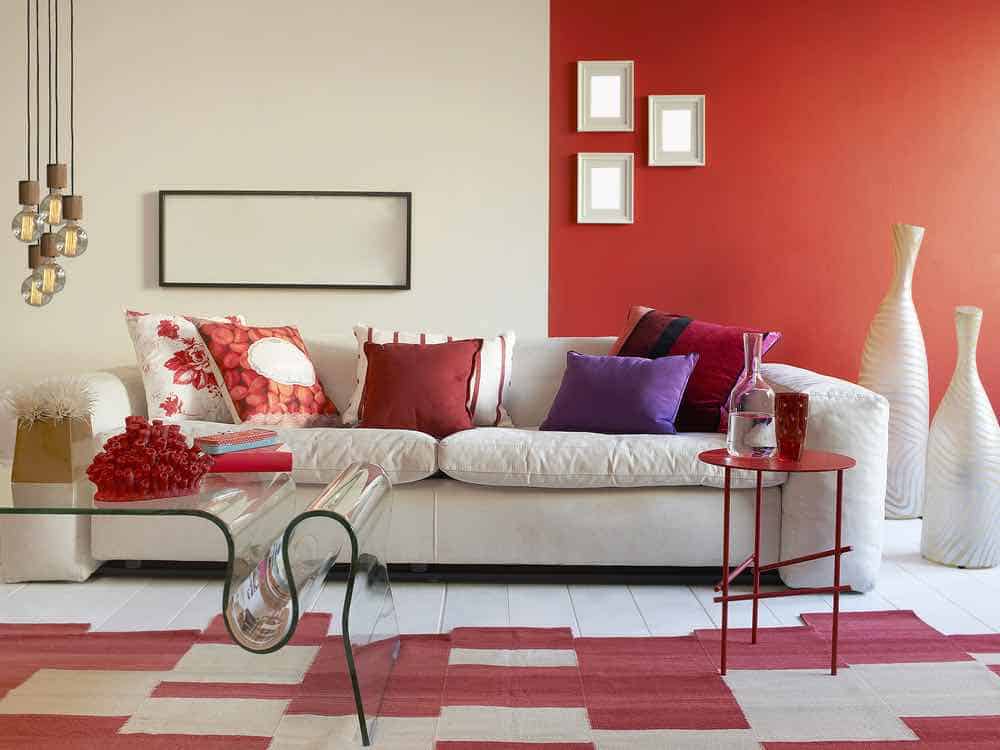 In small spaces, you need lots of light neutrals, but you can make the whole room pop with a BEHR 100 mph accent wall. Pair a BEHR red accent wall with red touches in the decor and create a dramatic and party-worthy space.
Approachable Yellow
Yellow in living rooms is an unexpected choice. It`s an ideal color for rooms that get filled with lots of natural light.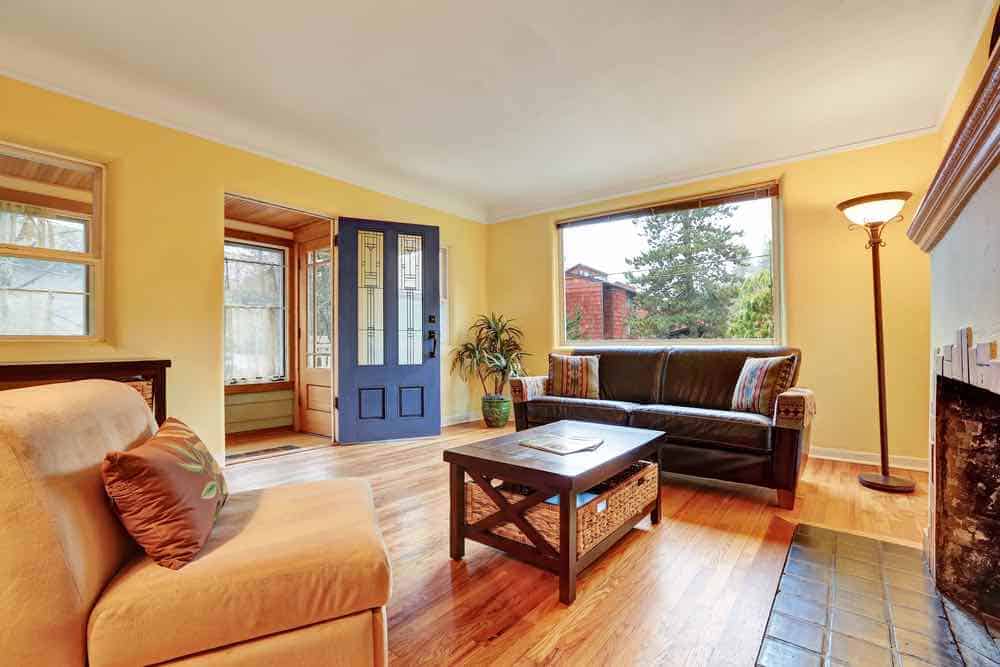 While Valspar Lemon Twist is a tamer choice than jewel tones or red, you can liven up the walls with the use of dramatic accents.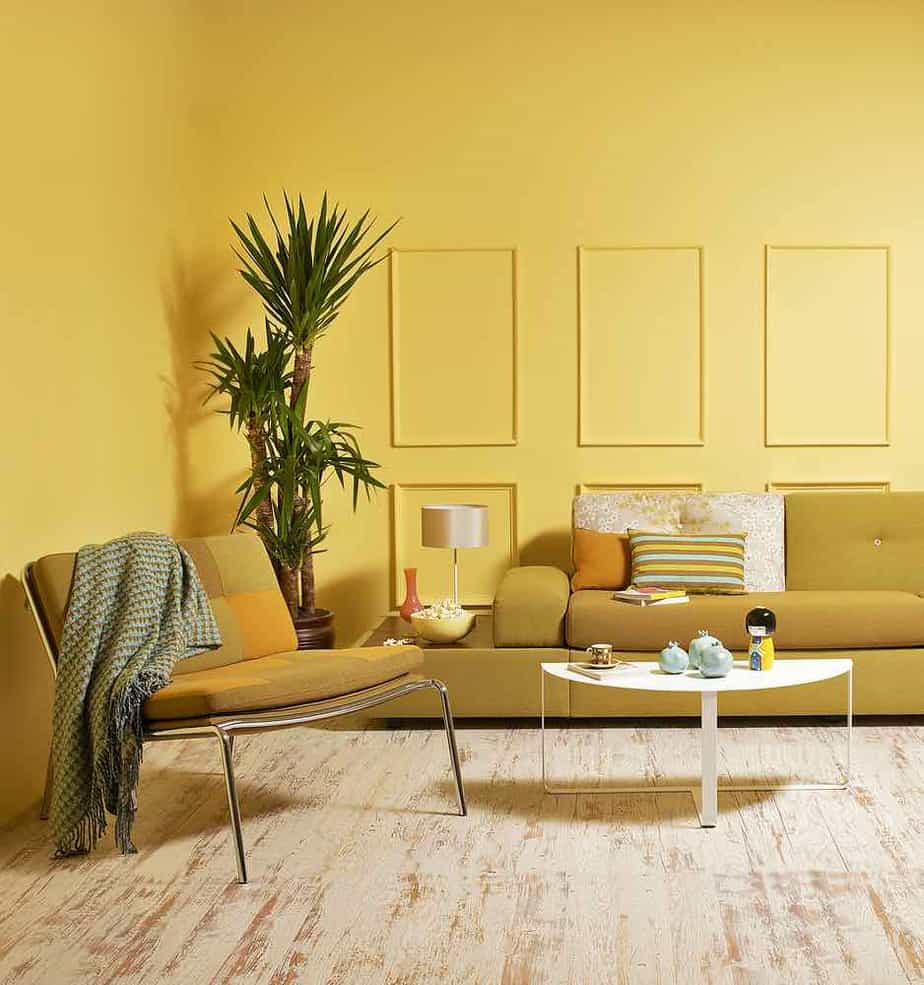 Or, decorate with yellow in monochrome; like this vintage inspired sitting area. The mustard furniture is a darker shade than the Prestige Paint Eye Catching walls. It`s a bold design. While the look isn`t for everyone, is striking when well executed.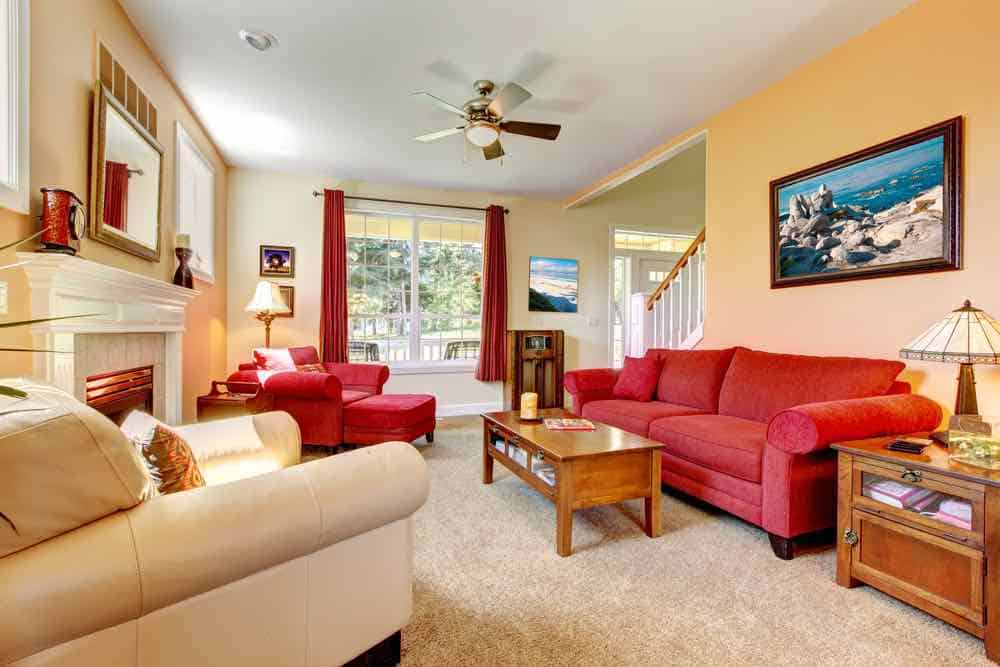 This BEHR Egg Cream living room creates excitement by using BEHR 100 mph accents. The couches and curtains are the same hue, so the space doesn`t feel busy. The red adds an extra zing.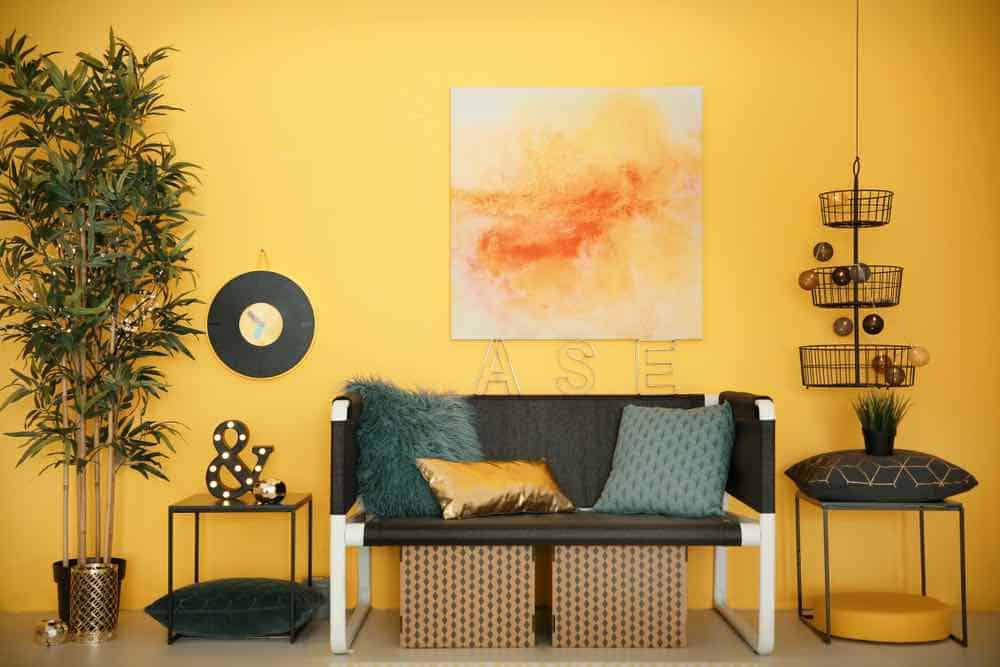 You can use any jewel tone the same way, like this yellow living room with a green sofa and accent pillows. The result feels like exotic luxury.
Elegant Green
Green is one of the most versatile colors. It ranges from verdant relaxation to luxurious elegance. Consider decorating in monochromes of green. You can use a wide range of hues to highlight walls or accents.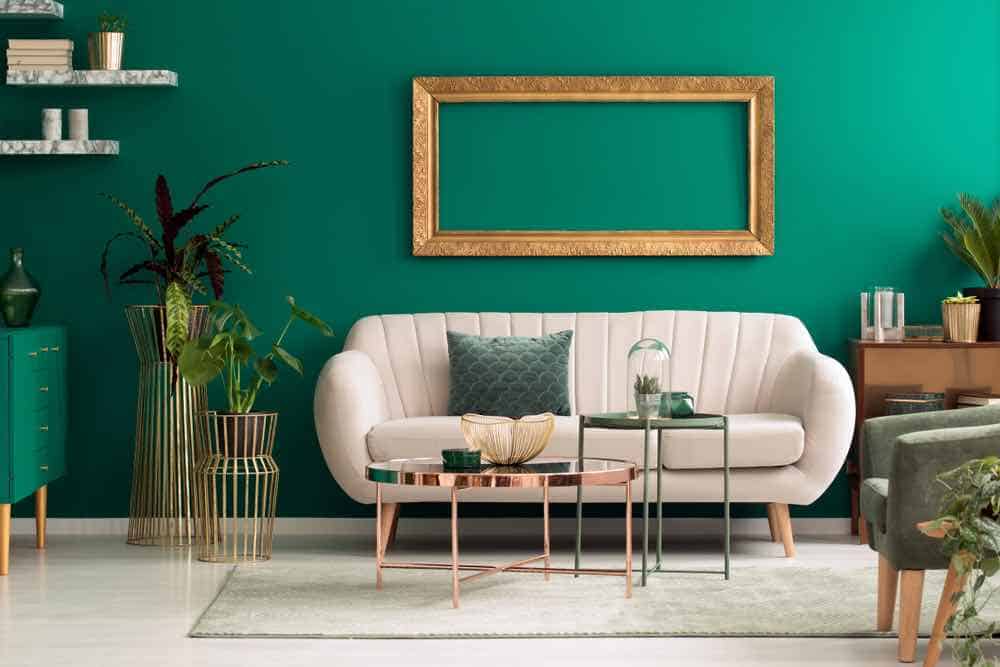 Metallic gold accents elevate jewel-tone BEHR Exquisite Emerald to casual luxury. That empty frame breaks up the wall with decadence. Empty frames are hip and inexpensive accents.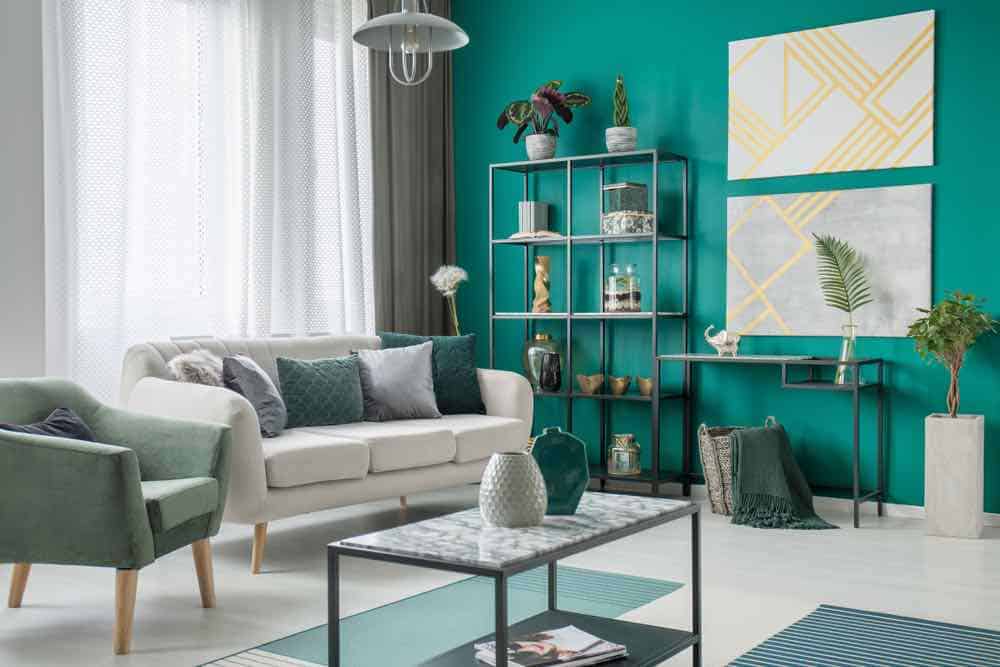 Prestige Paint Poseidon is perfect in rooms with indoor plants and feel light and natural with white and gray accents. Again, art and accents with gold elevate the look.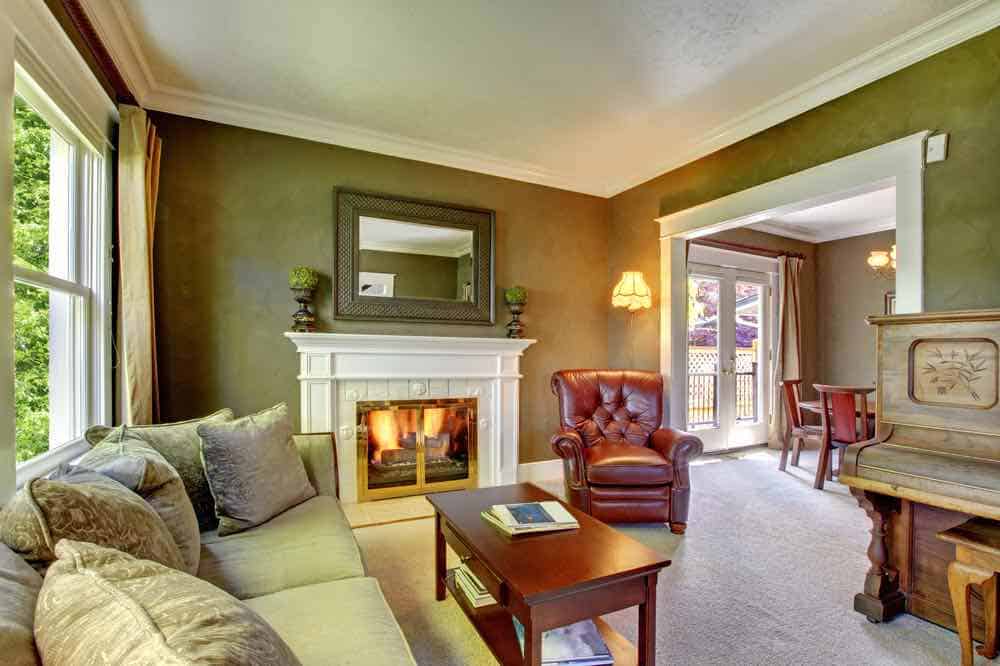 Subdued green is perfect for a relaxing living room. Pair natural shades of green with earth tones. Add some natural fibers for a relaxing hideaway from the world.
Adaptable White
It`s okay if you`re intimidated by white. But, don`t stress; white is stylish and comfortable. White allows you to change the entire aesthetic of a room just by adjusting a few accents and pieces of furniture. Much easier and more affordable than a complete redecorate.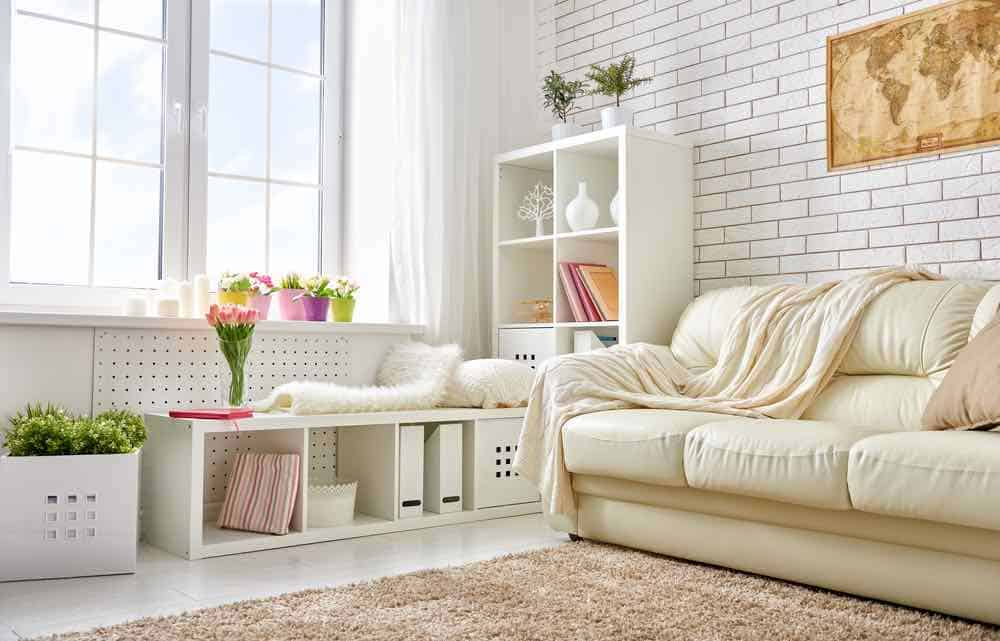 Rooms with lots of natural light will glow when you decorate with Prestige Paint Extra White and beige.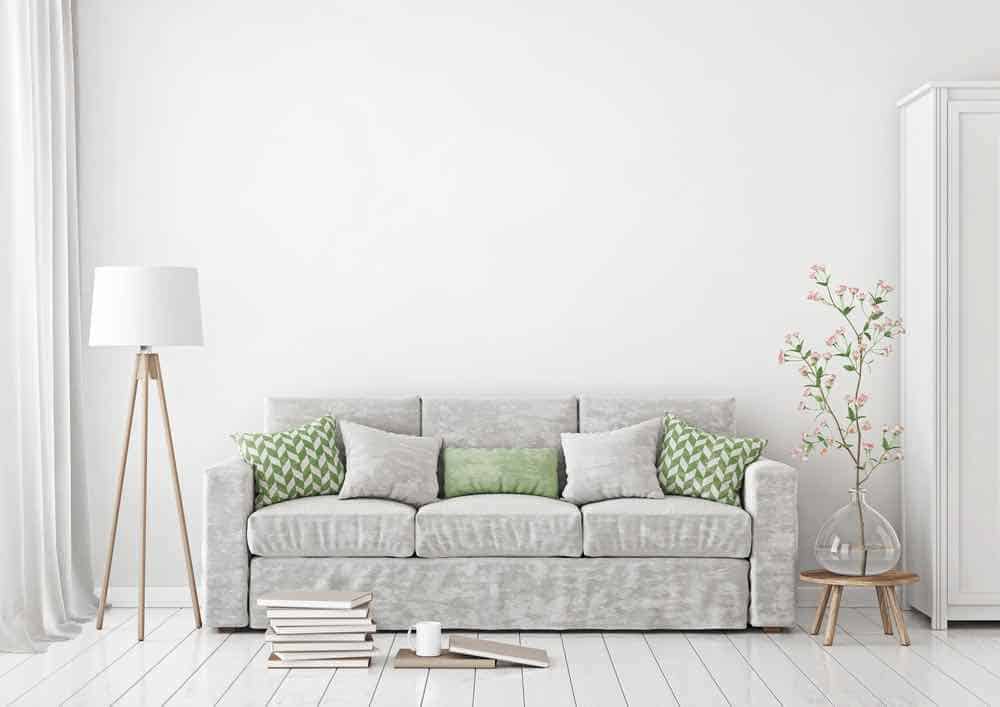 Valspar Promenade combined with neutrals lets you pick specific colors to highlight. Use natural fibers and treat yourself to fresh flowers for a breezy space.

If you`re ready for a bold look, that`ll wow every time you entertain, pair BEHR Bakery Box with a single bold color. In this living room, every black piece stands out from its surroundings. The room isn`t frenetic but confident and active.
Timeless Beige
Maybe you`ve heard it before, but beige is making a comeback. Beige is sophisticated, adaptable, and timeless.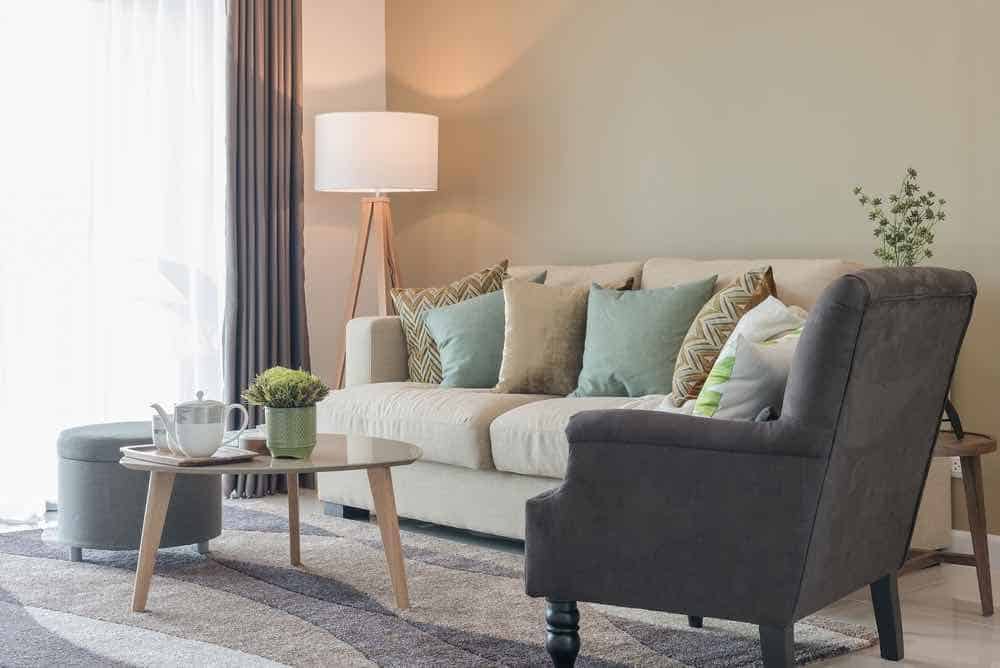 In a cozy living room like this BEHR Exquisite Silk creates an inviting and relaxing space. If the look is too subdued for your remodel, add in a bold accent piece with standout patterns.
If you have or want, an art collection, beige is the best way to blend multiple artists and styles. Maybe you`re leaning towards a bright or bold color as an accent wall. Beige is a great way to highlight other daring choices. Remember to match undertones, or you`ll end up clashing and throw the whole room into angst.
Sophisticated Gray
Quiet and bold gray is the next big color in decorating. You can create tension in rooms by contrasting undertones. Use gray as a quiet neutral for a relaxing oasis. Gray lets you play with accents. Be adventurous when choosing furniture, rugs, and artwork with gray walls.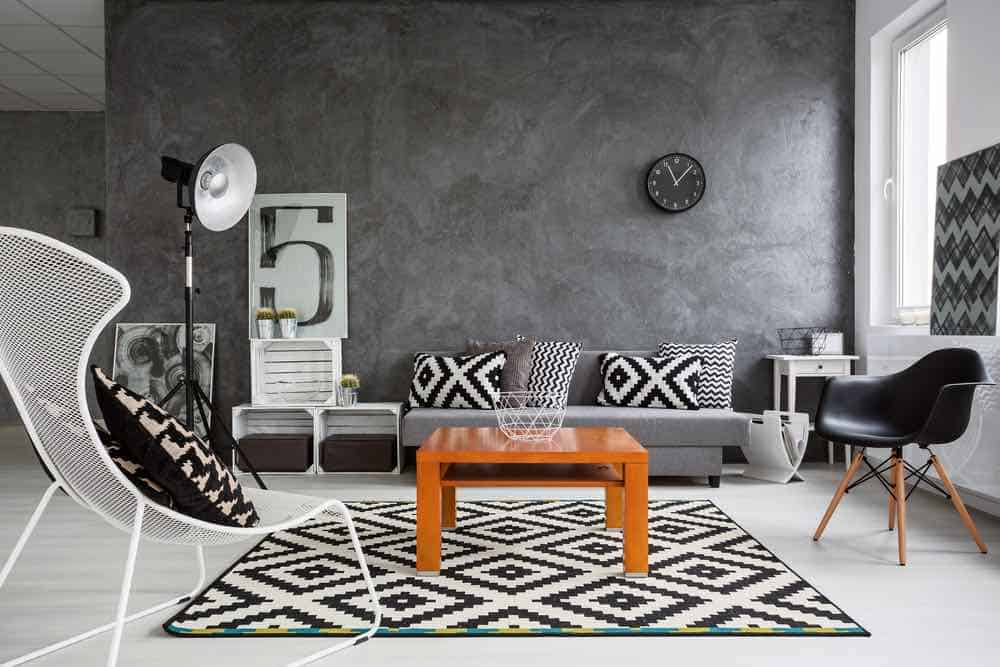 This Valspar Muskeg Grey and black accented living room keeps the palette simple to play with prints and a few splashes of bold color.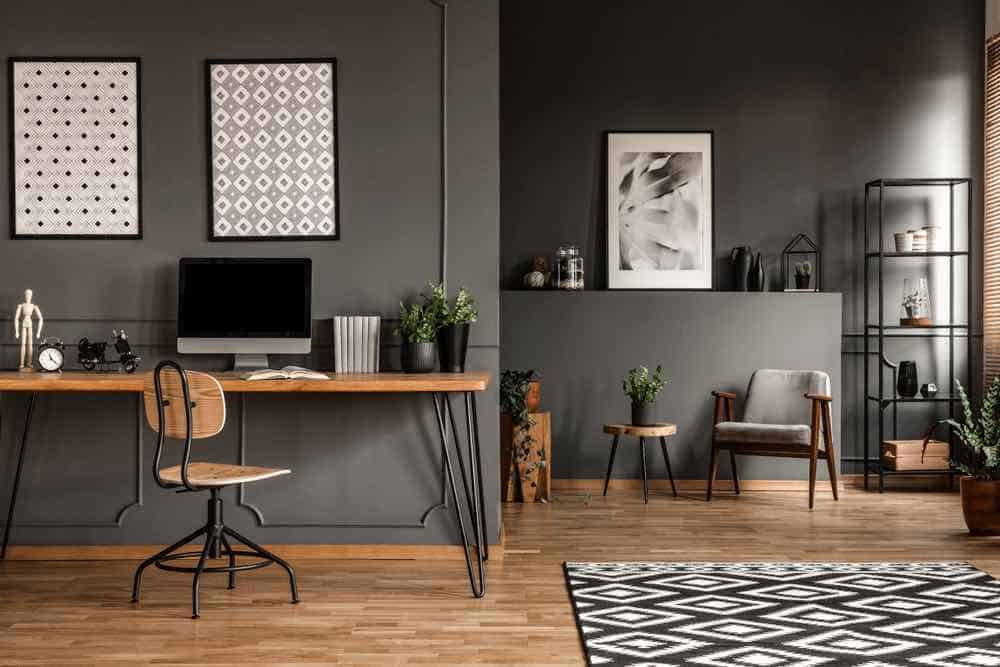 In a combination work area/living room, use Prestige Paint Porpoise to blend together two separate rooms with style. Warm wood makes the space inviting, a few indoor plants add natural touches, but the artwork and rug add tension and fun.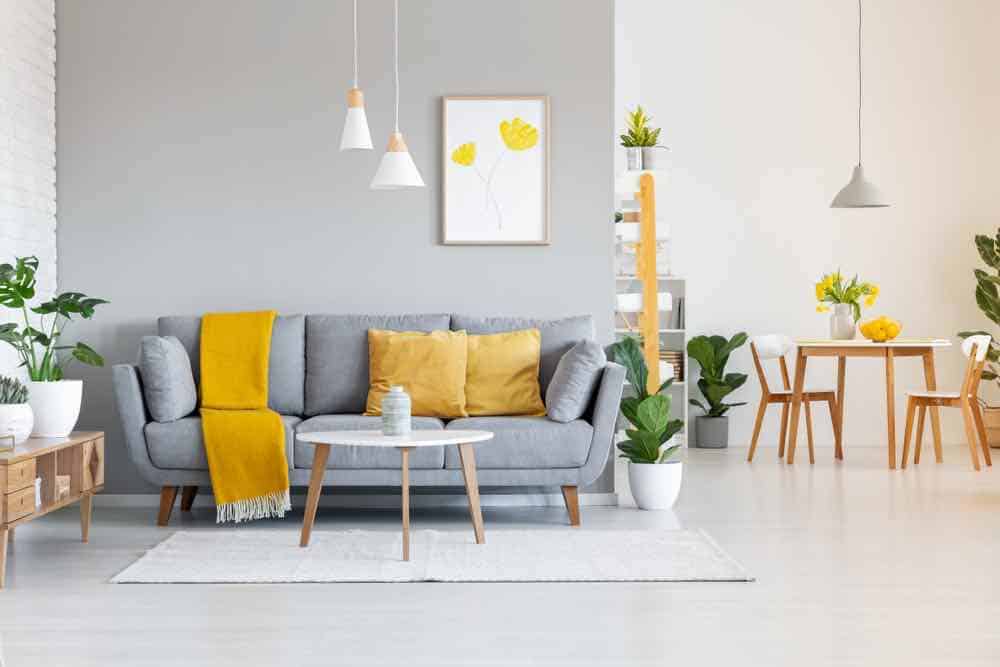 Gray and gold go together with ease. So it follows, BEHR Hush with goldenrod makes a bright and fun living room. Decorating with accents like these simple ones is easy to change the feel of the room seasonally.
Purple for Personality
From neutral to jewel tone, purple has personality. It takes a skilled hand to decorate with purple without making a room garish or suffocating. When dispensed with skill, purple is unique and stylish.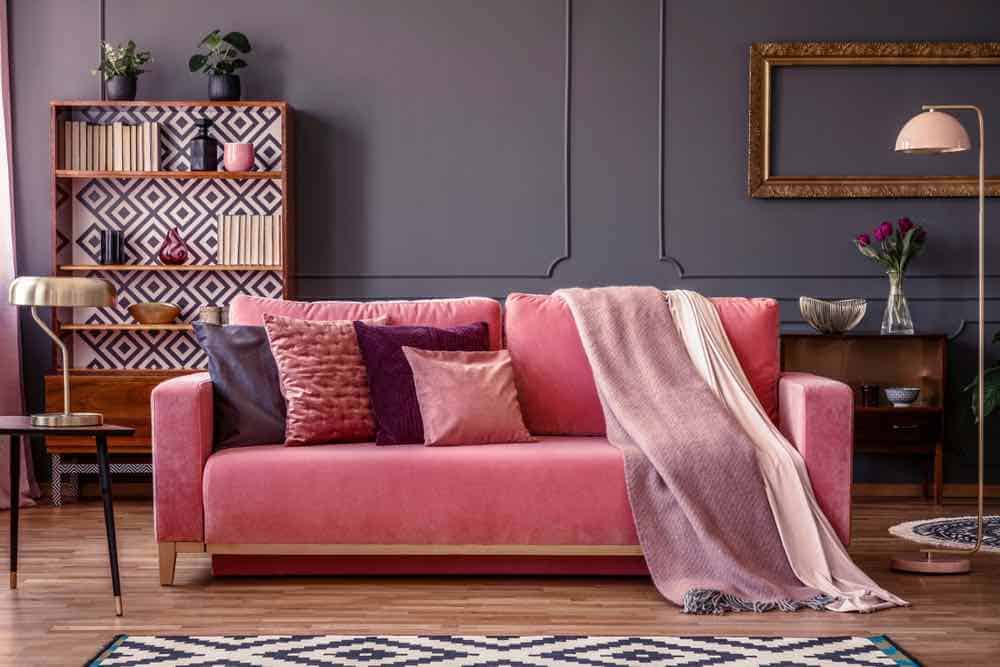 Prestige Paint Expressive Plum is fun and sophisticated. The pink velvet couch is daring but works. The room doesn`t feel overcrowded, even with lots of textures. It`s a great space for entertaining. And, the quiet shade of purple is cozy for nights at home with the family.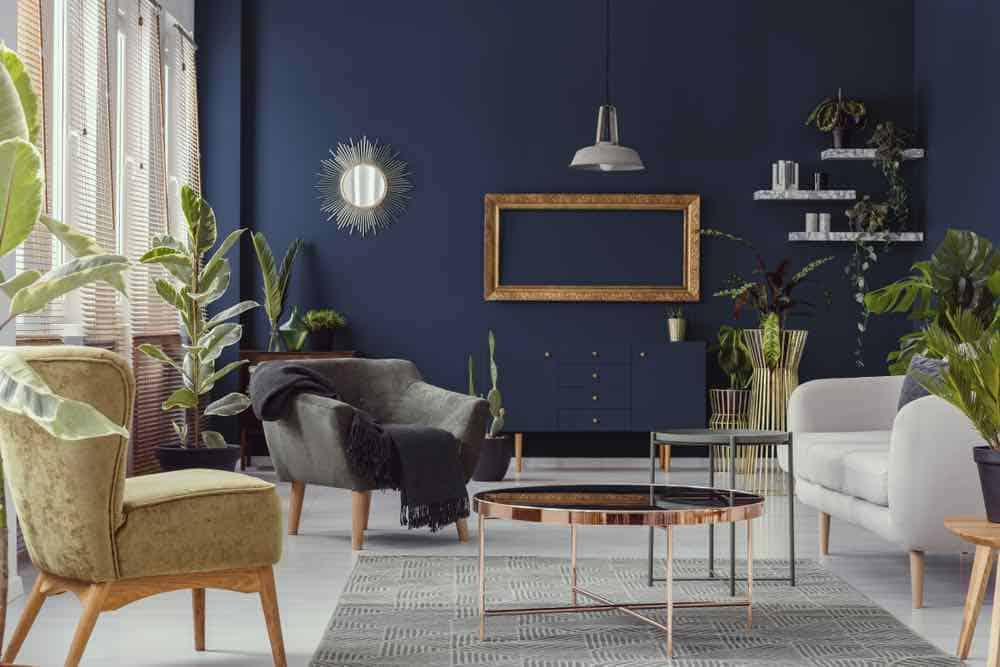 BEHR Vintage Velvet is perfect for light accents in shelving, artwork, and even the floor. Mixed metals keep the space modern and elegant. The warmth of the copper and gold creates tension in the room without clashing. During the day, natural light makes the space airy and relaxing.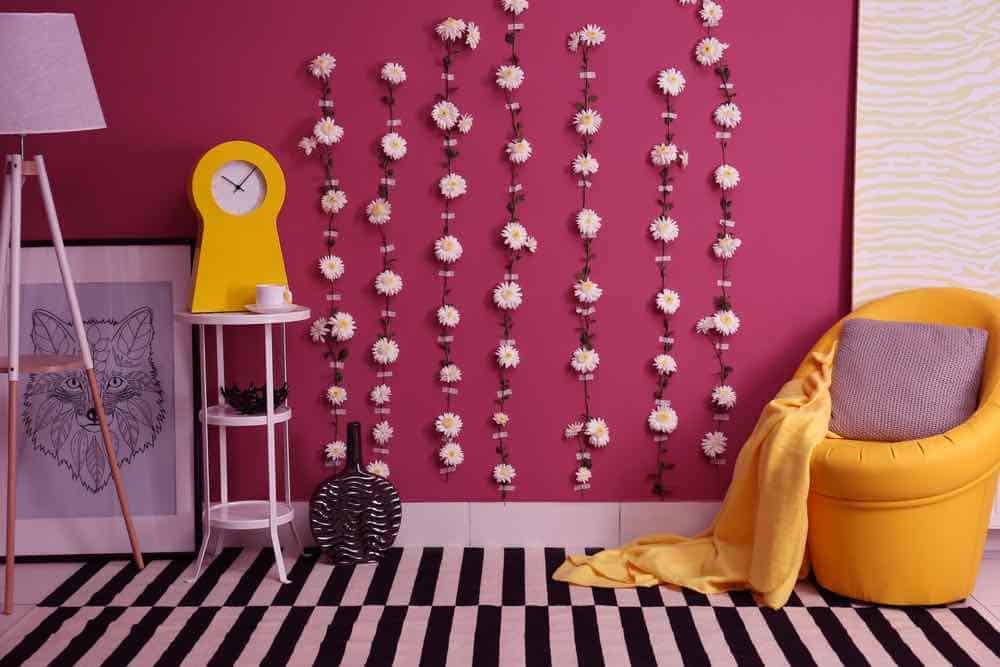 Purple as a jewel tone or crayon color isn`t for everyone. Those who are into it can create an unforgettable living room with Valspar Rose Dust. Pair this jewel tone with another bold color. It results in tension and excitement.
Bold with Blue
Blue is a perennial favorite for decorating. There`s a reason Pantone`s 2020 Color of the Year is Classic Blue. It`s always in style, and it`s easy to dress it up or down with a few accents and living room pieces.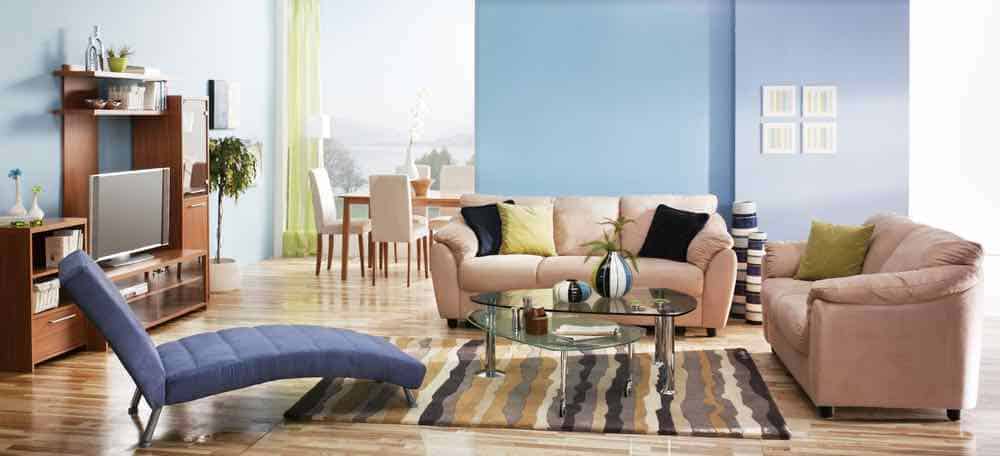 This BEHR Speedboat living room changes shades as the light changes throughout the day. It brings attention to the room`s best feature, the tall windows. With this color, take inspiration from nature. Pair soft blue walls with green and brown accents.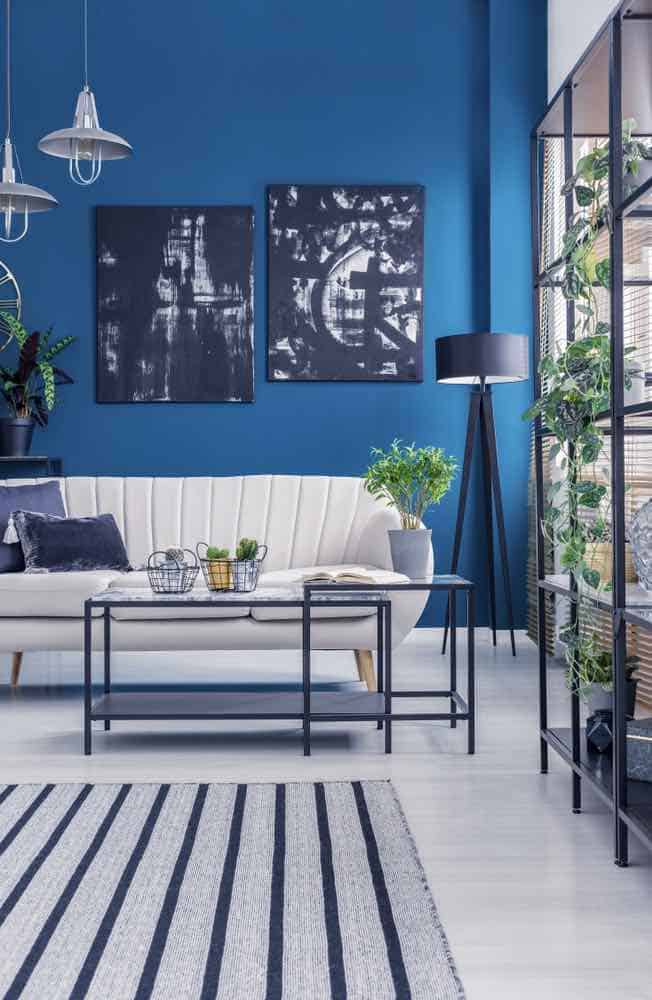 Check out this contemporary dream of a living room. Prestige Paint Hyper Blue glows with natural light and white floors. The rug combines the blue and white for a cohesive and sophisticated pattern. Accents with black add balance and depth.
Get Original with Orange
Most people don`t reach for orange paint swatches when redecorating but don`t overlook the color. You can create a standout living room great for entertaining or enjoying on your own.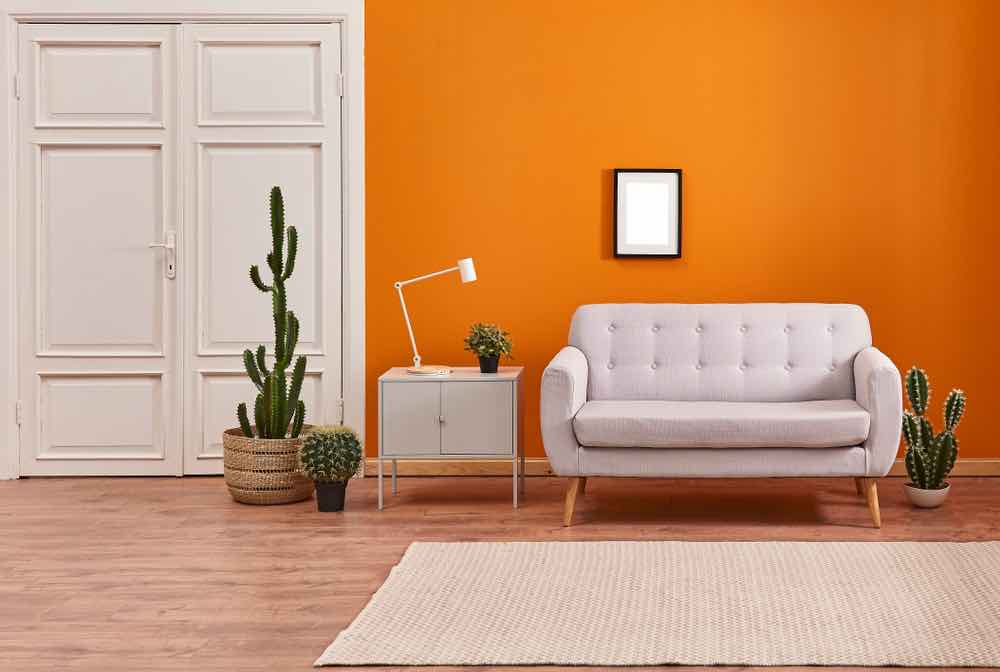 Here, natural colors and fibers pair with BEHR Blazing Bonfire. This is a desert-inspired motif. These are simple and sophisticated style choices. Each neutral accent works well with the bold color. Orange is a perfect backdrop for subdued art, natural colors, and mid-century furniture.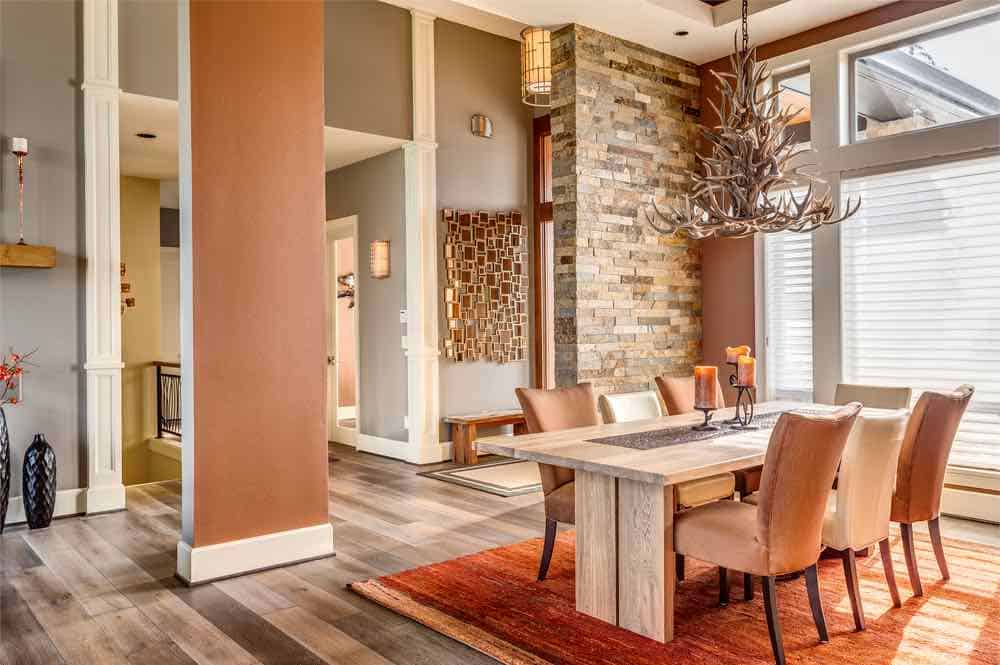 For a home with lots of natural materials, such as stone floors, accent walls, and large windows, Valspar Coffee Whip is an invigorating choice. It activates other neutral colors, like beige and gray. This accent wall ties together colors from the entryway, rug, and the wood floor.
Sophisticated Pink
Not just for little girls` rooms; pink is sophisticated, spunky, and adaptable.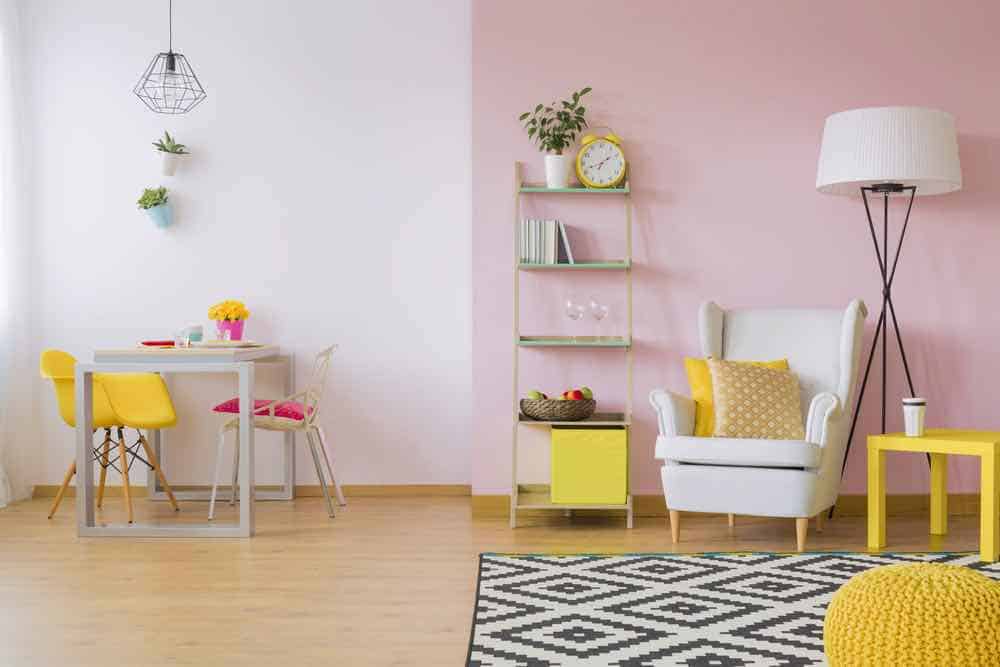 This Prestige Paint Comical Coral accent wall shines thanks to bright yellow accents in the furniture. The approachable shade of pink allows for some plucky choices of patterns, fabrics, and blended styles.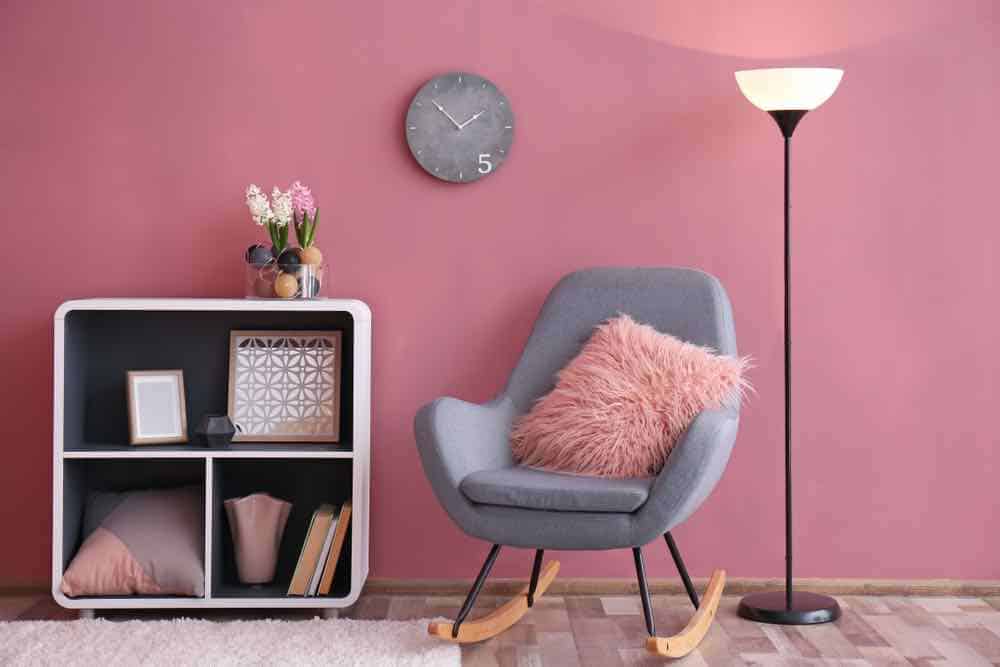 This lush BEHR Sweet Chrysanthemum living room is cozy with dusty rose accents. Perfect for an afternoon with tea and a good book. Furniture in any neutral color would work. Gray creates a more subdued mood. White or beige makes the room brighter and sharper.
Cozy and Sweet Pastels
Pastels aren`t just for grandmas. With a steady design eye plus a little confidence, you can create a perfect pastel style. A pastel living room walks the line of cozy and sophisticated.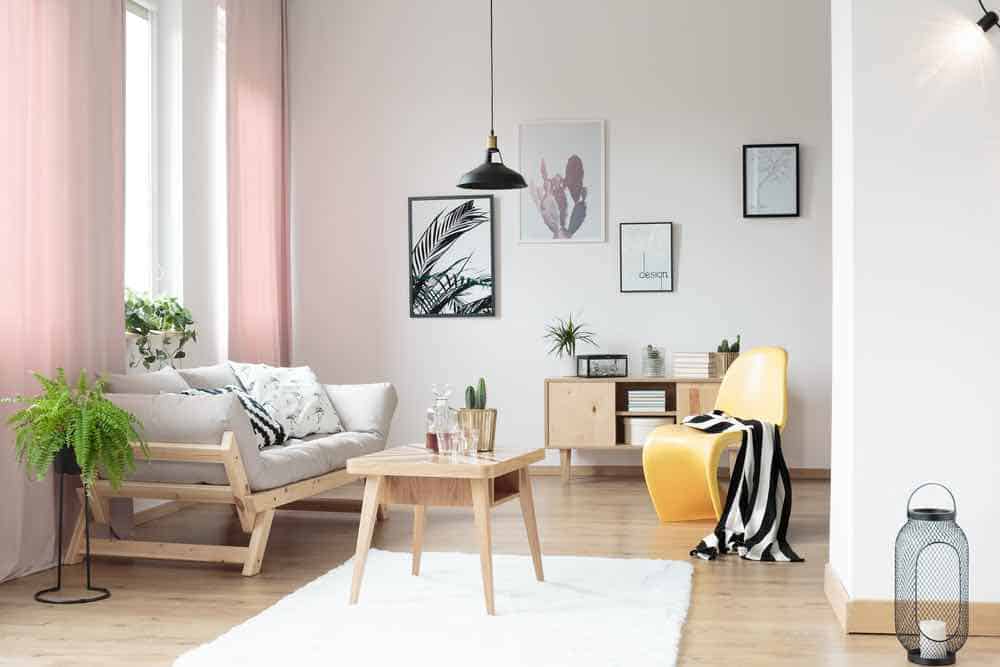 Raw wood furniture works well in this soft cloud of BEHR Shea. The color is a pale pink, which let the pastel pink curtains pop. Because of the soft neutrals in this room, you can add bold design elements, like a modern yellow chair, black and white art, and metallic accents.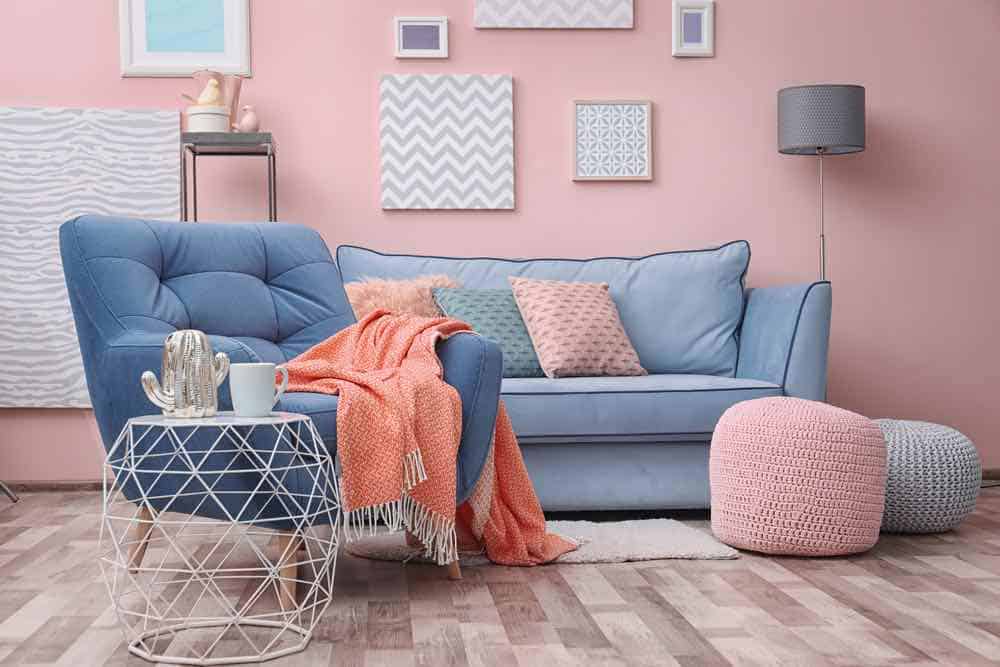 This room goes hard into pastel pink with Valspar Savvy Pink. But the aesthetic doesn`t fall flat. That`s because they`ve combined it with a high-contrast pastel blue. The room is playful and contemporary. Check out the patterned wall art, the variety of textures, and the contemporary furniture pieces for inspiration.
If you want to be more daring in your decorating, try using pastels for your wall color.
Textured Paint
Maybe you want a subdued wall color, but worry about creating a dull living room. Beige, neutrals and light colors might fall flat in a living room without planning. You`re in luck because many major paint brands now offer textured paints and glazes for dimension. It`s a little extra zhush without being overbearing.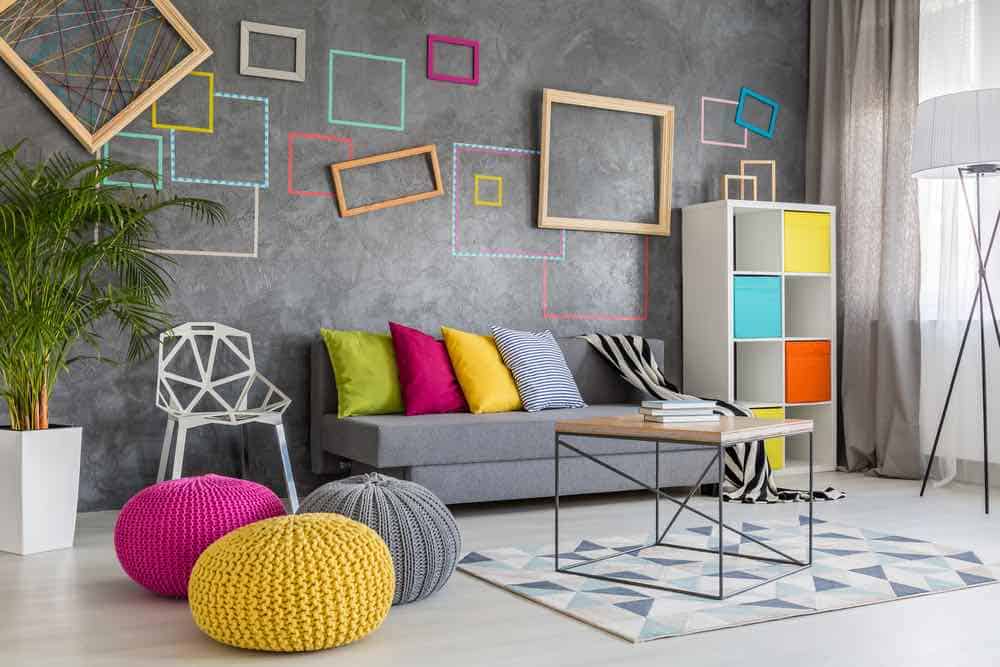 This room uses Valspar Sharkfin, a neutral gray base color to contrast with such bright crayon colors and high design elements. However, textured glaze topcoat adds suppleness and strong contrast to the other design elements.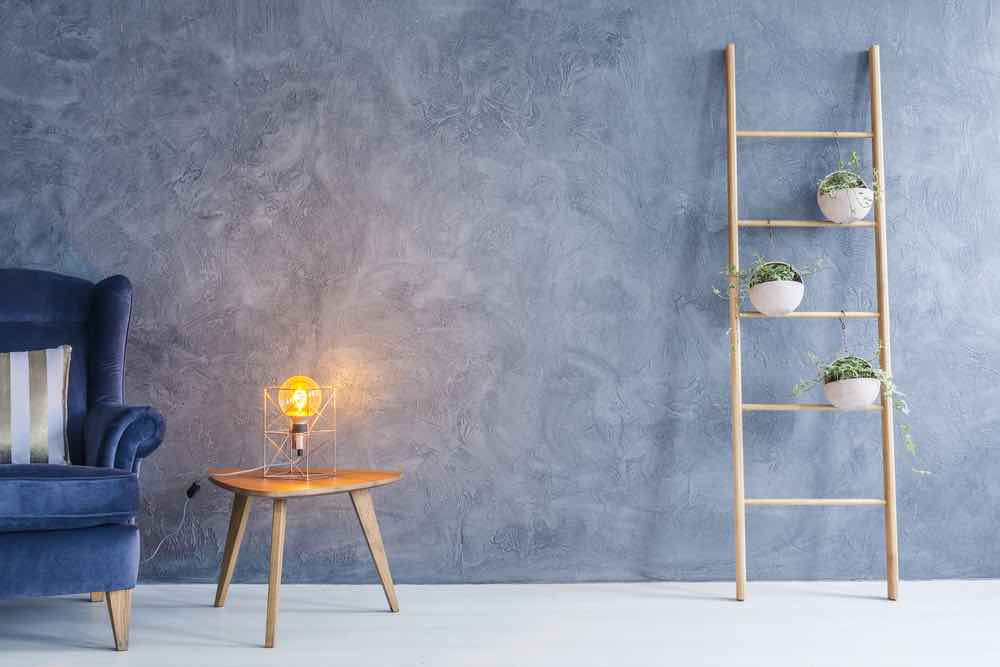 When you go monochrome with your design choices, getting "too much of a good thing" is a valid concern. Adding in textured paint, like this denim finish over a coat of BEHR Chilly Blue, makes the space more dynamic. Try using textured paint for a single wall in a monochrome room as an accent.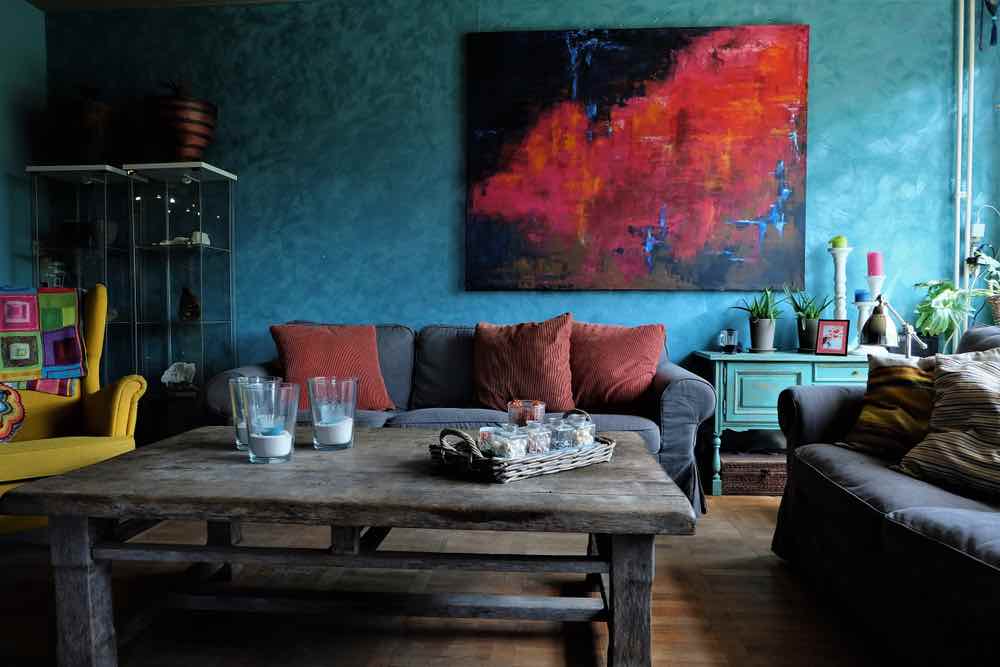 This textured paint replicates the rich texture in the wall art, the focus point of the room. A contrasting color in a crowded room could clutter and overwhelm the space. Instead, a dark glaze over Prestige Paint Aquarium creates a seamless blend with the painting because of the cohesive textures.
In your living room, you could borrow a texture from a piece of furniture, rug, throw blanket, or even a pillow for inspiration.
Fantastic Fades
For standout style in your living room, try a fades. It takes a little skill to execute, but with practice you can create gorgeous ombres that look great morning to night.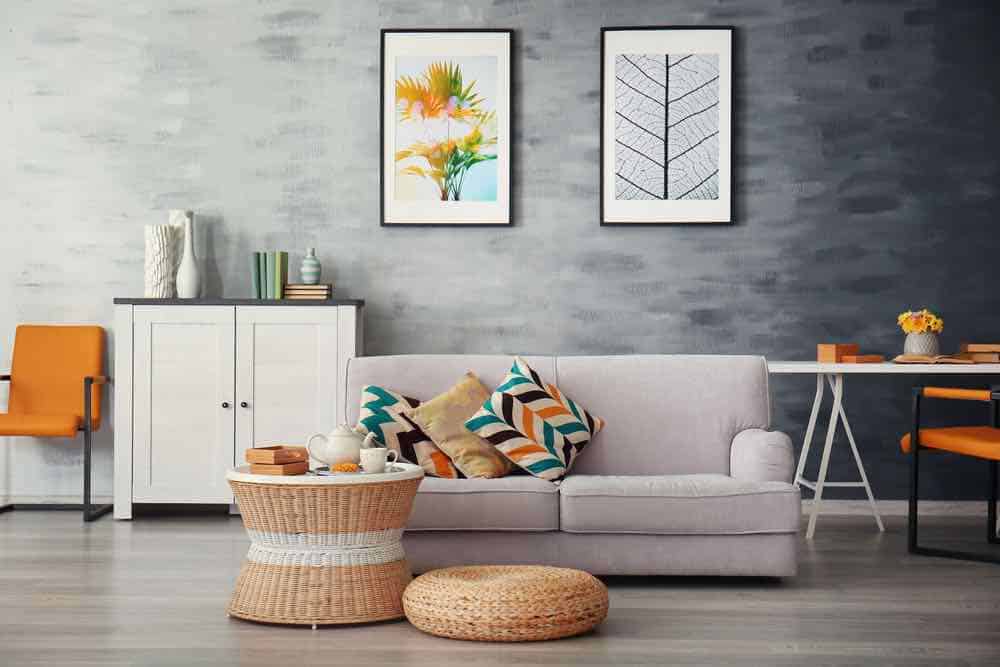 Here a living room wall uses a neutral color, but makes other bold choices. The fade goes from BEHR Wind Chill to Ink Black. The orange furniture looks great on both ends of the ombre. They also let brush strokes show, to combine a textured finished with the fade.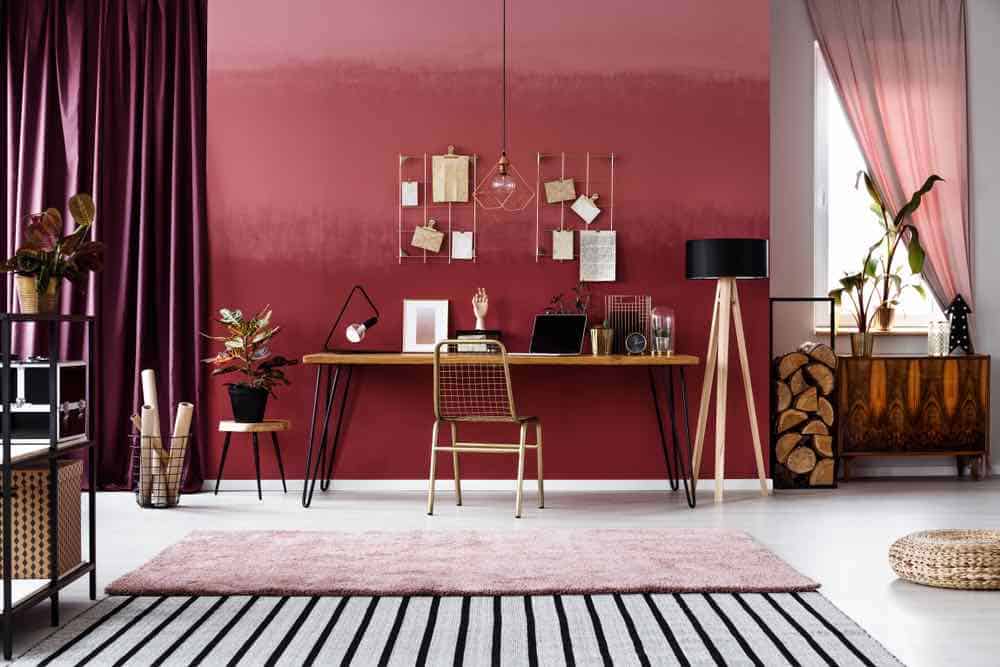 This fade takes just three Prestige Paint colors to execute; Memorable Rose, Enticing Red, and Poinsettia. It replicates a sunset, with a dark warm maroon next to the floor. You can see the overlapping paint roller texture, again combining a textured finish with a fade.
Style like this works great if you just can`t pick a single color and want an accent wall with a little more "oomph". If you use a paint sprayer, you can create a fade without a textured finish.
Coordinated Contrast
There`s nothing more exciting or challenging than going high contrast in a space. It takes a lot of planning and you have to resist impulse purchases for furniture or accent pieces. When creating this look, get used to carrying a paint chips with you whenever you go on a decorating shopping trip.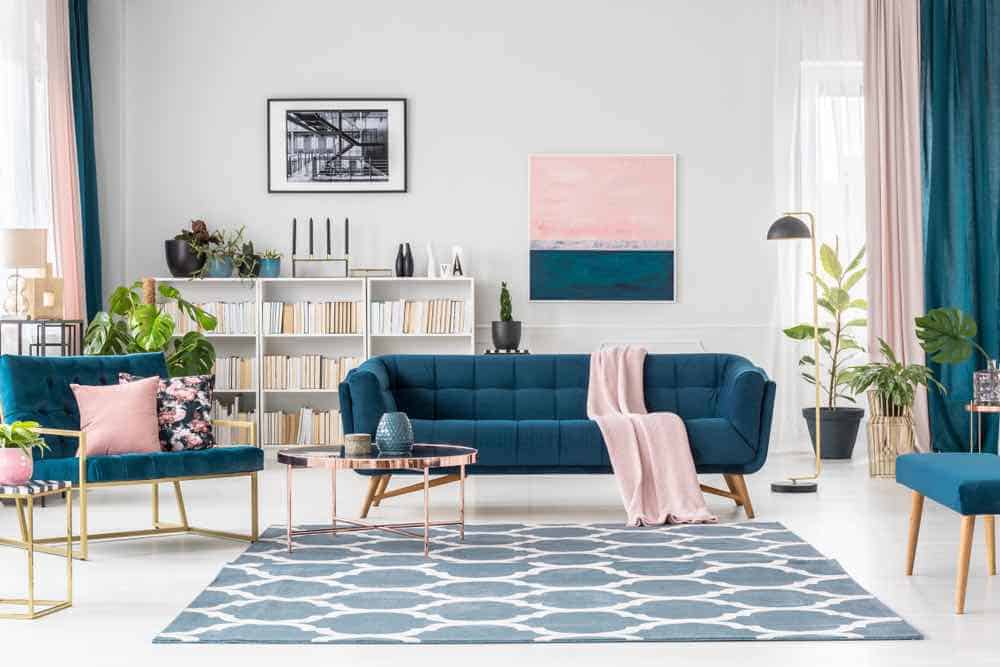 A perfect pairing of jewel-tone blue with pastel pink & Prestige Paint Glimmer walls. The combination is flawless and well executed. The crowning jewel in this living room is the painting that pairs the two colors in a single canvas. Use leftover wall-paint to repaint furniture or cabinets, or make a piece of custom art like this one.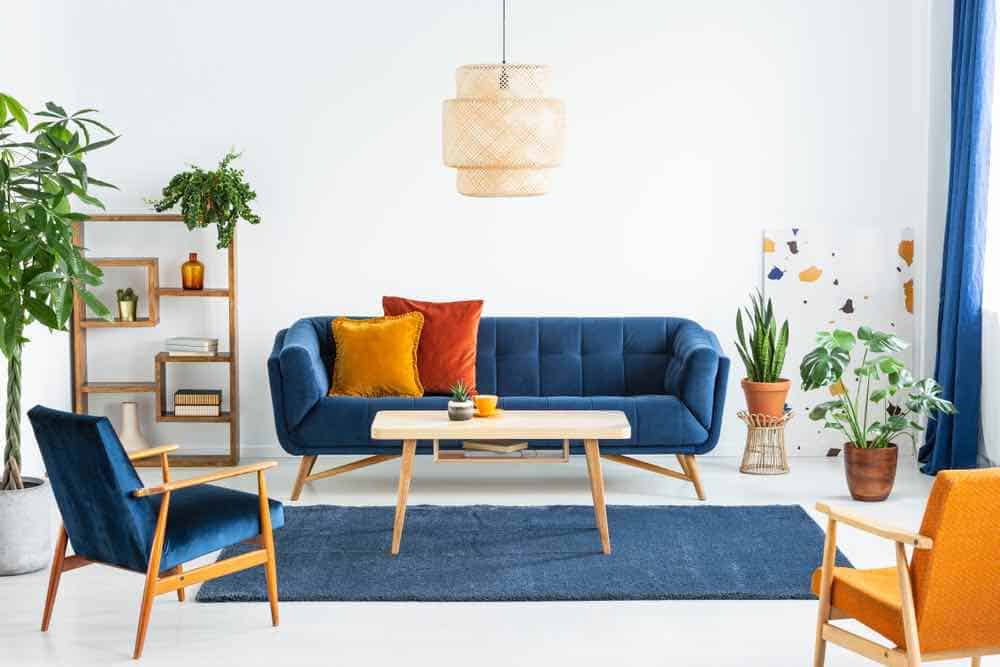 Bold blue and orange come together against a BEHR Ethereal White backdrop. Whether you`re contrasting a wall color with furniture or two colors against a neutral, there`s still plenty of ways to get creative with a limited palette. Check out the warm orange stain on the wood furniture; that`s advanced color contrasting.

Chalkboard Paint
Steal a little style inspiration from a kindergarten classroom; chalkboard paint looks great and practical. This might work well for you if you work from home and your living room space is also your home office.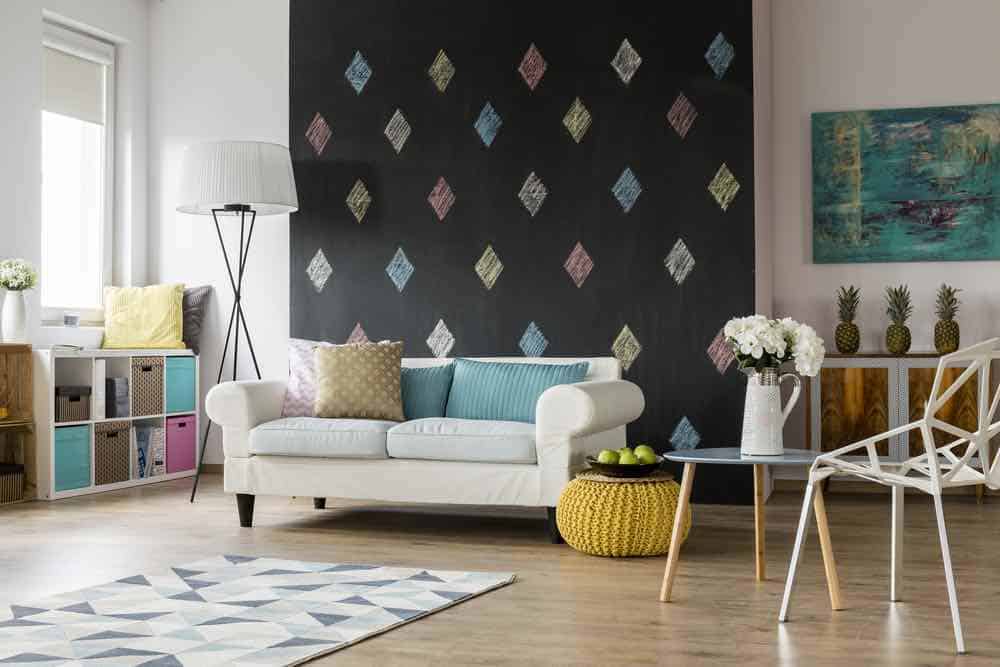 This living room has a Rust-Oleum Speciality Flat Black accent wall, which is a great aesthetic on its own. The chalk paint lets them add a pattern to the wall, incorporating accent colors from the room. This look is ideal for those who change up their style seasonally.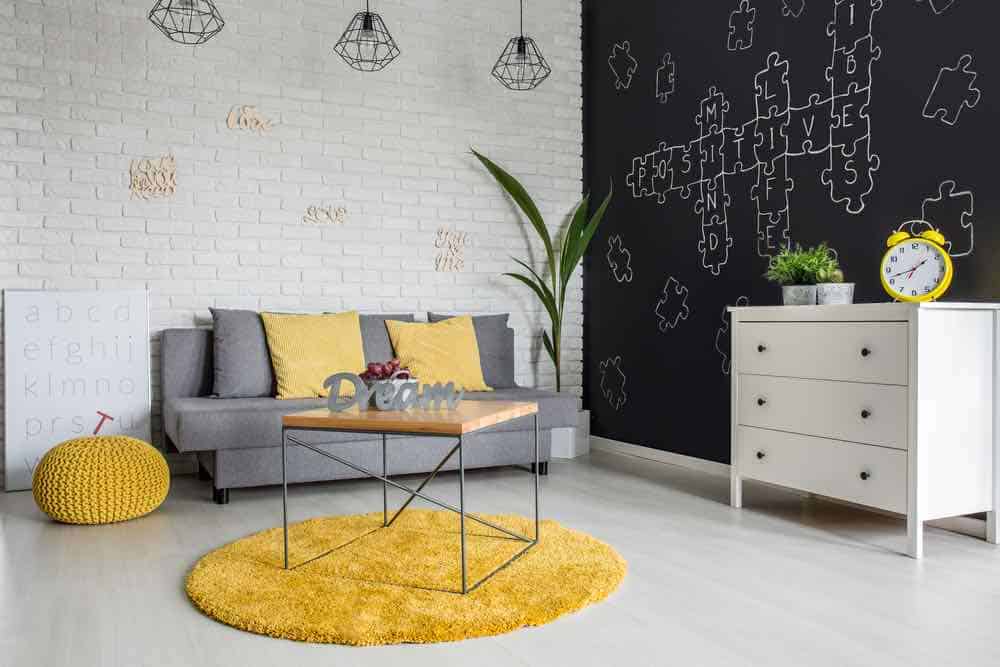 Exposed brick and clean lines could make this loft living room boring not bold. Instead, a Rust-Oleum Speciality Flat Black wall lets creative expression happen freely.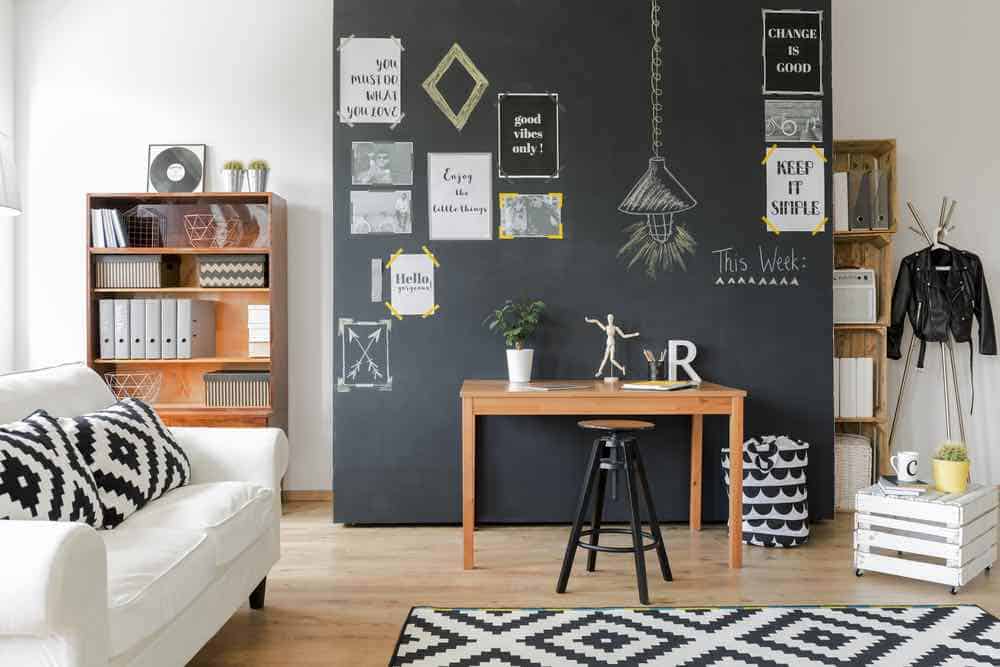 You can`t beat this aesthetic/utility combo. Krylon Chalkboard Paint delineates work from home. The living space gets a neutral matte wall in the background. The work area lets ideas and creativity flow with chalk.
Patterns
Adding pattern to a room doesn`t mean going through the hassle of putting up wallpaper. With a little practice and the right tools, you can create professional eye-catching patterns with paint.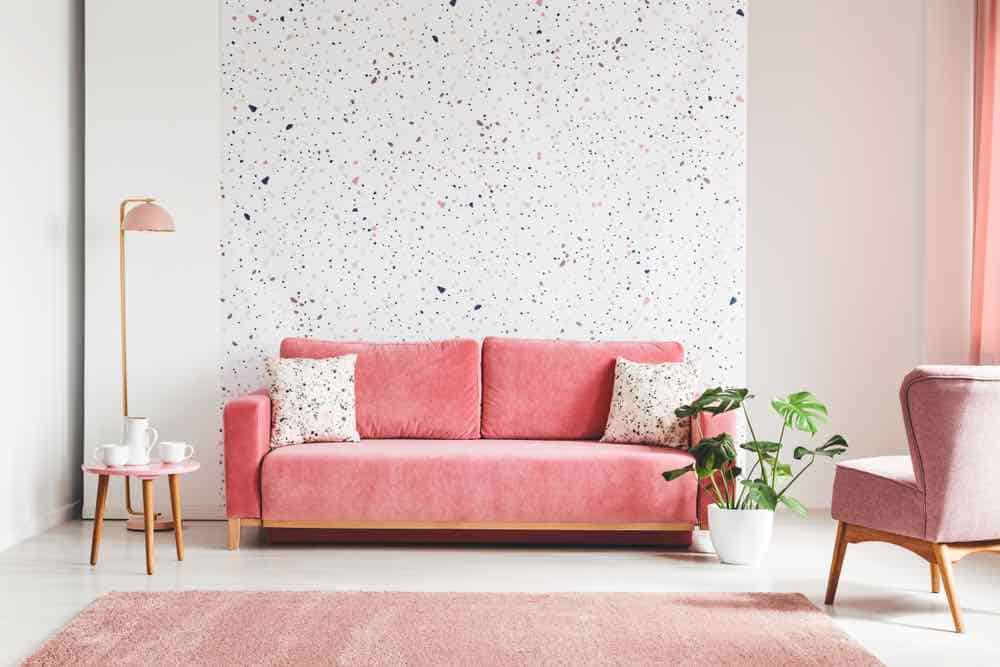 A confetti accent on a Valspar Cream Delight wall lifts pastel pink monochrome room away from staid into charming and preppy. The speckles of color incorporate pink with contrasting blue and green. The best part of creating this look? You can do it on a shoestring budget by using three ounce paint sample jars.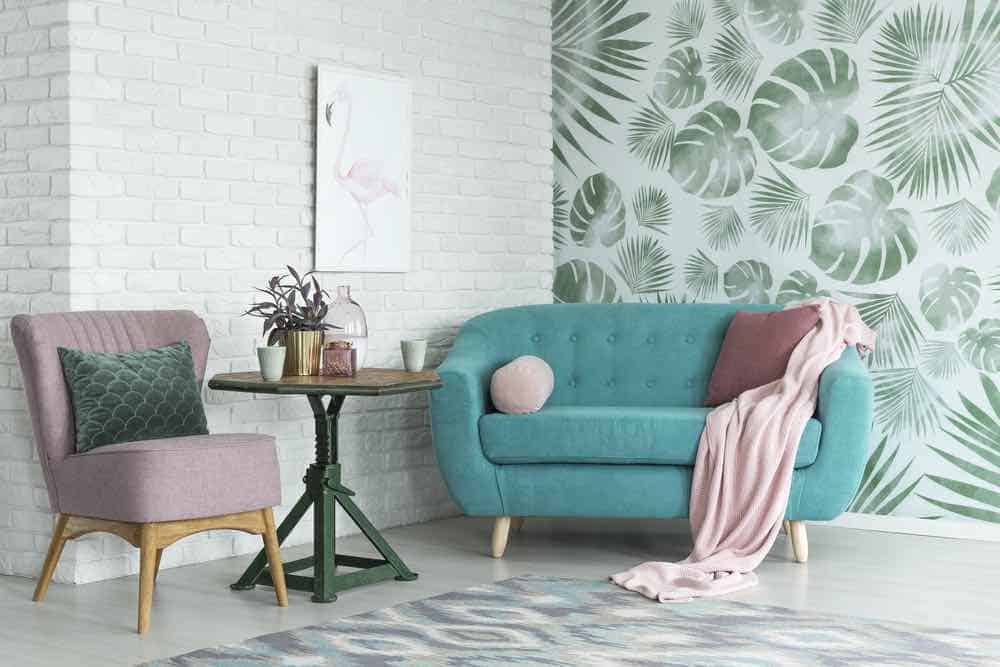 BEHR Frosted Jade is edgy and contemporary because of a stenciled dark neutral pattern. The accent wall borrows its color from the furniture, the look is a perfect balance of diverse and cohesive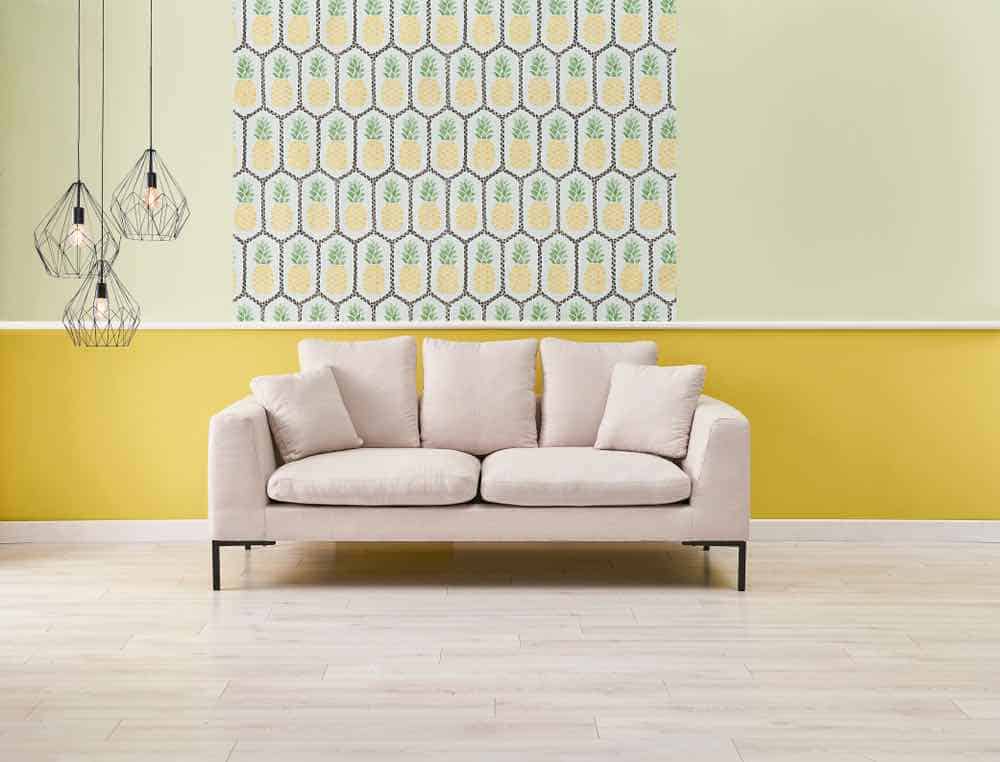 Consider this design choice instead of an entire accent wall. A stenciled design over Prestige Paint Banana Cream walls draws attention to a single focal point. You could even repeat the pattern on multiple walls, or throughout the house. Just a few square feet of pattern add vibrancy to the space.
Get Wild with Wallpaper
Living rooms with wallpaper on every wall are decades out of style. Instead, use wallpaper as an accent. There are two ways to incorporate wallpaper into your design. Either find a print you love & pull a paint color from the wallpaper. Or, find a wallpaper that goes with your chosen wall color.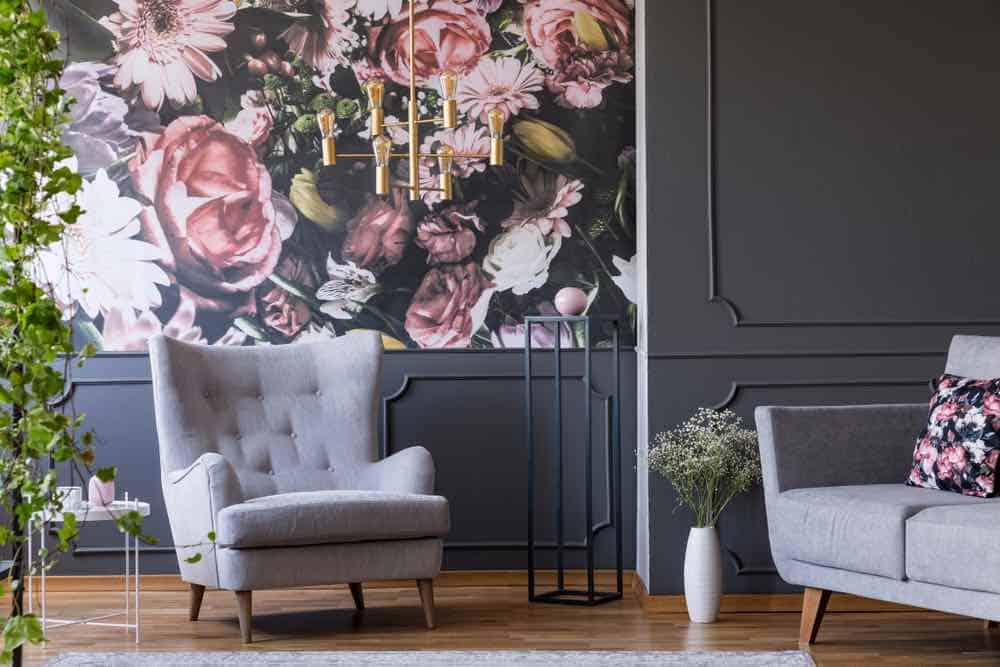 Check out this splash of messy flowers. It`s a well-placed section of wallpaper contained within an existing panel of Prestige Paint Folkstone walls.
Create more depth with wallpaper by painting your trim. Use a secondary color or a hue from the paper. Throw pillows, blankets, or area rugs can echo the wallpaper print. Accents can tie dramatic and elegant rooms together.
Faux-Finish
A faux-finish makes paint look a different material. It adds depth and nuance to a space and creates accents walls without using a bright or bold color. Creating a faux-finish takes a little practice, but many home improvement stores offer workshops, and the good news is; you can just paint over any mistakes.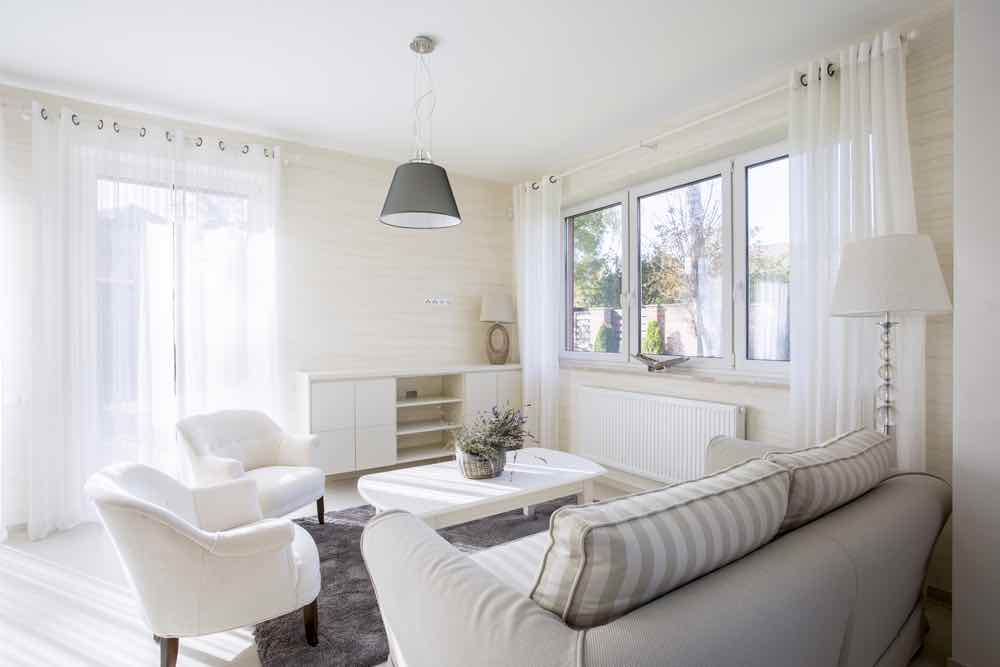 This bright and cozy living room transforms a Prestige Paint Downy monochrome into a beach house with a faux finish on all four walls. Well-placed beige accents make the room look like it`s made from wooden slats instead of drywall and paint.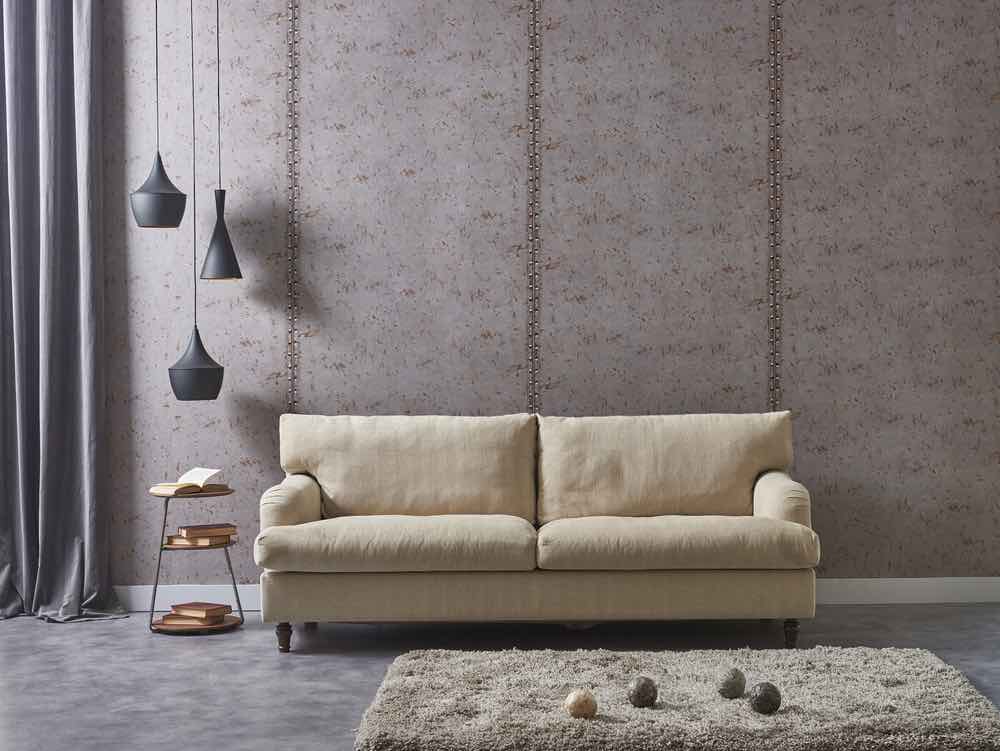 This industrial aesthetic living room has a metal faux-finish over a Valspar Metropolis base. Look close and you can spot painted rivets along the faux-panels seams. Something this advanced takes a skilled hand. It`s a good example of the wide variety of faux-finishes available.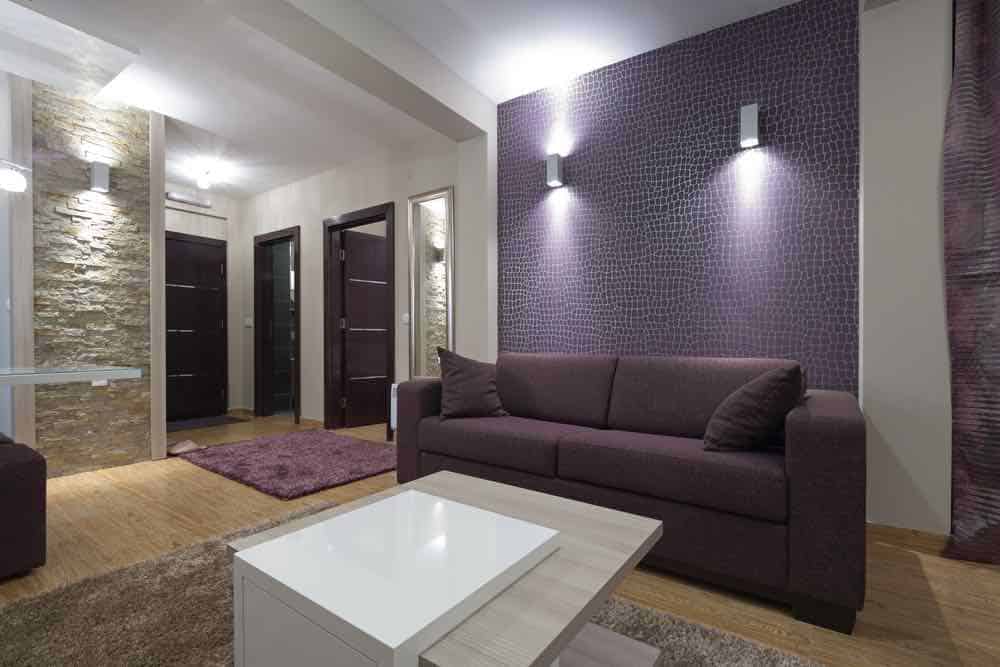 Nothing says "look here!" like a faux-alligator skin wall in BEHR King`s Court purple. This living room leans-in with all purple accents. But using a faux-animal print on a wall can also be a subdued way to spruce up dark neutrals and beige.
Once you start redecorating your living room, it`s tempting to grab a handful of color chips, a few paint-rollers, and go to town. Remember, creating a room with timeless style takes research, planning, and strategy.
Instead of picking a paint color and struggling to get the room to match, there`s an easier way. Redecorate your living room as a whole.
Include furniture, accent pieces, and art in your vision for the final product. You can make slight adjustments to the color to better match your choice of flooring or curtains you can`t live without. When you do thorough planning, it`s a lot easier to execute bold choices that are harder to pull off on the fly.
You can have the living room of your dreams and save money by doing it yourself. Brainstorm ideas, research, plan, and you`ll create a relaxing space that`s the envy of everyone you entertain.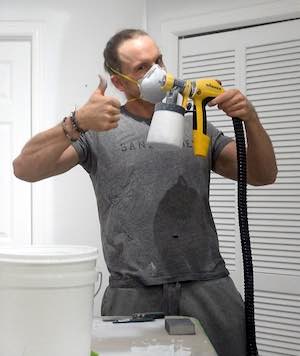 I started painting in 2001 and have seen just about everything in my painting career. I started in production and commercial painting, then moved over to new construction and remodeling during the boom of the early 2000s. Post 2010, I niched down into residential painting where I have done everything from exteriors, decks, interiors, furniture and more. Over the last few years, I've had a focus on kitchen cabinets.
I started the DIY Painting Tips blog in 2015 to start sharing everything I've learned over the years and help all the people who'd rather tackle their painting projects themselves.
You can follow my Youtube Channel where I show you everything that you read about on this site: https://www.youtube.com/@diypainting
You can also hire me directly from DIYPaintingTips.com here: https://diypaintingtips.com/free-painting-quote/
Contact me at: ryan@diypaintingtips.com